One of the jobs of a good fantasy analyst is not telling readers who to select in their drafts, but rather to provide them with as much relevant information as possible to make sound decisions. After all, they are YOUR fantasy teams.

Change is one of the few constants in this world and the NFL (and fantasy football, by extension) is no different in that regard. To that end, it is often helpful to see if we can identify when and why a particular event took place in the previous season when looking ahead to the next one. Unfortunately, false narratives are often created and certain myths are embraced as fact by the fantasy community for any number of reasons, including but not limited to wanting the easy answer to be the right answer.

Over the next two weeks, I'll attempt to see if there is there some level of truth to the narratives and maybe even debunk some myths while I'm at it. This week, I am taking a closer look at four situations in the AFC that require more examination since they had a dramatic effect on how the season played out last year and figure to interest fantasy owners again in 2020: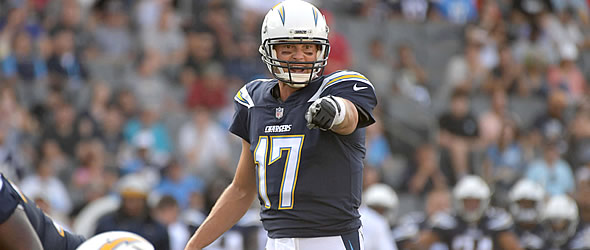 Philip Rivers loves throwing to his running backs and tight ends. Will that remain the case after leaving the Chargers for the Colts?
Rivers has earned a reputation as a quarterback who will lean heavily on his running backs and tight ends in the passing game. It's hard to argue that notion based on his career numbers since becoming a full-time starter in 2006:
RB Targets: 1,938 (26.2 percent target share)
WR Targets: 3,748 (50.6)
TE Targets: 1,698 (22.9)
Others: 20 (0.3)
For those unfamiliar with typical RB-WR-TE team target shares, 20 percent is on the high end for the running backs and tight end position groups. Getting to 25 percent at either spot typically indicates a team has an elite option at the position, and it is very uncommon for the same team to have running backs and tight ends each account for 20 percent of the target share. So yes, Rivers is quite comfortable distributing the ball to running backs and tight ends. But isn't Rivers the same guy who has enabled the likes of Malcom Floyd, Vincent Jackson, Tyrell Williams and Mike Williams to make a living downfield? That is also true. In fact, the first three names of that quartet rank 2-3-4 among wide receivers in targets during Rivers' career.
Rivers may be highly reliant on running backs and tight ends, but we donít have an idea if that is the function of his style of play or a matter of personnel - even after 14 years as the unquestioned starter for the Chargers. Rivers has made 224 starts in his career, 191 of which came with Antonio Gates contributing in some fashion. Even with his recent injury woes, Hunter Henry has been available to the eight-time Pro Bowler in 41 games. Although most of us recognize Gates wasn't what he once was in his final years, it's hard to say Rivers hasn't benefited from above-average or Canton-worthy talent at that position for his entire career. He's played with one or both in all but a handful of contests.
The 38-year-old has enjoyed the same luxuries at running back. Over his career, Rivers has been flanked by LaDainian Tomlinson, Darren Sproles, Mike Tolbert, Danny Woodhead, Melvin Gordon and Austin Ekeler. Even Ryan Mathews and Branden Oliver were capable receivers out of the backfield. The point is that while the Chargers have rarely lacked for a top-shelf option at receiver throughout the bulk of Rivers' career, it would have been a gross misuse of resources for Rivers not to keep his tight ends and receivers involved.
So can we expect him to remain the same kind of distributor in Indianapolis? For as much hype as Jonathan Taylor has created this offseason, he and Marlon Mack probably both fit the Mathews' mold more than any other back I listed above. Is Nyheim Hines another Woodhead or Ekeler? Through two seasons, Hines hasn't approached that level of involvement on an Indianapolis team that has typically lacked multiple weapons at receiver. The 2020 Colts may have the best combination of playmakers and offensive line that Rivers has seen since his early days in San Diego, so owners need to be careful about assuming what has consistently been true throughout Rivers' career remaining true in Indianapolis.
While Colts' quarterbacks targeted running backs 126 times and tight ends 168 times in 2019, Zach Pascal was the team's leading receiver, T.Y. Hilton missed six games and Parris Campbell never got over the hump after an early hamstring injury. Hilton had never played fewer than 14 games before last season, so it 2019 could have been an anomaly for him from a durability perspective. Michael Pittman Jr. figures to absorb Pascal's 72 targets at the very least, while Campbell could push for the same number despite what is expected to be a run-heavy offense. It's more than fair to assume the receivers will account for at least 55 (and even a more normal 60) percent of the target share with better injury luck this year.
Jack Doyle has long been a favorite option for Indianapolis quarterbacks, but he's not in the same class as Gates or Henry, nor is he guaranteed the 72 targets he had last year just because "Rivers likes tight ends". A limited athlete to begin with, it's not a given Doyle makes an instant connection with Rivers. Although Eric Ebron's departure theoretically opens up 52 looks, Trey Burton and/or Mo Alie-Cox could take those and then some. The team has been looking for a way to get Alie-Cox move involved for some time. It is only a matter of time before the younger and more athletic Alie-Cox starts to chip away at Doyle's playing time.
In short, it is OK to feel good about rolling the dice on Hines and Doyle late in drafts. However, it would be a bit much for anyone to expect either one to emerge as an every-week starter just because there is evidence Rivers will not adapt to his new personnel.
---
Doug Orth has written for FF Today since 2006 and been featured in USA Today's Fantasy Football Preview magazine since 2010. He hosted USA Today's hour-long, pre-kickoff fantasy football internet chat every Sunday in 2012-13 and appears as a guest analyst on a number of national sports radio shows, including Sirius XM's "Fantasy Drive". Doug is also a member of the Fantasy Sports Writers Association.