One of the jobs of a good fantasy analyst is not telling readers who to select in their drafts, but rather to provide them with as much relevant information as possible to make sound decisions. After all, they are YOUR fantasy teams.

Change is one of the few constants in this world and the NFL (and fantasy football, by extension) is no different in that regard. To that end, it is often helpful to see if we can identify when and why a particular event took place in the previous season when looking ahead to the next one. Unfortunately, false narratives are often created and certain myths are embraced as fact by the fantasy community for any number of reasons, including but not limited to wanting the easy answer to be the right answer.

Over the next two weeks, I'll attempt to see if there is there some level of truth to the narratives and maybe even debunk some myths while I'm at it. This week, I am taking a closer look at four situations in the AFC that require more examination since they had a dramatic effect on how the season played out last year and figure to interest fantasy owners again in 2020: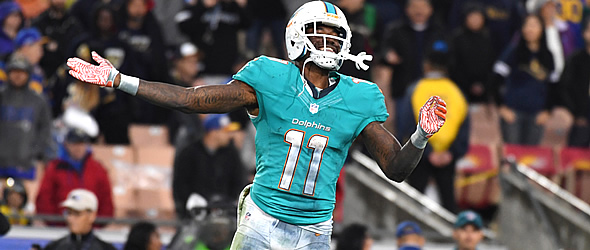 Did DeVante Parker and Mike Gesicki break out only because Preston Williams got hurt? What happens now that Williams is expected back for the start of the 2020 season?
Contrary to popular belief, Parker was already doing all right for himself in a bad situation before Williams was lost for the season with a torn ACL in Week 9. It's not a surprise that many folks feel the latter led to the former, however, as Parker's explosion synched up very nicely with the departure of Williams.
Parker's rise to prominence wasn't necessarily an "A then B" occurrence. We can almost write off the first six weeks of 2019 because the quarterback play was awful - when Ryan Fitzpatrick wasn't getting pulled for a bad performance, he was on mop-up duty after Josh Rosen struggled in one of his starts. Miami opened the season against the Ravens, Patriots, Cowboys, Chargers, Redskins, Bills and Steelers. Some of the league's best corners last year (Marlon Humphrey, Stephon Gilmore, Byron Jones, Casey Hayward, Quinton Dunbar and Tre'Davious White among them) were just some of the cornerbacks attached to those defenses. Good luck finding consistency against that group.
Bad early matchups. Below-average quarterback play likely due in part to all the roster turnover and unfamiliarity with OC Chad O'Shea's scheme. Bad offensive line. The offense execution was so pathetic that production in garbage time wasn't even a given, so volume was often a problem as well. Yet, Parker was able to keep himself relevant thanks to good touchdown luck. Even as Fitzpatrick began to settle in around Week 7, Parker and Williams were on equal footing at worst (24 targets apiece from Weeks 7-9). If anything, what we saw during this span was Parker's floor in a 1A/1B situation with Williams.
Parker/Williams/Gesicki before/after Williams' injury
 Player
Avg Tgt (Bef)
Tgt Share (Bef)
Avg Tgt (Aft)
Tgt Share (Aft)
Williams
7.5
21.4%
N/A
N/A
Parker
6.5
18.5%
9.5
23.4%
Gesicki
3.9
11.0%
7.3
17.8%
If Weeks 7-9 were Parker's floor with competent quarterback play, then what took place over the remainder of the year was an example of how everything came together at the same time. Aside from a second matchup with the Bills, the Dolphins finished the fantasy season against a remarkably forgiving run of pass defenses. More offensive continuity led to more volume (35.4 pass attempts over the first eight games of the season, 40.9 over the last eight). It's not as if Williams' absence didn't have some impact on Parker's usage, but the latter's target share only went up about five percent in the second half of the season. Three more targets per game is a significant amount, but not usually the kind of thing that turns the WR37 in the first half of the season into the WR2 over the second half - especially when the target share is still below 25 percent. Fitzpatrick's trust grew in Parker in contested-catch situations and he rewarded his quarterback by coming through virtually every week. Williams' return probably won't change that connection.
Gesicki is a different story and would presumably be a player to fade this year if we assumed 2020 was a mere extension of the second half of last season. Over the first eight weeks of last year, Gesicki attracted four or fewer targets four times. He dipped below six once thereafter. O'Shea deserves some of the credit for the second-year tight end's second-half surge, ramping up his usage in the slot and creating a natural mismatch against defenders trying to hang with a 6-6, 245-pound athletic freak. However, even before that spike in snaps inside, he was well on his way to leading all tight ends in slot snaps (he finished with a league-high 374, 131 more than second-place Greg Olsen).
It is worth noting Gesicki is one of only 48 tight ends in NFL history to enjoy a 50-catch effort in either one or both of his first two seasons. The expectation is he will serve as the primary option inside for the Dolphins under new OC Chan Gailey. Well before the rest of the league joined the party, Gailey was spreading the field with regularity and using tight ends such as 6-7, 270-pound Scott Chandler out of the slot. Chandler was a limited athlete but yet quite useful in fantasy at times during his best years. Gesicki is a spectacular athlete and essentially an oversized slot going back to his days at Penn State. While there's always the possibility Tua Tagovailoa may not immediately have the same kind of connection with his tight end that Fitzpatrick already does, the counterargument to that is that the No. 5 overall pick may already be a better quarterback. So long as Gesicki holds off the likes of Albert Wilson and Allen Hurns for primary slot duties, he has 100-target and 70-catch upside.
---
Doug Orth has written for FF Today since 2006 and been featured in USA Today's Fantasy Football Preview magazine since 2010. He hosted USA Today's hour-long, pre-kickoff fantasy football internet chat every Sunday in 2012-13 and appears as a guest analyst on a number of national sports radio shows, including Sirius XM's "Fantasy Drive". Doug is also a member of the Fantasy Sports Writers Association.