Not all industry drafts are created equal. The FFPC Pros vs. Joes competition is a special one to be a part of, in part because it typically attracts some of the best in the business but also because of what is at stake. Six industry analysts (Pros) are pitted against six veteran (and usually very successful) FFPC players (Joes) in a free best-ball competition for the privilege of gaining a free entry ($1900 value) into the FFPC Main Event the following season.

The only downside is that it is a winner-takes-all format. If ever there was a time to cite the immortal Ricky Bobby, Pros vs. Joes is the ultimate "if you ain't first, you're last" competition. Pros vs. Joes is the brainchild of Fantasy Mojo's Darren Armani, who I met for the first time at the King's Classic in 2018 and have competed with ever since. Darren beat me in the title game in the inaugural event when he "reached" for Christian McCaffrey. (Yes, there was a time when drafting CMC at No. 12 was considered a reach. (We both refer to this moment in time occasionally on Twitter.) I got my title last season, so all is well between Darren and me now. All kidding aside, I am very appreciative of Darren for inviting me to participate.

Below is a list of the competitors (players without a site affiliation next to their name are "Joes"):

1. Jim Coventry - Rotowire
2. JC Gifford
3. Peter Overzet - @ShipChasing
4. Jeffrey Burger
5. Doug Orth - FFToday
6. Keith Douglas/Steve McMahon
7. Huseyin - Fantasy Couch
8. Beth Riches
9. Jared Smola - Draft Sharks
10. Bill and Don Ezzell
11. Jake Ciely - The Athletic
12. Michael Abt

My inspiration for this article is more about taking readers through my pick-by-pick thought process - seeing as how I am a high-stakes player - and less about how I think the other drafters fared or what I would have done in their position.

The FFPC uses tight end premium scoring (1.5 points per reception), so it is common for the elite tight ends (Travis Kelce, Darren Waller and George Kittle) to come off the board within the first 15 picks. T.J. Hockenson, Kyle Pitts and Mark Andrews are usually gone by the middle of the fourth round as well.

Starting lineup requirements (eight starters): QB (1), RB (2), WR (2), TE (1), RB/WR/TE Flex (2)

Here is my team: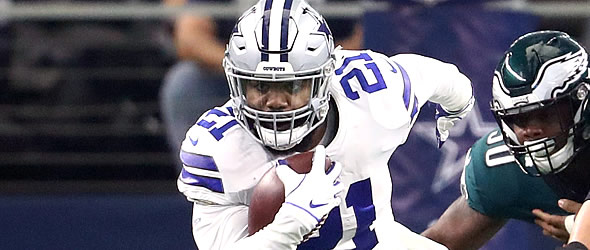 My thought process: This draft (July 26) was the fifth of six PvJ online events, so a little bit of research uncovered that Christian McCaffrey went at the 1.01 in each of the first four drafts and Kelce never made it to 1.05. As I alluded to earlier this week in my AFC & NFC North Workload Projections, Dalvin Cook is a player I only want to take at a value this year. Then again, he also went off the board no later than 1.03 in the first four drafts, so it was unlikely I was going to find myself in such a scenario. With that said, I would have taken Cook at 1.05 if McCaffrey, Elliott, Kelce and Waller had been the first four picks.
The recent news on Michael Thomas has soured me even more on Alvin Kamara, as I was already a bit down on him following the retirement of Drew Brees. While Kamara deserves a ton of credit for turning himself into the fantasy superstar he is, Brees' game near the end of his career was a perfect match for Kamara's skill set. Assuming Jameis Winston or Taysom Hill will throw to Kamara as consistently as Brees did is a mistake. Furthermore, we do not even know which quarterback will start yet.
The choice: I had roughly 2-3 weeks to ponder my first-round pick and quickly narrowed the field down to Zeke and Waller. While I never imagined I would have to choose between the two, McCaffrey and Elliott were the only two running backs I was willing to take before Kelce and Waller. I ultimately decided it was more important to lock up the volume and durability that Elliott possesses over the weekly matchup advantage Waller provides. I also reasoned that I would roll with Hockenson, Pitts, or Andrews with my third-round pick if it made sense to do so.
2.08 - RB Joe Mixon, Bengals
My thought process: As is typically the case in drafts (this year and for most of the 20 or so years I've been playing fantasy football), the pool of bell-cow running backs dries up quickly. With that said, a good fantasy manager should never draft a position this early just to fill a starting slot unless he/she believes that player is worthy of his draft slot. As a result, this is a spot where I would typically roll with an elite wideout in a typical high-stakes draft where three receivers must start. However, we are only required to start two wideouts in this competition, which lessens the demand to grab one in the second round.
My preferred pick at the spot was Nick Chubb, who slid to 2.10 in two of the four earlier drafts. Aaron Jones was another player I was hoping would slide back to me, but he only made it back to this pick once in the four drafts. I honestly expected to choose between Clyde Edwards-Helaire and maybe Najee Harris and would have been happy with either selection. Considering the news of Aaron Rodgers and the Packers putting aside their differences hit earlier in the day, I was surprised I nearly had the opportunity to select Davante Adams. As someone who was exceedingly high on Adams last summer and benefited greatly from it, he would have likely been my pick if I had the choice between him and Mixon. In such a scenario, I would have opted for Chris Carson in the third round, and I had reason to feel confident he would last that long.
The choice: Mixon was higher on this specific Big Board (No. 12) than all of the players listed in the above paragraph except for Chubb (No. 10). I understand any hesitation regarding Mixon after getting hurt by him in one high-stakes league last season. The line is still very much a question mark. Here's the thing: the Bengals finally appear prepared to give Mixon as much as he can handle. The dream for most fantasy managers opting for an RB-RB start is getting a pair likely to handle 300-plus touches apiece. Elliott and Mixon are two of the most likely backs to do just that. I'd be less than thrilled if Mixon was my RB1 and the centerpiece of my fantasy team, but I am more than OK to lock him up as my second back in an offense that should not see many stacked boxes and move the ball with relative ease.
My thought process: Before the draft, I KNEW I was going to go with Carson at this pick. I also knew I wasn't going to pass up on Robinson if I had the chance to select him. In addition, I was not going to pass up on Hockenson, Pitts, or Andrews either if they were available if you recall my thoughts from the first round. (This is what we call being in a pickle.) I quickly decided to give up the dream of taking one of the remaining two second-tier tight ends on the board with an eye on waiting several rounds and loading up on two or three upside picks in the double-digit rounds.
The choice: I strongly considered Carson. It ultimately came down to him and Robinson, but I had a solid plan about how I wanted the next few rounds to go and selecting Carson would have all but ruined it. Robinson is just below the elite tier of receivers but has often played like one over the last two seasons. He also has the best quarterback situation in his career. The only way I was going to take a receiver over Carson was if he had 100-catch and 150-target upside. That is exactly the area Robinson has settled into over the last two years.
My thought process: Good drafters tend to look two to three rounds ahead with every pick, especially in the early rounds. When I selected Elliott with my first pick, I knew I was hoping against hope that Andrews would be there for me at this spot. (Andrews did not last this long in any of the first four drafts.) The other option was Julio Jones, who never made it out of the fourth round in the earlier drafts. Josh Allen, Dak Prescott, Lamar Jackson and Kyler Murray were all of interest to me had my queue was depleted when it was my turn to pick, but I desperately wanted to wait on quarterback.
The choice: Sometimes dreams come true. I would have bet good money on Andrews not lasting more than one round after Hockenson. I was also shocked four teams without a tight end twice passed on a very good tight end in a tight end premium league. The Ravens have promised to open up the passing game this season. Most seem to believe this will benefit Rashod Bateman the most, but drafters seem to forget Lamar Jackson has long preferred to throw inside the hashes. (Maybe Andrews' skill has something to do with that.) Until we see otherwise, more volume in the passing game should mean more volume for Andrews. We already know Andrews is the primary target in the red zone for Baltimore.
My thought process: After experiencing the sheer exhilaration of landing Andrews, it was time to hope against hope again that Jones would last another nine picks. Ja'Marr Chase is a player that has somehow eluded me to this point in fantasy drafts despite how strongly I feel about his ability to enjoy a 70-1,000-8 kind of season. I feel the same way about Tee Higgins. So why Julio? I get it. He is 32 years old, on a new team and only played nine games last year. With that said, 70-1,000-8 is kind of a slow year for Julio when healthy. Remember his knack for coming up short in the touchdown department? I bet the safety help and occasional double team does not come nearly as often with A.J. Brown and Derrick Henry drawing so much attention.

The choice: Sometimes dreams come true, Part Two. It seems as though most people have focused primarily on how Julio's arrival in Tennessee affects the upside of Brown. Has anyone seriously considered that Jones, who remains as physically dominant as any receiver in the game, may end up being the primary option? Or at least the 1B to Brown's 1A? It's not a foregone conclusion each of them has about six spike games apiece and similar production in the other five. Of course, the risk with Jones is his health, which had been a relative non-issue since 2016 until last year. Then again, Brown missed two games last season and is coming off surgery on both knees this offseason. It's a mistake to pretend Jones does not have a chance to match Brown statistically this season.
My thought process: Remember the "solid plan" I spoke of earlier? There was only one player I wanted at this spot. I feel confident about landing Sermon at 6.08 considering the earliest he came off the board in any of the other drafts was 6.11 (three times). He fell to 7.07 in the other draft. Courtland Sutton, Aaron Rodgers, Michael Carter and James Robinson would have been among my top choices had I needed to pivot, but getting my third back - and an upside one at that - was a priority.
The choice: This was easily the most controversial pick I made in this draft. At the very least, Raheem Mostert figures to enter the season as a starter. The problem is Mostert has never handled more than 137 carries as he enters his age-29 season. Perhaps Mostert's best fit is as the explosive complement to a bigger and more physical back. The point is that Sermon is the one back on the roster built like a lead back and I expect him to take over that role by midseason or after Mostert gets hurt - whichever happens first. The 49ers' run schedule is another reason I am looking to grab Sermon as often as possible. The end of the season is not nearly as important in this total points competition as it is in most traditional leagues, but imagine the possibilities of Sermon handling 15-18 touches per week against Cincinnati, Atlanta, Tennessee and Houston to close out the fantasy campaign.
My thought process: With Carter and Robinson coming off the board in the early part of the round, any chance of me taking another running back faded at this spot. Thus, the decision was adding another potential stud at receiver or betting on (angry) Aaron Rodgers for another season. The decision to take Julio Jones weighed into my decision with this pick as he is reaching the point of his career where durability should not be assumed. (Should it ever?) Sutton's health is far from a sure thing, but he will be nearly a year removed from his ACL tear when this season starts, so it is less of a concern in my eyes.
Two key factors made my decision easier: 1) quarterback is deep again in 2021 and 2) six of them were already off the board prior to this pick. Plus, I was confident that at least one of three other available quarterbacks capable of going toe-to-toe with Rodgers would make it back to my next pick.

The choice: Way too much fantasy advice tends to be overly simplistic. If A, then B. This guy is good, this guy is not. I mention this in part because apparently someone along the way decided that if Denver goes with a more conservative Teddy Bridgewater at quarterback, it means good things for Jerry Jeudy and Sutton will struggle. Similarly, if the more aggressive Drew Lock gets the nod, then Sutton will benefit and Jeudy will disappoint. People began to run with it and I believe it is in part why Sutton continues to fall into the middle of the seventh round regularly. The assumption is that Bridgewater is going to win the job. OK, fine. Bridgewater managed to support three top-25 receivers in Carolina last year. Denver's receivers should be just fine if he wins the job, so let me put this clearly: if Sutton stays healthy this year, he will likely see something approaching the 125 targets he had in 2019. Count on him outperforming this draft spot (WR33).
My thought process: After Rodgers was taken at 7.06, it became clear that quarterback should be the next choice. Another thing that became clear after the Sutton selection was that I was going to get one of the four quarterbacks I liked with my next pick since only three managers had openings at quarterback on the right side of the board. A look at the left side of the board revealed two owners also did not have a signal-caller. Another consideration I had as it neared my pick was stacking Tannehill with Julio. I certainly do not go searching for stacks, but there is growing evidence doing so in best-ball leagues is a good idea.
Raheem Mostert was a strong consideration for all the reasons I like Sermon. He would have served as a bit of a counterbalance to the risk I assumed when I took the rookie. However, as much as locking up the San Francisco backfield appealed to me, Mostert's durability was the primary reason I decided to pass.
The choice: There is a decent chance we will look back at this year and wonder how Tannehill was the 10th, 11th, or 12th quarterback off the board in many drafts. He accounted for 40 touchdowns last season despite his running back running for more than 2,000 yards. In addition, A.J. Brown missed two games, Jonnu Smith disappointed somewhat after a strong start and Corey Davis only scored five times despite enjoying a career season. The point is that for as good as the Titans' offense was last season, it didn't max out. Is it likely Tennessee will throw less after Julio Jones? Will the offense be less efficient? Will Tannehill be a worse quarterback now with two elite receivers? The answer to all of those questions is "unlikely." This offense has the potential to be a juggernaut and the only thing that concerns me is the change from Arthur Smith to Todd Downing at offensive coordinator.
In the interest of time (yours and mine), I'll make some quick comments about my 10-man bench.
(Feel free to listen to me discuss this pick at the 1:31:30 mark of this link. If you want to hear me discuss more of my draft, take a listen around the 1:27:00 mark.) With Overzet likely upset that I took Tannehill from him, he countered by making sure Mostert would not make it back to me at this pick. My pivot was obviously Drake. It is a pick that may end up serving me better than if I had taken Mostert. I feel that way for two reasons:
1) Drake's role to begin the season should be as a high-end back who should get regular work in the passing game for a team that could be facing negative game-script situations. Las Vegas also lacks proven wide receivers, which means Waller and Drake could feast whenever the Raiders are in comeback mode.
2) Josh Jacobs is a physical running back who has dealt with injuries in each of his first two seasons. Should Jacobs miss time in 2021, Drake could be featured in those games.
(Tonyan is another pick I discuss during my interview with the Pros vs. Joes announcers.) The fantasy industry seems to be down on Tonyan because he is one of the biggest touchdown regression candidates in the league. That much I understand. What I don't understand is how the fantasy industry believes a tight end who caught 52 of his 59 targets without a drop didn't earn more work. (HC Matt LaFleur appears to agree.) No one should expect a repeat of last year's 11 touchdowns, as one look at my Anatomy of a League Winner - Tight Ends would suggest. What fantasy managers should expect is more involvement outside of the red zone. Even if all he does is increase his catch total to 65 - remember he was barely involved in the offense through two weeks last year - then a seven- or eight-score season would be enough to rival last year's fantasy production and make him well worth this selection.
I am finding it nearly impossible to get excited about Gage. Of the 34 receivers who attracted at least 100 targets in 2020, only A.J. Green (7.0) and Jerry Jeudy (9.7) averaged fewer fantasy points than Gage's 11. However, smart fantasy owners need to spend much more time focusing on how and why a player can succeed and much less time on why he won't. Gage has an opportunity to build upon last year's 110 targets in an offense where Calvin Ridley and Kyle Pitts will attract the bulk of attention. Even if he is consistently beating his man one-on-one in a game, the odds are strong the defense will live with it. He was one of only 23 receivers to reach the 110-target plateau a year ago and should be in line to repeat that at the very least in 2021. That is a good floor for an 11th-round pick and my WR4.
If Gage was a floor pick for me, then Moore was a bit of a ceiling selection. NFL teams don't draft players like Moore unless they have a plan on how they are going to use him, and HC Kliff Kingsbury is not hiding his intention to manufacture touches for the second-rounder. My vision for Moore is as a player who receives one or two handoffs per game via the jet sweep and perhaps three or four catches on screens and hitches. He is so ridiculously strong and explosive for a player of his size that he could make that kind of role work in the same way Deebo Samuel has in San Francisco. Like Samuel, my only concern is durability, which was a problem for him at Purdue.
There is a line of thinking that posits fantasy managers should look to the cheapest option - in terms of draft capital - when doubt exists about the identity of the alpha male in a position group on a strong offensive team and hope for the best. That partially explains my thinking with this pick, but I am also targeting Bernard in just about every draft for other reasons. Part of Tampa Bay's thinking in adding Bernard this offseason was his ability to pass block. That alone guarantees Bernard will see the field plenty. The fact Tom Brady has been fond of utilizing similar satellite backs throughout his career - such as Kevin Faulk and James White - makes me believe there is 50-catch upside with the former Bengal.
Wentz is not a great bet to return to the form he flashed in 2017 when he was in the running for league MVP. He probably is not going to have another season like 2020 either. Did he play well last year? No. Did he have much working in his favor? Not exactly. Wentz can be too aggressive for his own good at times, but it's easy to forget this is the same player that threw only seven interceptions in three straight years prior to last season's disaster. Like Tannehill, Wentz brings underrated rushing upside to the table as well.
It makes sense to group these backs because I believe each one will become the lead back in his offense if the starter goes down. While I am very confident Saquon Barkley's knee injury will be a non-issue by October, Booker is a hedge if I am wrong. In the case of Hawkins, I expect him to split time with Mike Davis at some point in the second half of the season. My stance on Mack is similar to my stance on Booker. At this point of the draft, it was more important to secure high-upside running back depth in advance of a 17-game season than take another flyer at any of the other positions.
Shockingly, I was hoping A.J. Green was going to fall here. Eskridge is not a bad consolation prize, however, as he is somewhat similar to Rondale Moore after the catch. If the Seahawks have any interest in scheming touches to Eskridge like the Cardinals do Moore, then the Western Michigan product will probably deliver a couple of splash weeks. That is more than can typically be said about an 18th-round pick.

---
Doug Orth has written for FF Today since 2006 and been featured in USA TODAY's Fantasy Football Preview magazine since 2010. He is also a high-stakes player who often appears as a guest analyst on a number of national sports radio shows, such as Sirius XM's "Fantasy Drive." Doug is also a member of the Fantasy Sports Writers Association.