It is easy to forget that each NFL week accounts for 7.1 percent of the fantasy regular season (assuming a Week 15 start to the fantasy postseason). It is also easy to forget that the majority of players in today's NFL just played their fourth full game in about nine months. Did your no-brainer RB1 spend Weeks 1 and 2 getting into "football shape" and run into tough matchups in Weeks 3 and 4? Is your hotshot rookie receiver struggling or just not seeing the field enough? You get the idea.

Fantasy football is the only fantasy sport I play nowadays, but I am not too far removed from the days of playing fantasy basketball or baseball. Perhaps the biggest difference between the sports - from a fantasy perspective - is how important each game is for evaluation purposes. In basketball, a bad four-game stretch to begin the season is a bad week. In baseball, it is a bad series in some cases. In football, it is almost a quarter of the season.

There is a certain amount of urgency that accompanies every week of the fantasy football season. We need answers sooner than later when some of our foundational pieces are struggling. If answers come quickly enough, we can stop the bleeding and get our team(s) back on track before it is too late.

The goal of last week's column and this week's column is just that: to identify the most pressing problem(s) for two wide receivers and two tight ends that fantasy managers believed were poised for big seasons less than a month ago.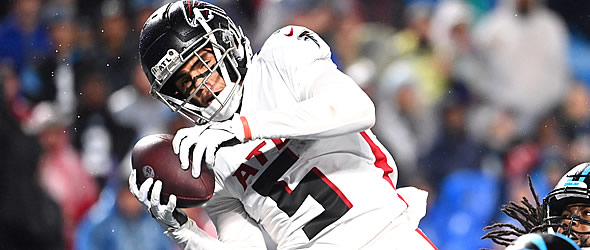 Wide Receivers
Drake London, Falcons
A large number of fantasy managers over the summer led themselves to believe as long as Desmond Ridder was better than Marcus Mariota, then London's talent would save the day - perhaps inspired by London's strong finish last season. A couple of touchdowns in Weeks 2 and 4 has made his start somewhat tenable, but three of four games with three or fewer catches is not what any of his managers had in mind when they selected him in the fourth or fifth rounds of their fantasy drafts.
Some potential explanations for his slow start
Atlanta is averaging less than 30 pass attempts, yet has four players averaging at least five targets.


London is tied with fellow Falcons receiver Mack Hollins for 41st in the league in air yards share (27.9 percent). For those wondering, Kyle Pitts checks in 31st at 31 percent.


His season high in targets is eight and Week 4 marked the first time all season that his aDOT (average depth of target) was more than 10 yards in a game.


London's target share is 18.5 percent - good for 47th in the NFL - and only 64 percent of his targets have been considered catchable.


He has been the first read for Ridder on only 23.4 percent of his throws - a mark that ranks 38th in the league.


Ridder is throwing a catchable pass only 71.4 percent of the time - good for 37th in the league.
Can he turn it around? Unlikely. Ridder is essentially the same quarterback he was late last season through four games. His on-target percentage is just a tick higher (75.5 to 76.7) and his bad-throw percentage is down significantly (18.2 to 13.8), but he has been the victim of eight drops this season as opposed to one during his four-game run to end last season. London is only responsible for two of the drops, although that number represents 66.7 percent of his total from last season.
The biggest factor likely holding London back in fantasy is a lack of volume as a result of the influx of talent Atlanta added in the offseason. The Falcons are throwing 5.4 times more per game in 2023 (29.8 attempts, up from 24.4), so the conditions are slightly more favorable than last year. Had the personnel remained roughly the same and HC Arthur Smith opted for the same volume, London would likely be a top 10-20 fantasy receiver right now. However, 29.8 attempts per game are not nearly high enough to allow London to get all of the opportunities he needs - most receivers need at least 7-8 targets to be consistently relevant - and make sure Bijan Robinson and Kyle Pitts are staying involved. Perhaps the true fly in the ointment is how involved Jonnu Smith has been (20 targets, two behind Robinson and London for the team lead).
Matt Ryan attempted 33 passes per game in Smith's first year at the helm in 2021, so there is a sliver of a chance Atlanta could trend slightly upward in terms of passing game opportunities, but 30 attempts per game is probably about the ceiling of what we should expect. Even then, we have to assume Pitts' knee is still not completely healthy yet and that Ridder will not suddenly become hyper-efficient or hyper-accurate.
For this situation to work out the way London's managers want it to, the least of which needs to happen is for at least a third of Mack Hollins and Jonnu Smith's 9.3 targets per game to start going his way. Even then, one would have to think that Smith's involvement will only go down when Pitts is closer to full health. All of this would require Ridder to be about a 70-percent passer, which he probably will never be.
Jaxon Smith-Njigba, Seahawks
There was always a possibility that Seattle was going to slow-play its rookie receiver despite its first-round investment in him, especially considering that HC Pete Carroll's teams have historically favored a strong rushing attack and already had entrenched starters at receiver (DK Metcalf and Tyler Lockett). Fantasy managers also expected (or at least should have expected) that JSN was going to run the majority of his routes in the short area of the field (0-9 yards) given his college profile as a strong run-after-catch prospect.
Some potential explanations for his slow start
A fractured wrist late in the preseason robbed him of valuable time to further bond with Geno Smith.


His season high in routes run is 28 (Week 2). He has run 29 fewer routes than Metcalf (121) and 33 fewer than Lockett (125) for the season.


His season high in snap share is 59 percent.


He has two red zone targets, including only one inside the 10.


His aDOT for the season is 3.3.


A whopping 44.4 percent of his targets (eight of 18) have been behind the line of scrimmage.


The loss of both starting offensive tackles in Week 1 has led to a surprising amount of 12 personnel (one back, two tight ends) packages.

Can he turn it around? To answer this question, I suppose it depends on how much you believed in him as a prospect this spring/summer AND how much you buy into training camp reports, which were glowing. (Here is my pre-draft profile on him.)
I do not have much doubt about his ability to thrive in the NFL or his fit in Seattle. Without question, the wrist injury set him back. However, any chance he had of delivering in fantasy leagues before the Seahawks' Week 5 bye likely evaporated the moment the team lost LT Charles Cross and RT Abraham Lucas to injury, as it forced Seattle to rely more heavily on two-tight packages to protect its second-string offensive tackles.
With that said, his cost on draft day in fantasy leagues was not about what he was going to provide managers in September, but rather what he was going to be able to do in November and December. The expectation should have never been that he was going to make either Metcalf and/or Lockett irrelevant in 2023 and certainly not within the first month of the regular season.
While players often get to heal up during the bye week, coaches usually use that time to self-scout. Among OC Shane Waldron's biggest areas of concern should be the reasons behind Lockett's 9.2 YPC (12.3 last season and 13.2 for his career) and finding more ways to manufacture touches for JSN if necessary while Cross and Lucas are sidelined (assuming both do not return in Week 6). The reality of the situation is that Lockett's meager contributions are likely the product of Cross and Lucas' absences. Those same absences could easily be the main reason for Smith-Njigba's ridiculously low aDOT and his relative lack of playing time, which should be in the mid-70s at the very least.
Perhaps I am still stung by Odell Beckham Jr.'s rookie season during which he missed the first four games of his NFL career due to injury, which landed him on many waiver wires in 2014. Or maybe it is the rookie season of Amon-Ra St. Brown that haunts me the most, as he was also on the wire in numerous leagues well into the 2021 season. I liked both prospects enough to make room for them, but I chose to try to sneak them onto my roster after they showed me something instead. Both times, those decisions came back to bite me as I lost to the teams that outbid me for them in the postseason, which likely ended up costing me almost $10,000 in prize money. Let that be a lesson to you: find room to stash JSN-level prospects whenever possible. Their breakout may not line up exactly with your fantasy team's needs, but the last thing you want to do is give up too early on that level of talent unless you are adding a similar talent to replace them.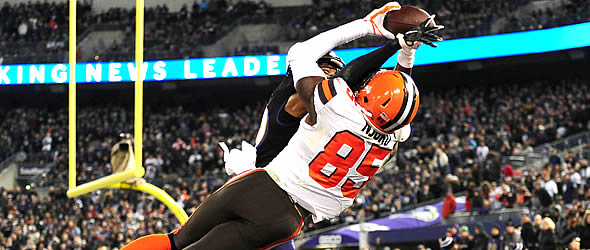 Tight Ends
David Njoku, Browns
HC Kevin Stefanski's usage of his offensive weapons in 2023 has been curious, to say the least. Elijah Moore has 4.35 speed and is sporting an aDOT of 7.7, which is four yards lower than in either of his two seasons as a Jet. Donovan Peoples-Jones has proven to be a capable deep threat and his aDOT is a career-low 9.2. A hefty 26 percent of Amari Cooper's targets have been more than 20 yards down the field, leading to a 16.6 aDOT that is more than four yards higher than his previous career high. Njoku is one of the true field-stretching tight ends in the league, yet he has only seen one target of more than 10 yards.
Some potential explanations for his slow start
Career-low 3.2 aDOT (previous low for a full season is 6.5) - good for 33rd among the 35 tight ends who have drawn at least 10 targets - and a career-low 2.4 yards before catch per reception (previous low is 5.0).


Target share of 13 percent - good for 17th in the league (was 16.7 in 2022).


Three straight matchups against defenses that rank inside the top 10 at limiting tight end production.


Deshaun Watson may not be a fan of tight ends? Although Njoku showed some chemistry with Watson last season (17-164-2 on 28 targets in five games together), the former has never targeted one tight end more than 55 times in a season.


Cleveland has attempted only seven passes inside the red zone, including only two inside the 10.
Can he turn it around? There is an argument to be made that Watson does not target tight ends as much as he should, although it is difficult to say that his history with the likes of Stephen Anderson, Ryan Griffin and Jordan Akins during his time in Houston is enough to draw a solid conclusion in that regard. What we do have is some evidence to support that conclusion. Njoku played with Jacoby Brissett in 10 games last season and was the TE7 in points per game during Brissett's time as the starter in Cleveland (Weeks 1-12). After three relatively underwhelming games in 2023, Njoku was Dorian Thompson-Robinson's favorite option (6-46-0 on seven targets) in Week 4.
The truth of the matter is Watson and Stefanski hold the key to Njoku becoming more involved. Moore (4.1) and Njoju (3.8) are among the league leaders in creating separation (defined by Next Gen Stats as the average distance between a pass-catcher and the nearest defender at the time of catch), so it would seem as though both players are holding up their end of the bargain. (As a point of reference for Njoku, T.J. Hockenson and Travis Kelce are at 3.4.)
Perhaps Stefanski and his coaching staff still adjusting to life without Nick Chubb, which is a more than rational explanation. After all, Week 3 was the only game in which Watson played and the Browns knew they no longer had Chubb available to them. With that said, the aforementioned usage in the first paragraph is troubling enough that it might take a while before the new offense gets sorted out. I am still very much a believer in Njoku, but there are enough troubling trends and metrics through four weeks to suggest that 2023 will be another year in which his talent is wasted.
Dalton Kincaid, Bills
Although fantasy managers realized it might take a bit, most likely assumed Kincaid was going to be what Sam LaPorta is now. After all, Kincaid was drafted to be a bigger and better version of slot master Cole Beasley, who posted consecutive 82-catch seasons in his final two full seasons with Buffalo. So what gives?
Some potential explanations for his slow start
The Bills were much more of an 11 personnel (one back, one tight end) offense during Beasley's final years and more of a 12 personnel offense now.


Extremely low 3.0 aDOT - good for 34th among the 35 tight ends who have drawn at least 10 targets.


Two red zone targets but none inside the 10.


Sharing too much work with fellow tight end Dawson Knox (more on that below).

Can he turn it around? Even if nothing changes for Kincaid over the final 13 games (extremely unlikely), the rookie is on pace for 64 catches right now. That is damn good for a rookie tight end (or even a receiver for that matter). The point to be made here is that Kincaid is not struggling so much as he is not getting any help from OC Ken Dorsey. Much as is the case with Njoku, it is nearly impossible for a tight end - at least one not named George Kittle - to average even 10 yards per catch when he is being asked to pick up seven yards on his own every time he sees the ball.
With that said, I do not intend to part with Kincaid in any of my leagues anytime soon. The Utah product is far too athletic to be confined to a low aDOT role much longer, hence the reason the Bills drafted him. (Beasley's lowest aDOT in his three healthy seasons with Buffalo was 5.6.) Week 4 marked the first time he ran more routes than Knox (23-14) after losing that battle to the veteran in each of Buffalo's first three contests (39-38, 24-23 and 24-23). Knox isn't going to go away, which is probably why LaPorta was the better bet of the two all along to emerge quickly - a lack of quality competition - but Kincaid's role will grow because it has to if the Bills want to change their recent lack of postseason success.
Njoju's confusing usage after years with Stefanski is proof that Kincaid is not guaranteed to see his aDOT change anytime soon. The difference is the target priority in Buffalo is muddy after Stefon Diggs (unlike Cleveland, which has Cooper and Moore drawing nearly half of the team's targets). Buffalo handpicked Kincaid to fill a particular role and he has done nothing but reward Josh Allen when the quarterback goes his way (15 catches on 17 targets). While a one-game sample tells us very little and could be an aberration, the fact that the Bills appeared to lean more on Kincaid in Week 4 should give us hope that the rookie is primed for the kind of low-end TE1 performance that most of us expected on draft day. Fantasy managers should expect the best fantasy effort of his young career in Week 5 against a Jacksonville defense that has already surrendered at least 19 PPR points to tight ends twice through four games.
---
Doug Orth has written for FF Today since 2006 and been featured in USA Today's Fantasy Football Preview magazine since 2010. He hosted USA Today's hour-long, pre-kickoff fantasy football internet chat every Sunday in 2012-13 and appears as a guest analyst on a number of national sports radio shows, including Sirius XM's "Fantasy Drive". Doug is also a member of the Fantasy Sports Writers Association.