#3: Seattle over Carolina
(8-5: BAL, cin, PHL, DAL, kc, tb, LV, ind, NE, SF, nyg, NYJ, GB)
The Panthers get to visit the great northwest this weekend and that infamous 12th man. Carolina isnít the team it was at the beginning of the season, or even after their coach was fired. Their identity is very different from what we expected Week 1 but they are building something. Over the last three weeks the Panthers have allowed an average of 13 points per game, winning two of three, and making themselves relevant in the NFC South, but still need to find a way to consistently score points.

The irony is, the same couldíve been said for this Seattle team for years. They were always a stalwart defensive team with a game manager in Russell Wilson. In comes Geno Smith, whom everyone thought would be a downgrade, and low an behold, the Seahawks find themselves a game back of the 49ers. Kenneth Walker is questionable for the game this week with an ankle injury, but using Geno Smithís arm might be better suited against the Panthers who give up the 7th most passing yards but are stout against the run (15th).

This is not a runaway game by any means as the Panthers defense could be tough, even on the road. But, if you need to pick a team with motivation, has a home advantage and has the ability to balance their attack against an opposing teamís weakness, then Seattle is your choice.

#2: Tennessee over Jacksonville
(9-4: NO, BUF, kc, det, PHL, sf, DAL, MN, MIA, chi, CIN, WAS, SEA)

Of all the games this week that is my least favorite. The thought process on this pick is that Derrick Henry will wear down a Jags defense that is built to stop the run. In fact, it is probably the best thing that the Jags do. But if Detroit can post 40 points with average talent, then the King should have a field day.

Yes, the Titans donít have much competition in the South this year, but this is also a divisional/conference game which, if they win, will help with them earn a home playoff game.

The Titans do give up a ton of yards through the air, and Trevor Lawrence (toe) has been lighting it up recently. Lawrence is listed as Questionable, but is expected to play. And if he does, he might find easy pickings. His foot/ankle injury isnít going to magically heal in one week and even if he does suit up, but he may not be as effective. Look for a Titan win in a tight game.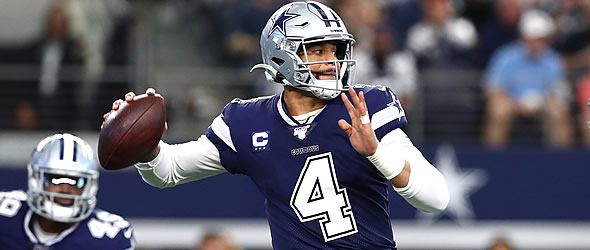 #1: Dallas over Houston
(8-3: den, lac, GB, BUF, LAR, tb, PHL, KC, NYG, BAL, MIA, CLE)

If you are lucky enough to have still not used Dallas, this is the week to use them in the battle for Texas. While Nico Collins and Dameon Pierce are the future of this team, Houston is rebuilding. Brandin Cooks, who is expected to miss at least another game with a calf injury, now finds himself less and less relevant on an offense that is dead last in the NFL. Neither Kyle Allen nor Davis Mills have done much to show that they are the future and the defense, which canít stop the run, needs fixing.
†Texans-O / Cowboys-D Comparison
HOU Off
Rk
Stat
Rk
DAL Def
279.3
32
TOT YDS
5
309.6
191.4
27
PASS YDS
2
179.8
87.9
29
RUSH YDS
24
129.8
15.7
31
PTS SCORED
3
17.2
20
30
T OVERS / T AWAYS
2
21
†Texans-D / Cowboys-O Comparison
HOU Def
Rk
Stat
Rk
DAL Off
378.3
28
TOT YDS
11
355.9
209.2
13
PASS YDS
22
210.0
169.1
32
RUSH YDS
7
145.9
23.9
23
PTS SCORED
3
27.8
13
22
T OVERS / T AWAYS
7
12
Meanwhile, the Cowboys have been firing on all cylinders, have a two-headed monster in Tony Pollard and Ezekiel Elliot that should take advantage of the Texans porous defense. Throw in Dak Prescott and his trio of CeeDee Lamb, Michael Gallup and Dalton Schultz, and this should be another easy win for the Cowboys.