Fantasy football championships… still in? I truly hope so. But this isn't about which players you have on your team; it's coming down to the wire with maybe 1-10 people left in your original large survival pool. If you are torn, and still need to choose between the Giants and Jets like below, I feel for you. If you can, I'd highly recommend choice #3 – I think you'll understand.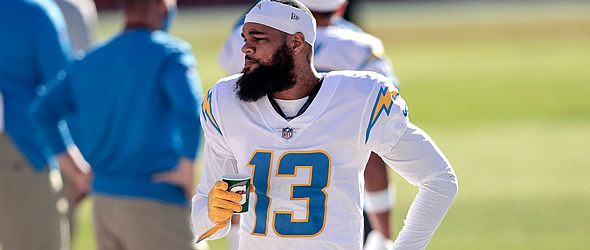 #3: Chargers over Rams
(8-8: BAL, cin, PHL, DAL, kc, tb, LV, ind, NE, SF, nyg, NYJ, GB, sea, was, mia)
The Battle for Los Angeles this year has a ho hum feel to it. The world champion Rams have been eliminated from playoff contention and have Baker Mayfield under center with a bunch of second stringers catching passes, while last yearís first stringers (Matthew Stafford, Cooper Kupp) are on IR, or gone (Odell Beckham Jr., Robert Woods). The question is, do the Rams have enough talent to be competitive?

The displaced Chargers find themselves a lock for the playoffs but would like to improve their record so they could host a wild card game. To do so, they need to take advantage of their home game against their crosstown rivals (who share the stadium).

If we remove the emotion behind this game and just focus on statistics, the Chargers 9th ranked rushing defense should stifle Cam Akers and force Mayfield to pass. While the Bolts are only middle of the pack on turnovers, interceptions are expected against a team that has given up the 5th most turnovers this season. From an offensive side of the ball, the 3rd ranked Chargers offense will shred a Rams defense that sorely lacks in pass coverage at 22nd in the NFL.

Yes, there will be emotions in this city battle. But make no mistake, the Chargers will be the victors, and if you havenít used them, now is the time.

#2: NY Giants over Indianapolis
(10-5: NO, BUF, kc, det, PHL, sf, DAL, MN, MIA, chi, CIN, WAS, SEA, ten, BAL)

New head Coach Jeff Saturday brings his Colts to MetLife Stadium with the Giants knowing that if they win, they are in the playoffs (with a little help). Itís in their best interest to close it out this week versus going into Philadelphia next week needing a win.

Brian Daboll wants to eliminate prior mistakes and execute the gameplan effectively. And regardless if it is a win by 1 point or 20, he expects them to finish out the season this week, at home, with huge support from his fans.

But make no mistake. Both of these teams havenít played well over the last six weeks. In that time, these two teams are a combined 1-9-1, so this isnít your ideal lock of the week. Forget seasonal statistics. This is about the desire to punch your ticket to the post season. And when you get down to the last two weeks of a survival pool, you will have to risk it. Why not take a chance on the team needing to get into the playoffs?
#1: Jets over Seattle
(10-3: den, lac, GB, BUF, LAR, tb, PHL, KC, NYG, BAL, MIA, CLE, DAL, CIN)

Sometimes you get boxed into a corner late in the season with bad options to choose from. This is one of those weeks.

The NY Jets and the Seattle Seahawks have both backed themselves into the corner for the remainder of the season. Basically, win out and you might get in. That makes this game the most volatile you could pick this week.

So why highlight this game when maybe there were better options? Because of the intrigue.

Geno Smith, 2nd round draft pick for the NY Jets in 2013, will play his first game as an established starter against his former team. After taking over for Russell Wilson this year, Geno has put up top ten numbers with a 70% completion ratio, 3 to 1 TD/INT ratio, and a 107 QB rating with almost 3900 yards. But he has struggled against shut down corners like Ahmad Gardner, and you can bet, the Jets will blitz more this week than usual, thanks to tape from the 49ers game.

Meanwhile on the opposite sideline, Mike White (ribs) has been cleared to be back under center, which should be an improvement over Zach Wilson (again). When facing a similar defense (Chicago) in his first game this season, he came out and threw for over 370 yards and three touchdowns. The Seahawks defense is just as bad, if not worse and is ranked 29th in two key categories (Total Yards and Points Allowed). If the Jets can find a running attack, White should be able manage the game enough to keep the Jets playoff hopes alive on a day that the Seahawks chances flame out.