It's so important to win that first game of the year… But for 71.5% of my Fantasy Pool (including yours truly – thanks Denver), that did not happen. It was the week of the upset, the "old team beatdown" on the player that left, and some truly head scratching play calling that caused unforeseen outcomes.
If you took my upset special (Da Bears), Good for You!!!!! But more importantly, if you were able to avoid those upsets, I commend you.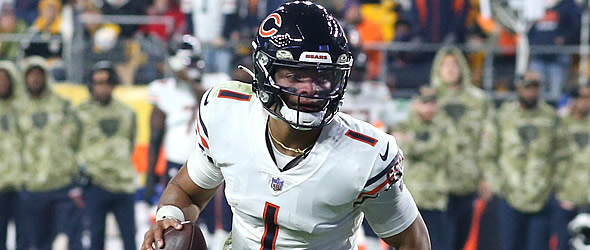 Upset Special: Bears Over Packers
Last week the Packers fell flat on their face against division rival Minnesota. After the game, Aaron Rodgers said that he wasn't worried and that the team would work through it.

This week, the Packers host the Bears that won 19-10 in the monsoon known as Soldier Field, and could find themselves 0-2 looking up at two 2-0 divisional opponents (CHI, MIN) and holding losses to both teams.
Justin Fields proved that he could rally his troops in bad weather. This week, he will prove that he can rally them in hostile territory. The Bears' defense is better than most think and the Packers are still working out the kinks on offense.
Take Da Bears again.

#3: Cincinnati at Dallas: (1-0: BAL)
If Cincinnati was at home this week, this would be a "no brainer". Dak Prescott is lost for a minimum of four weeks, and if he is smart, stays out for 6-8 weeks. The Cowboys offense even with him, was…. "offensive" as the lack of weapons was noticeable and not much went right.
In comes Cooper Rush, a quarterback that was cut at the 53-man roster deadline, but has been with the team for five years. Clearly Jerry Jones trusts him as Jimmy Garoppolo is available and San Francisco would love to make a deal. Instead, Rush gets a chance to get to know the Bengals defense that was on the field more than it should've been last week.
Joe Burrow's timing was clearly off last week (4 INTs), specifically a nice pick-six that didn't help their chances. Why? Perhaps the missed time due to his appendectomy surgery is the culprit.
That gets corrected this week, and they get back on track – even without Tee Higgins who will need to clear the concussion protocol before he can get back on the field. Joe Mixon should help to reduce the strain on the passing game and mimic the success Leonard Fournette had last week against this bunch. The Cowboys faithful will hope they can pull off the miracle, but not even the friendly of AT&T Stadium will help prevent the Cowboys from going 0-2 in a year when they were the favorites to win the division.
#2: Buffalo over Tennessee: (1-0: NO)
The Titans go on the road to Buffalo after losing to the Giants at home last week, and if this week is anything like last, the Bills should roll!!!? Right?

Well, there is a movie called "Any Given Sunday", and coach, Tony D'Amato (Al Pacino) reminds his players, that on any given Sunday, any team can win.

While the Bills handled the reigning Super Bowl Champion Rams last Thursday, there is now film that coordinators can use to muster up a game plan against Josh Allen and Co. - it's why the assistant coaches get paid. Even so, it's safe to assume Josh Allen will have an easier time than Daniel Jones and Saquon Barkley, and that is saying something considering Barkley (18-164-1; 6-30) was the NFC player of the week. But the Titans defense is not as stout as years past, and the Bills offense is in mid-season form. Heck yes, any team can have a letdown. But this game as their home opener just doesn't have the right formula. Go Bills.
#1: No Further Picks: (0-1: den)
Like a true survival pool, for the first time in all the years that I have written this column, I was humbled like so many other long-time survival pool players. Indianapolis, Cincinnati, Denver, New England, and San Francisco all failed those who chose them. And if not for the last second field goal by the Saints, two of the three picks by this writer would have cost you your pool this season.

As such, no further picks will be in this spot. The only consolation… I made back my Survival Pool monetary loss by betting Mike Krueger my Week 1 upset pick (Da Bears) would deliver. Thanks Mike.