Last year I posted my survival pool record for everyone to see. In analyzing it now, last season was my best year on a percentage basis, but it didn't help yours truly win his pool. Why? Because by Week 5, I was 4-1 and not 5-0. That is what a survival pool is all about.


Survivor Pool Record: 2011-2021
Year
Pick #3
Pick #2
Pick #1
2011
12
4
11
5
13
3
2012
15
1
13
3
13
3
2013
12
4
12
4
11
5
2014
14
2
10
6
13
3
2015
7
9
12
4
9
7
2016
12
4
14
2
14
2
2017
10
6
12
4
13
3
2018
10
6
11
5
12
4
2019
13
3
8
8
13
3
2020
9
7
10
6
14
2
2021
15
3
14
4
15
3
Totals
129-49 (72.5%)
127-51 (71.3%)
140-38 (78.7%)

So Matt, how will this help us in 2022? Well, truth is, it probably will not. We have to dissect the coaching carousel, listen to the injury whispers, guess on which free agent move will actually have an impact (positive and negative), and know that Bill Belichick blows one of his first three games each season as a heavy favorite almost as a catalyst to get his team moving in the right direction.

If you haven't had the pleasure of playing in a Survival Pool, the goal is, JUST WIN BABY. But you can only pick one team each week straight up. Sounds easy…. right? Not so.

Upset Special: Bears Over 49ers

The NFL has written the Bears off as the third or fourth team in the NFC Central in spite of Justin Fields and an offense that looks like his comfortable college system. Cole Kmet seems to be a legitimate option at tight end while Darnell Mooney can stretch the field and give Fields room to scramble when he draws deeps coverage.

But, it's the running back position where the question of David Montgomery comes up… Does he fit the offense, and will it work with him or Khalil Herbert? Not sure. But this week, the 49ers may be the ideal opponent to cover up any questions they might have at that position.

San Francisco comes into Soldier Field with Trey Lance firmly the starter and Jimmy Garoppolo on the bench with a new contract. Deebo Samuel, in spite of trade request, is back and should continue to be the explosive triple threat that he has been with George Kittle (groin) and Brandon Aiyuk spreading the main receiving beneficiaries.

Like Chicago, this team seems to have questions at running back. Elijah Mitchell can't stay healthy, Jeff Wilson has had knee issues, and Tyrion Davis-Pierce is an unknown quantity. Not exactly something that instills fear or takes the pressure off the passing game. Yes, Lance can run, but as Fields has found out, do it sparingly.

The difference in this game? The Bears cleaned house this year. Why do I say that? Well, 60% of the roster is new including 15 starters, and when you look at rookies Kyler Gordon and Jaquan Brisker in the secondary covering the backside of a 4-3 defense, you can see where the upset might happen. There are way too many unknowns in this game to take the favorite, and the Bears can easily surprise the niners at home.

#3: Baltimore at NY Jets: (129-49 last 11 years)

This game will feature a quarterback (Joe Flacco) that won a Super Bowl playing against the team that he won the ring with. The stadium will be full of Jets' faithful looking for an upset using a combination of second-year running back Michael Carter and rookie Breece Hall. The intent… to play a ball control game and take shots over the top. Sounds like a mirror game plan as the Ravens, right? It is.

J.K. Dobbins isn't fully healthy but is expected to be the RB1 with Mike Davis as his backup. Recently signed Kenyan Drake however might be a great complement this week in an option-style offense with Lamar Jackson at the helm, taking shots over the top with Mark Andrews and Rashod Bateman.

The real difference is going to come down to which defense plays better. In this case, the Ravens have the advantage but Sauce Gardner may change the complexion of this game with his defensive play. While this game seems like a lock, it is the one that scares me the most (especially as 75% of the picks are against the Jets).

#2: New Orleans at Atlanta: (127-51 last 11 years)

Gone are Sean Payton and Drew Brees, but in steps Jamison Winston, a healthy(?) Michael Thomas, rookie standout Chris Olave, and Jarvis Landry at wideout; with Alvin (I won't be suspended in 2022) Kamara in the backfield. Winston needed a fresh start after his time in Tampa, and if he can cut down the interceptions, may have the best supporting cast that he has played with during his NFL tenure.

Meanwhile in Atlanta, Marcus Mariota gets one last chance to show the league he can play. But with Cordarrelle Patterson, Drake London, Olamide Zaccheaus and Tyler Allgeier as your weapons other than Kyle Pitts all playing in their first NFL game (except for Patterson) would you be scared or licking your chops on defense?

This will be a good old fashion "welcome to the NFL" drubbing at the hands of your division rivals. Long past is the Falcons' defense that took them to the Super Bowl. Since the second half of that game, the Falcons' defense has not been the same. This weekend won't be the time they end their shell-shocked gameplay, so take the Saints as they March off with their first win of the season.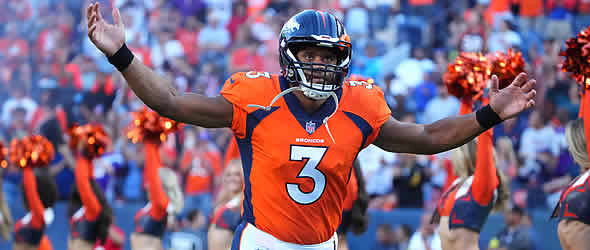 #1: Denver at Seattle: (140-38 last 11 years)
Oh how the NFL schedule makers love to highlight player movement and make for spotlight games early in the season. This week, Russell Wilson returns to Seattle for his first game as a Bronco with a wide receiving corps that probably is better than his past duo of DK Metcalf and Tyler Lockett. Courtland Sutton and Jerry Jeudy have speed, height, and run technically sound routes. Put them together with Javonte Williams, Albert Okwuegbunam, an aging Melvin Gordon, and this team has a chance to win now.

Meanwhile, the Seahawks have definitely taken a step back with ex-Jet Geno Smith at the helm and Drew Lock one injury away from dropping the clipboard and getting under center again. Yes, Rashaad Penny is back and has full time duties with Chris Carson retired (neck) and Kenneth Walker (hernia) likely on the sidelines. But, do you really expect Geno to lead the Hawks to victory?

While the storyline of the swapped quarterbacks will be all the buzz on Monday night, it will be the deafening silence from the 12th man, that will be more front and center as the game goes on as Wilson picks apart a Seahawks defense that he is very familiar with.