Did you guys take my upset pick last week (G-Men over Jacksonville)? Well, it wasn't exactly a huge upset, but I'll take it considering the Bucs clearly are lost and have cost many a survival pool run this year. How do you lose to Carolina with the GOAT at the helm against a backup QB, a team with an interim coach, their best offensive weapon traded away, and your defense rated in the top five? Well, they did.

No upset pick this week, but let's try these on for size...

#3: Indianapolis over Washington
(4-3: BAL, cin, PHL, DAL, kc, tb, LV)
Why would I highlight a game that most of the country doesn't care about? Well, just for that reason.

Matty "Ice" will chill this week on the bench due to his ineffectiveness. His replacement, Sam Ehlinger, a sixth-round draft pick two years ago who hasn't thrown a regular season pass, may not fare much better against a Commanders defense that yields only 22 points a game.

Enter Jonathan Taylor who is seemingly healthy again. It would be no surprise for the Colts to exploit the Achilles heel of their opponent's defense. Expect a large dose of the running game from the Colts to control the clock and win a low-scoring contest.

This is not a game for the faint of heart, but with so many divisional rivalry games, this non-divisional matchup just might be what you need to stay in your Survival Pool this week.
#2: Minnesota over Arizona
(4-3: NO, BUF, kc, det, PHL, sf, DAL)

The Vikings return from their bye to face a Cardinals team that has been inconsistent this season and do not have a quality win against a winning team. Like oh so many teams, they have been hit by the injury bug and will miss a key offensive component in Marquise Brown.

The Cards can however stop the run, something that the Vikings are good at, and like to do with Dalvin Cook. To avoid being shut down in the run game, look for Kirk Cousins to utilize Justin Jefferson and Adam Thielen to soften up the underneath screen game.

While Kyler Murray has a sling of an arm, the number of efficient weapons has been limited by injuries. And while the Vikings defense is 28th in yards allowed, they have limited scoring early on this season (19.7 points per game) and should extend their record to 6-1 in front of the home faithful.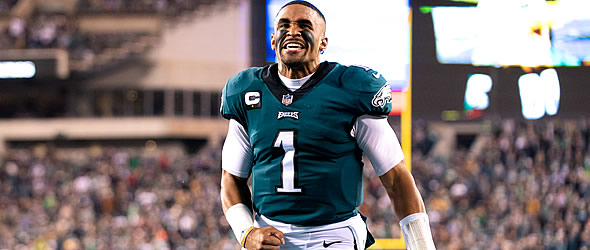 #1: Philadelphia over Pittsburgh
(3-3: den, lac, GB, BUF, LAR, tb)
The Battle of Pennsylvania will be held in the polls in a little under two weeks' time, but it is the battle in South Philly that most Pennsylvanians will be more interested in. These two cities don't like each other, and their football teams, just like their hockey teams, will bloody themselves for their pride.

Jalen Hurts and his Eagles are fresh off their bye week and look to stay undefeated. It hasn't been perfect, but they firepower and solid defense have the Philly faithful thinking Super Bowl and World Series.

Steelers' rookie QB Kenny Pickett has shown promise but his 2/7 TD/INT ratio and 68.7 QB rating is not going to help in the hostile environment of Lincoln Financial field. However, it's the "Steel Curtain" playing more like a sieve (28th in yards allowed) that will kill their chances. Expect lots of EAGLES chants in this one folks.