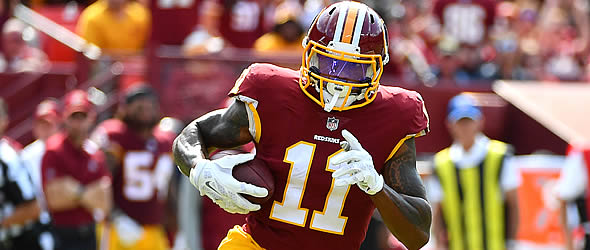 There will be opportunity for Pryor in New York but multiple variables make him a risky fantasy asset.
Combine an inexperienced wide receiver in Terrelle Pryor with an injury prone quarterback (Josh McCown), a backup quarterback who has thrown two passes since January of 2016 (Teddy Bridgewater) and a "top-three" drafted rookie quarterback (player to be named in late April). Add a mediocre running back corps (Isaiah Crowell, Bilal Powell and Elijah McGuire), a top returning wideout experiencing off-the-field issues (Robby Anderson) and stir.

What can Pryor produce under the above conditions?

It seems to me that there are far too many variables at this time to solve this puzzle, but I'll give it a go.

Pryor was a quarterback coming out of Ohio State, but could never make it in the NFL at that position and converted to a receiver in 2015. He posted promising numbers in Cleveland during the 2016 season (77-1007-4) and signed a one-year, $6 million "prove-it" deal with Washington last season. Unfortunately, he was a "bust" catching just 20 balls from Kirk Cousins for 240 yards and one touchdown over nine games.

In New York, Anderson (63-941-7) and Jermaine Kearse (65-810-5) led the Jets receiving corps last season and will be back again in 2017, though Anderson was arrested for the second time in two years last January. Fantasy owners should expect a suspension coming his way, opening up a chance for Pryor to get first-string snaps, at least for part of the season. Still, overall he's more likely a No. 3 receiver and an "insurance policy" in case they have to cut ties with Anderson. Given that No. 3 receivers in the NFL averaged 36-441-2 last season (see chart below), Pryor's upside appears limited.

Meanwhile, at quarterback, McCown posted pretty good numbers last season before suffering a broken left hand in Week 14. In 12 games before the injury, he averaged 245 passing yards, completed 67.8 percent of his passes and threw 18 touchdown passes against eight interceptions. He averaged a respectable 21.48 FPts/G over that span which ranked 11th at the position. But he's always getting injured (in 15 years he's never played more than 13 games in a season) and there is no reason to believe that if he begins the 2018 season as the starter he will still be there for game No. 16. Which leaves a fantasy owner to wonder how Pryor would do with either a rusty Bridgewater or a rookie under center for part of the season.

Given all these questions; the receiver himself, his likely role as a No. 3 wideout with the Jets, and what quarterback will be under center, fantasy owners should probably stay away from Pryor as a starter. However, he would be worth a late-round flyer on the off-chance that he can return to 2016 form and see enough work to produce for a portion of the season.
---
Steve Schwarz served as the fantasy sports editor of The Sports Network and is the 2014 FSWA Football Writer of the Year.