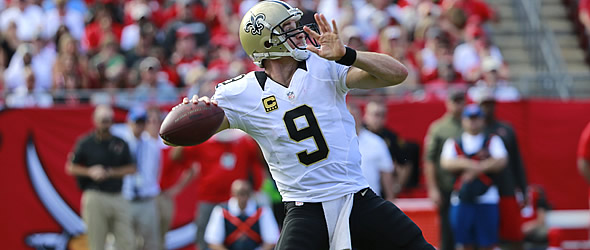 Drew Brees is coming off his worst fantasy season since 2005. Should you trust him in 2018?
If you are very old, like me, you may remember a game show from the 1950s starring Johnny Carson called "Who do you trust?" In fact, it was on this show that emcee Carson was first teamed with announcer Ed McMahon. But I digress. It was a question and answer quiz show.

For the 2018 version of who do you trust, it's a question of whether you "trust" these players for the upcoming season. Today's episode will cover quarterbacks. No rookies are on the list, because all rookies are suspects with potential and therefore, by definition, can't be trusted.

Quarterbacks

Aaron Rodgers, Green Bay (FFToday Preseason Rank 1) – I trust Rodgers and his No. 1 receiver Davante Adams. I trust new tight end Jimmy Graham will score red zone touchdowns. He's the safest pick based on past performance, though he has missed significant time in two of the last five seasons.

Cam Newton, Carolina (Rank 4) – I trust Can Newton's legs, but I do not have faith in his right arm. I trust tight end Greg Olsen, but don't trust the Panthers receiving corps led by Devin Funchess, Torrey Smith and rookie D.J. Moore. I also don't trust OC Mike Shula to fix the passing game.

Drew Brees, New Orleans (Rank 5) – I don't trust Brees to be elite anymore. Good … absolutely, but he is elite no longer. The Saints found success as a run-first team behind Mark Ingram and Alvin Kamara and despite the upcoming four-game suspension to Ingram they will again be a balanced team. Here is a note that I'm sure Sean Payton has seen – In the only two seasons since 2008 that Brees threw for less than 4,500 yards, the team won the Super Bowl once (2009) and should have at least played in the NFL Championship game the other (2017). The new mantra in New Orleans should be balance is good, 600+ passing attempts bad. That's good for the Saints win total, but bad for Brees' fantasy owners.

Jameis Winston, Tampa Bay (Rank 8) – Winston's progression from rookie season to sophomore season was solid, but in Year 3 his game took a nosedive. He certainly had the weapons; Mike Evans, DeSean Jackson, Chris Godwin and O.J. Howard. The team added RB Ronald Jones on offense, but he probably won't help the passing game. I'm not ready to trust Winston until he can post at least one 4,500-yard, 30+ TD season. And what happened to the QB who rushed for six touchdowns as a rookie?

Deshaun Watson, Houston (Rank 10) – In the seven games he played (six as a starter) I saw enough to make me trust him. As soon as they tell me he's 100%, I'm all in. He's a younger Russell Wilson with possibly the best receiver in the game (DeAndre Hopkins).

Patrick Mahomes, Kansas City (Rank 11) – How can you trust a guy who has started just one game, in Week 17, which meant nothing to either team? Surprisingly, I like him to be a breakout player in 2018 because the Chiefs have so many dangerous weapons; Travis Kelce, Tyreek Hill, Sammy Watkins and Kareem Hunt. Trust no, but he's going to be a high-risk, high-reward selection.

Kirk Cousins, Minnesota (Rank 13) – Cousins, who has never led an NFL team to 10 wins in a season, will join the most talented team of his career. They have very good receiving options (Stefon Diggs, Adam Thielen and Kyle Rudolph) along with a running back in Dalvin Cook, who can also catch the ball. But with their great defense, they won't have to play much catch up and probably won't need a lot of points to win games. Under HC Mike Zimmer, the Vikings have never thrown the ball 600 times and, in fact, have only thrown 530+ times once in four years. Minnesota might win 13+ games with Cousins, but I don't trust him to be any better than a low-end fantasy starter.

Ryan Tannehill, Miami (Rank 15) – I don't trust Tannehill at all, either from injury or a production point of view. He missed the end of 2016 due to injury and all of 2017. I don't trust the receiving corps, though they do have a little talent (DeVante Parker, Kenny Stills Danny Amendola) and I think the offense will feature running back Kenyan Drake.

Dak Prescott, Dallas (Rank 16) – I don't trust Prescott. Who will he throw to? No Dez Bryant. No Jason Witten. He has newcomers Allen Hurns and rookie Michael Gallup, but this team will try to dominate on the ground behind Ezekiel Elliott and the big offensive line.

Jared Goff, LA Rams (Rank 17) – His turnaround from rookie season (1,089 yards, 5 TDs, 7 INTs) to sophomore year (3,809 yards 28 TDs, 7 INTs) was stunning. But this team is still led by its defense and the running of Todd Gurley. Replacing Sammy Watkins with Brandin Cooks is a plus and Robert Woods and Cooper Kupp make for a potent offense. Goff will have some big games, but like Cousins he probably won't need to force the issue very often. He's a low-end fantasy starter who probably works better in a week-to-week situation … perhaps with Cousins.

Jimmy Garoppolo, San Francisco (Rank 18) – He jump started a moribund franchise winning the last five games of the season. Garoppolo QB rating was 96.2. Still, are you excited about a receiving group led by Pierre Garcon, Marquise Goodwin, rookie Dante Pettis and George Kettle? Jerick McKinnon will catch more passes than Carlos Hyde, but I'm concerned that with an offseason, defenses will catch up to him. I trust him to have a high floor, but unfortunately a low ceiling.

Case Keenum, Denver (Rank 21) – Keenum posted "career year" numbers in 2017, though they were still just pedestrian by fantasy league standards (19.2 FPts/G). That was 20th among all quarterbacks. His new receiving corps is not any better, or worse, than the one he left, so what reason is there to believe he'll continue to improve his fantasy value? I trust him to be a viable fill-in for bye weeks and injuries, but not as an every week starter.

Carson Wentz, Philadelphia (Rank 23) – Wentz' MVP-type season was derailed by an ACL injury in Week 14 against the Rams, but as of the first week in June he is already participating in 7-on-7 drills. He should be ready for Week 1, just 267 days after surgery. The Eagles running game is weaker with the loss of LeGarrette Blount and will rely more on the quarterback and receivers. I trust Wentz to play to elite standards once he's inserted into the lineup.

Eli Manning, New York Giants (Rank 24) – Manning should be much improved this season. The Giants addressed one huge need with the signing of LT Nate Solder and drafting of LG Will Hernandez. That was to fix the OL and keep Eli upright. Then they selected the best RB in the draft - Saquon Barkley. The return of Odell Beckham Jr. from injury and improvements from youngsters Sterling Shepard and Evan Engram, could make the Giants offense very potent. Barkley's ability to catch passes will help too and I trust Manning to return to a point where you can play him at least half of the 16 weeks thanks to a last-place schedule.

Derek Carr, Oakland (Rank 25) – Carr suffered a back injury in Week 4 of 2017 and probably never returned to full health. Meanwhile, the starting receivers dropped more passes than they should have. Michael Crabtree is gone, replaced by Jordy Nelson which is good, but most concerning appears to be new HC Jon Gruden's plans to play "old school" football. He added Doug Martin to Marshawn Lynch. Gruden signed a free agent fullback! I thought fullbacks were extinct, like the dinosaur and truth in politics. I expect a bounce back season from last year's disaster, but he's not a starting fantasy option. No, I don't trust Carr.

Mitchell Trubisky, Chicago (Rank 27) – I didn't see a lot in 12 games last season that said "I'm a top NFL quarterback." His receiving corps was a shambles, however. Tight end Adam Shaheen (it's OK to say who) led the Bears with three touchdown catches. Kendall Wright led the team in targets (91), receptions (59) and yards (614) and is probably a third or fourth receiver on most teams. While the team addressed the needs by adding Allen Robinson, Taylor Gabriel and rookie Anthony Miller, I don't believe that Trubisky is ready to use his new weapons. I don't trust Trubisky.

Sam Bradford, Arizona (Rank 30) – OK, this one was just in here for humor. The only thing you can trust here is that he WILL hurt one of his knees at some point in time either during OTAs, training camp, pre-season or early on in the regular season and Josh Rosen will get a chance to start.


---
Steve Schwarz served as the fantasy sports editor of The Sports Network and is the 2014 FSWA Football Writer of the Year.