Who do you trust? In the third and final piece of the series, we analyze the wide receiver position. Trust is an important word in the English language Ö and life. I trust that mom will always have my best interest at heart. I trust that every time President Donald Trump uses his twitter account I will be entertained.
However, trusting wideouts is different from quarterbacks and running backs.
A quarterback controls his own fate. He takes the snap and all he has to do is perform Ö for the most part. It assumes that all teams have professional receivers who can catch a well-thrown pass. A running back has control over his performance. Sure, there may not be big holes, but good runners find a way. A receiver is different. He can run a great pattern, but if the QB isnít looking his way it wonít matter. Or if the defense is doubling or triple covering him it also wonít matter. And even if heís open and even if the quarterback sees him, the passer must be competent enough to get him a catchable ball (Think Tony Romoís replacements in 2015. More about that later).
I trust Antonio Brown (FFToday Preseason Rank No. 1) will continue to post astounding numbers. How could I not believe in a wide receiver when heís averaged 116 receptions, 1,569 yards and 10 touchdowns for the last five seasons? Heís hugely talented, has a talented quarterback who will throw him the 50-50 ball and a running game that prevents defenses from focusing all their attention his way.
I trust Julio Jones (despite contract issues), Odell Beckham Jr. (despite maturity issues), Michael Thomas (despite his team emphasizing the run) and rising star Davante Adams.
Here are a few more guys I trust.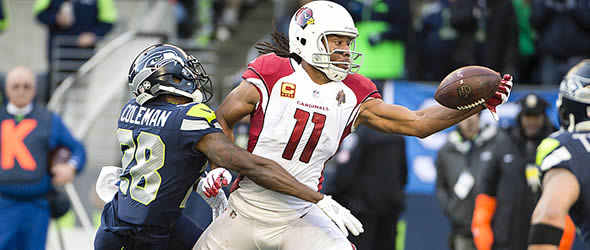 Concerns for Fitz (age, fragile QB) are real but three-straight 100-catch seasons are hard to ignore.
A.J. Green (FFToday Rank No. 8) Ė I trust heíll be no worse than last season when Green posted 1,078 yards and eight touchdown with mediocre quarterback play, a mediocre receiver opposite of him and his talented tight end playing just four games due to injury. Last yearís numbers should be his floor and if he gets some help, any help, he could be much better.
Doug Baldwin, Seattle (Rank No. 11) - I believe in Baldwin. He and Russell Wilson have ďitĒ and I trust them. In addition, with Jimmy Graham and Paul Richardson gone, there will be additional red zone opportunities for Baldwin, who managed just 12 last season, while still scoring eight times.
Larry Fitzgerald (Rank No. 12) Ė As with A.J. Green, Fitzgeraldís 2017 statistics (109-1156-6) could represent his floor in 2018. Why? Because Sam Bradford likes to throw the short pass, thatís how he posts such a high completion mark (71.6% in 2016 with Minnesota). And when the inevitable injury forces the Cardinals to start Josh Rosen, what better friend could a rookie QB have than the sure-handed Fitzgerald?
OK, now letís look at eight other receivers for whom you may have questions. I certainly do.
DeAndre Hopkins, Houston (Rank No. 2) - I trust Hopkins completely, but only if Deshaun Watson is healthy. Why donít I trust Hopkins without Watson? Did you look at the Texansí QB depth chart recently? Let me help you since Iíve done the research. Brandon Weeden, Joe Webb and Stephen Morris! Thatís not even up to last yearís Tom Savage and T.J. Yates level. The team signed Weeden in March as Watsonís backup and he hasnít thrown a pass since 2015. He was last on the Titans roster and they chose Blaine Gabbert over Weeden! Remember when he replaced Romo is Dallas? The other two are training camp arms.
Keenan Allen, San Diego (Rank No. 7) Ė I love Allen, but I donít trust him. Heís injury-prone. Heís never started 16 games in a season. He was a volume receiver last season, setting career highs in targets, receptions, and yards, but caught just 64.2% of his attempts. Will he get the same number of looks this season? Probably. But Mike Williams, their 2017 first-round pick did little last season due to injury and should see a lot more than the 23 targets he saw in 2017. They also have capable receivers in Tyrell Williams and speedster Travis Benjamin. The loss of TE Hunter Henry to injury and Antonio Gates to retirement should help, but Iím still concerned.
Tyreek Hill, Kansas City (Rank No. 9) - Despite last yearís success, I donít trust Hill. Itís hard to trust a ďhome run hitterĒ like Hill who doesnít get red zone touchdowns. In fact, last season he ranked seventh on the Chiefs in red zone targets with just five. He did score eight times (once as a punt returner) and all of them were from at least 30 yards out and averaged 58 yards. Thatís hard to duplicate. And he wonít be catching passes from veteran Alex Smith, it will be Pat Mahomes with one career start.
Mike Evans, Tampa Bay (Rank No. 10) Ė Was 2017 an aberration? I think so. On the other hand, his targets were down 21%. His catch percentage dropped from 56.1% to 52.2%. Evansí touchdown history has always been undependable. He has two seasons of 12 TD passes and two poor seasons (3 and 5). With DeSean Jackson, Adam Humphries, an improving Chris Godwin and a tight end who can catch (O.J. Howard), there is a chance that Evans will never see 140+ targets again.
Amari Cooper, Oakland (Rank No. 13) Ė His fall from star to subpar was meteoric. If you take out his one great game (11-210-2 against KC in Week 7), Cooper managed just 37 catches for 470 yards and five touchdowns in 13 games. Thatís not elite. Thatís not good. Thatís not even mediocre. I canít trust that he and Derek Carr will find ďitĒ again.
T.Y. Hilton (Rank No. 15) Ė Ha-ha! Hilton is the very definition of boom or bust. Four games averaging 151 yards and 13 games averaging 28 yards. Nothing trustworthy about those numbers. Call me after we see Andrew Luck throw the ball with authority. And if that doesnít happen in preseason you should stay away.
Allen Robinson (Rank No. 16) Ė Robinson will never repeat his 2015 season (80-1400-14). Erase that from your mind. If healthy (he missed almost all of 2017 with an ACL tear), he could produce close to 1,000 yards as the Bearsí No.1 wideout option. But I have many questions about QB Mitch Trubisky, so I canít simply trust Robinson.
Demaryius Thomas, Denver (Rank No. 17) Ė I trust Thomas will improve on last season's totals (83-949-5), but I don't trust Case Keenum, so I don't believe Thomas will ever reproduce his 2012-2015 production level (averaged 100-1446-10). The Broncos drafted two wide receivers last April (Courtland Sutton and DaeSean Hamilton), so perhaps they don't trust Thomas and/or Emmanuel Sanders either.


---
Steve Schwarz served as the fantasy sports editor of The Sports Network and is the 2014 FSWA Football Writer of the Year.