We are getting near the end of the bye portion of the schedule, but have a major hurdle to overcome in Week 11 when six teams will sit out the week; Buffalo, Cleveland, Miami, New England, New York Jets and San Francisco. And next week, while only two teams are on bye, they are likely to hurt almost as much as the two teams are among the most prolific offenses this season – Los Angeles Rams and Kansas City Chiefs.
It's time to start thinking about your playoff schedule and how to improve your chances. Is an RB2 against three weaker opponents better than an RB1 against a much tougher schedule? That's a question for you to decide as the trade deadline approaches.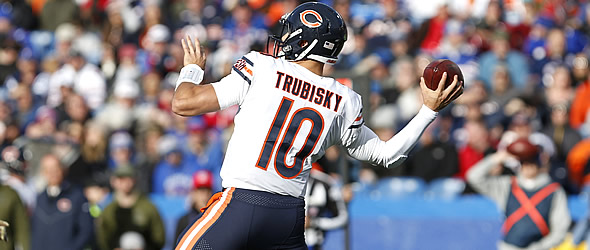 Truths

"Whoever undertakes to set himself up as a judge of 'Truth' and 'Knowledge' is shipwrecked by the laughter of the gods." - Albert Einstein

1) "I know I will play," Diggs told Ian Rapoport on Tuesday. Of course he also said he "absolutely expects to play on Sunday against the Lions" during the days prior to Week 9.
So is it a truth or a lie? He didnít play against the Lions, but at least we had some warning after he missed multiple practices and the Vikings promoted wideout Chad Beebe from the practice squad. Having sat out week 10 as well, due to a bye, Diggs should return to face the Bears Sunday night. He managed just seven catches for 65 yards and one score in two games against Chicago last season so he might not be a great play in his first action since Week 8.
2) If John Fox was still head coach of the Bears, Mitchell Trubisky would still be playing mediocre quarterback and not helping fantasy owners at his current top-five pace (26.8 FPts/G).
Most likely true. Itís Jeff Fisher and Jared Goff 2.0. Itís amazing how well young quarterbacks play when you have an offensive mind in charge. Do I even have to mention Andy Reid and Patrick Mahomes? Should the Jets, Browns, Cardinals and Bills be thinking about hiring offensive head coaches if they want to maximize Sam Darnold, Baker Mayfield, Josh Rosen and Josh Allen? Yes, yes, a thousand times, yes.
| | | | | | | | | |
| --- | --- | --- | --- | --- | --- | --- | --- | --- |
| Quarterback | Year | Head Coach | Comp | Att | Comp% | PaYards | TDs | INTs |
| Jared Goff | 2016 | Jeff Fisher (J.Fassel) | 112 | 205 | 54.6 | 1089 | 5 | 7 |
| | 2017 | Sean McVay | 296 | 477 | 62.1 | 3804 | 28 | 7 |
| | 2018 | Sean McVay | 227 | 332 | 68.4 | 3134 | 22 | 6 |
| | | | | | | | | |
| Mitchell Trubisky | 2017 | John Fox | 196 | 330 | 59.4 | 2193 | 7 | 7 |
| | 2018 | Matt Nagy | 190 | 290 | 65.5 | 2304 | 19 | 7 |
3) This is the year of the quarterback!
There are 11 quarterbacks averaging at least 25 fantasy points per game. Thatís unheard of. Last season there were just three; Deshaun Watson, Russell Wilson and Carson Wentz. In the last 10 years there have been a total of 25 quarterbacks or 2.5 per season with no more than five in any season (2011). It also should make choosing a quarterback each week pretty easy since they are all putting up huge numbers.
4) If you are a quarterback or a fantasy owner looking for a quarterback to put in your lineup, you want to go up against the NFC South division.
Absolutely. While the Bengals have allowed the most fantasy points to opposing signal callers (29.5 FPts/G), just behind them is the entire division; New Orleans (28.5), Atlanta (28.1), Tampa Bay (27.4) and Carolina (25.6). When in doubt, play the quarterback facing the NFC South.
5) Zach Ertz will set the single season record for receptions by a tight end in 2018.
Barring injury itís a good bet. The record is 110 set by Dallas Cowboys tight end Jason Witten in 2012. Thatís 6.9 receptions per game. Ertz is averaging 8.3 this season (75-789-5) and the Eagles still donít have a running game. Even the addition of Golden Tate to play opposite Alshon Jeffery shouldnít slow down this train. He leads all tight ends this season and in PPR leagues heís pure gold.
Lies

ďNever argue with someone who believes their own lies.Ē Ė Anonymous

1) Leonard Fournette averaged an ugly 2.2 ypc in Week 10 so he must have been a poor fantasy option in Week 10 right?
Wrong. While it was his third-worst rushing average in 16 career starts, his 22.9 fantasy points was the second-best of his career. As good as he was as a rookie, he only managed one game with multiple touchdowns and this was his second during the regular season. Fournette has only averaged more than 4.7 ypc twice in his career. Heís volume-dependent and doesnít have a good matchup this week against Pittsburgh, who ranks sixth in RB fantasy points allowed (15.4).
2) Remember how after three weeks of the season everyone was going crazy for JuJu Smith-Schuster?
The magic is gone and reality has set in. Some foolish people were even questioning whether he was a better fantasy value than Antonio Brown, but since Week 4 heís averaging just 8.9 FPts/G while ďABĒ has posted six consecutive double-digit totals and is averaging 16 FPts/G.
3) Kansas City Chiefs donít have a D/ST worthy of starting.
False. Sure, they have yielded the most passing yards and the second-most total yards, but they are also, surprisingly, averaging 7.9 FPts/G, which is good enough for fourth-best in the league. Hereís why. They are tied for the lead with 31 sacks, they have created 15 turnovers (eighth-best) and they have scored three times.
4) Adrian Petersonís respectable 68 yards on 19 carries should alleviate concern over the injured Washington OL.
No. They were playing a horrible Tampa Bay defense and he still managed just 68 yards in the win. Consider in the Redskinsí other five wins, he never produced less than 96 yards and averaged 112.2 rushing yards. His next three opponents (Houston, Dallas, Philadelphia) are all top-10 against the run, so we will know a lot more shortly, but Iím not a believer.
5) The moving of the Chiefs - Rams game from Mexico City to Los Angeles makes no difference for fantasy owners.
False. The horrible field conditions would have required players to where longer cleats, making cuts more difficult and the possibility of injury more likely. The altitude in Mexico City is higher than Denver, making energy levels questionable late in the game. This could be a game for the ages, at least for fantasy owners, with an over/under that opened at 63.5 points. It deserves to be played on a perfect field.
---
Steve Schwarz served as the fantasy sports editor of The Sports Network and is the 2014 FSWA Football Writer of the Year.