Most leagues finished in Week 16, but a few leagues will finish up this Sunday. Fortunately, not many teams are in a situation where they can sit their guys for the playoffs with their playoff seed already locked. That means most guys will play with the exception of New Orleans and Dallas.

Amazingly for the last few days of December, early weather forecasts show no rain, snow or bad weather on the horizon.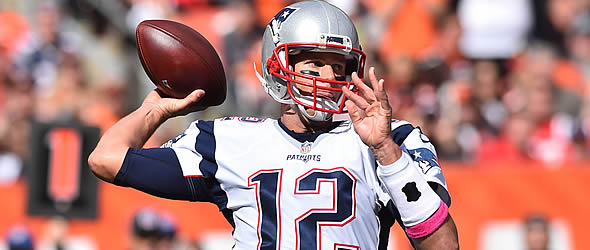 Truths
"For here we are not afraid to follow truth wherever it may lead." - Thomas Jefferson
1) Tom Brady may be the "GOAT," but the 2018 Patriots struggle when they don't have 100 rushing yards.
The 41-year-old Brady needs a running game to succeed these days. New England is 8-0 when they have totaled 100 yards or more on the ground and 2-5 when under that level. Brady's season average (21.4 FPts/G) is his worst since 2014 and he's only produced one game of more than 23 fantasy points in the last two months. Is age finally catching up to him?
2) Perhaps the devaluation of running backs by many in management is reality.
Todd Gurley, the league's best running back, sat out in Week 16, and the Rams used C.J. Anderson as their workhorse. Anderson was unemployed and sitting on his couch last Monday and signed on Tuesday, yet still rushed for 167 yards and a score. He wasn't the only one. How many fantasy owners won their league on the backs of new starters like Jamaal Williams, Elijah McGuire and Damien Williams?
3) Melvin Gordon will be his "old" workhorse self in Week 17.
Last weekend I predicted he would run between 10-12 times and he ran 12 times. Even better, he came out healthy and should be ready to run against a Denver defense that just allowed Doug Martin to run for 107 yards.
4) Antonio Brown won me a fantasy championship Sunday night.
Thank you Antonio. I was a little concerned when Ben Roethlisberger went early and often to JuJu Smith-Schuster to begin the game and Brown had produced -1 yard on one catch through the first 23 minutes. But he showed why he's elite catching 13 more balls for 186 yards and two scores over the final 37 minutes. Don't retire Ben, you two guys were made for each other.
5) Tyreek Hill may have carried your team on his back to get them into the postseason, but he couldn't bring it home.
True. Hill averaged just 9.23 FPts/G from Week 14-16, a far cry from the 14.6 FPts/G over the first 13 games. Other wideouts who failed to perform in the fantasy postseason; Kenny Golladay (7.0), Adam Thielen (6.0), Brandin Cooks (4.8), Golden Tate (2.1) and Devin Funchess (0.8).
Lies
1) Josh Allen has proven he is ready to be an NFL quarterback by averaging 22.0 FPts/G over the past three starts.
Sorry, no. He's doing it with his legs, not his arm, and long-term the quarterback position requires the ability to pass. He hasn't proven it yet. He's completed just 51.7% of his passes this season with seven touchdown passes and 11 interceptions. Lamar Jackson needs to pass better too, but at least he's at 58.2% and not throwing picks so I have much more confidence in the Ravens' rookie.
2) The five-man 2018 first-round quarterback draft class has been worthy of their high selection.
I'm not encouraged by this class. Yes, Baker Mayfield (1st) is tough, competitive and talented and has already led his Browns to six wins. He's for real. Sam Darnold (3rd), like all rookies has been up and down, but I think he's going to be a solid, though unspectacular, pro. And I think Lamar Jackson (32nd) can play. At least until he takes too many big hits because he's running too much. The jury is out on Josh Rosen (7th) and Josh Allen (10th). However, compare that to the three-man 2017 class – Mitchell Trubisky (2nd), Patrick Mahomes (10th) and Deshaun Watson (12th).
3) There is more than one possibility for 2018 NFL Fantasy Player of the Year.
While Todd Gurley has been very productive (22.1 FPts/G) leading all running backs and Antonio Brown leads all receivers (14.6), there can be only one choice for fantasy MVP … Mahomes. He's not just leading all QBs, he leads the No.2 man, Ben Roethlisberger by almost five ppg (31.5 – 26.8). The second-year Chiefs star has thrown for 4,816 yards, rushed for 271 yards and accounted for 50 touchdowns (48 passing). The touchdown passes are already fourth-best all-time with a game to go and he's likely to be just the third quarterback to throw for 50 touchdowns. The other two are Peyton Manning (55) and Brady (50). And despite losing their star running back, Kansas City's scoring has increased from 25.9 Fpts/G behind Alex Smith in 2017 to 35.3 with Mahomes in 2018.
4) Mahomes' performance and his Yahoo ADP of 87 was the biggest surprise of 2018.
Mahomes is a great story, but not the most surprising production this season as some "experts" did think he would do well as the trigger man for the Chiefs offense. The biggest surprise in my mind was Colorado's undrafted free agent Phillip Lindsay. He came from nowhere to rank 11th among running backs and one of eight who have run for at least 1,000 yards. Actually, he came from buried on the Broncos' depth chart (third), behind Royce Freeman and Devontae Booker. Despite that, the team couldn't keep Lindsay down. In the first game he combined for 102 yards from scrimmage and a touchdown and never looked back.
5) I had a good day today.
I listened to the 1993 Jimmy Valvano speech. That's not unusual, I have listened to his famous speech at least once a year since. And I cry. Every time. But like Jimmy said, "a good day is if you laugh, you think and you cry." On this, the 25th anniversary of that speech, I'm donating my writing fee for this week to the V Foundation. (www.jimmyv.org)