Two weeks in the books and confusion reigns supreme. Who would believe that Miami, Cincinnati and Tampa Bay would still be undefeated? Or that Ryan Fitzpatrick, DeSean Jackson and Will Dissly would be leading their respective positions? There is one constant, however … the Browns still haven't won a football game.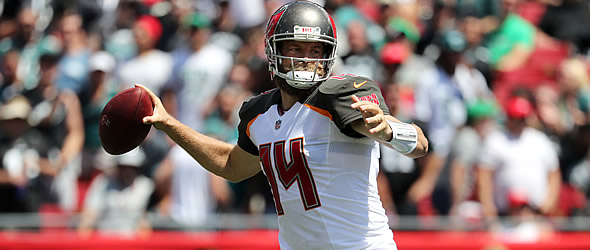 Is Fitz really a QB1? We have a long history of Ryan Fitzpatrick being an average quarterback.

Truths

"The truth … It is a beautiful and terrible thing, and should therefore be treated with great caution." - J.K. Rowling, Harry Potter and the Sorcerer's Stone, Dumbledore

1) Fitzpatrick, the Bucs' journeyman quarterback, has played 14 years, for seven teams and 135 games and posted two of his three best all-time performances to start the 2018 season.
True. However, he's thrown three-or-more touchdowns in just 18-of-121 career starts (14.8%). Here's where that rate slots among some current quarterbacks for their careers. Sorry, I'm still not a long-term believer, though he'll face a vulnerable Pittsburgh defense in Week 3 and they were destroyed by Patrick Mahomes last Sunday. By the way, Mahomes is 2-for-3 (66.7%).
3-TD Games
Rk
QB
Games
3TDs or more
%
1
Aaron Rodgers
151
59
39.1
2
Drew Brees
252
80
31.7
3
Tom Brady
255
78
30.6
4
Philip Rivers
199
54
27.1
5
Matthew Stafford
127
32
25.2
6
Russell Wilson
98
22
22.4
7
Ben Roethlisberger
202
45
22.3
8
Eli Manning
218
47
21.6
9
Matt Ryan
160
31
19.4
10
Kirk Cousins
64
12
18.8
11
Cam Newton
111
18
16.2
12
Joe Flacco
156
17
10.9
2) Thank goodness for "garbage time."
We saw two perfect examples of garbage-time production on Sunday and Monday nights. Eli Manning's total was in the dumpster until a late drive and score helped him total 279 yards and one score (18.4 points). Likewise, Russell Wilson managed two fourth-quarter touchdowns, including a stat-padding score with 14 seconds remaining. That final series also made tight end Will Dissly's owners very happy as he produced 9.6 of his 10.2 fantasy points on the drive.
3) Stay as far away from the Buffalo offense as possible.
Unfortunately true. The lack of offense is across the board, both rushing and receiving. Whether LeSean McCoy plays with his bad ribs or not, you shouldn't start anyone here. No Bills running back, wide receiver, tight end or kicker is averaging more than 5.5 FPts/G. Next up for Buffalo is Minnesota, so it doesn't get any easier.
4) Trade DeSean Jackson while his fantasy value is at its zenith.
He's the absolute definition of "buy low, sell high." Jackson (Yahoo Preseason ADP 203) is averaging 22.8 FPts/G through the first two games, but he hasn't averaged double-digit points for a season since 2014. He has already equaled his touchdown total for 2017. Jackson will share targets with Mike Evans, Chris Godwin and O.J. Howard and that means a likely return to the mean.
5) In a comparison of Broncos wire receivers, Emmanuel Sanders is a better option than Demaryius Thomas.
Thomas is still seeing more targets (21), but Sanders (14-231-1) is doing more with his opportunities. Thomas just seems off his game. Sanders is more elusive and more likely to throw in the long touchdown strike. Since the start of 2017, Thomas has caught just one ball for more than 30 yards or more, Sanders has done it six times.
Lies

"A storyteller makes up things to help other people; a liar makes up things to help himself."
- Daniel Wallace

1) Blake Bortles' game against New England is an indication of future production.
False. This is a "one-off" game. There were a number of reasons for his high totals (29-of-45 for 377 yards and 4 TDs). No Leonard Fournette (hamstring) and facing a team they knew could score points required the Jaguars to keep their foot on the gas pedal, thus his 45 passing attempts. He's thrown 45 or more passes just 11 times in his career. The Jaguars defense will probably dominate the next few games, so Bortles arm won't be needed until Week 5 (at Kansas City).
2) Being a starting running back is a requirement to being fantasy-worthy.
False. Three of the top-12 backs (ranked by FPts/G) don't start – Austin Ekeler (14.2), Chris Thompson (14.1) and Phillip Lindsay (13.7). In all, seven of the top-24 backs come off the bench (Isaiah Crowell, Dion Lewis, James White and Javorius Allen). Touches are key, whether they are the first play of the game or in the final quarter doesn't matter.
3) Jimmy Garoppolo has proven he's fantasy-worthy.
Sorry, no. Although he's proving to be a winning quarterback (8-1 as a starter), he's also demonstrated an inability to thrown a lot of touchdown passes. Remember that box from above with the percentage of games with three touchdown passes or more? Since joining the 49ers, Garoppolo hasn't accomplished that feat. He's averaging 1.29 touchdowns per game. He's thrown three touchdown passes once in his career – for New England in 2016. He's averaging 20.6 FPts/G as a starter in San Francisco which would have ranked him 14th last season. He's currently ranked 25th among quarterbacks.
4) We should worry because the top wide receiver on draft day, Antonio Brown, is ranked just 24th among wideouts (11.0 FPts/G).
False. Although he's only caught 18-of-33 targets (54.5%), the target total is No. 1 in the league. He and Ben Roethlisberger will eventually get it together. Brown owns a career 65.9 % catch percentage. Of course, you will have to pay attention to the off-the-field issues with Brown and the Steelers (there is a report he didn't show up for meetings on Monday).
5) Julio Jones is an elite fantasy wide receiver.
Can you really be elite if you can't consistently find the end zone? The last time a receiver finished top-five (total fantasy points in a season) without scoring at least six times was all the way back in 2012 when Calvin Johnson led all wideouts with 226.4 fantasy points. Of course, Johnson had to post almost 2,000 yards to do it (1,964). The average touchdown total for a top-five receiver over the past five years is 11.25 touchdowns. Jones has only grabbed four touchdown passes in his last 23 games which means he's going to have to average around 115 ypg for 16 games to be elite. That's a tall order.

---
Steve Schwarz served as the fantasy sports editor of The Sports Network and is the 2014 FSWA Football Writer of the Year.