In the topsy-turvy world of fantasy football, Robby Anderson and Tre'Quan Smith led all receivers in scoring. On the other hand, trusted veterans Aaron Rodgers and Tom Brady led the quarterback position. Predicting the unpredictable is virtually impossible.
Detroit and New Orleans are on bye in Week 6 which should make things more difficult for fantasy owners than in previous weeks as each team has a plethora of fantasy-worthy options. It will get even tougher beginning in Week 7 and lasting through Week 11 with at least four teams per weekend sitting on the sidelines. Cashing in on the roster depth you created on Draft Day or through waiver wire pickups is now your reward.

Truths

"Every truth passes through three stages before it is recognized. In the first it is ridiculed, in the second it is opposed, in the third it is regarded as self-evident." - Arthur Schopenhauern

1) Forty-Niners quarterback C.J. Beathard has put up better numbers than the $137.5-million man Jimmy Garoppolo.
True. In fact, in Beathard's two starts he's averaging 28.5 F/Pts which ranks third overall, behind benched Ryan Fitzpatrick and Kansas City's Patrick Mahomes. Beathard is owned in just 4% of all Yahoo leagues. What are you waiting for?
2) Baker Mayfield will be a very good play for the next month.
Actually he's got a great schedule for the next five weeks, facing five of the most generous pass defenses in the league (Chargers, Bucs, Steelers, Chiefs and Falcons). Mayfield is averaging a solid 23.6 FPts/G in his two starts which included a game against Baltimore, who ranks second in QB fantasy points allowed.
3) Trading for LeSean McCoy in expectation of his joining the Eagles would be a wise move.
The Eagles have made no move toward dealing for Le'Veon Bell and McCoy is liked by this management team (it was during Chip Kelly's reign of terror that he was sent packing). If he comes here the Eagles' offensive line is still opening holes (4.4 ypc vs. 4.5 ypc last season) and Philadelphia desperately need to run the ball more to balance the offense. The Eagles have the draft capital to make the move with 11 choices next season including two No. 2s. The team also just restructured the Fletcher Cox deal to give them the financial flexibility to get a big name running back to replace Jay Ajayi.
4) McCaffrey owners are dreaming of the day Newton allows his running back to actually run one in from near the goal line.
True. McCaffrey has eight touchdowns in his career and not one of them has been from running the ball from inside the four-yard line. Since 2017, Newton has five rushing touchdowns from the four-yard line or closer. The former Stanford running back is averaging 80.4 yards from scrimmage for his career which compares favorably to Devonta Freeman (78.11), but unfavorably when it comes to touchdowns (.587 TDs per game vs. .40 TDs per game).
5) Adrian Peterson really is Superman.
How else do you explain his quick return from serious injuries? In December 2011, he tore his ACL and the next season he not only returned for Opening day, but rushed for 2,097 yards that season. On Monday night Peterson said he dislocated his shoulder, but returned to the game saying "it's just a little sore." He also said he expects to play in Week 6. This season Peterson has been limited by the score, not health. When Washington is ahead or in a close game, he gets his chances, when they are behind, like Monday night, he sits in favor of Chris Thompson. Before starting or trading for Peterson, you have to ask yourself, will Washington get blown out or keep it close?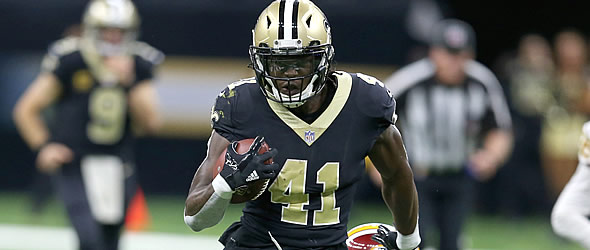 Lies

"Facts are stubborn things, but statistics are pliable." - Mark Twain

1) "Everybody here is all-in in terms of their belief that Dak (Prescott) can be a great player in this league and will be," Stephen Jones (January 2018).
So far, all we've seen is a lot of mediocrity. Prescott averaged 21.2 FPts/G as a rookie (ranked 14th), but he's headed in the wrong direction since. He's averaged 15.4 FPts/G over his last 15 starts. His receiving corps is not good, but hey, in 2000 I saw Donovan McNabb finish top-10 in fantasy with Charles Johnson and Torrance Small and the next season with James Thrash and Todd Pinkston. Prescott's receivers can't be worse than those pairs? You want more recent, Cam Newton led the league in scoring (28.5 FPts/G) in 2015 with a Ted Ginn Jr., Jericho Cotchery and Corey Brown at wideout.
2) The sky is falling for Alvin Kamara owners.
False. While Monday night was a disaster for Kamara's fantasy owner (nine touches for 39 yards), there were mitigating circumstances. The blowout of Washington allowed the Saints to get suspended Mark Ingram (16-53-2) some live work with the first string offense and Drew Brees was intent on setting the all-time passing mark in front of his home crowd before the next road game. Kamara will be just fine. However, if you find a panicky owner, be sure to fleece ... I mean trade for him.
3) Jarvis Landry will eventually turn his targets into top-10 fantasy points.
Probably not. Through five games this season, Landry is the only top-10 targets receiver not averaging double-digits fantasy points. He's averaging just 8.8 FPts/ G on 57 targets (11.4 targets-per-game). Last season, Landry averaged 9.5 FPts/G on 161 targets (10.1 targets-per-game) and in 2016 he managed 8.7 FPts/G on 131 targets (8.2 targets-per-game). His targets are increasing, but his production is flat lining. Like Mayfield, Landry has a great schedule this month, so let's see if he can take advantage. History says no.
4) You don't need touchdown receptions to be a WR1 or WR2.
False. In fact, every receiver in the top-20 based on fantasy points per game has at least two touchdowns except Brandon Cooks (1) and Julio Jones (0). Last season, the top dozen receivers (at least four games played) had a minimum of five touchdowns.
5) The league's top fantasy kicker (at least two games played) isn't on rosters because people can't pronounce, or spell, his name.
Not true. It's more likely they aren't paying attention. After all, you don't need to spell his name - just hit the dropdown menu and click on Ka'imi Fairbairn. He's averaging 9.8 FPts/G which is tied with Cody Parkey yet Fairbairn is owned in only 19% of all Yahoo leagues and Parkey is owned in 3% of all leagues. Meanwhile, Chris Boswell of Pittsburgh, who is averaging less than half of Fairbairn and Parkey's production (4.6 FPts/G), is owned in 51% of all leagues.

---
Steve Schwarz served as the fantasy sports editor of The Sports Network and is the 2014 FSWA Football Writer of the Year.