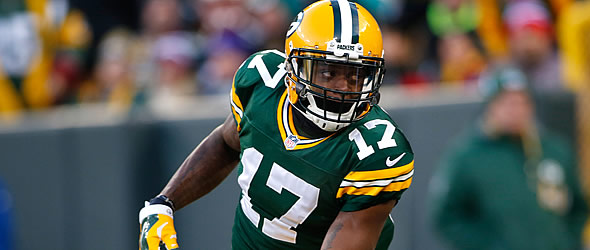 He's not the first name you think of when discussing wide receiver superstars, but the Packers' Davante Adams certainly is one.

OK, who first came to mind when I said superstar receiver?

Antonio Brown and his league-leading 15 touchdown catches and twitter fights with Ben Roethlisberger? Quiet … certainly not. There were probably a number of you who immediately thought of Odell Beckham Jr.'s one-handed catches … and crazy sideline antics. Quiet, hardly. Or the explosiveness of the "soon-to-be-suspended" Tyreek Hill, who actually led all wideouts in fantasy points (241) and FPts/G (15.1) in 2018, but can't stay out of trouble off the field.

Many may have written down DeAndre Hopkins and all those acrobatic catches? Or the beyond-believe athleticism of Julio Jones?

I'll bet Adams wasn't even one of the top-five players in your thoughts. But Adams can hang with all of them and he apparently doesn't need to be your typical "wide-receiver diva." He listens to his coaches and he knows the young guys on the team are watching him.

"I'm the most coachable guy out here, so if it's something, anything, you see in a route that I run, whatever it is, I want to make sure you let me know, because I want to perfect it … ," Adams said after a recent practice.

In 2018, Adams hauled in 111 of 169 targets for 1,386 yards and 13 touchdowns. He averaged 14.4 FPts/G (third-best). And Adams is improving. In 2016 he caught 61.9-percent of his targets. That number was 62.7-percent in 2017 and jumped to 65.7-percent last season.

"It's nothing against anybody else," said Adams in a recent interview, "I just don't feel like anybody can guard me. I feel like I have a rare skill-set with my quickness and my size."

What does 2019 have in store for Adams and fantasy owners?

Well, he still has one of the elite quarterbacks in the NFL throwing him passes – Aaron Rodgers. And he still doesn't have a second wideout lining up across from him who might steal any of his thunder. Neither Geronimo Allison, Marquez Valdes-Scantling or even Equanimeous St. Brown are likely to take a bite out of Adams' massive target total (he was second to Jones' 170 targets last season). They also didn't find any help from this year's rookie draft, not choosing any wide receivers. They did use a third-round selection on a pass-catcher - tight end Jace Sternberger, but Rodgers doesn't target tight ends very often. Over his last two full seasons, Rodgers has targeted his tight ends 18.5-percent of the time (227 of 1,229 passing attempts).

Adams may see even more passes in 2019 as new Packers head coach Matt LaFleur said recently that Adams "will be utilized in the slot more often." That could help him to avoid a defense's No. 1 defender or double coverage.

The Vikings' Adam Thielen made a living out of the slot last year catching 84-of-107 targets (78.5%) for 972 yards and seven scores. So did JuJu Smith-Schuster, Jarvis Landry and Robert Woods as the chart below demonstrates.

Meanwhile, Adams saw just 52 targets from the slot in 2018. That was second on the Packers, behind "heading-to-Dallas" Randall Cobb (55) and a mediocre 34th in the league. The top-10 "slot receivers" caught 68.5-percent of their targets, so more slot work could certainly be beneficial to Adams' catch percentage.

*Statistics courtesy of Sports Info Solutions

"Different concepts and probably moving me around a little more, which will only help, Adams continued. "To be able to get inside a little more, things like that, will make it easier."

The schedule, at least outside of the tough NFC North, is favorable. Of the 10 games outside the division, six are against teams in the bottom half in "fantasy points allowed to wide receivers" and just three are against the top-10. He's also been solid against the Bears pass defense, amassing 35 catches for 467 yards and five touchdowns in the last six games.

As long as Rodgers and Adams stay healthy (Adams has played in 45-of-48 games since becoming the focal point of the Green Bay passing game), there is no reason the Packers wideout can't be a top-five fantasy receiver … again. Only this time, make sure he's doing it for your fantasy team too.