For most of us, the playoffs begin now. No planning for the future, it's win or go home. Put out your best lineup, regardless of whether that means benching a non-producing "big-name" player, or not.

It appears that weather won't be as much of a factor in Week 14 as Week 13. It will be cold in Chicago, New York, Buffalo, Cleveland, New England and Green Bay (no surprises there), but no precipitation. Good luck!

Truths

"Truth only reveals itself when one gives up all preconceived ideas." – Shoseki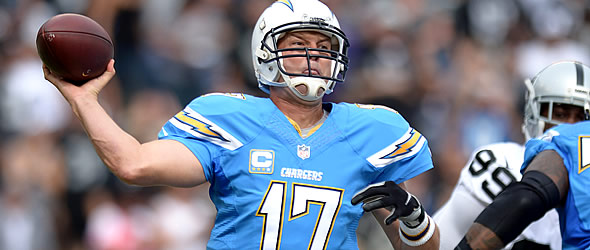 1) Since Week 11 Philip Rivers has averaged more fantasy points than Rodgers, Brees, Wentz and Mahomes.
Fact. Yes, we all know itís time for the Chargers to think about the future of their quarterback position, but in his two games Rivers averaged 21.5 FPts/G, more than Brees (21.4), Wentz (21.1), Rodgers (20.5) and Mahomes (20.1). Itís been a throwaway year for the Chargers with injuries, holdouts and poor play ruining what was expected to be a competitive run at Super Bowl 54 in Miami.
2) Gardner Minshew and Tom Brady are both completing 61.1-percent of their passes and the Jaguars quarterback has a better yards-gained-per-passing-attempt average (7.3-6.7).
Not surprisingly then, their average fantasy points per game is also close with Brady holding a 21.4-to-20.9 edge in the games they started. Brady, however, is owned in 95-percent of all leagues, while the newly-reinstated Jaguars starting quarterback is owned in just nine percent. Jacksonville plays Oakland (ranked 30th in QB fantasy points allowed) in Week 15 and Atlanta (ranked 26th) in Week 16 if your current quarterback situation is muddled by a bad playoff schedule.
3) Derrick Henry and he should be a ďmonsterĒ through the three-game fantasy playoffs.
Likely true. Henry continued his second-half scoring spree last week (26-149-1 vs. the Colts). His three playoff opponents have not been very good against the run since Week 9, with Oakland ranking 26th, Houston ranked 30th and New Orleans ranked 15th. Ride this workhorse.
4) Even without his rushing statistics, Austin Ekeler is producing better than the No. 24 fantasy receiver - Calvin Ridley.
Fact. Ridley has produced a 58-790-6 line while Ekelerís receiving out of the backfield has amassed a 69-718-7 line. Itís been the saving grace for Ekelerís fantasy owners who likely drafted him a little high because they thought Melvin Gordon would hold out until Week 10 when he was contractually required to show to accrue the year. Instead, Gordon returned in Week 4 and started playing in Week 5.
5) If you are in need of wide receiver help this weekend, look to the NYG -PHI game.
These two pass defenses are two of the four worst in the league. The Eagles rank 29th allowing 142 receptions for 2,050 yards and 16 touchdowns and the Giants rank 31st yielding 159 receptions, 2,350 yards and 18 scores. The Giantsí Sterling Shepard returned from injury last weekend and at 58-percent owned could be a very nice waiver claim heading into Week 14. Darius Slayton (27-percent owned) led the Giants with nine targets last week and could also fill in nicely. On the other side of the ball, Alshon Jeffery is 80-percent owned, so likely not available, but check anyway, because he might have been dropped while injured. Rookie JJ Arcega-Whiteside got some play last Sunday and scored his first career touchdown, but heíd be a desperate longshot.
Lies
"Everyone is entitled to his own opinion, but not to his own facts." - Daniel Patrick Moynihan
1) Leonard Fournette can't catch.
False. In a complete reversal from his first two seasons and his three years at LSU, the Jaguars running back has become an integral part of the passing game with 81 targets, 65 receptions and 444 yards. Heís third in RB receptions and tied for fifth in RB receiving yards with Alvin Kamara. Thatís seven more receptions than he had in his first two NFL seasons combined and 24 more balls than he hauled in during three seasons in college. Now if he could just take one of the catches to the house Ö
2) The emergence of Rashaad Penny hasnít hurt Chris Carson owners.
False. Penny has put up 18.9 and 26.7 fantasy points over the past two games, including 19 touches Monday night. The 2018 No. 1 draft choice out of San Diego State (27th overall) may have finally found his niche and the result is Carsonís upside will be limited through the playoffs. Carson is still the starter and playable, but the days of 28 touches are likely over. The Seahawks have a tough game in Week 14 against the Rams, who are No. 10 against opposing fantasy running backs, then two great matchups (Carolina and Arizona) in which both backs could be started.
3) There is no help at tight end for owners of injured Evan Engram, Eric Ebron and Austin Hooper.
False. There are three solid tight end options based on play since Week 9. Kyle Rudolph (57-percent owned) ranks fourth (15.5 FPts/G), Jack Doyle (58-percent owned) ranks eighth (12.4) and Miami Dolphins emerging tight end. Mike Gesicki ranks 11th (11.6) and is just 19-percent owned.
4) If you donít have the New England Patriots or San Francisco defense/special teams it doesnít matter.
Actually there are three defense/special teams that are in the top tier; San Francisco (7.9 FPts/G), the Patriots (7.9) and Pittsburgh (7.6). And over the past five weeks, only one of those top three teams remained in the top three Ö Pittsburgh. The 49ers were still solid over that span (ranked sixth), but the Patriots have dropped off the cliff (26th).
5) The most disappointing fantasy wide receiver this season is the mercurial Odell Beckham Jr.
I would say no. OBJ hasnít been good, but remember how everyone was so excited for JuJu Smith-Schuster taking over the No. 1 role for Antonio Brown? Yes, I know Ben Roethlisberger was injured early on, but JuJu has been horrible even when he hasnít been hurt. He has just two games of more than 20 fantasy points and five games under eight points which is really hard for a No. 1 receiver in a PPR league. Heís ranked 53rd overall among wideouts for the season. Some guys are just better in the No. 2 role where the defensive attention is elsewhere.