For most of you reading this article it's on to the second round of the playoffs. Congratulations on your survival and advancing to the semi-finals.

Weather could be a factor this weekend with cold mid-December weather making a few games a concern. Early forecasts say a frigid 10-degrees in Green Bay and below freezing in Baltimore Thursday night, Kansas City and Pittsburgh. And while it will be a lovely 61-degrees in Los Angeles for the Vikings and Chargers, the winds could be blowing around 20 mph. which isn't good for the passing game.

Truths

"Integrity is telling myself the truth. And honesty is telling the truth to other people." - Spencer Johnson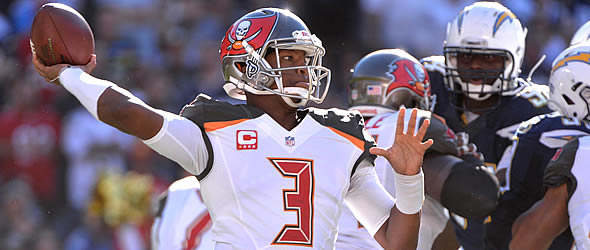 1) Le'Veon Bell won't be disciplined for bowling after being ruled out for Week 14 with the flu.
The team didn't want him to infect the rest of the roster, so staying away was always the plan. And bowling really doesn't require much energy anyway. In addition, it's likely the Jets will try to trade Bell in the offseason and a suspension might lower his value. Bell should be ready to go Thursday against the Ravens, but it's a tough matchup. Baltimore ranks ninth in RB fantasy points allowed (16.4 FPts/G).
2) Jameis Winston also leads the league in QB fantasy points since Week 12.
Fact. Despite leading the league in interceptions over the past three weeks with five (he also leads that category for the season having thrown 23 interceptions) he also has been on a tear the last three games. It's the difference between real life football and fantasy football. Turnovers lead to losing, but it also leads to passing the ball while attempting a comeback. Winston ranks fourth this season producing 26 FPts/G. Ben Roethlisberger led the league in interceptions in 2018 and finished third. Philip Rivers led the league in picks in 2016 and finished eighth. Blake Bortles threw 18 picks in 2015 and still finished fourth. Interceptions don't mean much for fantasy owners.
3) Tom Brady, Aaron Rodgers and Russell Wilson rank 18th, 19th and 20th, respectively since Week 12.
True. It's why fantasy owners need to go with the hot hand and the best matchups over "names." Would you believe Mitchell Trubisky and Ryan Tannehill ranked second and third, behind Winston and ahead of Lamar Jackson and Drew Brees? Tannehill plays the New York Giants (ranks 26th in opposing QB fantasy points allowed) and could be a great streaming option.
4) Joe Mixon has finally returned to a playable level.
After producing just 8.91 fantasy points per game over the first seven contests, Mixon has exploded for almost double that number averaging 17.4 fantasy points the last half dozen games. That's above the level he was producing in 2018 (16.7). Unfortunately, he's facing the New England Patriots this weekend who rank No. 1 against opposing running backs.
5) The three most unlikely receivers in the top-10 since Week 12 are; A.J. Brown, D.J. Moore and Robby Anderson.
Fact. Brown has done well since the quarterback change (8.81 with Marcus Mariota and 14.4 with Tannehill) and been particularly strong over the past three games (21.5 FPts/G). Moore has three touchdowns and 282 yards the past three games and Anderson has posted back-to-back 100-yard games and is averaging 20.2 since Week 12.
Lies
"Truth is confirmed by inspection and delay; falsehood by haste and uncertainty." – Tacitus
1) It's pure coincidence that the Patriots videographers used the same excuse in 2019 that they were told to give, if caught, back in 2007 during "Spygate."
Hahaha! If you believe that one I have a fair trade for you to consider … Lamar Jackson for DeSean Jackson. Deal? It's also just a coincidence that the Patriots team of "filmmakers" aimed the camera directly at the Bengals coaches who were sending in signals (for almost eight minutes). Want to guess who the Patriots play this weekend? According to Special Agent Leroy Jethro Gibbs' Rule No. 39 … There is no such thing as a coincidence.
2) Odell Beckham Jr. loves Cleveland.
Ho-ho-ho! The man needs the spotlight and is realizing it doesn't come to Ohio. The rumors have been flowing this week that he has been telling every opposing player he wants out. He's looking at career lows for fantasy points (12.0) a 1/3 drop from his previous three seasons in New York when he produced at least 18 points each year with Eli Manning. He's playing at less than 100-percent, but even a healthy OBJ would probably put up lower numbers in Cleveland than New York because the Browns have more mouths to feed (Nick Chubb, Kareem Hunt, Jarvis Landry and David Njoku).
3) Eli Manning is a Hall of Fame quarterback.
Not for me and certainly not for fantasy. We can debate his election to the Hall of Fame at any time. It's his two Super Bowl MVPs and wins vs. his modest 116-117 career record. It's his mediocre career 84.1 QB rating. But for fantasy owners he's really only had two decent seasons (2011 and 2015). Even then he finished seventh and 10th respectively. Longevity should not equal a gold jacket. Superior play should. On the other hand, the Giants' quarterback, whether it's Eli on rookie Daniel Jones has a favorable schedule down the stretch against Miami and Washington if you are in need of another option due to injury or unfavorable opponent.
4) Arizona's Kyler Murray isn't the guy to lead you to the fantasy championship.
It could be the "rookie wall," but Murray hasn't thrown for 200 yards in three games. It could also be that the Cardinals faced San Francisco, the Rams and Pittsburgh … all teams playing top-10 pass defense. I tend to believe the latter. He'll face Cleveland in Week 15 at home where he is averaging 22.8 FPts/G and Seattle in the fantasy finals and both are middle-of-the-road defenses against opposing fantasy quarterbacks.
5) Carson Wentz proved Monday night that he can win and produce numbers even without any wide receivers.
I'd have to say no. Wentz produced most of his points while Philadelphia was in "desperation mode." They face Washington who probably doesn't have the firepower to get two touchdowns ahead of the Eagles. I expect the 6-7 Eagles, who are still fighting for a division crown, to use Miles Sanders and Boston Scott in an effort to disguise the fact that they have absolutely no receivers available. DeSean Jackson, Alshon Jeffery, JJ Arcega-Whiteside and Nelson Agholor are unlikely to be active, leaving the team with Greg Ward as the only wideout on the current roster. They will likely activate practice squad guys like Marken Michel (Sony's brother), Marcus Green and Robert Davis. It's OK to say "Who?" I did too. How many times can Wentz find a double-teamed Zach Ertz? It's probably best to stay away from Wentz this Sunday.