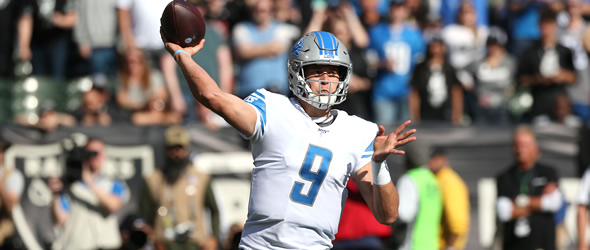 Of the following four quarterbacks (Patrick Mahomes, Deshaun Watson, Dak Prescott and Matthew Stafford), who averaged the most fantasy points per game in 2019?

If you said Super Bowl winning Mahomes, you were way off as he averaged a mere 24.2 FPts/G, the lowest of the four options. Those of you who picked Watson were also wrong as he produced 25.3 points. And one final wrong answer is Prescott who averaged 25.7 points.

The correct answer is Stafford who averaged 25.9 FPts/G!

Yet the most recent Fantasyfootballcalculator mock drafts show Stafford as the 13th quarterback off the board with an ADP of 109, a tenth-round selection.

Apparently, "out of sight, out of mind."

Although his Lions owned a sub .500 record (3-4-1) before a back injury knocked Stafford out for the season, he produced 2,499 yards and 19 touchdowns in eight games. If you extrapolate Stafford's work for a 16-game season, he would have finished with 4,998 passing yards, 38 touchdowns and just 10 interceptions. He was sixth in quarterback rating (106.0), fourth in TD% (6.5) and fourth in net yards per attempt (7.64).

You may be saying to yourself … yes but it was just one fluke season after three consecutive seasons of averaging less than 22 FPts/G. Or that he hasn't been the same since Calvin Johnson retired which was not coincidently the last year Stafford cracked the 22 PPG mark.

Perhaps that's why he's undervalued for 2020.

But I believe that with all the weapons now surrounding Stafford, this could be the "new normal." Let's look at the tools Detroit management has brought in.

Last season they selected tight end T.J. Hockenson in the first round. He caught 22 of his 32 balls from Stafford in the first eight games. The Lions signed steady possession-type receiver Danny Amendola away from Miami. He caught 31-of-44 targets for 376 yards and one score while playing with Stafford.

This April, Matt Patricia and company added running back D'Andre Swift. Besides being a great one-cut runner and the Sports Info Solutions' highest-ranked rookie running back (6.8), they rated his catching skill equal to that of Clyde Edwards-Helaire (6) and a better pass blocker (5).

Meanwhile, Kenny Golladay has blown up, more than doubling his touchdown total in 2019 (11) while producing a career-high 1,190 yards, his second consecutive season over a 1,000 yards. Add veteran Marvin Jones who continues to produce when healthy, putting up 779 yards and nine touchdowns in just 13 games. That's a lot of talent for Stafford.

The chart below shows the receiving corps' numbers could have been a lot better had Stafford played the entire season instead of David Blough (0-5) and Jeff Driskel (0-3).

The quintet of Golladay, Jones, Amendola, Hockenson and Swift is as talented as the 2011 group of Johnson, Burleson, Titus Young, Brandon Pettigrew and Jahvid Best when Stafford produced a career-best 26.5 FPts/G.
Lions - 2011
With Stafford
Targets
Rec
Yards
TDs
Catch%
Yards/Tar
Calvin Johnson
158
96
1681
16
60.8
10.6
Nate Burleson
110
73
757
3
66.4
6.9
Titus Young
86
48
607
6
55.8
7.1
Brandon Pettigrew
126
83
777
5
65.9
6.2
Jahvid Best
40
27
287
1
67.5
7.2
* With Stafford, Blough and Driskel
If you are worried about the back injury, please note that from 2011-2018, Stafford made every start. He's a gamer. In April, Lions GM Bob Quinn noted that Stafford had been medically cleared and a "full go." If Quinn had been worried, he likely would have drafted a quarterback or signed a higher-quality backup than Chase "I'm-more-of-a-coach-than-a-player" Daniels or winless Blough.''
Meanwhile, new offensive coordinator Darrell Bevell showed he wasn't afraid to throw the ball. In the first eight games of last year Stafford threw 291 passes and running backs rushed 187 times. That's a 60.9% passing rate.
The only factor working against Stafford is the NFC North division. The six division games are the toughest on the Lions schedule for opposing passers. If he can figure out Chicago (No. 4) and Green Bay (No. 6) and repeat last season against No.10 Minnesota (he put up 34.2 fantasy points against the Vikings in his only 2019 meeting), in the remaining 10 games the defenses allowed an average of 23.13 fantasy points to opposing quarterbacks last season.
While I'm not saying Stafford will outscore Mahomes in 2020, I think a viable draft day strategy could be to not use a high pick on Mahomes (ADP 15.3) or Lamar Jackson (21.9). Instead, choose a star like Aaron Jones, Chris Godwin or Travis Kelce in the second round and still get quality play from your quarterback by selecting Stafford with a 10th-round selection.