Grab a Helmet
Fitzpatrick has thrown for more than 300 yards in his last two games and three of four. This Sunday he faces a generous Jets team who has allowed opposing passers to complete 72.3% of their passes for 275 yards and 1.6 touchdowns. This is not the game where Fitzpatrick throws 4+ interceptions (that will come in Week 8 when Aaron Donald is chasing him down in the backfield), this is the one where he actually will help your lineup.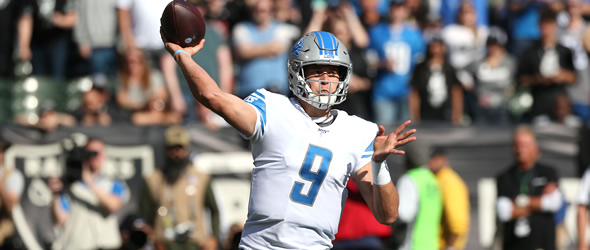 I thought Stafford would have a big year this season after a very productive eight games in 2019, but so far that hasnít happened. The loss of his No.1 receiver, Kenny Golladay, to begin the year might have something to do with the slow start. Stafford has produced three consecutive multi-touchdown passing games, but has yet to crack the 300-yard mark. That should change against a Jacksonville defense that has allowed 26 FPts/G (ranked 26th), 284.2 passing yards (28th) and 2.2 passing touchdowns (28th), despite not facing a ďmurders rowĒ of quarterbacks; Philip Rivers, Ryan Tannehill, Ryan Fitzpatrick, Joe Burrow and Deshaun Watson.
It should come to no surprise that I advocate facing the leagueís worst pass defense. The Falcons are allowing a league-worst 34.8 FPts/G this season. That includes 345.6 passing yards and three touchdown passes. Therefore, despite Coach Mike Zimmerís annual desire to run the ball and play defense, we should see a change in strategy for Week 6. Cousins has plenty of receiving options in Adam Thielen, rookie Justin Jefferson and a pair of tight ends capable of catching the ball (Irv Smith and Kyle Rudolph). In addition the offense is without their best player - running back Dalvin Cook. This will be Cousinís chance to shine.

Grab an iPad
The upheaval in Atlanta this week should be concerning to everyone connected to the team. The head coach and GM were fired after Sundayís fifth-consecutive loss. The owner didnít support the long-term future of his former MVP quarterback. Perhaps things could turn around if Julio Jones (hamstring) plays, but Ryan hasnít played well for three weeks, ďamassingĒ just one touchdown pass. Too many question marks here to play him.
Itís not that Wentz canít play the position, but given the receiving options around him, itís hard to imagine a scenario where the Eagles franchise quarterback will produce fantasy-worthy numbers against this Ravensí defense. Even if DeSean Jackson and Alshon Jeffery were to return to the lineup, the best Eagles receiver on the field will be Ö Travis Fulgham? The Baltimore defense has yielded yards this season, but just six touchdown passes (third-best) in five games.
The Steelers defense has yet to allow a 300-yard passer this season. In fact, they haven't allowed a 300-yard passer since Week 6 of 2019, a full year ago. This is not the game where Mayfield breaks the string. He's played against two tough defenses this season, at Baltimore in Week 1 and against Indy last week and he was mediocre in both with a completion percentage below 60% and a total of 436 yards. The Pittsburgh defense is on par with both those teams.

Quarterbacks | Running Backs | Wide Receivers