In most leagues, this is the final week of the fantasy regular season. Many, including me, didn't think we would get here, but indeed we have made it there without nearly as much difficulty as expected. Sure, we have all lost guys to the Covid-19 list, but not as many as we lost due to injury. Apparently, OTAs, summer camp and preseason games do have value..

Byes: Carolina, Tampa Bay

Truths

"Beauty often seduces us on the road to truth." – David Shore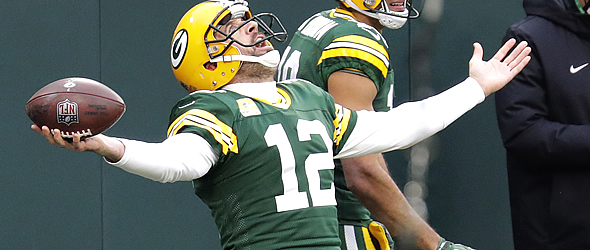 1) Playing off the above quote … Russell Wilson was beautiful, but Aaron Rodgers is the truth.
Wilson was my early choice for MVP, both real and fantasy, and I said so in Week 3, but as we have headed down the stretch in the fantasy regular season, in my mind Rodgers has grabbed control. Yes, Patrick Mahomes has been great too, but less consistent than "ARod", producing four games under 25 fantasy points. Meanwhile, Rodgers has just two games under 27.4 fantasy points all season and none since Week 6. After his fast start, the Seahawks quarterback has averaged just 22.8 points over the last month. Seattle is throwing less and running more to help cover up a weak defense. Kyler Murray, who leads all fantasy quarterbacks with a 31.1 FPts/G season average, has stumbled the past month averaging 27.95 FPts/G including 23 points against that soft Seattle pass defense in Week 11 and 12 points against the Patriots on Sunday. Defenses are prepared for his running game. But in Green Bay Davante Adams misses three games early on … no matter. Allen Lazard is injured, doesn't matter. Marquez Valdes-Scantling drops multiple passes, so what? Rodgers keeps producing points. He's averaging 29.5 for the past six games with a 27.5-point floor. Three of his next four opponents rank 20th or worse in QB fantasy points allowed.
2) The Seahawks have gone through 12 weeks of the season without a single Covid-19 positive case.
Fact. I congratulate the entire organization, players, coaches, team personnel and families on their dedication to play the season and to keep safe. Other teams should take note. An organization this committed might also have the inner willpower to win a Super Bowl.
3) If you started Justin Herbert and lost a close one this week, blame his head coach Anthony Lynn.
True. Lynn's mismanagement of his timeouts and play-calling was "completely incompetent." Here is just one example. With no time outs remaining, 25 seconds left on the clock in the fourth quarter and down two scores, Lynn called a run up the middle with an overworked-just-back-from-an-injury Austin Ekeler (25 touches). It gained one yard and left just eight seconds on the clock. On fourth-and-goal he had his star rookie quarterback try to sneak the ball up the middle. The play failed. The Chargers offense can be dynamic, they just need some help from the sidelines.
4) George Kittle is owned in 63% of all leagues.
True. That also means in 37% of all leagues he's available for pickup. His original timeline called for about eight weeks, but he always said he thought he could be back sooner. "I'm holding out hope for ... the last couple of weeks," said 49ers' head coach Kyle Shanahan on Tuesday. Couldn't he help you in the fantasy championship (Week 16)? Even if you already start Travis Kelce at tight end how would Kittle look as your flex?
5) Most disappointing running back, in the non-injury division goes to …
As much as this Eagles' fan would like to say Ezekiel Elliott or Miles Sanders, the correct answer is Mark Ingram. He ranks 76th at 5.6 FPts/G. This after producing 16.2 FPts/G in 2019 (combined 1265 yards and 15 TDs). He's third in his own running back room in points and points-per-game behind rookie J.K. Dobbins (8.3 FPts/G) and Gus Edwards (6.3).

Lies

"The way to combat noxious ideas is with other ideas. The way to combat falsehoods is with truth." -William O. Douglas
1) Alvin Kamara can still be an elite back with Taysom Hill under center.
False. Kamara is averaging 8.4 fantasy points the past two games. Hill hurts Kamara in two primary ways. First, he poaches Kamara's short touchdown runs. Kamara has seven rushing touchdowns from inside the 10-tard line, but just one with Hill at quarterback. In those two games, Hill ran for four scores from the 10-yard line or closer. Those should have been Kamara points. Second, he doesn't use Kamara's elite skills as a receiver. Kamara has been targeted three times in two games after seeing 80 targets in the first 10 games. We know someone who will be happy when Drew Brees returns to the starting lineup.
2) You can't lose your draft in the first round, all the picks are great.
False. In 2020 it has been either feast or famine. Either your selection played well or he was a disaster, there weren't many first-rounder middle-of-the-road picks. First-overall pick, Christian McCaffrey, has played just three games this season. He was great in them, but it means he's left his owners empty for 8-of-11 games. Saquon Barkley's injury in Week 2 damaged many owner's plans as did the injury to Michael Thomas. The record-setting wideout with 149 catches in 2019 averaged 23.4 FPts/G, but has produced just 9.6 fantasy points for five games due to an ankle injury. Even when he returned, the injury to Brees has left Thomas with a running quarterback who doesn't throw often. Ezekiel Elliott's performance continues to slide despite his early selection. An inferior OL and questionable work ethics since signing a big contract should tell fantasy owners to drastically downgrade his value next season. Finally, in two-quarterback leagues where 2019 NFL MVP Lamar Jackson was a first-round pick, his production has fallen by 24% this season. Now he's sidelined by Covid-19. That's five top-10 disasters.
3) Josh Allen is an elite fantasy quarterback.
I'm going to have to say no, despite him ranking tied for fifth among fantasy quarterbacks after 12 weeks. It's been a tale of two seasons for Allen, who began the season in the MVP talk with Wilson and over the past seven games has been producing outside the top-10. He averaged 35.2 for the first four games and 23.7 over the past seven games. The variance between early and late would be a lot worse except for a monster game he put up against the Seahawks in Week 9 (the league's worst pass defense). He's been below 24 points in five of the last seven games.
4) Washington's rookie Antonio Gibson is limited by veteran J.D. McKissic.
False. The rookie from Memphis has improved as the season has gone along and is still involved in the passing game despite McKissic's 68 targets (second-most of any running back). Gibson has seen 39 targets which ranks 15th. He averaged 12.7 fantasy points over the first six games and 22 points since Week 7. The improvement is a combination of both running better and more opportunities. Gibson rushed for 3.8 ypc through Week 6 and 5.4 ypc since. Add in the increased usage from 13.8 touches to 17.6 touches and it's easy to see why Gibson has become a top-five fantasy back in the second half of 2020.
5) The signing of Antonio Brown and Rob Gronkowski is the reason Chris Godwin's production is down 21.4%.
In fact, the reason is Tom Brady … the GOAT. Godwin is catching the same number of balls each week as last season (6.1) when he produced 19.6 FPts/G. Unfortunately, he's been affected by Brady's well publicized failures at throwing deep this season. Godwin is averaging just 11.5 yards-per-reception vs. 15.5 in 2019 (also 14.3 in 2018 and 15.4 in 2017). Additionally, Godwin scored from long distance in 2019 - five-of-nine touchdowns came from 20 yards or more. This season he has zero touchdown receptions over 13 yards. It's TB12, not additional receiving options.