Week 14 saw the end of the regularly scheduled "bye season," but a significant uptick in the number of positive Covid-19 tests (37 on Monday and at least 25 on Tuesday) will make playoff lineup formation much more difficult. You can't plan for unexpected "Covid-19 list byes" as you could for regular bye weeks. An example of this new dilemma was the four-hour warning fantasy owners got when Rams tight end Tyler Higbee was declared out for Monday night's Cardinals game. Both the Rams and Browns closed their facilities Tuesday due to Covid-19. Good luck.



Truths

"Truth I have no trouble with, it's the facts I get all screwed up." – Farley Mowat
1) The only way to stop Cooper Kupp in 2021 is likely a Covid-19 outbreak.
We shall see if this virus can slow down Kupp's record-breaking season (113-1,489-12). If either Kupp or quarterback Matthew Stafford get the virus it could be a disaster for fantasy owners. Just in: Odell Beckham Jr. was announced as Covid-19 positive Tuesday. The Cardinals held Kupp to 5-64-0 in their first meeting (his worst of the season), but he got his revenge Monday night with a 13-123-1 performance. Kupp will face Seattle. Minnesota and Baltimore for the fantasy playoffs.
2) Ben Roethlisberger may not be the star he once was (26.3 FPts/G in 2108), but his high floor still makes him a viable option.
Though he has thrown for 300 yards just twice this season, including last week, he's cracked the 200-yard mark in 11 consecutive games and tossed a touchdown pass in every game he's played. Patrick Mahomes can't say that. Aaron Rodgers can't say that. Neither can Josh Allen. When/if Roethlisberger retires after the 2021 season it will be interesting to see who wants to replace him. The Steelers have great receivers (always) and a star running back in the making (Najee Harris). They need to improve the OL, but I'll bet a number of established stars would be happy to come to Pittsburgh to finish out their careers (can you say Russell Wilson or Aaron Rodgers?).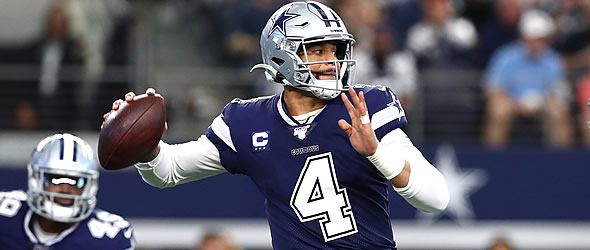 3) Dak Prescott has not been the same quarterback he was before the calf injury which kept him off the field in Week 8.
True. Prescott average 27 FPts/G over the first six games of the season, but since returning in Week 9 he's averaged just 20 FPts/G. His accuracy is significantly down from 73.1% over the six-game start to 63.2% since his return. Even in his worst season (2017) Prescott averaged 20.4 FPts/G and this stretch is well below his last two seasons 25.7 in 2019 and 31.2 in an injury-shortened 2020 season. He'll face the Giants (23rd in QB fantasy points allowed), Washington (32nd) and Arizona (5th) in the playoffs so there is a chance he can turn it around in the first two rounds.
4) Be wary of declaring the Packers' Aaron Jones "is back" after his 21.5 fantasy points in Week 14.
Fact. It was Jones' best fantasy total since Week 8, but he managed it on just eight touches by scoring twice. Since Week 7, Jones and AJ Dillon has seen similar workloads (12.3 for Jones and 13.1 for Dillon). Through the first six games of the season Jones averaged 17.3 touches to just 9.7 for Dillon. Jones simply won't produce as he did in 2019 (19.9 FPts/G) and 2020 (18.5) because he's no longer a "workhorse running back." Remember this fact at your 2022 draft (if he and Dillon are still paired together) when he's still available in the late-second round. He's a good fantasy running back, but not a great one due to reduced volume.
5) Joe Mixon is second in rushing yards (1,036) and third in rushing touchdowns (12), yet just ninth in fantasy points per game (18.1).
True. Of those in the top-10, only Derrick Henry (18 receptions but out since Week 8) has fewer catches than Mixon's 28 (tied with Dalvin Cook who has played three less games). His 15.5 receiving yards per game is the fewest of any top-10 back. It's becoming clearer and clearer that to be an elite fantasy back you have to be a very good pass catcher as well as runner. The exit of Giovani Bernard from the Bengals backfield group should have been a bigger boost to Mixon's fantasy value.

Lies

"Facts or opinions which are to pass through the hands of so many, to be misconceived by folly in one, and ignorance in another, can hardly have much truth left." – Jane Austen
1) A Derrick Henry (23.4 FPts/G) return in Week 17 would be a blessing for fantasy owners who stashed him all this time.
Perhaps not. There is very little chance the Titans put a regular workload on Henry before the real playoffs begin and even less likely if they have clinched the AFC South division where they own a two-game lead and the tiebreaker over the Indianapolis Colts. On the other hand, if they can continue to win and see a Patriots loss they could grab the top spot and the only AFC bye. That might be worth taking a chance of overworking Henry.
2) Clyde Edwards-Helaire is back!
Sorry, not yet. CEH had his first two-touchdown performance since his only other two-touchdown game in Week 11 of 2020, but his 37 rushing yards was the second-worst of the season (he had 13 yards in Week 5 when he injured his knee). Since his return from an MCL sprain, he's averaged just 4.27 ypc versus 4.5 for the rest of his career.
3) It's time to give up on the Jags' James Robinson.
Don't be hasty even though it looks bad. As a man with Robinson on his roster I understand your pain. He's not running well due to knee and heel injuries and his coach appears to be "anti-Robinson," but the schedule for the next two weeks is as good as it gets. The Jaguars face Houston (ranked 27th against opposing fantasy running backs and the New York Jets who rank dead last. Now, he just has to overcome a head coach who appears to prefer the backup (his former Ohio State RB Carlos Hyde). Curious, since Hyde averages just 3.5 ypc to 4.8 for Robinson. Hyde is 31 years old versus 23 for Robinson therefore Hyde has no chance of being on this team when it finally turns it around, but Robinson could be a nice RBBC with injured 2021 first-round draft choice Travis Etienne.
4) If Bill Belichick had drafted Leonard Fournette on his roster he wouldn't have needed his RBBC master plan these last five years.
That's obviously false as Belichick loves to confuse the opposition with varying RB strategies. In the meantime, Fournette is having the best season of his career with Tom Brady at quarterback. He has a slim chance to catch more balls in a season than Brady's "old favorite" James White ever did (87 in 2018) as he's on pace for a career-high 81 receptions while still rushing for a career high 4.5 ypc and on pace for a 1000-yard season on the ground. Over the past four games Fournette has been at his best - averaging 24 FPts/G.
5) Hunter Renfrow will be good whether Darren Waller (knee, back) returns in Week 15 or not.
The number prove otherwise. In the four games where Waller was not on the field due to injuries (Week 7 and 12-14) Renfrow has averaged 10.3 targets and 9.3 receptions for 102.8 yards. In the other games where Waller was on the field, Renfrow averaged 7.2 targets and 5.4 receptions for 51.8 yards. In PPR fantasy terms that's 21.1 FPts/G versus 13.3 fantasy points. Waller hasn't played since the second quarter against Dallas and has yet to even practice since before Thanksgiving. For those playoff-bound owners, it matters a lot whether Waller is out there.