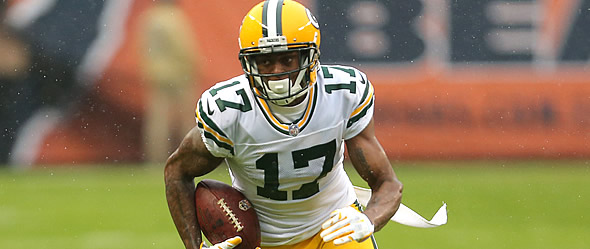 In a stunning turn of events, the Green Bay Packers have traded the "best receiver Aaron Rodgers every played with" (his words) - Davante Adams, to the Las Vegas Raiders. In exchange for one of the best receivers of the past half-dozen years, the Packers will receive the Raiders' first and second round picks in this April's draft.

Adams in Las Vegas

This news is stunning on many fronts, but let's start with the Raiders' pass offense. For Adams, it may be a "downgrade" at the quarterback position, but don't oversell this point as a reason to not believe in Adams in the upcoming season.

First, these two already know each other very well and were successful together. Look below at the chart of the two years they starred for the Fresno State Bulldogs.

* - led NCAA

In Carr's senior season and Adams' final year they led the nation in four categories – passing yards, passing TDs, receptions and receiving TDs. And Adams fell just 11 yards short of Brandin Cooks' 2013 season yardage total (1,730). It shouldn't take long for these two to get back on the same page.

However, unlike in Green Bay, the Raiders have better receivers to complement Adams.

Hunter Renfrow saw a jump in production last season filling the void left by suspensions and injuries late in the season to produce a 103-1038-9 season (261.1 FPts). He was consistent, producing double-digits fantasy points in 14 of 17 games. Renfrow finished 10th-best among fantasy wideouts and 17th in FPts/G (15.4). Unfortunately, his volume (128 targets) will likely take a small hit, but it shouldn't hurt his yards and catches as much as his touchdown receptions.

Tight end Darren Waller is one of the elites at his position. Despite playing hurt/dealing with Covid for much of the second half, he still produced 12.1 FPts/G (sixth-best) on 93 targets. He's likely to remain a top TE despite sharing the field with a "target hog" like Adams (169 targets in 2021 and an average of 142 targets since 2016). Zay Jones and his 70 targets are gone to Jacksonville and Henry Ruggs' 36 targets are available, while Bryan Edwards will likely lose most of his 59 targets, meaning more than 150 targets could shift to Adams without too much hurt to Renfrow and Waller.

If Adams, Renfrow and Waller can all keep their yardage totals then it figures that Carr is going to throw for a high number in 2022. And he'll have to produce in a division (AFC West) which now includes Russell Wilson to go along with Patrick Mahomes and Justin Herbert. These division games should be shootouts like the old AFL (think John Hadl and Lance Alworth, George Blanda and Charlie Hennigan, Len Dawson and Otis Taylor and many others … go ask your fathers and grandfathers about these greats).

Carr threw for a career-high 4,804 yards last season, but just 23 touchdowns. That touchdown number figures to skyrocket as Adams showed in Green Bay he's masterful near the goal line. Of his 73 career touchdown receptions, 38 were from 10-yards or less (21 inside the 5-yard line). If all three top pass-catchers stay healthy, Carr should easily crack 5,000 passing yards and 35 touchdowns should be in reach.

The mess in Green Bay

The ramifications of drafting Jordan Love will haunt this team for many years. Using a No. 1 pick for Love alienated Rodgers, who produced back-to-back MVPs, but didn't see fit to give any hometown discount to Green Bay. Thus a three-year. $150 million extension which leaves the team tight to the cap for the next few years. Exit Za'Darius Smith who is likely out of their price range. Then Adams said he wouldn't play under a franchise tag and there was really no realistic way for the Packers to keep him. The surprising point here being Rodgers knew Adams wasn't going to return to the fold when he signed his monster deal.

So what now?

Currently Green Bay has Allen Lazard and Randall Cobb. The Packers will likely already be calling Marquez Valdes-Scantling's agent to see if he will come back. But that certainly isn't enough. At this point many of the good free agent wideouts have already agreed to deals. Odell Beckham Jr. is available, but blew out an ACL in the Super Bowl and can't be expected to be ready opening day. Jarvis Landry? Will Fuller? JuJu Smith-Schuster? You would expect at least one of them to be signed, but with just $22 million under the cap (which must also include drafted player monies) has the signings of Christian Kirk and now Adams priced them out of the veteran receiver market?

Could they use one of their now two first rounders on a wide receiver or at the least a second round in a receiver heavy draft? Of this I have no doubt.

In the meantime, while I'm sure Rodgers will continue to churn out top-10 fantasy seasons, how he'll dole out the targets, yards and touchdowns is to be determined.