Grab a Helmet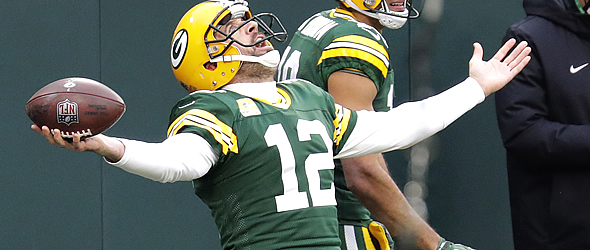 Itís significant that I have to tell you to start Rodgers given his future Hall of Fame status, but he hasnít been start-worthy for most of the season. ďA RodĒ hasnít cracked the 20-point mark since Week 10, but was solid in the first meeting against the Lions in Week 9 (22.6 fantasy points). Detroit continues to rank at the bottom of QB fantasy points allowed yielding 26.4 for the season.
Ignore Lawrenceís horrible production in Week 17 (8.0 points) and concentrate on the 31.2 FPts/G he averaged over the three previous games. Blowing out Houston last weekend, they didnít need his arm. He faces a Titansí pass defense which could end up yielding over 5,000 passing yards this season if Lawrence throws for 282 yards. Tennessee has also yielded 28 touchdown passes, second only to Kansas City (32) for league worst.
The Panthers rank 24th in QB fantasy points allowed (21.6), but since Week 13 have been the worst team in the league allowing an average of 28.6 fantasy points while facing Mitchell Trubisky, Geno Smith, Jared Goff and Tom Brady. Dalton hasnít done much over the last month, but is worth a flyer here.

Grab a Clipboard
Pickett has been clutch over the past two games leading his team to last-minute victories over Las Vegas and Baltimore, but his fantasy value has been subpar averaging 14.9 points. Heís only cracked the 20-point mark once this season. Meanwhile, teams run all over Cleveland (26.5 RB fantasy point average) which has led to the Browns being the No.2 team against opposing fantasy quarterbacks allowing just 17.1 points.
This will be an emotional Buffalo Billsí defense when they take the field on Sunday. The Bills already rank No.4 against opposing QBs allowing just 17.9 fantasy points and held Jones to 14.5 fantasy points in Week 13 in New England.
The Giants have nothing to play for in Week 18 as they are locked into the No.6 seed, so Jones might not play at all. The only reason for them to play hard here is revenge for getting blown out 48-22 in Week 14 and a chance to deal the Eagles a death blow to their hopes for a No.1 seed and a bye. Despite recent difficulties playing a zone defense, the Eagles still rank No.6 against opposing quarterbacks allowing just 18.4 points.

Quarterbacks | Running Backs | Wide Receivers