As we arrive at Week 13, weather still has not been much of a factor in fantasy decision-making. No snow games (thanks to Detroit hosting a Bills' game). Not many high-wind, heavy-rain games. Week 13 appears to be lucky as well… at least as of Tuesday. While you're fighting for your playoff berth, make sure you are prepared for next weekend's six byes.
Byes: Arizona and Carolina

Truths
"In a time of deceit, telling the truth is a revolutionary act." – George Orwell
1) Mike White has started four games in the NFL and produced at least fantasy 28 points in half of them.
True. In two wins he produced 32.2 and 28 fantasy points and in two losses posted 8.8 and 12.6 fantasy points. By comparison, the New York Jets' first-round draft choice (No.2 overall in 2021) Zach Wilson, has 28 or-more fantasy points in zero of 20 career starts. White is only 27-years-old and maybe he should be the Jets future? At Western Kentucky (CUSA) he threw for 8,540 yards and 63 touchdowns passes (against 15 INTs) in 27 games over two seasons.
2) Kyler Murray might be my favorite quarterback to finish the season strong.
In his first game with both DeAndre Hopkins and Marquise Brown on the field together, he managed to produce 29.2 fantasy points on just 29 throws. And when he gets Rondale Moore (groin) back, this should turn into one of the scariest passing offenses in the NFC. The only factor which could keep the Cardinals' quarterback from this goal is a tough late-season schedule starting with the Patriots in Week 14 and then facing Denver and Tampa Bay.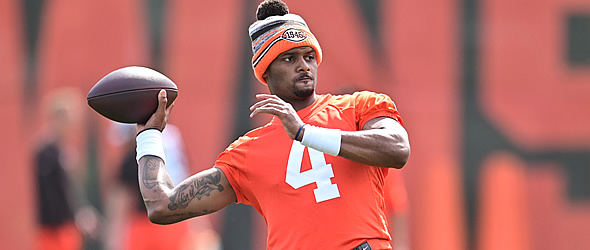 3) Just because you CAN play Deshaun Watson this week doesn't mean you should play him against Houston.
If you already have a top-15 quarterback under center, should you really start a player with so many unknowns about his readiness to play? His last NFL game was January 3, 2021 – exactly 700 days ago. It was for a different team (his opponent this week) and a different head coach (Romeo Crennel) in a different offense (OC Tim Kelly). Understand, I know he was very good that season ranking fourth at 27.2 FPts/G, but is he ready in his first live action? His current offense is based around the running game, in particular Nick Chubb (200-1039-12). Houston is No.3 against opposing QBs allowing just 16.5 FPts/G while ranking 32nd (a.k.a. dead last) against opposing RBs yielding 29.7 FPts/G. It's more likely the team eases Watson into the flow in this game by allowing Chubb and Kareem Hunt to carry the load. Think next weekend.
4) The "bloom has fallen off the rose" as far as Houston running back Dameon Pierce is concerned.
It wasn't that long ago that Pierce was a favorite trade target for fantasy owners, but the past few weeks should have brought owners' expectations dramatically back down to earth. In his last two games he's rushed just 15 total times for 16 yards and caught five balls for 17 yards. Even with his next opponent ranked 31st against opposing running backs (29.5 FPts/G), Pierce is a shaky start at best. After this week he faces the Cowboys (No.6), Chiefs and Titans (No.5).
5) Davante Adams is still a top-five fantasy receiver, but it's been a lot harder to stay up there.
With his college quarterback under center, Adams is averaging 21 FPts/G which is just half-a-point less than last season, but he's needing more targets to produce those numbers. He's caught an inefficient 71 of 123 targets this season (56.7%) which is his lowest level since 2015. Obviously, Derek Carr is no Aaron Rodgers. Could "ARod" end up in Las Vegas next season? I hear you can get 12-1 that "Sin City" will be Rodgers' new home.


| | | | | | | |
| --- | --- | --- | --- | --- | --- | --- |
| Year | Gms | Tgts | Rec | Catch% | Yds | TDs |
| 2014 | 16 | 66 | 38 | 57.6 | 446 | 3 |
| 2015 | 13 | 94 | 50 | 53.2 | 483 | 1 |
| 2016 | 16 | 121 | 75 | 62.0 | 997 | 12 |
| 2017 | 14 | 117 | 74 | 63.2 | 885 | 10 |
| 2018 | 15 | 169 | 111 | 65.7 | 1386 | 3 |
| 2019 | 12 | 127 | 83 | 65.4 | 997 | 5 |
| 2020 | 14 | 149 | 115 | 77.2 | 1374 | 18 |
| 2021 | 16 | 169 | 123 | 72.8 | 1553 | 11 |
| 2022 | 11 | 123 | 71 | 57.7 | 999 | 10 |
Lies

"Tell a lie once and all your truths become questionable." – Unknown
1) Dallas tight end Dalton Schultz has been disappointing this season.
Yes, but only due to conditions beyond his control. Schultz had problems when Cooper Rush was the starter. Schultz is averaging 13 FPts/G with Dak Prescott under center compared to 1.3 FPts/G with Rush. Schultz ranks 17th at the position for the season, but he's ranked No.3 since Week 8 (13.8). He's no Travis Kelce, but who is? Kelce is the only tight end to average over 20 FPts/G in a season since Rob Gronkowski in 2011 (20.8) and he's on pace for a record 21.5 FPts/G this season.
2) I've always chosen a warm weather or indoor kicker to protect me from bad weather.
So far, that's been a bad choice. For the season, the top-three fantasy kickers all reside in the "colder" Northeast (Tyler Bass – 9.2 FPts/G, Justin Tucker – 9.0, and Nick Folk – 8.6). Even looking at the last three weeks when the weather has turned colder, the top-three are Bass, Joey Slye in Washington and Evan McPherson in Cincinnati. I may have to re-evaluate my theory… or the bad weather may be right around the corner in December during the fantasy playoffs.
3) You shouldn't trust Jacksonville wideout Zay Jones' 25.5 fantasy points from Week 12.
You probably shouldn't expect him to produce 25 fantasy points again, but he is becoming a viable fantasy option. He's the primary underneath weapon for Trevor Lawrence and when he sees double-digit targets he's averaging 18.9 FPts/G. He and the Jaguars have a favorable schedule over the next two weeks with Detroit (ranked 31st against opposing wideouts) and Tennessee (30th). Jones is only rostered in 26-percent of all leagues.
4) You have to like Taylor Heinicke.
I like his feistiness and his 5-1 win/loss record as a starter, but he's certainly not fantasy-worth. He's averaged just 16.4 FPts/G with a ceiling of 26.9 points and a floor of 9.8 points. Heinicke ranks 30th since Week 8. Enjoy his wins if you're a Commanders fan (are there any left?), enjoy the improvement he brings for Terry McLaurin's fantasy value, just don't start him.
5) Nothing to worry about with injured running backs; Travis Etienne, Joe Mixon and Christian McCaffrey.
Sorry, but we all worry about injuries just before the fantasy playoffs. However, Etienne apparently didn't suffer a serious injury and the coach held him out in the second half just to be safe. Mixon is progressing and as soon as he passes the concussion protocol should be a full go since his legs are fine and rested. Meanwhile, CMC is day-to-day (aren't we all) with a knee issue that didn't even force him out of the game. Still, these are important games as we try to make it into the playoffs and then win it all so we all worry at least a little bit.