The final "bye week" is a doozey with six teams sitting out. Fortunately for fantasy owners, not a single top-10 scoring team is among them with the Atlanta falcons at No.12 the highest-scoring team on the sidelines. Still, with six teams and all the injuries around the league, filling out lineups can be a challenge. Also, please give a tip of the cap to all the teams at the bottom of your league who continue to fill out their lineup each week instead of ghosting.
Byes: Atlanta, Chicago, Green Bay, Indianapolis, New Orleans, Washington

Truths
"The truth is more important than the facts." – Frank Lloyd Wright
1) There likely wasn't anyone in America, outside of New Orleans, who thought Tom Brady wasn't going to score on the final drive Monday night.
True. Despite Brady's poor play in 2022 (he's ranked 23rd in fantasy points this season) it was a record 44th fourth-quarter comeback for the GOAT, grabbing the record he co-held with Peyton Manning. After averaging 26.3 FPts/G in his first two seasons in Tampa (33 games), he's produced more than 23 points only once all season (Week 4 against Kansas City). He probably should have stayed retired.
2) Deshaun Watson's first game struggles due to rust was to be expected.
In fact, I warned you against starting him last weekend. His second game against a very tough Cincinnati defense will also be difficult for Watson. The Bengals rank No.4 in QB fantasy points allowed (17.3) which includes just 11 passing touchdowns in 12 games. They are slightly better at home, allowing just 16.2 FPts/G in the "Jungle," with only Patrick Mahomes cracking the 20-point mark. The long wait for Watson will likely not pay off for fantasy owners.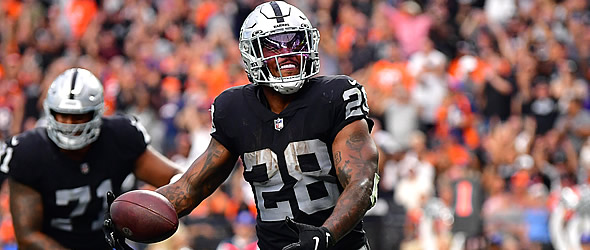 3) Josh Jacobs is the Aaron Judge of running backs.
Just as Judge had a career year as he was becoming a free agent, so too is Jacobs having his best season just as he looks for a big new contract in 2023. From 2019-21, Jacobs was a consistent 15 point-a-game scorer producing 14.9, 15.7 and 15.3 FPts/G respectively, but in 2022 he's averaging 22.1 FPts/G - a 44-percent increase. Also like Judge, he's going to get a monster pay raise in 2023, but beware of a return to his normal production level depending on where he lands. Meanwhile, he's seeing 83.2-percent of the rushing attempts in Las Vegas (he was 52.4% in 2021) so Jacobs' 2022 production level should continue at a high level into the fantasy playoffs.
4) If you handcuffed Samaje Perine to Joe Mixon you haven't lost a step despite Mixon's absence due to a concussion.
True. In two starts, Perine has averaged 20.4 FPts/G which is slightly above Mixon's season-long production of 18.1 FPts/G. In fact, Perine has been so good that it wouldn't be a surprise to see his workload usage increase even when Mixon returns thereby hurting Mixon's playoff value.
5) The loss of Jimmy Garoppolo to a season-ending injury should help Christian McCaffrey's fantasy value.
Since there is no "quick fix" for the 49ers quarterback situation, they will likely use Mr. Irrelevant - Brock Purdy. The 262nd pick of this year's draft out of Iowa State will likely rely on CMC more heavily than Garoppolo did, both in the running and passing games. In the win over Miami, McCaffrey saw 25 touches, his high as a 49er, including eight receptions on 10 targets. I expect 25+ touches for McCaffrey the rest of the way is very likely.

Lies

"Faith, as well intentioned as it may be, must be built on facts, not fiction--faith in fiction is a damnable false hope." Thomas A Edison
1) Jamaal Williams is still the Lions' best fantasy running back.
False. For the first time since Week 1, D'Andre Swift saw more touches than Williams and more fantasy points. It points to Swift finally being healthy. If he can stay healthy, Swift is the back to start as Williams will become exclusively TD-reliant. In Week 13, Swift saw 55-percent of the running back touches versus 33-percent for Williams and 12-percent for Justin Jackson.
2) I was wrong when I thought Romeo Doubs was the best rookie receiver on the Green Bay Packers roster.
It appeared that Doubs was the better wideout in preseason and when Christian Watson dropped a sure touchdown in the season opener Aaron Rodgers looked to Doubs more than Watson. However, since Doubs' injury, Watson has stepped up his game to an elite level. Through Week 9 Watson averaged 4.45 FPts/G (Doubs 9.1), but since Week 10 with Doubs sidelined, Watson has averaged 24.8 FPts/G.
3) The Dallas Cowboys need Odell Beckham Jr. at wide receiver.
No. Owner/GM Jerry Jones wants Odell Beckham Jr., he doesn't need him. Over the past two games, Michael Gallup (ACL) has finally looked like his old self. He's cracked double-digits in each game and averaged 14.8 FPts/G even while CeeDee Lamb continued to produce (averaged 19.1). Will Jones sign OBJ to a multi-year, high-dollar contract to be a third receiver? Probably, because it's what he does, but Dallas is averaging 37.2 points a game over the last six contests. They don't need him to win games.
4) Mike Evans is still elite.
Sorry, not this season. Evans has always specialized in the long ball and the "deep in" routes and the Bucs' OL can't hold up long enough to run those patterns. The OL failure and Tom Brady's poor season has taken a toll on Evans more than Chris Godwin. Evans averaged 16 FPts/G in the first two years with TB12, but is down to 13.6 this season and just 8.6 FPts/G since Week 9. Godwin is down from 16.8 to 14.5 for the season, but is up since Week 9 averaging 18.3 FPts/G, because he catches shorter passes.
5) The rookie wide receiver class has been disappointing this season… no Justin Jefferson or Ja'Marr Chase types this season.
While it is true that no one has produced at an elite level, the top rookie wideouts have suffered from inferior quarterback play. The three top producing wideouts are Chris Olave (13.9 FPts/G), Garrett Wilson (13.4) and Christian Watson (12.6) have caught passes from the likes of; Andy Dalton, Jameis Winston, Zach Wilson, Joe Flacco, Mike White and an injured and fading Aaron Rodgers. I dare say White might be the best quarterback of that group this season and he's started all of two games.