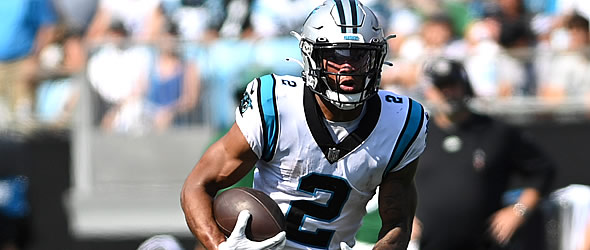 The Chicago Bears were never going to keep the No.1 overall pick in the 2023 NFL Draft. They have what they believe is their franchise quarterback. So it was not surprising when they traded down to the ninth spot. What was surprising about the trade was that along with a barrel full of draft picks, the Carolina Panthers included wide receiver D.J. Moore.
D.J. Moore in Carolina
Moore as a Panther was a constant in a sea of change. From 2019-21, Moore was one of only two players in the NFL who produced at least 1,100 receiving yards in all three seasons. This accomplishment was even more impressive when you look at the list of who was getting him the ball. Over those three seasons he caught passes from; Kyle Allen, an aging Cam Newton, Will Grier, Teddy Bridgewater, P.J. Walker and Sam Darnold. That's not exactly an all-time list. And last season when his receiving line slipped to 63-888-7 and 25th in fantasy points, he caught balls from Walker, Darnold and Baker Mayfield.
D.J. Moore in Chicago
In Chicago, he'll again be the No. 1 wideout in what is likely to be an underrated receiver room which will include; Darnell Mooney (who led the wideouts in 2022 with a paltry 61 targets), Chase Claypool, Byron Pringle and Equanimeous St. Brown. The team also has a solid pass-catching tight end in Cole Kmet (50-544-7).
But to find the answer to how Moore will produce for your fantasy team in 2023, we really need to know how much quarterback Justin Fields will progress as a passer. Fields was a top-10 fantasy quarterback in 2022 because of his legs, not his arm. He threw the ball just 318 times in 15 games (21.2 attempts per game) yet posted the sixth-best FPts/G average at 22.8. By comparison, Jalen Hurts also played 15 games last season and threw 459 times or over 30 times a game. Hurts' level was enough to support two top-10 wideouts; A.J. Brown and DeVonta Smith. So fantasy owners will need to determine whether the "new" Bears offense will allow/entice Fields to throw at least eight more times a game.
It will require two changes.
First, a better offensive line. While Hurts had the luxury of the best offensive line in football (per PFF and others), the Bears ranked 14th. To that end, the Bears have signed OG Nate Davis, who played with Tennessee last season, but they lost OT Riley Reiff to the Patriots so it's pretty much a wash. Of course, there are still more signings to go and the draft in April.
Second, it will require Fields to search for a second or third option more quickly. In 2022 he spent an average 2.7 seconds in the pocket, which was the longest of any quarterback who played at least 10 games. And although he's great at running the ball (160-1,143-8) if we want his receivers to succeed, he's going to have to make faster/better passing decisions.
Bottom line
The addition of Moore certainly raises the level of the Bears' receiver room, but outside forces (OL, Fields maturing) will be the determining factor as to whether he can become a WR1. Picking an offensive lineman like Northwestern's Peter Skoronski or signing more free agents could go a long way in aiding Fields' growth. And he must, because Moore has needed about 138 targets a season (twice what Mooney saw last season) to produce top-20 numbers in the past. Until we see that type of improvement from the line and Fields, I'm not sure Moore can produce much better than low-end WR2 or high-end WR3 numbers.