Buy Low
These players struggled in Week 4, creating an opportunity to add players at a discount through trades. As fantasy owners overreact to the weekly ups and downs, I would target these players in trades before their value increases with better performances.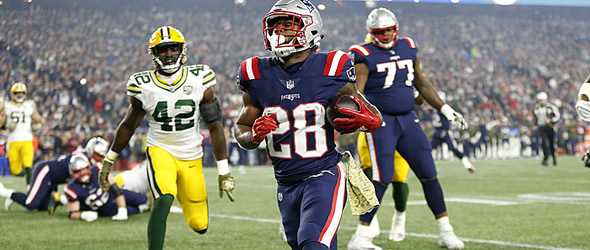 Some owner is going to panic since Walker only had 1 reception in Week 4. In reality the Titans got up big and let Walker rest, using MyCole Pruitt in his place to block while they tried to run out the clock. It's not ideal that he may be rested in certain game scripts, but Walker is a solid buy-low option after that head-scratching performance.
White played 52% of snaps in his return from injury, relegating Rex Burkhead to a minimal role in Week 4. White was targeted 10 times and caught 8 for 57 yards. The fact that he did not score can be seen as a blessing for those who want to target him in a trade. He has not scored over 13.8 PPR fantasy points in a game this season, perhaps making owners ready to cut bait. If so, he is an excellent buy as he had over a 25% target share in Week 4.
I'll keep harping on this one. Every week Hill does not play, more and more owners will be ready to give up on him and get the immediate help they need. He will not be rushed back, but he will come back – I would guess within 2-3 weeks. That could provide a huge boost to your team for the second half of the season, as the Chiefs have not been as effective as an offense without him and will use him heavily when he returns.
Hopkins has struggled the past three weeks, failing to score. However, he has received 8-7-8 targets, and remains a centerpiece of the Texans game plan. Once they turn the corner and begin moving the ball on offense, Hopkins will again put up big numbers as he did in Week 1 (8-111-2). If an owner is fed up, make a fair offer and see if you can land a first-round talent at a discount.
Williams (knee, back) has been injured off and on throughout his career, and this season has started in a similar fashion. However, unless you feel Dontrelle Inman is going to take snaps away from Williams when he's healthy, he is a great buy right now. He may be dropped in many leagues due to his injuries and was not producing when he did play (8-157-0 through three weeks). If you can buy him on the cheap, I anticipate he will get more involved in the offense over the next few weeks.
Sell High
These players had a great Week 4, raising their perceived value in the eyes of fantasy owners. If you have an owner in your league willing to overpay, I'd recommend taking the value.
Williams is a good running back, but he is sharing the backfield with LeSean McCoy, Damien Williams when healthy, and rookie Darwin Thompson – all on a pass-heavy team. While any back getting playing time in an Andy Reid offense has value, it might be time to sell Williams after his excellent Week 3 (9-62, 5-47) and Week 4 (55 total yards and 2 touchdowns). Even with Damien Williams out, his volume is simply too low to sustain his fantasy production.
While it was encouraging to see Gurley's involvement in the passing game (11 targets, 7-54), much of that was due to the Rams falling behind the Bucs and Jared Goff attempting 68 passes. He is likely to be closer to the 2 targets he was averaging through the first three weeks moving forward. It is possible that someone sees the 26 PPR points he scored in Week 4 and assumes it was Gurley's breakout, not realizing he only received 5 carries and happened to score twice.
Brown and Davis are excellent receivers, and I anticipate many great years for them going forward. But in a redraft league, now would be a great time to sell. This was not a breakout for either of them in the typical sense of the word. Brown received only 3 targets and happened to take them for 2 touchdowns, and Davis got his first touchdown and caught 5 of his 6 targets. Both were working against a poor Falcons defense and the Titans simply do not have enough pass volume in their offense (30th in pass attempts per game) to trust any of their wideouts in fantasy.
The Browns turned their season around on Sunday, and Landry was productive (8-167). However, owners should not overreact to those big numbers. Landry had one reception go for 65 yards, which is unusual for him as he typically works the underneath and shorter routes. Also, the Ravens schemed to take away Odell Beckham Jr., which allowed Landry to get free more easily. While that trend might continue, we likely just saw his highest yardage total of the season, and his weekly reception average will be closer to his total in Weeks 1-3 (3.33).
Graham's weekly targets so far this season have been 6-2-1-9. When Rodgers targets him heavily, as in Week 1 and Week 4, Graham produces (3-30-1, 6-61-1). However, how are you supposed to know when he will be targeted heavily? The offense seems to still be finding an identity, and the tight end appears to be a high variance position in Green Bay. Unless you have no other viable options at the position, take this opportunity to sell him high after his prime-time production.
Perhaps an owner notices Goff's 517 passing yards in Week 4 and wants to trade for him. Although Goff is generally a fine option for fantasy, this was not an explosive Week 4 performance. He was poor in the game, throwing three INTs and had to pile on the volume because the Rams fell so far behind. If you have viable alternatives, see what you can get for Goff after his big statistical output.
While it is true that Howard may continue to get the majority of the carries after a nice Thursday night performance (15-87-2, 3-28-1), it is also true that Week 4 was likely his best game of the season. The Eagles will continue to give roughly half of the carries to Miles Sanders, and Sanders is the better pass-catcher of the two. If a Sanders owner is freaking out and needs Howard, it is a perfect time to sell high.