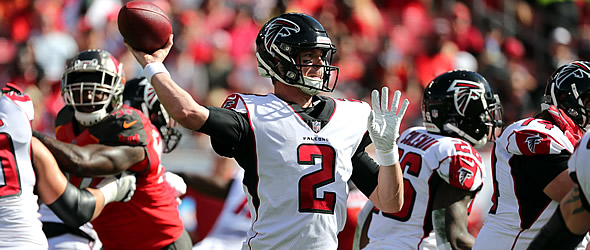 QB Matt Ryan
2019 QB Rank - No. 6, 23.2 FPts/G
In 2019, Matt Ryan had another season that resembled his past. He completed just over 66% of his passes and threw for 4,466 yards. Unfortunately, in comparison with 2018, his touchdown rate came down and his interception rate doubled. The offense as a whole was not as efficient, particularly in the rushing game, as Devonta Freeman struggled with health and general ineffectiveness.
There is hope that 2020 will be a more successful season in Atlanta. First, the entire offensive line (of which every member was a first-round pick) comes in healthy. They will have an opportunity to grow and improve together, which should help both the running and passing game. Second, this is offensive coordinator Dirk Koetter's second season with the Falcons, and there have been reports that he is much more comfortable with the offense and its direction. Finally, the skill players around Ryan appear to be upgraded, with Todd Gurley in for Freeman and Calvin Ridley with another year of development under his belt.
The Falcons did lose Austin Hooper in free agency, and he was a bit of a security blanket for Ryan last season. But they brought in Hayden Hurst to replace him, and outside of the two needing to establish chemistry, there should not be much of a drop-off there. If the key players can stay healthy this season, it could be a prolific season for Ryan making him a very solid mid-to-late round pick in fantasy.
RB Todd Gurley
2019 RB Rank – No. 14, 14.8 FPts/G
It's been a strange career for Gurley. He entered the league with a lot of hype and showed up immediately, rushing for 1,106 yards and 10 touchdowns as a rookie. Then he had a terrible second season, albeit under Jeff Fisher. Then he had two fantastic seasons under Sean McVay, scoring 19 and then 21 touchdowns. He was the most sought-after fantasy football player during that stretch.
But the whispers started about his troublesome knee during the end of that 2018 season, when he was used sparingly in favor of C.J. Anderson (who had just been signed off the street). Then entering 2019, the Rams drafted Darrell Henderson and many thought that the two would split carries evenly. However, Henderson could not get on the field and Gurley remained the workhorse back, logging 223 carries.
But he was not nearly as effective, averaging only 3.8 yards per carry (after 4.7 and 4.9 in 2017 & 2018). His usage in the passing game also plummeted, as he went from 87 & 81 targets in the two previous seasons to 49 targets in 2019. Whether Gurley's decreased effectiveness had more to do with the offense as a whole regressing or with Gurley himself losing some of his burst is difficult to ascertain. He certainly appeared a step slower, but that can be hard to judge outside of a team context, and it is true that his offensive line was much worse in 2019.
The Falcons are betting on a return to his 2018 form. They have a better offensive line, as well as a more accomplished quarterback and receiver group. This should keep defenses from being able to stack the box against Gurley, and the line should give him more room to work. It will become evident quickly if his knee is hampering him or not, as he has an excellent opportunity in this offense to produce in a big way. In only 14 games last season, Devonta Freeman received 70 targets, and if those all get passed to Gurley that would help him return to being one of the top backs in the league, particularly in PPR fantasy scoring.
In the end, Gurley is a boom-bust option, as his 2020 season will depend so heavily on his health. The Falcons are likely to give him plenty of work and not worry too much about the future, since Gurley is on a one-year deal. If there is a time for him to prove he is still an elite back, this is going to be it.
RB Brian Hill
2019 RB Rank – No. 64, 6.7 FPts/G
The Falcons have several backs who could end up as the No.2 option behind Gurley, but I would guess the winner of that competition will be Brian Hill. He received more opportunities than his competition last season (Ito Smith and Qadree Ollison). While either of those backs could emerge as the top backup to Gurley, Hill has more experience and seems the smarter bet. He averaged 4.1 yards per carry last season and scored twice, looking mostly capable in the process.
The reason we might need to pay attention to Hill, or to another of these backs should one emerge, is that Gurley's health is in question. If he were to go down with an injury, whether for a week or half the season, Hill or the back that emerges as the starter would have immediate fantasy value. Whoever starts for the Falcons is in an excellent position to produce in an offense that is effective passing the ball and has a good offensive line. In deep leagues, it is likely smart for the Gurley owner to grab Hill as an insurance policy.
WR Julio Jones
2019 WR Rank – No. 3, 18.3 FPts/G
Julio Jones is one of the top wide receivers of the past decade. He has produced annually and has been durable, playing in fewer than 13 games only once. He has racked up 797 receptions for over 12,000 yards in his 9 seasons. He and Matt Ryan seem to be fully on the same page, and they are extremely effective together. We should expect more of the same from Jones this season.
It is true that he recently turned 31, but there have been no signs that he is slowing down due to age. He looked as dynamic as ever last season, and put up 99 receptions for 1,394 yards. He has never been a prolific touchdown scorer, but most of that is due to offensive scheme and to the defense paying extra attention to him near the goal line. He is an excellent pick in any fantasy format, and even in dynasty leagues Jones should have a good enough next three seasons to make him a solid pick.
The continued development of Calvin Ridley should only help Jones, as defenses are able to double team him less. In addition, if Gurley is more effective than Freeman, the defense will also have to pay more attention to the running game, opening up more opportunities for the receivers to get free in space. If Jones stays healthy, production is all but guaranteed.
WR Calvin Ridley
2019 WR Rank – No. 27, 15 FPts/G
Calvin Ridley has less of the prototypical size for a No.1 wide receiver than Jones (he is 6'1" and 190 pounds), but he has produced very nicely in a No.2 role in his first two seasons. With defenses having to account for Jones, Ridley has taken advantage, producing 127 receptions and 17 touchdowns. He also only played in 13 games last season, and his full 16-game pace was 77 receptions for 1,066 yards and 8 touchdowns. That would have equated to 231 fantasy points, which would have meant he scored the 17th-most points at the position.
His upside certainly seems to be a top-15 wide receiver, but there are reasons for hesitation. First, he is being drafted at WR14 currently, according to the most recent ADP (average draft position) data. That means he is being drafted around his ceiling already. With a stud receiver on the other side, his upside is always going to be capped, assuming Jones continues to command a monster target share. Further, his touchdown rate has been very high in his first two seasons, but that can come back down quickly, and seemingly for no reason. Touchdowns are simply not a "sticky stat" one can depend on when projecting a player's statistics. And if his touchdown rate came down, he would likely finish in the WR25 range, making him a reach at his current ADP.
He is an excellent route-runner and finds ways to get open, and he has built up a solid rapport with his quarterback in a pass-happy offense. So please don't hear me saying he is a poor fantasy option. On the contrary, he is an excellent option for the right price. But expecting that he is going to explode this season and be a top-12 fantasy wide receiver is likely wishful thinking.
WR Russell Gage
2019 WR Rank – No. 71, 7.2 FPts/G
Gage saw a nice jump in his second season, garnering lots of slot work. He received 74 targets and had 49 catches for 446 yards and a touchdown. I project him to continue in this slot role, and he may get a bit more work with Ryan's security blanket Austin Hooper leaving in free agency. Hooper specialized in the same general areas of the field as Gage works, so Gage could grab some of the targets Hooper leaves behind. Likely Hayden Hurst, the new starter at tight end, will soak up most of Hooper's vacated targets, but Gage does have an opportunity since he already has worked with Ryan.
Gage is never going to command a large target share and is certainly a role player, but in an offense that threw 684 passes last season, he can certainly be a viable fantasy player – particularly if he can get up to 85 targets. He is a player to keep in mind in deep PPR leagues.
TE Hayden Hurst
2019 TE Rank – No. 34, 4.8 FPts/G
Hayden Hurst is another player who has seen an interesting start to his career. His interesting journey began even before he was drafted by the Ravens, as he tried his hand at a baseball career before football. When that did not work out, he played at South Carolina as an older player and succeeded. However, he was older than the players around him, so it is difficult to tell if his dominance in college will ever translate to the NFL level. He is also already almost 27 years old, entering his third season as a pro.
Although he was drafted in the first round by the Ravens, two rounds before Mark Andrews, it was Andrews who dominated the tight end targets. In 2019 Andrews saw 98 targets and was one of the top fantasy tight ends, while Hurst only saw 39. However, Hurst did produce nicely on those targets (30 receptions for 349 yards and two touchdowns).
The Ravens traded Hurst to the Falcons this offseason since Andrews is clearly their top tight end, and the Falcons are hoping Hurst can replace Austin Hooper in this offense. This seems like it should not be too difficult, since Hooper is not a special athlete or talent overall. He benefited from the scheme and from the skill players around him, often leading to him getting wide open. Hurst flashed enough in his time with the Ravens to suggest he can fill this same role effectively.
The main question mark has to do with how quickly he can learn the offense, and how quickly he can establish a rapport with Matt Ryan. The fact that he is older should actually help him as he adjusts and learns the playbook, but the lack of an offseason program might prevent him from getting off to a fast start. He is a risky pick where he is being taken right now (early 7th round, as the 8th tight end off the board). However, since Hooper was on pace for 120 targets, 92 receptions, and 968 yards last season, it might be a risk worth taking.