QB Tom Brady
2019 QB Rank - No.14, 20 FPts/G
Two things are true about Tom Brady: he is one of the greatest to ever play quarterback, and he is getting old. One does not negate the other. The fact that he is indeed aging, in the process losing some of his velocity and his ability to throw deep, should in no way affect his legacy as perhaps the greatest of all time. Father Time comes for us all.
His decline last season was minor, and therefore easy to miss. But you can see it on film when you watch him throw deep. The ball arcs up high, with receivers having to wait underneath it, rather than getting there with any zip. You can see it in the stat line. While some will point to his poor surrounding cast, he had his lowest completion percentage since 2003 (60.8%) and his lowest yards per attempt since 2006 (6.8 ypa). He also had only 24 passing touchdowns, his fewest since 2003. He is still a coach on the field, and is generally going to make the right decisions, as seen by his excellent 1.3% interception rate. But much of his zip is gone, limiting his statistical upside.
So what should we expect out of Brady this season, in his first chance to play away from New England and without Bill Belichick as his coach? It is incredibly difficult to predict. What we do know is that his supporting cast is vastly improved. He has two of the best wide receivers in the game, and also has his favorite tight end Rob Gronkowski back. Those players around him could seriously boost his numbers, regardless of any physical decline. He is unlikely to throw many passes over 30 yards downfield, as that's not his game anymore. While that will limit the upside of Mike Evans in particular, Brady has shown he can put up great stats by focusing on finding open receivers in the short and intermediate areas of the field.
Learning a new offensive system and getting on the same page as his new teammates could cause some frustration early on, but he should figure all of that out relatively quickly. Therefore, I anticipate we will see Brady pass for over 30 touchdowns and around 4,500 yards. He makes for a nice upside pick in fantasy drafts in the 10th or 11th round.
RB Ronald Jones
2019 RB Rank – No.25, 10.6 FPts/G
Ronald Jones enters his third season out of USC, and it has already been an interesting career. In his first season, he seemed to have a difficult time picking up the system and therefore did not play much. He only received 23 carries in 9 games, for 44 total rushing yards. Many in the fantasy football community were already labeling him a bust after that season, since there was a lot of hope for him to take over the backfield as a rookie.
He seemed to come in with a much better handle on the offense in his sophomore season, and had 172 carries for 724 yards, a 4.2 yards per carry. The 4.2 average is certainly respectable when the poor offensive line of the Bucs is factored in. He showed both power and speed, and even in the passing game he was fairly effective. He caught 31 of his 40 targets, and only registered one drop. He also averaged 10 yards per reception, an excellent number for a running back.
Despite all of this, and despite the offense being on the verge of an upgrade at quarterback, many are still very low on Jones. He is being drafted around the 7th round, and because he still has the inside track to start at running back, this is an excellent value. He is one of my mid-round running back targets as a result.
However, there are certainly risks. Jones has always been seen as a liability in pass protection, and if he is poor in that area, Brady will not put up with it for long. He will insist on getting a back in the lineup who knows all of the protections perfectly, even if that ends up being a less-talented back like Dare Ogunbowale. On top of that risk, the Bucs did draft Ke'Shawn Vaughn out of Vanderbilt in the third round. While Jones was drafted in the second round, there is still risk that Vaughn becomes the preferred option to start in the backfield.
If we go by the recent coaching decisions of head coach Bruce Arians, he will use all of the backs in various roles this season. That also limits Jones' upside, even if it decreases the risk that he will be completely benched. In the end, Jones is another boom-bust pick, with a role in the offense that is not yet clearly defined. He may be worth the risk in the end, but whether you draft him will likely depend on your risk tolerance and your overall draft plan.
RB Ke'Shawn Vaughn
2019 RB Rank – N/A (Rookie)
Projecting running backs from college to the pros is a very difficult task, particularly attempting to predict how one will perform in his rookie season. Vaughn was productive in college, particularly in his last two seasons at Vanderbilt. He rushed for over 1,000 yards in both seasons, in the challenging SEC, and scored 12 times in 2018 and 9 times 2019. In those seasons he had 41 receptions as well, showing he has the ability to catch the ball out of the backfield.
However, beyond these stats we have no clue about how successful he will be in the NFL. He appears to be an average athlete who does not dominate opponents physically. Nothing pops off the screen when you watch his tape, although he is generally skilled at all the major facets of the position. It is unlikely in my opinion that he becomes the starter as a rookie, and that position is strengthened since we have not had an offseason program due to Covid-19. It seems he will be at a significant disadvantage compared to the other backs on the team, who have been working in the system already for a year or more.
It is certainly possible he wows the coaches in practice and gets early chances, but at his current price in the 7th round, I would avoid him like the plague. The same front office that drafted him also drafted Jones, and seems intent on keeping him around. Vaughn may become a stud in the NFL, but it is likely that his chances will be limited in his rookie season.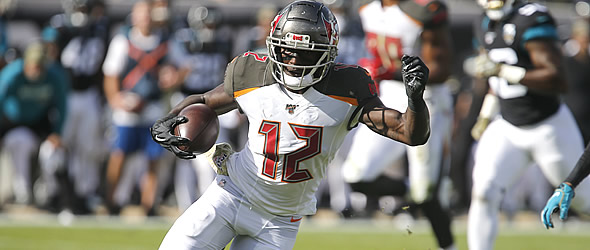 WR Chris Godwin
2019 WR Rank – No.2, 19.6 FPts/G
Chris Godwin is on a fast march toward elite status. He has played for three seasons, and his targets have risen each year, going from 55 to 95 to 121 (in 14 games). In 2019 he had 86 receptions for 1,333 yards and 9 touchdowns, which was good enough for the No. 2 spot in the PPR wide receiver rankings. He will be in the same offense this season, with the same coaching staff, so it certainly makes sense to project him for another great year.
He must get on the same page with his new quarterback to continue putting up such numbers, and that seems unlikely to be a problem. Overall, I see the switch to Brady both helping and hurting Godwin statistically. It helps him in that Brady loves to throw to the slot, and that's where Godwin runs most of his routes from. Godwin can become Brady's new heavily-targeted slot option in the vein of Edelman and Welker. On the other hand, the switch to Brady could hurt his stats because Brady will run the offense more efficiently, going with a slower pace of play and not turning it over 30-plus times. The constant turnovers from Winston often forced the offense into passing heavily as they attempted to come back, and this will not be the case this season. In the end, the two should offset each other, and I anticipate seeing another great season for Godwin statistically.
One other factor to consider is that Rob Gronkowski is in town, and he has been one of Brady's favorite targets in the red zone during his career. He runs some similar routes to Godwin, in particular seam and sideline routes from the slot. This could end up decreasing Godwin's touchdown rate considerably. He doesn't need to catch 9 touchdowns again to be excellent in fantasy football, but it's something to keep in mind.
WR Mike Evans
2019 WR Rank – No.16, 17.7 FPts/G
Mike Evans has had a wonderful career so far – last season was his first where he played in fewer than 15 games, and it was his sixth season. He has never finished with fewer than 1,000 yards receiving, and has racked up 7,260 yards and 48 touchdowns! He is a tall, strong receiver with excellent jumping ability, great hands, and good route-running. He built an excellent chemistry with former quarterback Jameis Winston, and they regularly burned cornerbacks with double moves that resulted in touchdowns.
It will be interesting to see if he can develop the same chemistry with Brady. They are both consummate pros, so I anticipate they will work until they get in sync, but the biggest question related to Evans is how well he will produce with fewer opportunities at deep balls. He relied on those big plays over the course of his career, so can he be a top wide receiver by focusing on winning the intermediate routes?
It seems to be a given that he is going to be great near the goal line. He is tall, with a huge wingspan and vertical jump. Brady should target him early and often down in the red zone. But I am just not sure about the deep balls, with Brady's arm strength declining. Perhaps with Evans' size and ability to highpoint balls, this won't matter. He'll just wait for it and then go up to get it when the ball gets there. But even if so, I think we'll see fewer long touchdown receptions.
Even if we see some statistical regression due to fewer deep opportunities, Evans is too good to not receive a lot of looks in the passing game, an he's always a threat to score double-digit touchdowns. I have him projected to receive around 120 targets and again go over 1,000 yards receiving. He could go even higher, but there is risk he and Brady do not get on the same page, or that Godwin continues his ascent and becomes the clear-cut top option for Brady.
WR Justin Watson
2019 WR Rank – No.117, 7.2 FPts/G
It's a bit difficult to know who will emerge as the third option in the Bucs' passing game. Breshad Perriman filled the role in 2019 with a fair amount of success, but he signed with the Jets this offseason. That leaves Justin Watson, who had a few nice moments in 2019, the rookie Tyler Johnson and slot player Scotty Miller. My money is on Watson.
There are a few reasons for that. First, he is an athletic freak. He played at Penn, so he didn't get much recognition, nor did he get invited to the Combine. But at his pro day, he raised many eyebrows, running the 40-yard-dash in 4.42, benching 225 pounds 20 times, and posting a 40-inch vertical jump. He showed that he has elite athleticism, and could excel at the pro level if given a chance.
Second, he can play the slot or outside. He played 38% of his snaps in the slot, and has the size to play outside at 6'3", 213 pounds. Many like Miller, but he is purely a slot player. Since Godwin prefers to run routes from the slot, Watson is more likely than Miller to play when they are in 11 personnel (3 wide receivers), so that Godwin has the flexibility to play either in the slot or outside.
Finally, many are talking up Tyler Johnson, but he is a raw rookie and will need time to learn the pro game. I don't see him making an impact this season.
In limited chances last season, Watson flashed potential. In the final four games, during which Mike Evans was mostly out with injury, he posted 14 receptions for 146 yards and 2 touchdowns. If he can develop a rapport with Brady early, he could be a waiver wire darling early in the season.
TE Rob Gronkowski
2019 TE Rank – N/A (did not play)
Rob Gronkowski retired after the 2018 season, after the worst season of his career statistically. He played in 13 games and only received 72 targets, putting up 47 receptions for 682 yards and 3 touchdowns. Is that who Rob Gronkowski is now, or was that an aberration?
During his heyday from 2011 through 2015, he scored 55 touchdowns in five seasons, and put up over 1,000 yards in three of those seasons. In the other two, he only played in 7 and 11 games. As recently as 2017, the season before his last, he received 105 targets and had 69 receptions for 1,084 yards and 8 touchdowns. And that was in just 14 games. If he can return even to that level, he will be a top-five tight end for fantasy this season.
Whether he can do that remains to be seen. We just don't know if he has lost a step, and we just don't know to what degree his decline was related to his unhappiness in New England. If he is again having fun and motivated to succeed, it is entirely possible he has a return to statistical dominance.
So much of projecting Gronkowski is tied to his injury history. He has struggled with injuries throughout his career, but injuries are still difficult to predict with any certainty. An argument can be made that he is worth the risk as a 7th-round pick, which is where he currently sits in ADP (average draft position). However, with so many upside players available at tight end, some may decide he carries too much risk even at that draft slot. I prefer to take a pass on Gronk's ADP and look for better value options later in the draft.