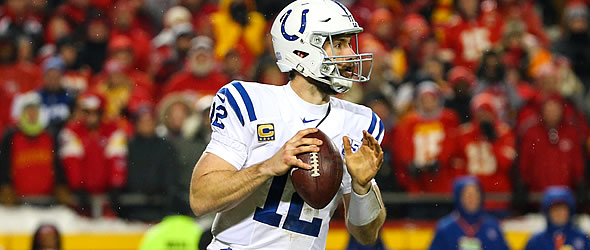 The upside is huge but Andrew Luck's calf injury is starting to get worrisome for fantasy owners.
QB Andrew Luck
(2018 QB Rank - No.5, 25.0 FPts/G)
Owners who rolled the dice on Andrew Luck returning to form after missing the entire 2017 season were rewarded handsomely last season, as the former first overall pick in the 2012 NFL Draft finished the season as the No.5 fantasy quarterback.
Luck posted the highest completion percentage of his career (67.3), and his 39 passing touchdowns were second only to Patrick Mahomes (50). From a consistency perspective, only Matt Ryan and Mahomes gave fantasy owners more consistent performances on a week-to-week basis than Luck, with the former Stanford Cardinal standout posting at least two passing touchdowns in 14 of his 16 regular season games.
The Colts boast of the best offensive lines in the league, a viable running game with Marlon Mack and Nyehim Hines, and the most talented wide receiving and high-end group since Luck joined the team in 2012. A calf injury that sidelined luck during minicamp is lingering into training camp and beginning to become a concern. The sky is the limit for Luck this year with a realistic chance of finishing as the QB1 should he stay healthy and play all 16 games.
RB Marlon Mack
(2018 RB Rank - No10, 13.4 FPts/G)
Mack catapulted into the top 10 at the running back position with ten total touchdowns and 1111 combined rushing and receiving yards last year. His 13.4 points per game were better than David Johnson, Phillip Lindsay, and Leonard Fournette, and he scored three more rushing touchdowns than Ezekiel Elliott.
The Colts did not add a young running back in the draft or and have put veteran Spencer Ware on the PUP list, lending credence to the narrative that the team intends on using Mack as their first and second down back and Nyheim Hines as the receiving back once again in 2019.
Another 10-touchdown season for Mack is not out of the question based on the fact that the Colts project to be a top-10 offense and the offensive line for Indy is one of the best in the league. But the fact that Mack is not a heavily used back in the passing game will limit his ability to finish as an elite fantasy running back especially in PPR leagues.
RB Nyheim Hines
(2018 RB Rank - No.57, 6.1 FPts/G)
Hines posted the sixth-most receptions among running backs in 2018, with 63 catches for 425 yards and two touchdowns as the primary receiving and third-down back for the Colts.
The second-year player from North Carolina State once again projects to be the pass-catching back behind starter Marlon Mack in what could be an elite offense under Andrew Luck. The Colts boast arguably the best offensive line in the league, and the skill portion players at Luck's disposal are the best he has ever had in his seven years with the team.
Due to his limited rushing usage, just 85 carries in 16 games, Hines' value as a fantasy asset rests more in PPR formats than standard. Another worry for Hines owners is the running ability of rookie WR Paris Campbell, who could be used similarly by head coach Frank Reich.
WR T.Y. Hilton
(2018 WR Rank - No.12, 11.6 FPts/G)
Hilton tied JuJu Smith-Schuster for the final WR1 spot based on FFToday standard scoring. His 11.6 fantasy points per game were the second-most of his eight-year NFL career and the third time in which the speedy WR topped 11 FPts/G.
A lack of touchdown production has always limited Hilton's upside, as the former third-round pick from Florida International has yet to top more than seven receiving touchdowns in any season. Hilton makes up for his lack of receiving touchdowns by posting six consecutive 100-plus target seasons, including a 2016 campaign in which he led the league with 1,448 receiving yards.
The Colts project to be a top-5 offense this season backed by an elite offensive line, a more than capable running back tandem of Marlon Mack and Nyheim Hines, and the best wide receiving/tight end corps Andrew Luck has ever had, with Hilton leading the group as the WR1.
The overall improvement of the offense could lead to fewer targets for Hilton. The big plays will be there, and Hilton will reward his owners with a few monster games. Just don't be surprised if he finishes outside the top 12 at the position based on consistency score, like he did last year as WR18.
WR Devin Funchess
(2018 WR Rank - No.59, 5.6 FPts/G)
The Colts lacked a big-bodied wide receiver who Andrew Luck could lean on in the red zone. With T.Y. Hilton stretching the field, and the tight end tandem of Jack Doyle and Eric Ebron patrolling the middle along with Nyheim Hines, the Colts did not have someone outside who could win 50/50 balls in the red zone.
To address this need, the Indy front office signed Devin Funchess to a 1-year, $10 million free-agent deal over the offseason. Funchess played four up and down seasons with the Carolina Panthers, with his best season coming in 2017 when he caught 63 passes for 840 yards and a touchdown.
As the big WR in the offense, Funchess will likely see fewer than 100 targets opposite of T.Y. Hilton and rookie Parris Campbell. But those targets that come his way will likely be against the No.2 or 3 cover corner on the opposition, and he could be a red zone favorite for Luck.
WR Parris Campbell
(2018 WR Rank - N/A)
The Colts used a second-round pick on wide receiver Parris Campbell from Ohio State University. As a member of the Buckeyes in 2018, Campbell caught 90 passes for 1063 yards and 12 touchdowns.
Although not the tallest wide receiver as just under six feet, Campbell boasts exceptional speed and elusiveness in the open field. He has the ability to run both underneath and deep routes, while also possessing the flexibly to take runs on sweeps and other specialty plays for head coach Frank Reich.
It may take Campbell time to get acclimated to the speed of the NFL and the complexity of the Colts offense. To start the season he projects to be behind veteran Devin Funchess and possibly Chester Rogers and Zach Pascal. For this reason, his value entering the season lies more in dynasty formats than redraft. However, he is a guy to watch and has the skill set to be a future star.
TE Eric Ebron
(2018 TE Rank - No.4, 9.9 FPts/G)
To the chagrin of millions of Lions fans around the world, former first-round bust Eric Ebron exploded in his first season with the Colts to the tune of 750 yards and 13 receiving touchdowns. Ebron flashed the talent that made him a first-round pick in 2014, with career highs in targets, receptions, receiving yards, and of course, touchdowns.
Ebron made the most of Jack Doyle's injury, thriving in an offense that is designed to feature the tight end. Andrew Luck loves throwing to the position, especially in the red zone, and fantasy owners who took a flier on Ebron last year cashed in well.
Doyle's return from injury will likely create a timeshare between the two and negative touchdown regression is most certainly in line for Ebron. However, should Doyle once again suffer an injury, Ebron could once again be a double-digit touchdown threat at a position void of many options after the big three of Kelce, Ertz and Kittle.
TE Jack Doyle
(2018 TE Rank - No. 10, 6.1 FPts/G)
Doyle missed most of the 2018 season with a hip subluxation and then a kidney injury, opening the door for Eric Ebron to lead the league in touchdown receptions at the tight end position. Doyle appears to be on the mend and is working on getting his playing weight back up to his normal level.
If on the field, Doyle will likely be used as the starter along with Ebron, but Doyle's inability to stay healthy makes him somewhat of a question mark.