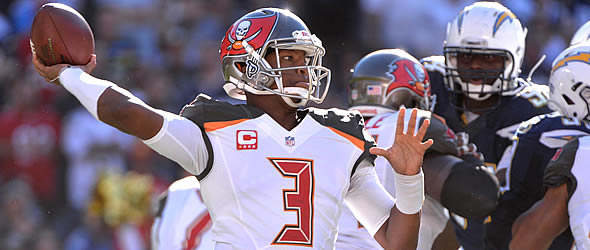 Jameis Winston is still a draft day bargain as the 13th QB off the board according to ADP.
QB Jameis Winston
(2018 QB Rank - No.9, 23.6 FPts/G)
After an up-and-down 2018 that included a suspension and multiple benchings for erratic play, Jameis Winston enters 2019 as the unquestioned starter for new head coach Bruce Arians in what is a make or break season for the former first overall pick. Winston is effectively playing for a new contract either with the Bucs or with another team, which will hopefully motivate the promising young quarterback to deliver his best season as a professional.
Winston finished the season as the No.9 quarterback in points per game, tied with Drew Brees and less than a point behind Jared Goff. If you combine the stats for the two quarterbacks in Tampa Bay last season, Winston and Ryan Fitzpatrick, you would have had a top-three fantasy quarterback with well over 500 passing yards and 35 touchdowns.
The addition of head coach Bruce Arians is going to be a positive for all of the skill portion players in the passing game, especially Winston, as Arians has a long track record of increasing ADOT for his receivers and improving the production of his quarterbacks.
Another positive for Winston is the fact that he plays in a tough division with high scoring teams like the Falcons and Saints, and the defense for the Bucs projects to be one of the worst in the NFC. A gun-slinging quarterback with a great head coach, fantastic skill position players, and a terrible defense is a winning formula for fantasy production. Let's just hope Winston isn't too much of a gun-slinger and gets benched.
RB Peyton Barber
(2018 RB Rank - No.39, 7.8 FPts/G)
Peyton Barber is the turkey sandwich of fantasy running backs. There is nothing special about him, and he is not exactly what you look forward to eating for lunch or draft for your fantasy team, but he gets the job done and provides a useful level of fantasy production and takes care of your hunger pains.
Barber's 3.7 yard per carry average was not impressive, and he managed to average a pathetic 4.6 yards per reception on 20 catches out of the backfield. He doesn't do any one thing exceptionally well, but he did score six total touchdowns and looks to be the starting running back on what projects to be a high-powered offense.
Perhaps the best feature for Barber is he is not Ronald Jones, a second-round bust from last season who struggled to live up to his early draft capital. As long as Jones continues to stink he will make Barber, and otherwise uninspired player, look much better than he actually is.
RB Ronald Jones
(2018 RB Rank - No.101, 2.3 FPts/G)
Jones was downright dreadful in his rookie season after the Bucs used a second-round pick on the former USC Trojan in the 2018 NFL Draft. After starting the season off with a poor minicamp and even worse training camp, Jones could not beat out Peyton Barber or Doug Martin for the starting job in Tampa. Jones averaged less than two yards per carry, while looking indecisive and overmatched when he did get on the field.
The positive for Jones is the team did not add a rookie in the draft or a free agent veteran to compete for carries. Jones also will not have to deal with Dirk Koetter's terrible run scheme and should get a boost with Bruce Arians similar to what Andre Ellington did a few years back in Arizona.
Jones is a risky pick with tremendous upside. If you use a late-round pick on him and he busts you do not lose much. But if he hits and has low-end RB2 value, he could be one of the better late-round running backs in 2019.
WR Mike Evans
(2018 WR Rank - No.6, 12.5 FPts/G)
Evans enters 2018 on the heels of arguably his best season as a professional, with personal bests for receiving yards and yards-per-receptions in 2018. The former first-round pick of the 2014 NFL draft posted eight 100-yard games, with six games of at least ten targets.
With DeSean Jackson moving on via free agency to Philly and Adam Humphries leaving to join the Titans, there are plenty of vacant targets in the Tampa passing game to be distributed between Evans, Chris Godwin, and the other WRs and tight ends on the roster.
Look for Evans to get back closer to his 2016 season when he notched 171 targets and 12 touchdowns. As the No.7 ranked WR, a return to than volume level could make Evans a massive value as a player currently going at the back-end of the second round in most formats.
If there is a knock on Evans, it is his curiously low usage in the red zone. With 13 targets last season in the red zone, Evans ranks 29th among qualified receivers, behind Zay Jones, John Brown, Corey Davis, and even Josh Reynolds.
If new head coach Bruce Arians corrects this egregious lack of volume for Evans in the red zone, look for Evans to compete with DeAndre Hopkins, Julio Jones, Davante Adams, and Michael Thomas for the WR1 title in 2019.
WR Chris Godwin
(2018 WR Rank - No.36, 7.9 FPts/G)
Few players have garnered more love this offseason than Chris Godwin. The former Penn State star increased his target share, receptions, yards, and touchdowns from his rookie season, and projects to make another jump in 2019 with DeSean Jackson and Adam Humphries no longer on the team.
Adding to the buzz is the love shown by new head coach Bruce Arians, who continues to give Godwin praise while intimating that the third-year WR "will never come off the field".
As expected with the buzz, Godwin's price tag in drafts has skyrocketed to a point where he is no longer a value as the 20th WR off the board.
One hundred targets are well within reach, and it would not be surprising to see Godwin reach double tight touchdowns. If he continues to improve on his catch rate and jumps from 62% to 65%, that increase in efficiency mixed with an increase in volume could result in near WR1 production.
TE O.J. Howard
(2018 TE Rank - No.5, 8.7 FPts/G)
Injuries forced Howard to play in just ten games last season for the Bucs. The former first-round pick from Alabama increased his fantasy point per game output by 2.6 points per game, and increased his receptions, targets, and receiving yards despite playing in three fewer games than his 2017 rookie season.
With DeSean Jackson and Adam Humphries leaving the Bucs via free agency there are over 140 targets available in the Tampa Bay offense up for grabs. While we certainly see a big chunk of those going to Chris Godwin, Mike Evans, and the other wide receivers on the roster, Howard is set to make a big jump in targets and hopefully touchdown production.
Owners who miss out on one of the big three at the tight end position may want to consider using a fifth or sixth-round pick on Howard. He will not likely get the same target volume Kittle, Kelce, and Ertz receive, but he is a consistent performer who is primed to finish as a top-5 player at the position.