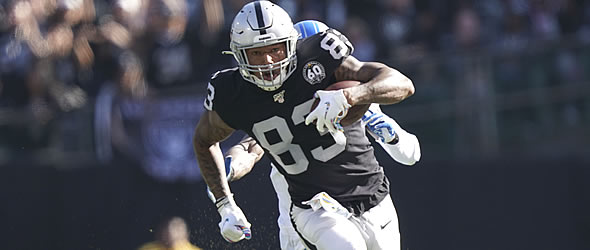 The Walrus trailed only Travis Kelce in catches last season (97-90) at the tight end position.


If you invested early draft capital in a tight end last season, chances are you received a solid return. Travis Kelce, the consensus No.1 tight end in rankings and the top-ranked tight end in average draft position (ADP), finished the year as the TE1.

George Kittle was the No. 2 tight end in points per game based on FFToday standard scoring.

New faces jumped into fantasy relevance, with Mark Andrews leading all tight ends in touchdowns (10), and Darren Waller lived up to his Hard Knocks hype and delivered a monster season.

Will the elite tight ends once again be safe picks? Who will be the Mark Andrews breakout tight end for 2020? It is too early in the process to know for sure, but here is my first attempt at ranking tight ends for the upcoming season.

With two seasons in a row of finishing has the top tight end in fantasy, it is almost impossible to rank anyone above Kelce heading into this season. Mahomes and the core group of skill position players will be back, and Big Red will still be calling the plays along with offensive coordinator Eric Bieniemy.

Kittle is the only other tight end that I would consider taking over Kelce this season. He is the focal point of the 49ers passing offense and continues to be a monster after the catch. His five touchdowns last year should go up closer to eight, making him a lock to finish in the top five again this year, with a chance of being the TE1.

Andrews was an absolute monster last season and proved to be a league-winning player for owners lucky enough to snag him in the draft. Like Kelce and Kittle, the system is staying the same for Jackson and Andrews in Baltimore, so it is safe to say Andrews will continue to be the favorite target for Jackson in the passing game. There might be a bit of negative touchdown regression, but I anticipate he will counter that will an uptick of closer to 70 receptions.

Only Kelce had more targets than Ertz last season. If Ertz managed to reach the eight touchdowns he posted in each of the two previous seasons, he would have scored more points than George Kittle. Ertz could be the best value of the top four tight ends should he fall into the fourth round.



The walrus trailed only Travis Kelce in catches last season at the position. With five games of at least 100 receiving yards and three games of double-digit targets, the fact that Waller is the main focus in the passing game tells you everything you need to know about how Jon Gruden feels about his player. I canít move him higher than this until he starts scoring more touchdowns.

This may shock some people, but Cook averaged more fantasy points per game than both Ertz and Waller. Sure, he gets hurt often and has a history of disappearing at times, but he clearly has a rapport with Brees in the red zone.

The talent is there, and you would anticipate the opportunity will be as well with the Giants lacking a big-bodied receiving option in the passing game. But the injuries are a considerable cause for concern, making Engram too risky to take in the top five.

Like Engram, Hunter Henry has a ton of talent but canít seem to stay on the field. The former second-round pick from Arkansas has not played in more than 13 games in a season and missed all of 2018 with a knee injury. There is also concern around who will be the quarterback for the Chargers in 2020.

Hooper is a free agent and could land in a positive situation like New England or possibly Green Bay (Although most tight ends struggle with Aaron Rodgers). If he were not a free agent and were locked in to play with the Falcons, I would have ranked him just behind Waller.

If you are looking for a player who finished white-hot in 2019 with the hopes of having it carry-over to 2020, Higbee is your guy. Higbee received ten or more targets in each of his final four games while notching four games of over 100 receiving yards in his final five. Higbee could be a star in the making.

Olsen jumped into my top 12 after signing a free-agent deal to join the Seahawks. Russell Wilson loves the tight end position, and he has never had a tight end that can move as well as Olsen. If he can stay healthy, Olsen could be the steal of the draft at the TE position in 2020. He could also continue his trend of not playing in a full season and be a bust, but at least you donít have to pay much in draft capital to secure his rights.

If you are looking for a young tight end that may make a massive leap and become a star in 2020, you may want to draft Noah Fant. Consider this: Fant had two games over 113 receiving yards and a score last year. Hunter Henry has one 100-yard game in his career.