QB Carson Wentz
(2019 QB Rank - No.14, 21.2 FPts/G)
Carson Wentz played his first full season as a pro since his rookie year in 2016. He led an injury-depleted Eagles team to the NFC East crown, only to suffer a concussion in the Eagles' Wild Card round loss at home to the Seahawks.
On the positive side, Wentz topped 4k yards for the first time in his career, and he continues to be efficient with the ball as evident to his third consecutive season of only seven interceptions. On the negative side, he posted his third-straight declining season of average fantasy points per game.
The Eagles addressed deficiencies in the passing game with the selection of WR Jalen Reagor from TCU in the first round, and versatile quarterback/running back/wide receiver Jalen Hurts. Reagor should give the Eagles some much-needed depth at wide receiver, especially the deep threat option currently occupied by the oft-injured veteran, DeSean Jackson.
The overall value of all the Eagles position players took somewhat of a hit with the news of pro bowl tackle Brandon Books suffering a season-ending Achilles injury. Brooks' absence in games last season proved to be a huge issue for Wentz and the Eagles.
From a fantasy perspective, Wentz does provide a high ceiling with a solid floor. Although he will not likely throw for 40 touchdowns, he will not burn you with a ton of interceptions, and he can add some value on the ground. He is a solid option for owners who wait on the quarterback position until the end of the draft, especially with an opening week matchup against the Redskins.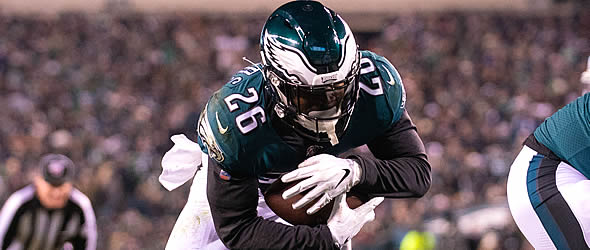 RB Miles Sanders
(2019 RB Rank - No.22, 10.5 FPts/G)
Sanders' rookie season started off slowly, with just over six combined fantasy points against the Redskins and Falcons as head coach Doug Pederson continued to use a bevy of running backs, including veteran Jordan Howard.
Injuries to Howard and impressive bursts of production from Sanders earned the former Penn State star more and more touches as the season progressed, including four games of at least 19 touches between Weeks 13 and 16.
Although the team continues to be rumored to add another veteran like Devonta Freeman to take over the role vacated by Howard, there is little doubt that Sanders will be the most heavily used running back in a stable that includes Boston Scott.
The question is just how many touches Pederson will give Sanders, as he is notorious for using multiple backs and going with the "hot hand." One thing that is appealing about Sanders is his usage in the passing game. As a rookie, Sanders averaged just over four receptions per game, giving him a 16-game pace of 64. His work in the passing game could overcome any lack of consistency in carries on the ground.
Owners should not expect Sanders to be a workhorse back in the same light as higher-ranked players like CMC, Ezekiel Elliott, or Saquon Barkley. But that does not mean he is not a solid RB 2 with the ability to provide RB1 numbers from time to time depending on the matchup.
WR DeSean Jackson
(2019 WR Rank - No.39, 8.3 FPts/G)
Jackson's return to Philadelphia could not have turned out better for the 13-year veteran. Eight catches for 154 yards and a couple of scores in a 32-27 win over the Redskins. Eagles fans were on cloud nine and fantasy owners who used a late-round pick on him thought they had the steal of the draft. Unfortunately, Jackson caught just one more pass for five yards as injuries derailed his season.
The Eagles used their first-round pick on Jalen Reagor to presumably learn and eventually replace Jackson as the deep threat for Carson Wentz. Until that happens, and if Jackson can stay healthy - something he has not done since 2016 - Jackson could be a massive value late in drafts.
Fellow veteran Alshon Jeffery is likely going to miss the start of the season due to a Lisfranc injury suffered against the Giants in Week 17 of 2019. JJ Arcega-Whiteside was somewhat of a disappointment in his rookie season, and Reagor is a rookie who will have a limited offseason due to COVID-19. Wentz will look to lean on his trusted weapons, and Jackson and his tight end duo will be heavily utilized in 2020.
WR Alshon Jeffery
(2019 WR Rank - No.42, 7.9 FPts/G)
Jeffery suffered a Lisfranc injury against the Giants Week 14, ending a disappointing, injury-plagued season for the veteran wide receiver. It was the fourth time in the last five seasons in which Jeffrey failed to play a full 16-game season.

His four touchdown receptions were the fewest in his time with the Eagles, and his 11.4 yards per reception were the worst of his career. Jeffrey is an old receiver who continues to break down, and will likely start the season on the sidelines or the PUP list.

Fantasy owners who have a PUP list/IR spot could consider adding Jeffery very late in the draft as a stash. He did lead all Eagles wide receivers with red zone targets (11) despite playing in only ten games.


Jalen Reagor had a solid, but not impressive college career at Texas Christian University. In three seasons with the Horned Frogs, Reagor managed just 22 touchdowns in 39 games and only broke 1000 receiving yards once in three years.

Reagor ran a somewhat disappointing 4.47 40-yard dash at the combine despite showing better speed than that on the field during games. At 5-foot-11, 206 pounds, Reagor does not have the size of a prototypical No.1 wide receiver, but his opportunity to get a ton of work early due to the injury to Jeffery could make him an intriguing late-round pick.

A versatile receiver who can play in the slot and outside, Reagor should give Carson Wentz another option in intermediate routes, with DeSean Jackson working outside as the deep threat and the tight end duo of Zach Ertz and Dallas Goedert working the middle of the field.
TE Zach Ertz
(2019 TE Rank - No.5, 8.5 FPts/G)
After setting an NFL record for catches in a season to tight ends in 2018, Ertz was somewhat of a disappointment for owners last season based on where he was drafted. Ertz posted single-digit fantasy performances in seven of his first eight games, as teams opted to bracket cover him with the team dealing with injuries to wide receivers. Despite his fall off from the previous season, Ertz did end the season with the second-most catches in his career and six receiving touchdowns.
If DeSean Jackson can stay healthy and other Eagles wide receivers step up for the injured Alshon Jeffery, Ertz could once again see primarily linebacker and nickel back coverage, giving him the opportunity to thrive. You could also argue that Ertz and Dallas Goedert are the only two targets Wentz trusts at this time outside of Jackson, which could lead to a ton of targets and volume.
Another thing to consider is the quality of targets that Ertz received last season. His 19 red zone targets were tied with George Kittle and Mark Andrews for second at the tight end position, despite Ertz missing time with injuries. With Jeffery (the top red zone threat at the WR position for the team) out to start the year, Ertz could be in line for an uptick in touchdown production.
TE Dallas Goedert
(2019 TE Rank - No. 13, 6.0 FPts/G)
No other team in the NFL had more tight end touchdowns and red zone targets than the Eagles. This was, in large part, to the massive number of injuries sustained by the Philadelphia wide receiving corps.
Flash forward to 2020, and you have a wide receiving corps that is already dinged up with Alshon Jeffery possibly starting on the PUP, DeSean Jackson entering his 13th season and a rookie in Jalen Reagor who will not have a full offseason to build rapport with Carson Wentz.
Those factors will likely once again make Wentz lean heavily on his tight end duo of Dallas Goedert and Zach Ertz. The latter is the higher targeted player who will cost significantly more in drafts, while the former is a solid value who presents top-3 upside should Ertz go down.
Let's just hope Goedert can avoid any more sucker-punches in bars from now to the start of the season.