QB Zach Wilson
(2020 QB Rank - N/A)
The Jets shipped off former first-round bust Sam Darnold to the Panthers and replaced him with 2021 second-overall pick Zach Wilson. Wilson parlayed a breakout junior campaign with BYU in which he threw 33 touchdowns and just three interceptions into the second pick of the draft, jumping ahead of other top QB options like Trey Lance and Justin Fields.
Unlike Fields and Lance, Wilson will be thrown into the fire as a rookie instead of learning behind a veteran quarterback. The Jets did not have much luck using the same formula for Darnold, and it is likely that Wilson will struggle in his first season.
From a skill position standpoint, Wilson has a better supporting cast than the team gave Darnold in previous seasons, with free agent WR Corey Davis joining veteran Jamison Crowder and second-year player Denzel Mims. The team also added running back Tevin Coleman via free agency and drafted Michael Carter out of North Carolina to help a struggling run game.
The quarterback position is one of the deepest in fantasy, and Wilson is not someone who should be drafted in most leagues outside of SuperFlex formats. However, keep an eye on him as we have seen young QBs like Justin Herbert and Patrick Mahomes shine early in their careers. Wilson has a ton of athleticism and could turn into a streaming option later in the year.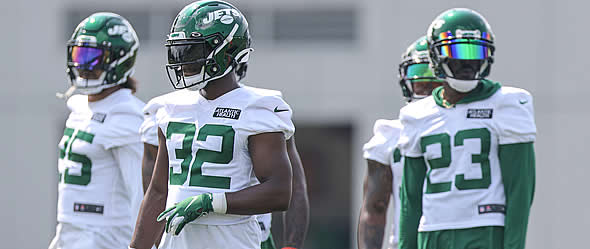 RB Tevin Coleman
(2020 RB Rank - No.135, 1.8 FPts/G)
Coleman signed a modest one-year, $2 million deal to join former coaches Robert Saleh and Mike LaFleur in New York after a disappointing injury-riddled two years with the 49ers. The six-year veteran managed just 53 rising yards on 28 carries last season with San Francisco and failed to score a touchdown despite seeing action in eight games.
We anticipate he will get the first chance to start based on seniority, but reports out of camp are positive for rookie Michael Carter. In addition, Coleman has a long history of injuries and has just one full 16-game season on his resume.
Both Coleman and Carter are worth drafting in all formats, with the latter possessing far more upside than the former. The Jets also have La'Mical Perine in the backfield and Ty Johnson, both of whom could eat into the workload of Coleman.
Carter posted back-to-back 1000-yard seasons as part of a two-headed monster with Javante Williams for Mack Brown and the Tar Heels. At 5-8 and just over 200 pounds, Carter does not possess the prototypical size of a workhorse NFL back, and his mediocre combine stats likely attributed to Carter falling to the fourth round.
Although he is not the biggest or the fastest player, he is elusive, and according to Connor Hughes of The Athletic, he looks primed to take over the 1A role in the Jets running back rotation. Hughes believes the Jets will use a similar rotation used by the 49ers, with Carter eventually taking the first spot along with Tevin Coleman, La'Mical Perine, and Ty Johnson.
WR Corey Davis
(2020 WR Rank - No. 29, 11.5 FPts/G)
Davis signed a lucrative three-year, $37.5 contract with the Jets after posting career-bests in yards, touchdowns, and receiving average with the Titans in 2020. The former fifth overall pick from Western Michigan struggled most of his time with Tennessee and never lived up to his draft stock, but he did post a nice season in a contract year and is poised to be the top WR option for rookie Zach Wilson.
Although he finally produced last year, he has yet to post 1000-yards, or more than 5 five receiving touchdowns in a season. As the top receiving option for the Jets, he is in line for reaching 100 targets for only the second time in his career. The question is will those targets be valuable coming from a rookie in Zach Wilson who will likely struggle in his first NFL season.
Also, Davis will be matched up against the No.1 CB on opposing defenses like Tre'Davious White and Stephon Gilmore, not like how it was for Davis as the No.2 option for the Titans.
WR Jamison Crowder
(2020 WR Rank - No. 30, 11.4 FPts/G)
It may surprise some fantasy owners to learn that Crowder posted his best per-game-average as a pro last season, with 11.4 fantasy points per game in half-point PPR. He averaged a touchdown in every other contest and started the season off with three straight 100-yard games. He was clearly a favorite target of Sam Darnold to start the year and was on pace for nearly 120 targets despite playing in just 12 games.
Despite his stellar play, Crowder projected to be a cap casualty, especially with the addition of rookie Elijah Moore, a similar-sized wide receiver with a comparable skillset. Instead, Crowder renegotiated his contract and is still on the team heading into camp.
From a target standpoint, repeating on the volume he received last season will be a challenge for two reasons. First, Sam Darnold is gone, and rookie Zach Wilson will be under center. Wilson may build a quick rapport with Crowder, but that is a huge unknown.
Second, Crowder will have a ton of competition for targets with veterans Corey Davis and Keelan Cole joining the team, along with Moore. Sure, there will be a few big games for the veteran WR, but it is hard to envision him being a focal point of the offense like in 2020.
WR Denzel Mims
(2020 WR Rank - No. 110, 5.2 FPts/G)
Mims' rookie season was an injury-riddled disappointing campaign in which the former second-round pick managed to play in just nine of the team's 16 games and did not make his debut until Week 7 against Buffalo.
At 6'3" and 210 pounds, Mims has the size to be a WR1, and his measurables are off the chart in terms of speed, agility, and contested catches in college. We have not given up on the talent, but now Mims has competition with the free agent signing of Corey Davis and the selection of Elijah Moore in the second round of the 2020 draft.
As the No.3 or No.4 option in the passing game, Mims is not going to be a volume play and should likely be avoided on draft day. However, his big-play ability could earn him more targets as the season progresses and could make him a mid-season waiver claim.
TE Chris Herndon
(2020 TE Rank - No. 40, 4.8 FPts/G)
Herndon was a popular break-out candidate in previous seasons after showing some promos in his rookie season in 2018. That promise never materialized with injures and off-field issues in 2019.
He has just seven touchdowns in 33 career games and has yet to post a 100-yard game in the NFL.
Add in the fact that the team has two viable options in Tyler Kroft and Ryan Griffin in the tight end room, and you have the makings of a player you should avoid at all costs on draft day.