QB Jalen Hurts
2020 QB Rank - No. 52, 8.6.2 FPts/G
Hurts enters his second season as the unquestioned starter with the benefit of an entire offseason to prepare with his new coaching staff and players. The Eagles overhauled their coaching staff and wide receiving corps in favor of two young WRs in first-round picks, DeVonta Smith and Jalen Reagor (2020 first-rounder).
In his four games as a starter in 2020, Hurts had mixed results throwing the ball, with a 52% completion percentage and just six passing touchdowns compared to four interceptions. While those numbers are certainly pedestrian, it should be noted that the Eagles were decimated with injuries to the offensive line and wide receiving corps, which made things difficult for both Hurts and the departed Carson Wentz.
The ability to create with his legs is what makes Hurst attractive for fantasy owners, as he is projected to run for nearly 800 yards and six rushing touchdowns in 2021. Assuming he can get his completion percentage up closer to 60% and improves his touchdown efficiency, the added production on the ground should make Hurts a top-12 QB with excellent upside.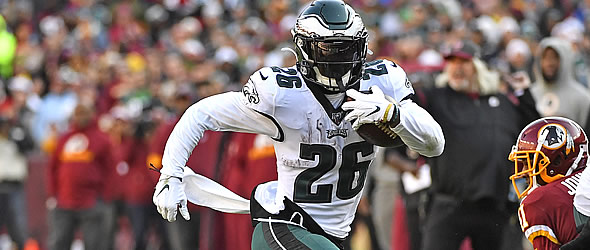 RB Miles Sanders
2020 RB Rank - No. 20, 13.0 FPts/G
Injuries limited Sanders to just 12 somewhat underwhelming games in 2020, with the former Penn State Star failing to be the breakout candidate many hoped for in his sophomore season.

Although Sanders technically improved on his per-game scoring, he delivered just two games of over 100 rushing yards and did not top 36 receiving yards in any game. Despite being a talented receiving back, he struggled mightily in that department in 2020, and the Eagles responded by drafting an excellent receiving back in Kenneth Gainwell and signed free agent Kerryon Johnson. If you thought Sanders would grow into an elite workhorse back, the chances are that dream will not come to fruition.

On a positive note, Sandersí best game of the season came against New Orleans in Week 14, with Hurts under center running the read-option. It was a small sample size of just four games, but Sanders did score three of his six rushing touchdowns in the final three games of the year.

Gainwell opted out of the 2020 COVID-19 season after a breakout sophomore campaign in which he posted 2069 total scrimmage yards and 16 total touchdowns in 14 games for the Memphis Tigers.

At 5-11, 191 pounds, Gainwell does not fit the prototypical workhorse back mold. Despite his small stature, Gainwell has excellent vision and explosiveness and could be a better route runner than his former teammate Antonio Gibson.


The Eagles were in dire need of playmakers in the passing game, which made them a perfect fit for reigning Heisman Trophy winner DeVonta Smith of the University of Alabama.

Smith was a revelation for the Crimson Tide in 2020, with 1856 receiving yards and 24 total touchdowns in just 13 games. He can play inside and out, with elite route-running skills and above-average breakaway speed.

Donít be surprised to see him start off slowly like most rookie wide receivers do when getting acclimated to the speed of the NFL. However, he has the skill set to be this yearís Justin Jefferson and should lead the WR corps in targets and catches.

One benefit that Smith has over other rookie wide receivers not named Ja'Marr Chase or Jaylen Waddle, is the fact that he already has a rapport with Hurts, with both players playing for the Crimson tide in 2018.
WR Jalen Reagor
2020 WR Rank - No. 100, 5.8 FPts/G
Reagorís rookie season was a disaster due to both injuries and subpar play on the field, with the former first-round pick login just 31 receptions for 396 yards and one touchdown in 11 games.
The former TCU star failed to post more than 55 yards in any game, and his 12.8 yards per reception average was much lower than you would expect of a wide receiver with Reagorís speed.
On the positive side, Reagor has a full offseason ahead to work with Hurts and the new coaching staff of head coach Nick Sirianni and offensive coordinator Shane Steichen. Injuries and COVID-19 appeared to put Reagor behind the 8-ball, and he never seemed to recover.
From a fantasy perspective, Reagor is a nice upside player to target late in drafts to see if he can bounce back to how he played in college. While we donít anticipate him being a target monster in an offense that does not project to be pass-happy, he could be a sneaky option based on matchups with defenses keying on Smith and Goedert.
TE Dallas Goedert
2020 TE Rank - No. 11, 8.5 FPts/G
Goedert was one of the many Eagles who dealt with multiple injuries in 2020. He managed to play in just 11 games, posting a career-low three receiving touchdowns on 46 receptions. The breakout season that many predicted did not come to fruition, with injures to the offensive line and sporadic quarterback play hurting all skill position playersí value.
Assuming Zach Ertz is on the way out, Goedert projects to be the starting tight end for new head coach Nick Sirianni and possibly the top receiving option for Jalen Hurts.
The Eagles have two young and unproven starting wide receivers in Jalen Reagor and DeVonta Smith, which could lead to Hurts leaning on Goedert over the middle along with his running backs out of the backfield.
The Eagles are a difficult team to project-based the mass overhaul in the coaching staff and the exodus of veteran wideouts like DeSean Jackson and Alshon Jeffery. We assume Sirinani will have Hurts lean on his tight ends and ground game, similar to the offense he ran as the offensive coordinator with the Colts. However, he has a quarterback in Hurts with a completely different skill set than Philip Rivers, and his wide receivers with the Eagles are far more explosive than those on the Colts.