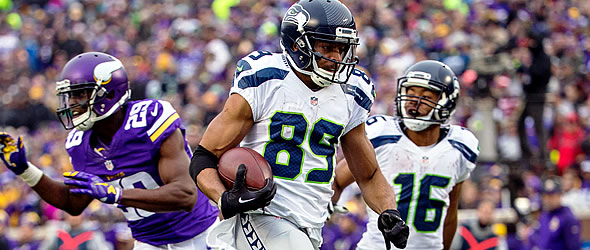 Trade Target: Remember Doug Baldwin's hot stretch towards the end of 2015 - 12 TDs in week's 10-16.




Week 6 Review



Let's start out by taking a look at last week's results…



Hits:



(Sell) Cameron Artis-Payne: Artis-Payne was inactive after carrying the load and scoring 2 TD's in Week 5. If you added him as a throw-in to get a deal done, good job!

(Sell) Ryan Mathews: Mathews logged 60 yards on 9 carries and was all but useless to fantasy owners this week. This backfield could go to the youth quickly or a full-blown committee so if you got something out of Mathews last week than you're doing alright.

(Buy) Lamar Miller: After being lackluster for his first five games, Miller finally burst onto the scene with 24 carries, 149 yards, and a score. He also added 4 catches and another score. He is practically the whole offense at this point as Brock struggles with confidence in the passing game. I tried my hardest last week to entice owners but couldn't land a deal myself. Hopefully you did.

(Buy) Alshon Jeffery: 13 targets is substantial and in PPR leagues it's exactly what you look for.
Jeffery turned those targets into 7 for 93 which is a decent day. The less encouraging situation is Cameron Meredith getting 15 targets and turning them into 11 for 113. They both get a tasty matchup this week in Green Bay, and for now I'll take the production as a win.

(Buy) Darren Sproles/Wendell Smallwood: Both are eating into Ryan Mathews' workload and Smallwood actually returned a kickoff to the house last week. I'm going to take the "W" for now as both are strong holds with Mathews injury history and lackluster performance.

(Buy) Kelvin Benjamin: Benjamin led the team in targets with 14 and turned it into 8 for 86. He could've had a monster day with two redzone targets that could've turned into touchdowns, so all signs are pointing in the right direction. Good job if you landed him last week!

(Buy) Cam Newton: It wasn't looking good for the Auburn alum early on against the Saints. Playing from behind against the Saints defense is about all you can ask for when it comes to QB situations. Newton made the best of it scoring three total touchdowns (2 throwing and 1 rushing) and passing for over 300 yards for just the second time of the year. A lot of people are worried about his attitude in press conferences as his cockiness in general has really turned people off. This is fantasy football, not a Miss America pageant! If you swindled him away from another manager, you're grinning from ear-to-ear.



Undecided:



(Buy) Kenneth Dixon: This one might take some time to pan out so I'm going to leave Dixon here for now.

(Buy) DeAndre Washington: Same goes for Washington who's situation might shake out a little sooner than Dixon's.

(Sell) Adam Thielen: The bye week landed him here, but Stefon Diggs is back practicing so I suspect he will go back into obscurity after this week.



Misses:



(Buy) Jordan Matthews: Apparently Matthews is dealing with knee issues and will only find matters more difficult this week playing against the top rated Minnesota defense. I'm going to take the loss here, but we'll check back in Week 8 during the mid-season review.

(Buy) Hunter Henry: The young stud is showing he belongs as an every week starter with Keenan Allen out and Antonio Gates looking slower than ever. Henry has a touchdown and more than a handful of catches each week. If you sold on him when I said to, you probably didn't make out too well.


Trade recommendations after six weeks...

I made some shifts this week given circumstances changing. Spencer Ware got moved to a miss as he has proven a worthy flex play with Jamaal Charles being eased back in. We'll see how that shapes up. I also moved Eddie Lacy into the miss column as a buy considering he hasn't done anything this year, and his injury situation is looking grim at best. Julian Edelman gets moved to undecided as he's getting heavy targets but not producing as he normally does.

After Week 8 concludes I will re-evauluate this whole list and discuss trades I've taken part in, have seen, and have heard of through direct interaction with the fantasy community.

Week 7

And now on to Week 7…

The Bait:

Jay Ajayi: It's been a rocky road for this Boise State stud. He started the season by getting left behind and being a healthy scratch. The Dolphins then started to form one of the ugliest committees I've seen in a long time. Finally Adam Gase decided to give Ajayi a shot at lead back duties, but it was on the back of an Arian Foster return. Ajayi busted out for 200-plus yards and two scores against a normally solid Pittsburgh defense. With all that said, sell now! Could he carry this into the rest of the season and be the lead back? Sure. Will you have another chance to sell this high? Absolutely not.

Kenny Britt: I could tell an equally long story about Britt, and it would be longer and more boring. Long story short, he went for over 100 and 2 TDs. If you can package him up with someone else and land a buy-low candidate, do so now while the iron is hot.

Kendall Wright: He's back! Nope. Marcus Mariota and the passing game of the Tennessee Titans are about as easy to predict as the next president. It only took me six weeks to bring that mess up! There are a lot of talented options with Rishard Matthews, Tajae Sharpe, Delanie Walker, and even ageless Andre Johnson. Move on from him if you can after he dropped 20-plus fantasy points. It will be the last time he does this season.

Buy-Low Candidates:

Jamaal Charles: Spencer Ware is stealing the spotlight… for now. Charles might be eased in his first few weeks back, but his upside is definitely higher than Ware's. I might be a week premature, but I'm willing to put house money on this as I am targeting him in multiple leagues this week. Play up Ware's big game last week and try to buy Charles on the cheap.

Tyler Eifert: He practiced this week. Light is at the end of the tunnel. Is someone trying to get out of their investment? Take advantage and buy-in now. Even if he plays limited snaps, they'll most likely be in the redzone where the Bengals need him most.

Doug Baldwin: He had two weeks of poor production and a bye week in his last three. He gets Arizona this week (which owners are probably not too excited about), but then gets an easy schedule (8th easiest according to FantasyPros). Grab him while you can as we all remember last year's fantasy playoffs where he sent teams straight to the championship.

I'm constantly wheeling and dealing so hit me up on twitter, the comments section, and/or email for advice.

As always keep those conversations active and hopefully you can land some premier talent!

---
Follow me on twitter @ZeroRBJoe for any questions about trades, lineups, or anything fantasy football related.