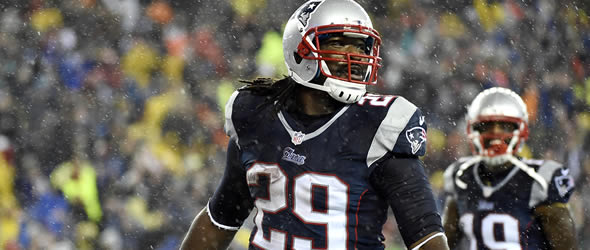 LeGarrette Blount leads the league with 8 rushing TDs making him the perfect sell-high candidate.




Week 7 Review



Let's start out by taking a look at last week's results…



Hits:



(Sell) Kenny Britt: After exploding in Week 6 Britt tumbled back down to reality with a 3-for-43 stat line. He still gets a lot of targets but doesnít have a competent offense, QB, or consistent ability to make plays.

(Sell) Kendall Wright: Like Britt, Wright turned in a dreadful performance turning 4 targets into 2-for-12. Iím not saying he canít bounce back Thursday night against Jacksonvilleís bottom of the barrel defense, but his days of over 100 yards and a score are likely numbered.

(Sell) Adam Thielen: Thielen leveled off in Week 7 with 2-for-52 and played 4th fiddle (is that a thing?) to Stefon Diggs, Kyle Rudolph, and even Cordarrelle Patterson (who is heating up in targets and TDs). Patterson is an intriguing waiver add and streamer option this week so if you sold him and want to get into the Vikings offense, thatís where I would go.



Undecided:



(Buy) Jamaal Charles: Spencer Ware is certainly getting his share of carries still and news of soreness in his knees doesnít bode well for Charlesí immediate future. Iím still trying to buy into Jamaal as he could turn the lights on at any moment and carry a team to fantasy glory. Weíll keep him parked here for now.

(Buy) Tyler Eifert: Eifert played limited snaps and came away with 1 catch. Heís trending in the right direction, but I wonít move him either way until we get a full complement of snaps. His touchdown upside is elite, and Iím still buying shares where I can. I just recently traded LeGarrette Blount and Travis Kelce for Kelvin Benjamin and Eifert so clearly Iím bullish on his upside.

(Buy) Doug Baldwin: Even with playing Arizonaís stout pass defense, Doug Baldwin led the team in targets (9), receptions (6), and yard (66). As these numbers arenít very eye popping outside of targets, Iíll hold my judgment until after this week when they face New Orleans.

(Buy) Kenneth Dixon: His touches have tailed off big time, but Iím going to give this until after his bye week to see what he can do. The coaching staff loves him, and Terrance West didnít do himself any favors by rushing 8 times for 10 yards. Dixon remains a hold in deeper leagues as his upside is massive.

(Buy) DeAndre Washington: Personally I donít understand the infatuation the coaching staff has with Latavius Murray. He is a plodding runner with little to no big play ability. I am going to give Washington another week here to see if he can turn the tide against Tampaís bottom 10 run defense.



Misses:



(Sell) Jay Ajayi: I am very proud to call Ajayi a miss considering my current level of stock in him. I tried to move him in 2 leagues, and like me people thought his Week 6 production might be fluky. If you were in my position and tried to sell but could not then you landed a surefire, high-end RB2 for the rest of the season. The cherry on top was Arian Foster's surprise retirement!


Trade recommendations after seven weeks...

I made some more shifts this week. Allen Robinson as a buy is tough to swallow at this point so I moved him to a miss. If things change (as I think they will) I will move him back. Golden Tate as a rock bottom buy from a few weeks back was solid advice at this point so I moved him to the hits.

After Week 8 concludes I will re-evaluate this whole list and discuss trades I've taken part in, have seen, and have heard of through direct interaction with the fantasy community.

Week 8

And now on to Week 8…

The Bait:

LeGarrette Blount: Some might consider this blasphemous. A lifelong Patriots fan selling a player leading the team and the NFL in touchdowns? (only Melvin Gordon and David Johnson are tied for the top spot with 8) Hear me out. The Patriots offense is a potent, well-oiled machine that prides itself on making one or two fantasy players (outside of Tom Brady) relevant each week. With the emergence of James White and near return of Dion Lewis, Blount's best games are most likely behind him. He gets two tasty matchups ahead (Bills this week and San Francisco Week 11) but outside of that, it's pretty ominous. If you can sell high this week and land a great player then you should do so now before his stock plummets.

Jamison Crowder: Jordan Reed is very close to returning so now is the time to package Crowder with another player and try to capitalize on a better alternative. Sell now!

Mike Wallace: Going into the bye, Wallace has averaged 10 targets a week which easily leads the team. He caught 10 passes for 120 yards last week, and looks to be the No.1 receiver. This would be nice if Steve Smith wasnít waiting in the wings. Trade him now before the ageless wonder returns and reduces Wallace to an older version of John Brown.

Buy-Low Candidates:

Philip Rivers: Denver defense two out of three weeksÖ How can the NFL hate Rivers so much? I see this as a great opportunity to buy low. He threw for 178 yards and a score two weeks ago at home and gets them in Denver this week. Expect a poor performance as Denver is easily one of the toughest stadiums (fans + lack of oxygen) to play in. Buy in now or wait until next week after a poor performance and then reap the rewards of the rest of season schedule that is top 5 easiest in the league.

Jarvis Landry: The Dolphins are on an impressive winning streak after a massive upset at home against Pittsburgh and beating Buffalo in Week 7. Jay Ajayi's emergence will mean loaded boxes and more space for Landry to work. His last four weeks have been decent for flex play in PPR, but his best games are in front of him. Adam Gase is famous for having a workhorse back and one fantasy relevant receiver. Get him now while you still can.

I'm looking forward to my mid-season review coming next week. I'm all about accountability to my readers.

I'm constantly wheeling and dealing so hit me up on twitter, the comments section, and/or email for advice.

As always keep those conversations active and hopefully you can land some premier talent!

---
Follow me on twitter @ZeroRBJoe for any questions about trades, lineups, or anything fantasy football related.