11/8/11





MyFantasyLeague.com Users...
Check out the most popular waiver wire pickups this week across thousands of MFL leagues. Also, quickly see who's available on your waiver wire this week by using the MFL Power feature at FF Today. Just input your league's 5-digit ID number away you go!

Targeting weekly waiver picks is a completely subjective business, but this column hopes to point out some obvious and not-so-obvious selections to help your team from week to week while you strive to collect fantasy wins, reach your league playoffs, and win the elusive title that your friends say is out of your grasp. While I'm a big proponent of making trades to bolster your roster, the waiver wire can be a limitless resource when it comes to discovering fantasy value. Each week, I'll target both offensive and defensive players — sometimes breakout stars that eluded your team's draft — as well as players who can help your squad that may be lurking in deeper leagues.



Off the Top -

Includes my premier recommendations. These are sometimes players available only in more shallow leagues, and occasionally guys who are more readily but are thrust into the fantasy spotlight because of opportunity or exceptional production.



Digging Deeper -

Covers the next tier of quality waiver wire specimens, usually players available in a majority of online leagues. There are a lot of gems in this range who can be plucked rather easily.



Scouring the Barrel -

Chronicles the deepest of fantasy adds — and sometimes highlights players being tacked onto fantasy squads who I don't have much confidence in. Make sure you read the fine print.

Each week, I'll also provide a brief update on the 20-30 players I covered the previous week. It's the most accurate, comprehensive one-stop waiver-wire column available on the Internet, and it's only available here at fftoday.com.

Feedback is always welcome, appreciated and encouraged. I'll get to as many e-mails as I can.


---
Note:
Each player's next four matchups are listed in parentheses ()
Quarterbacks
Off The Top
Tim Tebow, DEN (@KC, NYJ, @SD, @MIN) – He still wasn't all that accurate (10-for-21), but Tebow tallied 117 rushing yards and threw for 124-2-0 in the decisive win over the Raiders. Against more sophisticated defenses (like the Jets in Week 11, for instance), he'll struggle, but it appears there's definitely a place for Tebow from a fantasy perspective.

Digging Deeper
Andy Dalton, CIN (PIT, @BAL, CLE, @PIT) – I keep putting him in this column, but nobody seems to be listening, because he's still available in almost two thirds of fantasy leagues. On Sunday, he had his best game thus far, tossing three TD passes among his 217 yards, but the next few matchups are awfully tough.


Scouring The Barrel
Matt Moore, MIA (WAS, BUF, @DAL, OAK) – Moore had his best game of the season, completing 17 of 23 passes for 244 yards and three TDs. If Moore can work out his problems connecting with Brandon Marshall, he could turn some heads in the second half.


Updates
Josh Freeman, TB (HOU, @GB, @TEN, CAR) – Freeman passed for 281 yards and didn't throw an INT, but had just one TD. He's a good backup to have, but not a fantasy starter at this point.
Carson Palmer, OAK (@SD, @MIN, CHI, @MIA) – Palmer wound up with 332-3-3 in the wild loss to the Broncos. He'll need to take better care of the football to be a trustworthy option, because the Broncos aren't a formidable defense, but the next couple matchups look decent from a fantasy perspective.
Matt Cassel, KC (DEN, @NE, PIT, @CHI) – Though he passed for 253 yards, Cassel couldn't break through with a score, failing to take full advantage of a weak Miami pass defense. He could be a decent start in Week 10 against the Broncos, who yielded three TDs to Palmer.

Running Backs
Off The Top
Marshawn Lynch, SEA (BAL, @STL, WAS, PHI) – Lynch had a solid game in a losing effort, finishing as the third-highest scoring RB for Week 9 with 135 rushing yards and a TD. Next week seems like a bad play, but so did the tilt with the Cowboys.

Ben Tate, HOU (@TB, BYE, @JAC, ATL) – Both Arian Foster and Tate surpassed the 100-yard mark in Week 9; Tate rushed for 115 yards and a TD on just 12 carries. Still out there in a bunch of leagues, Tate could make an excellent RB3/flex in the right matchup.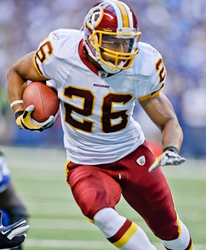 Helu is the starter moving forward.
Digging Deeper
Roy Helu, WAS (@MIA, DAL, @SEA, NYJ) – I've been telling you to pick this guy up. Helu broke out with a monster PPR performance, hauling in 14 catches for 105 yards on 17 targets. He also carried the ball 10 times for 41 yards and will be the starter going forward.

Scouring The Barrel
Chris Ivory, NO (@ATL, BYE, NYG, DET) – Pierre Thomas, who briefly left Sunday's game with a hip injury but later returned, had the better day – but Ivory received the bulk of carries in just his second game off the PUP list. He's not a great option every week, but his banging style suits certain opponents.

Updates
Reggie Bush, MIA (WAS, BUF, @DAL, OAK) – Bush tallied 142 total yards (92 rushing, 3-50-0 receiving) and a score on Sunday in Miami's first win of the season. Hopefully some of you benefited from my recommendation.

Brandon Jacobs, NYG (@SF, PHI, @NO, GB) – With Ahmad Bradshaw inactive, Jacobs got the bulk of the workload for the Giants, gaining 100 total yards (72 rushing, 4-28-0 receiving) and a score.

Javon Ringer, TEN (@CAR, @ATL, TB, @BUF) – Ringer had just four carries and one reception during the loss to Cincinnati, while Chris Johnson finished with 110 total yards, just two fewer than his season high.

Kevin Faulk, NE (@NYJ, KC, @PHI, IND) – Faulk was inactive on Sunday. Stay tuned to the injury report this week.
Curtis Brinkley, SD (OAK, @CHI, DEN, @JAC) – Mike Tolbert was healthy enough to start for the Chargers and Brinkley (concussion) didn't play. He's still a good deep-league stash.

Wide Receivers/Tight Ends
Off The Top
WR Julio Jones, ATL (NO, TEN, MIN, @HOU) – Jones returned from injury in a big way, exploding for 131 yards and two TDs on just three catches. He was targeted four times and appears to be the big play threat ion the Falcons offense – probably close to the diminishing Roddy White as a solid WR2.

WR Torrey Smith, BAL (@SEA, CIN, SF, @CLE) – Smith was targeted nine times and despite some mistakes, redeemed himself by going for 5-71-1 and catching the game-winning TD. He's been ignored for his inconsistency, but this guy is a gamer.


Digging Deeper
WR David Nelson, BUF (@DAL, @MIA, @NYJ, TEN) – If not for the late TD, Nelson's day (4-36-1) wouldn't have been that special, but he's still getting steady looks from Ryan Fitzpatrick. He's a good bench player with some upside.

WR Steve Breaston, KC (DEN, @NE, PIT, @CHI) – The Chiefs were thoroughly beaten, but Breaston saw a season-high 11 targets and hauled in 7-115-0. He's worth adding in deeper formats and could be a big player in the second half.


Scouring The Barrel
WR Jacoby Ford, OAK (@SD, @MIN, CHI, @MIA) – Ford seems to have the best rapport with Palmer, and while Denarius Moore saw 12 targets and hauled in just four catches, Ford capitalized on his six targets for 5-105-1. Not bad. He's worth adding in deeper leagues.

WR Damian Williams, TEN (@CAR, @ATL, TB, @BUF) – Williams stepped up for 4-34-1 on seven targets after Nate Washington went down with a hip injury. He could be in line for a lot more action if the veteran receiver misses any time.


Updates
TE Scott Chandler, BUF (@DAL, @MIA, @NYJ, TEN) – Chandler went for 3-24-0 in the loss to the Jets.

WR Lance Moore, NO (@ATL BYE, NYG, DET) – Despite just three targets, Moore finished with 3-20-1. It wasn't a huge day, but an efficient one.

WR Michael Crabtree, SF (NYG, ARI, @BAL, STL) – Crabtree didn't get into the end zone, but had 5-51-0 and appears to be the No. 1 WR in San Fran.

TE Brent Celek, PHI (ARI, @NYG, NE, @SEA) – Celek had another solid game, seeing nine targets from Vick and finishing with 7-60-0. Had the final dive reached the end zone, we might have seen a TD.

WR Jonathan Baldwin, KC (DEN, @NE, PIT, @CHI) – Baldwin had a quiet game with 1-12-0 and is only a spot play in the right matchup.

WR Laurent Robinson, DAL (BUF, @WAS, MIA, @ARI) – Robinson had 5-32-1 in the win over Seattle and stands to benefit from the Miles Austin injury (out 2-4 weeks).

WR Titus Young, DET (@CHI, CAR, GB, @NO) – The Lions were on a bye, but I dig the Week 10 matchup. The Bears will likely shroud Calvin Johnson and force Matthew Stafford to look in other directions.

IDP
Off The Top
DL Trent Cole, PHI (ARI, @NYG, NE, @SEA) – He's had a slow recovery from his calf injury and owners may be getting impatient. The next few weeks, however, he's primed for decent matchups and should get back on track.


Digging Deeper
LB Daryl Washington, ARI (@PHI, @SF, @STL, DAL) – Washington had a solid Week 9 hand draws a favorable matchup in Week 10 against the Eagles. Get him in your lineup for the next three weeks.


Scouring The Barrel
DB Joe Haden, CLE (STL, JAC, @CIN, BAL) – Haden hasn't had any monster games since Week 1, when he knocked down five passes and recorded a sack, but he's been consistent and is bound to snag at least couple picks in the next seven weeks. I'm buying.


Updates
LB James Harrison, PIT (@CIN, BYE, @KC, CIN) – Harrison continued his history of stepping up big in primetime games, recording eight tackles (all solos) and 3.0 sacks against the Ravens, making him the highest-scoring LB of Week 9. Damn, I'm good.

DL John Abraham, ATL (NO, TEN, MIN, @HOU) – I should've picked Carlos Dunlap, who was one of my waiver wire selections this week in one of my IDP leagues, but I went with Abraham, who essentially whiffed in Week 9 (one assist).

DB Champ Bailey, DEN (@KC, NYJ, @SD, @MIN) – Nailed this one. Bailey had a couple solo tackles, two PD, a forced fumble and two INTs. He was third among all DBs this week in fantasy points after pick six aficionados Charlie Peprah and Tramon Williams.