Last Week's Question: Should kicker penalties be reduced in response to the new PAT rule?



In last week's column, I shared Jason's question about deductions for missed PATs. With kickers suddenly missing extra points at an unprecedented rate (thanks to a new NFL rule), some of the owners in Jason's league think a 2-point deduction for missed PATs is too steep a price to pay.

If nothing else, the response to Jason's question demonstrated the one unchanging principle of fantasy football: Nobody cares about kickers.

You have my apologies, Jason, but the silence in response to your question was nothing short of deafening. Consequently, all I can offer is my own opinion, which is worth exactly what you pay to read this column.

PATs were so automatic in years past that I can understand why the penalty for missed extra points (-2) was justifiable relative to the reward for successful conversions (+1). With the new rule change, however, I agree that the penalty is too steep in 2015.

Of course, the time to change the rule in your own league was before the season began. However, I can understand why the importance of responding to this NFL rule change slipped past you—since, as I indicated above, nobody cares about kickers.

You get to run your league according to your rules—whatever they may be. But midseason rule changes are almost always a bad idea. Even if a majority of owners agree that reducing the penalty for a miss to -1 is desirable, my own impulse would be to live with the rule as it stands through 2015 and implement a change for 2016. As I've written before, even bad rules can be fair rules as long as they apply equally to everyone.

The only time I would consider changing a rule midseason would be with unanimous owner approval. If everybody in the league agrees that the penalty should be reduced to -1, that works. But if only 11 out of 12 owners agree to changing the rule two weeks into the season, I think it has to stand for the year. I hope that helps.



This Week's Question: Did the "Zero-RB" strategy generally work out for people in 2015?



If youíre familiar with backhanded compliments, you may recognize this question as backhanded gloating.

My primary motive for asking about the success of the zero-rb approach is that I adopted it in my primary leagueóand so far my team is on fire. My secondary motive for asking is that a number of FFers expected the zero-rb approach to become ineffective through overutilization in 2015. After all, if everybody is focusing on WRs in the early rounds, then the primary incentive for using the zero-rb approach (finding great value at the WR position) is compromised.

I had the eleventh pick out of twelve, and I snagged nothing but WRs in the first four rounds of the draft. I ended up with Julio Jones, Odell Beckham Jr., DeAndre Hopkins, and Jordan Matthews.

Considering that I didnít pick up my first RB until round 5, I built a deeper bench of middling fantasy RBs than I expected (Jonathan Stewart, T.J. Yeldon, and the Falcon pairing of Tevin Coleman and Devonta Freeman).

At other positions, I expected Carson Palmer (13th round) to be my backup QB, but he has pulled ahead of my supposed starter (Eli Manningó8th), and I lucked into grabbing the Denver defense only because the defenses I was targeting (Buffalo and Miami) were taken before I snagged either one.

Right now Iím not just undefeated; Iím practically untouchable. The team with Gronk is the only one close to me. The scores of the other ten teams are so much lower that they make my totals look like typos.

Obviously, a two-week sample isnít anything to base an argument on. I expect to come crashing back to earth as soon as a defense figures out how to stop Julio Jones. Perhaps more importantly, thereís no reason to ascribe the success of my team to a draft strategy as opposed to the performance of the particular players involved. For example, if my zero-rb strategy had resulted in a crop of receivers such as those I have in the FFToday Staff league (Alshon Jeffery & T.Y. Hiltonóboth of whom I rated quite high in the preseason), then I would be singing a different tune.

So what was your experience with the "zero-rb" approach in 2015? Did you decide not to try it at all because it was too trendy? If you did try it, how did you do? If I get enough feedback on this subject early in the season, then we might need to revisit it at the end to see if any perceived trends really held up.

Survivor Pool Picks - Week 3 (Courtesy of Matthew Schiff)



Trap Game: Tampa at Houston



Before I can even address a single game this week, I have to apologize to my readers. In more than ten years of writing this column, I have never gone 0-3 in any week, let alone Week 2. Last week wrecked most Survival Pools, with my own being no exception. In fact, in our 12 team league, the remaining 10 teams from week one all lost using FIVE different games. My column should have been billed as "Trap Games" and not "Survivor Picks." The only saving grace was that if you paid attention to my trap game last week, you avoided Indy on Monday night.

This week Houston is almost a touchdown favorite against a Bucs team that went into the bayou and surprised Sean Payton's Saints. The Texans seem to be in disarray with Arian Foster out again this week and neither Ryan Mallett nor Brian Hoyer really taking charge of the offense (despite a combined 100+ pass attempts in the first two weeks). Unfortunately the three-headed rushing attack that Houston has used in Foster's absence has the Texans in the bottom quarter of the league in total rushing yards. To top it off, Houston's defense, thought to be a strength of this team, has given up 51 points in their first two games—so the Buccaneer offense should be able to pick up right where they left off in Week 2. What are the oddsmakers thinking? Avoid this game and remain in your pool—at least for another week.

#3: Arizona over San Francisco (1-1, Cin, Phi)

If you have ever read this column before, you know that I don't like to pick a survival pool game between opponents in the same division. Why? Because these teams know each other so well that the coaches have a tendency to throw the whole playbook at their opponent. This makes you, the betting fan, subject to trick plays and fluke bounces. These pools are won and lost on betting on a sure thing, and when two teams that play each other twice a year get together, the game is far from a sure thing.

This week though, the Cardinals return home after destroying a Bears team on the road. Carson Palmer has led his team to two victories, albeit against weak opponents, and has his offense averaging almost 40 points per game. Colin Kaepernick will have a hard time trying to keep up with this offensive production on the road—especially in light of the fact that Carlos Hyde was banged up in Week 2 and Reggie Bush may not be back to help change the pace. The receiving corps of the 49ers hardly scares most defenses, and while Anquan Boldin is still putting up respectable numbers, it won't be enough for the Niners to keep pace with their division rivals. So, barring some trick plays by the 49ers, take the home team in the desert.

#2: New England over Jacksonville (1-1 GB, Balt)

Jacksonville surprised a number of people last week with their win at home against a very strong Miami Dolphins team. This week, they travel to New England and face Tom Brady and company. Brady is in elite company this season, scoring seven passing touchdowns and passing for over 750 yards in just two games. While Blake Bortles and Allen Robinson may score one or two touchdowns this week, they should hardly be a match for Brady as he is 9-0 lifetime at home against the Jags and 7-1 against teams that had four wins or less in the prior season. Take the Patriots and avoid the upset.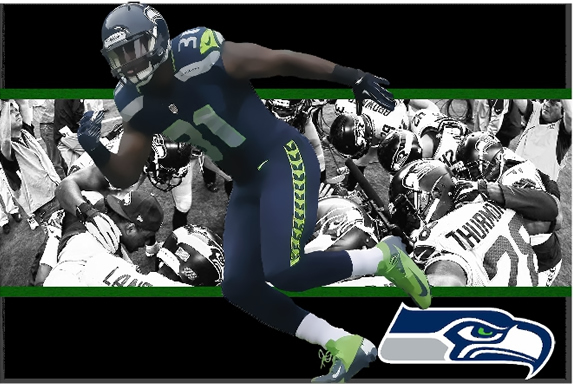 Image by Tilt Creative (Ty Schiff)

#1: Seattle over Chicago (1-1 NE, Mia)

Last Year's NFC Champs are on the ropes with a 0-2 record and need to get back to their winning ways to have any chance of making the post season. Only 12% of teams that start out 0-2 have made the playoffs, but Seattle should get healthy with the lowly Bears coming to town. Kam Chancellor, the starting safety who has been holding out for a new contract, says that he will return no matter what this week to help them get back on track and should add the much needed "pop" to a traditionally strong Seahawks defense that has yielded 61 points and is ranked 21st overall after two weeks. Look for the Chicago D to continue their generosity this week as they add to a league worst 79 points allowed so far. No need for the twelfth man here, so take the Hawks and rest easy this week.
---
Mike Davis has been writing about fantasy football since 1999--and playing video games even longer than that. His latest novel (concerning a gamer who gets trapped inside Nethack after eating too many shrooms) can be found here.