It was a strange weekend in fantasy football, don't you think? Many top players had "off" days while other players rose to the occasion. Every week tells a unique story and that's what the Buzz is all about - telling that story back to you through one set of eyes.



The Overshadowing of Leonard Fournette and Melvin Gordon

I would venture to say that I was not the only one who saw Sunday's Charger-Jaguar game as a fantasy contest that basically broke down to Melvin Gordon vs. Leonard Fournette. Both entered the game top-6 in scoring at the RB position and while both teams are generally tough against the pass, the run defenses ranked No.27 and No.31 in rushing yards allowed respectively. So, what happened in this classic battle of running back heavyweights? Almost nothing. The two combined for 33 carries and 60 yards. And, to make matters worse, Austin Ekeler (Chargers) and Corey Grant (Jaguars) combined for 3 touchdowns. A costly fumble towards the end of the game could return Ekeler to more of a pure backup role next week, but clearly both starters lacked what was needed to produce the way their understudies did. Is Fournette beginning to hit the rookie "wall"? Will Gordon cede work to Ekeler again in future weeks? The guess here is that both will bounce back fairly quickly, but of the two, Gordon has the better schedule down the stretch. Is it time for panic? No. But, it is something to keep an eye on for sure.

A Very Different Looking Offense in Big-D

Having watched New England absolutely carve up Atlanta's defense in Week 7, I truly believed that Dallas could do the same in Week 10 despite not having Ezekiel Elliott, who served the first game of his six-game suspension Sunday. Instead, Dak Prescott got sacked six times by one player alone and the running backs combined for a meager 65 yards. The conventional wisdom has been that Prescott's number will go up if/when Elliott misses time, but I am beginning to think that both guys are meant to play in unison in order for their values to be high. Would Elliott be as effective with a Brett Hundley-type under center? Of course not. Same goes for Dak Prescott, who depends on Elliott's greatness to create better looks in the passing game. Prescott will continue to be a QB1 for the remainder of the season, but look for that to be more of a low-end QB1 than top tier from here on out once the Eagles game is in past.

Can We Now Trust Belichick Moving Forward?

After nine weeks of trying to understand the New England backfield, Week 10 may have finally brought some clarity. With Mike Gillislee declared inactive despite good health, Dion Lewis took the lead job and performed well with 50+ yards and a rushing TD. If your league rewards special teams touchdowns, Lewis added one of those on a kickoff return. Rex Burkhead appears to be next in line and was utilized much like James White, except with more carries (10-2). So, how do the three backs stack up going forward? Lewis would appear to be a legitimate RB2 in non-PPR leagues, but slips to a RB3 when catches are under consideration. Burkhead proceeds as the exact opposite (RB2 in PPR, RB3 in non), while James White is probably a RB4 at best in both scenarios. Injuries could certainly change these values, but at least we have something to hang our hat on for a change coming out of Foxboro…at least I think we do. After all, it is still Belichick and that means skill positions are malleable.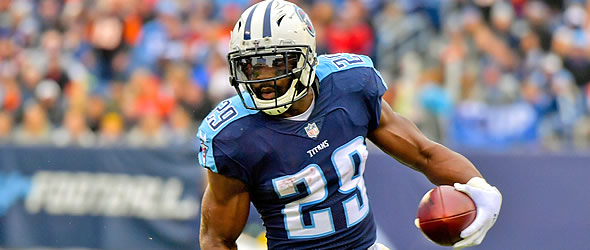 DeMarco Murray had his best fantasy day of the season, finding the endzone 3 times in Week 10.
You May Want Derrick Henry to Emerge, But…
The Titans backfield still belongs to DeMarco Murray. Murray scored three touchdowns vs. the Bengals including the game-winner on a pass reception. Derrick Henry owners over the past two seasons have been patiently waiting for Murray to permanently take a back seat, but Sunday was more confirmation that as long as Murray is around, Henry's big games will be sporadic at best. As the Titans surge towards a possible AFC South title at best and wild card berth at worst, expect Murray to remain the focal point of their efforts. With trade deadlines looming, don't deal Murray just because his value just went up. He's a strong candidate to finish as a top-10 RB by year's end as colder, more blustery conditions are right up Murray's alley.
There's an Ex-Bill Lighting it Up in L.A., But…
I don't think any fantasy football enthusiast knew what to think about Sammy Watkins going to the Rams back in August. There's no doubt that Watkins is capable of making big plays, but with Jared Goff coming off a lackluster rookie season, expectations were tempered for the former Bill. What most didn't foresee is the way Robert Woods has emerged as the WR1 for the Rams after a second straight game with two receiving touchdowns. Woods also led all receivers in yardage this past weekend, netting 171 total yards. Hard to believe that of the two defections from Buffalo to L.A., Woods would become the more dominant force. Don't expect the torrid pace of the last two weeks to continue with challenging match-ups on tap, but Woods and Goff's chemistry is enough to keep him in lineups as a WR2 no matter who is lining up on the other side of the ball.
Saints Daring Teams to Defend Their Rushing Prowess
It's hard to believe that the Saints could put up 47 points on Sunday with Drew Brees throwing for less than 200 yards and not a single TD pass. But, as we've been saying for weeks now, the Saints are emerging as a physical team that runs the ball (a lot) and plays opportunistic defense. New Orleans ran the ball no less than 48 times for 298 yards and SIX rushing touchdowns Sunday. Further, Mark Ingram and Alvin Kamara both topped the century mark in yards - a rare feat in fantasy football. Both are top-10 runners right now with Kamara going off the rails (in a good way) in PPR formats. It just really is remarkable when a team shifts its identity so quickly and so emphatically. The current formula for success means Drew Brees isn't going to lead teams to fantasy glory come December. He's been doing that for so long that it's hard to imagine anything different. But 2017 is different as far as the Saints are concerned. Way different.
Where Have All The WR1s Gone?
Forget who was "supposed" to be a true WR1 when the season began. Forget who has filled that role in years past. How many WRs at this point are averaging 12-15 points a game (non-PPR) the way a WR1 is expected to? How about two, and one of the two couldn't even crack 50 yards from scrimmage on Sunday (Antonio Brown). DeAndre Hopkins is the other with the Texans defense getting shredded on a weekly basis. So, can we still call Julio Jones, Dez Bryant, Mike Evans, Jordy Nelson, Michael Thomas, Amari Cooper, and Brandin Cooks WR1s? Based on ten weeks of production...no way. With QBs throwing the ball to RBs and TEs more frequently than ever, wide receiver is becoming something of a crapshoot. It will be interesting to see what kinds of teams make their league's playoffs in a few weeks. Those built on drafting WRs early and often are more than likely going to miss out unless one of those early selections was Hopkins or Brown.
Adam and a Man Named Case
One wide receiver who has exceeded expectations is Minnesota's Adam Thielen. The knock on Thielen just two weeks ago was that he didn't get into the end zone enough. Now, he's found it two weeks in a row. Thielen's 166 receiving yards this weekend puts him on pace for 1,400 for the season to go along with approximately 100 receptions. The question is: If the Vikings decide to switch QBs and go with Teddy Bridgewater, will that hurt Thielen's value? Case Keenum threw two second half interceptions vs. Washington, but not until he had thrown 4 TD passes to make it back-to-back 280+ yard, multi-TD games. The Vikings are in a tough spot in terms of who projects as the best QB moving forward, but Thielen's role as a game changer is here to stay, especially with Stefon Diggs attracting so much attention on the other side. Those who drafted Thielen have gotten more than they bargained for.
Devonta's Demise and Other Injury News
Two carries, three yards...and the day was over. Devonta Freeman got hit hard, stumbled around a bit in the backfield, and then was asked to leave the field. He never returned. What a killer blow to many team's hopes on Sunday and no doubt a frustrating day for Freeman personally. Other runners that left Sunday's game worse for wear included Aaron Jones (MCL sprain, out 3-6 weeks), Ty Montgomery (ribs), and Rob Kelley (high ankle sprain). Injuries normally slow up a bit during the second half of the season, but Week 10 was definitely a rough week for RBs. Tevin Coleman, Jamaal Williams, and Samaje Perine represent the next men up. Get excited about Coleman's potential - the other two, not so much.
Kelvin Who?
Finally, a nod on Monday night to the duo of Cam Newton and Devin Funchess of the Carolina Panthers. With Kelvin Benjamin now in Buffalo, in order for Carolina to do much through the air, it had to come from a lot of Newton to Funchess. Devin didn't disappoint with a stat line of 5-92-2. All in all, Newton threw for 254 yards and 4 TDs, while running for nearly 100 more. That was tops among all quarterbacks in Week 10. Just goes to show that sometimes, great players keep finding a way no matter who they are surrounded by. In this case, look for Funchess to continue to shine...at least until Greg Olsen returns (Week 12?).
Only one more week with teams on a bye. Can I get an amen with respect to that? Best of luck to you this week as the fantasy playoffs quickly approach.
See you next week!