We'll talk about what surprised us most about the first month of the season, but first, let's just try to digest what took place this past weekend. As always, there were rarely any dull moments…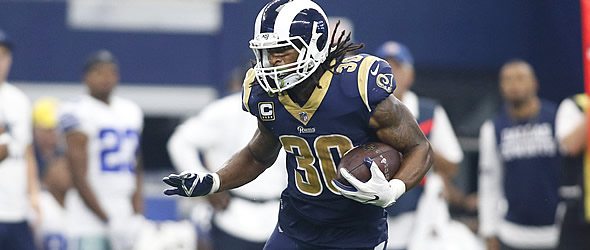 Biggest fantasy storyline: Todd Gurley has finished as the RB6, RB2, RB1 and RB2 to start the season.


The Beat Goes On, West-Coast Style
One left coast team continued to impress on Sunday, while the other trended towards depression. The Los Angeles Rams continue to shatter even the most optimistic of preseason expectations, and while Sammy Watkins and Robert Woods were held in check by the Cowboys secondary, no one could contain Todd Gurley once again (215 total yards, 1 TD). Besides Gurley, the other Ram star of the day was kicker, Greg Zuerlein, who booted in an astounding seven field goals. If Zuerlein is still available in your league, it's time to add him…especially if you're still holding out hope for Justin Tucker this season. As for Gurley, his transformation from last year remains the lead story in fantasy football through four weeks.
Speaking of transformation, what has happened to the Oakland Raiders the past two weeks? The latter of the two left coast franchises laid another huge egg on Sunday as Amari Cooper was held without a fantasy point for the second straight week and Marshawn Lynch once again rushed for less than 20 yards. I know the boys in silver and black were up against a dynamic Denver defense and Derek Carr left the game in the third quarter, but it's officially time to worry about this offense. If only they could bump up the November 19th game vs. the Patriots to the here and now.
A Devastating Loss in Minnesota
I am not a big fan of Richard Sherman, but he's right about player injuries and fantasy football. The real life implications of an injury such as the one suffered by Dalvin Cook on Sunday far supersedes the "fantasy impact". As such, here's wishing Cook all the best. He was off to a great start and I'm sure he'll be an impact RB when he returns next year. All that said, this is a fantasy football website and we have to dissect the impact of Cook's injury from a fantasy angle. Much like David Johnson, no one is going to step in and duplicate what Cook was doing in Minnesota. Latavius Murray and Jerick McKinnon might prove to be worthy flex play in the weeks to come, but that's about it. The loss of Cook also means the value of other RBs just went up as the pool of truly elite runners just got even smaller. Look for the Vikings to throw the ball more with Cook gone and that means a continued breakout year for the almost-impossible-to-cover Stefon Diggs.
Houston, We Have No More Problems

When was the last time Houston had a quarterback with the potential that Deshaun Watson possesses? Hint: They were called the Oilers and it was before many of the people that tune in to FFToday were born. Watson sort of "broke out" vs. New England, but his success in that game was dismissed some based on the Patriots defense being so atrocious. There's no dismissing what he did vs. the Titans on Sunday, though. Watson accounted for 5 touchdowns (4 passing, 1 rushing) and elevated the stat lines of both Lamar Miller (131 yards, 2 TDs) and DeAndre Hopkins (107 yards, 1 TD). Miller and Hopkins are the focal points of the offense in a way that is similar to what Pittsburgh does with Le'Veon Bell and Antonio Brown. While neither guy measures up to what Bell and Brown can do, both can be top 10 at their positions rather easily moving forward if Watson's progression continues. I'd like to see one more multi-TD, 250-yard+ performance from Watson before declaring him to be a QB1, but I'd be surprised if that doesn't come really soon. The return of Will Fuller doesn't hurt matters either as Hopkins now has a proper complement to lessen the burden on him. Arrow up. On all Texans. Period.

New York, New York
Just as a review, the New York Giants made the playoffs last season. They have a bona fide superstar (real and fantasy) at wide receiver in Odell Beckham Jr. They have a two-time Super Bowl winning quarterback. The crosstown Jets were supposed to possess the worst offense in NFL history in 2017. They have a bunch of nobodies at wide receiver and the ultimate journeyman (Josh McCown) at quarterback. So, why are the Jets scoring points and sitting at 2-2 while the Giants continue to be winless? It's pretty simple. One team can run the ball and one cannot. Bilal Powell and Elijah McGuire piled up 256 yards rushing Sunday verses a Jaguars team that had stymied the Ravens' rushing attack just a week prior. Meanwhile, the Giants are averaging less than 60 yards a game rushing, even with Eli Manning finding a way to rush for 22 and a TD on Sunday. Until the Giants fix that problem (and we're not holding our breath), consider them a wasteland at RB while there's reason to believe in Bilal Powell again. The Big Apple just isn't what it was projected to be in 2017.
The Bell Finally Tolls…
In a fantasy football world turned upside down in many ways, it was nice to see something that looked familiar and comforting on Sunday. Le'Veon Bell touched the ball 39 times, turning those touches into 186 yards and a couple of touchdowns. The heavy workload and the emergence of JuJu Smith-Schuster in the redzone meant another quiet week for Antonio Brown whose took his frustrations out on the Gatorade cooler. With David Johnson out for at least another eight weeks and Ezekiel Elliott not out of the woods yet in terms of a possible suspension, Bell is really the premiere RB in fantasy football moving forward with apologies to Kareem Hunt and Todd Gurley. Look for the Steelers to continue running the ball early and often, making Bell great, but altering the consistency of Brown and the passing game.
Missing In Action: Wide Receivers
In all my years of playing and tracking fantasy football stats, I'm not sure I've ever seen a week in which no WRs reached 20 points or more using traditional performance-based scoring for the position. Jordy Nelson and Devin Funchess topped the list of successful producers, but each fell short of 80 yards receiving to go along with their multiple scores. In fact, only 1 WR topped 120+ yards in Week 4 (Keenan Allen) and only four others topped 100 yards total. With more and more RBs getting in on receptions and receiving yards in 2017, truly dynamic performances by WRs are dwindling. Will the trend continue into October and beyond? We'll report back next week and try to answer that question further. In the meantime, leagues that allow a RB in the flex spot are seeing more and more tagged for that role than ever before.
Touchdowns in Tampa
We've noted some of the NFL's most inept offenses the past few weeks with the Dolphins, Ravens, and Raiders (of late) topping that list. So, how about an offense that looks like it's ready to be top five and soar on a weekly basis? Enter Tampa Bay as Jameis Winston's 344 yards vs. the Giants included a TD to his stud WR Mike Evans, and two TDs to tight ends, Cameron Brate and rookie O.J. Howard. All of the skill position players on this team are in the prime of their careers sans DeSean Jackson, but he still flies down the field like a guy in his mid-20s. The Bucs will get to sprinkle in a little Doug Martin this upcoming week as he returns from a suspension and his presence should allow the offense to expand further. To make matters even better, Tampa Bay will play the Patriots on Thursday night. Best advice we can offer regarding that game? Start em' all. From Winston to Brate and everyone in between.
Soap Opera in Seattle
It's starting to feel like we have a weekly update from the Pacific Northwest every Tuesday morning at this point. Just when we thought we had the RB situation figured out, Chris Carson injures his ankle and will miss significant time if not the remainder of the season. So, who is going to step up and fill Carson's shoes? Eddie Lacy? He looked decent Sunday night in limited action. Thomas Rawls? Too small a sample size this year to guess on that. How about J.D. McKissic (65 yards, 2 TDs)? Did anybody know who he even was 36 hours ago? Maybe Russell Wilson will just throw the ball a lot. After all, he changed the complexion of many a fantasy game Sunday night throwing for a touchdown with less than 2 minutes to go and up by three touchdowns already. Watching that unfold was horrifying for anyone playing against him. Stay tuned. Maybe someone will emerge out of this mess and become a solid RB2. That's a big maybe.
Doctor Jeckyll and Mr. Kelce
There were several aspects of Monday night's Kansas City-Washington game that were noteworthy. Terrelle Pryor finally made an appearance in the end zone. Kareem Hunt ran for over 100 yards (again) and Alex Smith continued playing more like a QB1 for rather than being the career backup that he's always been pegged as being. But, the biggest takeaway was the performance of Travis Kelce (7-111-1), who apparently is set to play a huge role in fantasy football this season...at least on the even weeks. Weeks 2 and 4 have seen Kelce produce like a player worthy of an early second round pick. Weeks 1 and 3 have seen him shrink in value. So, what's the truth about Kelce? When you add the numbers up at the end of the year, he'll be up there with Rob Gronkowski. The path to those numbers may just be maddening in terms of consistent production.
Biggest Story of the First Four Weeks…
Wrapping up, we look back on the first quarter of the season and wonder what storyline has made the biggest impact on fantasy football. David Johnson's injury is certainly a contender as he was the consensus top fantasy player coming into this season. The emergence of rookie running backs like Kareem Hunt and Leonard Fournette have been huge. But, we'll go back to our opening paragraph and proclaim Todd Gurley's resurrection from the abyss as the season's biggest story to date. What will define the month of October moving forward? Prediction - keep your eyes on Tampa Bay and Houston...and of course, since they can't stop anyone, the points should continue to flow from New England as well.
That's a wrap for Week 4. See you back here next Tuesday morning. Until then...