First of all, what is up with Thursday night games lately? Most Thursday contests in recent years have been offensively challenged, but not so this year. I'm sure Miami-Baltimore will set things straight here in a few days. We'll talk about that further this week at the Buzz, but first we'll start with a Cowboy gone wild…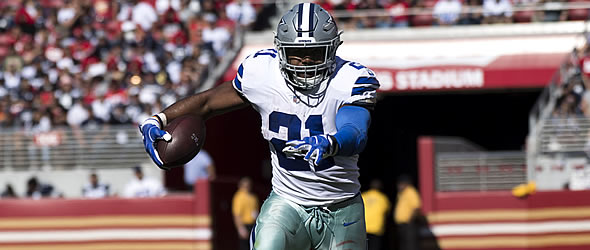 Ezekiel Elliott posted the top running back score of the week with 219 total yards and 3 touchdowns.




Zeke's Revenge: A Never-Ending Saga



Every week seems to hold different pieces of information about Dallas running back Ezekiel Elliott. One minute, he's suspended for six games and the next, he's back to playing again. It wouldn't be that big of a deal, honestly, if he wasn't so dang good. As is, it has been fantasy football's most confusing saga of 2017. And, Sunday was Elliott's best performance of the year. Elliott exploded against an overmatched San Francisco defense for 219 total yards and a hat trick of trips into the end zone. It was a reminder of what Elliott can be come fantasy playoff time…if he is allowed to play. I do not recall a more fluid situation throughout a season with respect to such a dynamic skill position player. The bottom line is that many teams are going to win championships if Elliott plays all year as they got him for a bargain price on Draft Day due to his disciplinary difficulties. In contrast, many teams could implode who are currently counting on his production should the suspension be upheld. For now, all eyes are on October 30th, six days from today.



Amari Cooper: Alive and Well



The other explosive scoring performance from Week 7 came from a very unexpected source given how the first six weeks of the season had gone. Amari Cooper doubled his TD count for the year prior to last Thursday night and more than doubled his yardage total. All in all, it was the most points scored by a WR in fantasy football all season after Cooper had been held to 12 yards receiving per game in weeks 2-6. The Raiders used Cooper in the slot position in Week 7 and apparently it was a good fit. The Chiefs were also clearly shading coverage to Michael Crabtree, creating better matchups for Cooper. Still, if you put Cooper in your lineup on Thursday just hoping for some improvement, you got a whole lot more than that. I fear, however, that many finally got the courage to sit Cooper and were left watching in horror as he had the best game of his career to date. What's next for Carr, Cooper, and the Raiders? Hard to say, but clearly when Carr is healthy and throwing downfield, better things are possible.



A Bad Week for Offenses



This may be the most incredible thing I've ever typed here at the Buzz…on Sunday, the Broncos, Falcons, Colts, Panthers, and Cardinals combined for 10 points. That's an average of 2 points scored per team. That's dumbfounding. Those are five teams that in past years were known for offensive production and firepower. Players like C.J. Anderson, Demaryius Thomas, Matt Ryan, Tevin Coleman, T.Y. Hilton, Larry Fitzgerald, and Adrian Peterson were all caught up in this wave of futility. So, which team is going to bounce back and which team is becoming a place to avoid? The Broncos are trending down until they can find a QB who can throw the ball downfield. Their offense is too predictable and thus easy to defend. The Falcons need to quit trying to force the ball to Julio Jones and start doing what they do best - run it down people's throats. Look for adjustments to be made and some big games from Devonta Freeman in the near future. Finally, the Cardinals and Colts don't have their usual starters at QB (more on that later) and that will keep their offenses very unpredictable for weeks to come. The Panthers and Falcons are thus the most likely to get things working again. Stick with them. Be wary, however, of continuing to depend on a Bronco, Colt, or Cardinal until further notice.



A New Reality In Green Bay Becomes Evident…



Speaking of teams without their usual quarterback, the Packers emerged from Sunday a much different team than they were just two weeks ago. Packer receivers have taken a huge tumble in value while rookie running back Aaron Jones (17 carries, 131 yards, 1 TD) has assumed the role of offensive centerpiece. Ty Montgomery is now an afterthought…or so it would appear. One needs to look no further than Minnesota (see below) to see how things can literally change from week to week. I doubt Brett Hundley will be appearing in any starting lineups anytime soon. If not for his rushing stats, Hundley would have been a complete disaster on Sunday. Obviously, Jones is now a must start from this offense, but Jordy Nelson and Davante Adams are now WR3s. And, you can officially move on from TE Martellus Bennett. His season never got off the ground and it won't be getting better anytime soon. Sad times in Wisconsin.



So, I Thought Winston Was Going to be "Limited"?



If you're like me, you probably pulled Jameis Winston from your lineup(s) this weekend in anticipation that he might not make it through a full game or would be "limited" in terms of overall participation. I guess in the long run, it's encouraging that Winston threw for nearly 400 yards and 3 TDs, but in the short term, it's very frustrating to base a decision on "information" only to see it go up in smoke. On the opposite side of the spectrum, there's Sterling Shepard who was "good to go" on Sunday according to several sources, but ended up being an inactive for the afternoon contest with Seattle. As fate would have it, I did start Shepard and could not pull him from my lineup due to not having any other options. Bottom line? Digging for information leading up to Sunday's games is a good thing, but sometimes it borders on pure speculation. The good news, With O.J. Howard (two TDs on Sunday) emerging alongside Cameron Brate, Winston is a man with many, many weapons moving forward.



Room For Two: A Saints Backfield Update



Over the years, there have been multiple starting options from the same NFL backfield. Think Fred Taylor and James Stewart for you old-timers. More recently, Devonta Freeman and Tevin Coleman both became good starting options at RB in 2016. This year's dynamic duo out of the same backfield is Mark Ingram and Alvin Kamara, particularly in PPR leagues where Kamara excels. Using standard PPR scoring, Ingram notched 27 points on Sunday while Kamara added 15.7 on 5 receptions and over 100 total yards. A lot of people thought the Saints would just be the same pass-happy team they've always been in 2017, but with the defense playing light years better during the past month, it's a ball control offense that is emerging. Sure, there are other teams (Panthers, Falcons, Bears) that have two potential starters coming from the same place…but none are better right now than the duo from New Orleans. There's plenty of room for both guys to remain fantasy effective and plenty of room for both in weekly lineups as well.



More Quarterback Injuries (Unfortunately)



I won't spend much time here this week, but you can't refer to your article as fantasy "headlines" without pointing out the injuries that matter most. Lately, it's been quarterbacks taking the fall, and this week Carson Palmer (broken arm) and Jay Cutler (ribs) were the latest casualties. As was noted above, the Palmer loss will likely have the bigger impact as Matt Moore is probably as effective as Jay Cutler (maybe more?) at running Adam Gase's offense. Here's hoping we get through the rest of October with no more signal callers getting KO'd.



Goal Line Follies



It's one thing to check on stats once a game has concluded. It's quite another to be following your players literally play-by-play every week. Nothing is more frustrating than your RB getting a carry from the 1-yard line and not being able to punch it in. Or, your RB not getting a chance to punch it in because the offensive coordinator does something stupid. The former was evidenced in Cleveland on Sunday when the Titans turned the ball over on downs after having it first and goal at the Browns 1-yard line. Two empty carries by DeMarco Murray combined with a Derrick Henry carry for no gain likely had Murray and Henry owners pulling their hair out. But, at least they did the sensible thing and tried to run it in. The Falcons refused to use Devonta Freeman at the goal line on two consecutive plays and ended up turning it over on downs vs. the Patriots on Sunday night.



Minnesota Madness



Another frustrating aspect of fantasy football is when you think you've got a RB rotation figured out and then that team does an about face the following week. Cue the Minnesota Vikings as Jerick McKinnon was coming off three weeks in a row with 14+ carries for an average of 70+ yards and 3 touchdowns. Latavius Murray had carried the ball slightly less, and with far less success - specifically, 26 rushing yards per game over that span and no trips across the goal line. So, McKinnon is clearly the man in the Twin Cities, correct? Nope. Murray out-touched McKinnon 18-to-14 in terms of actual rushes and gained nearly 70 yards more in Week 7. And to boot, Murray scored the only Vikings touchdown of the day. So, what lies ahead? Your guess is probably as good as mine, but Murray should be more involved when Minnesota plays from ahead. McKinnon is still the better flex play, though, especially in PPR. It truly is maddening trying to figure out this hobby from week to week.



Carson's Masterpiece



Finally, this week a nod to Carson Wentz for his Monday night performance against Washington. With 4 minutes to go in the second quarter, Wentz had 34 yards passing, no touchdowns, and 1 interception. Less than two quarters later, Wentz had thrown 4 touchdowns and coupled 260+ passing yards with 60+ rushing yards. Need any more proof that Wentz is going to be a top-five fantasy QB going forward and in the years to come? It certainly was Wentz's night, but Kirk Cousins and Jordan Reed won some fantasy games, too. Reed owners have to be especially excited to see their guy finally be healthy enough to be the player they need him to be. Hats off to the NFC trio of Wentz, Cousins, and Dak Prescott at QB. All three guys are top-6 in fantasy points scored at the position through 7 weeks.

That's a wrap. For the next two weeks, six teams will be on bye which will make for some odd lineups. Hope you thrive in the midst of it all. See you right here next Tuesday morning!