Struggle
Jordan Howard RB, CHI – It is sheer madness when I see Jordan Howard as a consensus top-7 fantasy running back heading into this season. His 2016 season was solid indeed; he did finish second behind Ezekiel Elliot for the rushing title after all. But for most to believe he's poised to duplicate last year's performance befuddles me. In spite of the Bears, by all accounts, having a top-10 offensive line, Howard will disappoint this season. Here's why:
Say what you want about Jay Cutler. Mike Glennon, Cutler's replacement at quarterback, has yet to show at any point in his career that he can be demonstrably better than the former Chicago signal-caller. Put succinctly, Glennon represents a downgrade at QB. Couple the struggles at QB with the prospect of a guy named Cameron Meredith as the team's No.1 receiver and you have the makings of an unremarkable offense that will most assuredly pull Howard's production down. My prediction is Howard will struggle to rush for half the number of yards he produced last year (1,313) and will finish with 4 - 6 scores. Not the kind of numbers we expect from a late first/early second round pick. Buyer beware.

Eddie Lacy RB, SEA – We hear quite often how professional athletes in all sports sometime need a change of scenery to reclaim lost productivity. That assertion has been bantered about in some circles this off-season about Eddie Lacy. Lacy ate his way out of Green Bay, in addition to scoring only three rushing TDs in the last two seasons.
Lacy now takes his talent to the Great Northwest, where Seattle has one of the worst offensive lines in the league. His running style requires room to run, and he won't find much of it with the Seahawks. He's being drafted in the late 5th round in standard 12-team leagues, making him a low-end RB2/high-end RB3. Lacy's an afterthought to me in PPR leagues. Those who take the risk of drafting Lacy may end up seeing a re-do of his 2015 season when he rushed for 758 yards and three TDs. Good luck winning with that.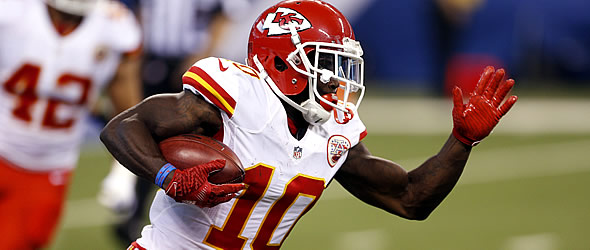 Can the freakish Tyreek Hill become a fantasy stud without being a prototypical No.1 wide receiver?
Tyreek Hill WR, KC – I'll admit. I'm a bit skeptical including Tyreek Hill on this list. Owners that picked up Hill last year were rewarded with one explosive touchdown after another—12 in total. Hill was especially coveted in leagues that give bonuses for long touchdown scores. When we delve deeper into Hill's production, however, we find that only six of his scores came as a receiver; three came as a runner and three as a returner. Touchdowns, especially those that come from long distance, are unpredictable. Hill was so touchdown-dependent last season that his production elsewhere—receptions, receiving yards, etc.—would have made him a fantasy postscript.
Hill does find himself atop Kansas City's receiving depth chart with Jeremy Maclin's departure. That alone slightly nudges his stock upwards. I just don't think he's a bona fide number one receiver on an NFL team, and he will fall short of expectations this year—although he gets an uptick in potential in PPR leagues. It's easy to look at the gaudy 12-TD figure from 2016 and develop an optimistic view of Hill's potential in 2017. I don't see it happening for him. If anything, I'm giving TE Travis Kelce (4.01) and rookie running back Kareem Hunt (8.05) more value at their respective ADPs with Maclin's departure. All that being said, I will hedge my prediction by reiterating that I'm not totally convinced that Hill will wet the bed in 2017. We shall see.
Matt Ryan QB, ATL – Matt Ryan undoubtedly had a career year in 2016, with career highs in completion percentage (69.9 percent), passing yards (4,944) and touchdown passes (38)—all while tossing a career low seven interceptions. Solid, right? Well, fantasy owners' belief that Ryan will follow up that production with a similar season in 2017 is based squarely on how much his owners trust him. And since you see him on this list…well, that's right. I don't trust him.
I owned Ryan in 2014 and 2015 when he threw 30 total interceptions. He was a turnover machine, especially in the red zone. He shelved most of the bad habits last year that caused those mistakes and won himself a league MVP in the process. He won't reach those heights again. No, I don't have hard data or sophisticated metrics to back up my opinion. My view is based solely on watching Ryan play extensively over the past three years. Those that adhere to his current fifth round ADP in 12-team leagues may be in for a rude awakening.
Demaryius Thomas WR, DEN – In 2016, Demaryius Thomas saw his lowest reception total since 2011, his fewest receiving yards since 2011, the fewest TD catches since 2011 and his lowest receiving-yards-per-game average since 2011. And he finished with the third-most drops in the league (7). The Denver Bronco offense, as a whole, is trending in the wrong direction. Quarterback issues remain, the offensive line is a question mark and the productivity of the running game is up in the air. All of those components, of course, play into how well Thomas performs.
The Denver passing game is predicated more on throwing to receivers and less to tight ends and running backs—in some sense brightening the prospects of a Demaryius Thomas resurgence, circa 2013 and 2014. But Peyton Manning, of course, led those teams. With Trevor Siemian or Paxton Lynch under center, there isn't much chance of reliving those days. I think Denver will become more of a conservative offense that focuses more on the running game. As such, the days of Demaryius Thomas being an unquestioned WR1 are in the rearview mirror.
Shine
Jameis Winston QB, TB – I recall the days just a few short years ago when talking heads on television touted the seemingly preordained notion that Andrew Luck was on his way to becoming one of the annual top three fantasy quarterbacks in the league. Thanks to a growing injury history, Luck's place on that short list becomes tenuous by the year. Jameis Winston, after 2017, should supplant Luck as the up-and-coming signal-caller to have.
Last year he saw both his TDs and interceptions increase from his rookie year of 2015. But I saw a young QB that has command of an offense and a complete set of intangibles that should help propel him to the next level—and he did so with essentially only one reliable receiver option: Mike Evans. Tampa Bay bolstered the offense with complementary pieces such as DeSean Jackson and rookie TE O.J. Howard. I envision Winston surpassing the 30-touchdown mark while cutting in half his 18 interceptions from last season. Big things are on the horizon for this young QB.
Paul Perkins RB, NYG – The Giants passing game has been fortified so well this off-season that even Eli Manning can't mess it up. Odell Beckham's presence, Brandon Marshall's arrival, along with Sterling Shepard's development and rookie TE Evan Engram's expected emergence, all give the Giants an embarrassment of riches unlike anything the team has seen in decades. The threat of the passing game should soften the opposing defense enough to give Paul Perkins the chance to excel.
Perkins enters this season after having not scored in 2016 during his rookie campaign. Consequently, he can be had for dirt-cheap. Should Perkins crack the starting line-up, which many experts expect him to, the offense he'd be playing in would give him untold opportunity to post solid RB2-quality numbers. While not a duplicate of Melvin Gordon's 2016 resurgence, I wouldn't be surprised at a season that includes 1,200 total yards with seven to nine TDs.
Bilal Powell RB, NYJ – There isn't much to crow about from a fantasy perspective when it comes to the New York Jets offense. Brandon Marshall, gone. Eric Decker, gone. Matt Forte, old. Josh McCown, old…and below average. Bilal Powell can turn out to be the shiniest rock on a pile of rubble with his dual-threat skill set and the dearth of talent around him. If nothing else, his volume of playing time should be enough to warrant attention from shrewd fantasy owners.
The Jets will be playing from behind a lot this year, and they will have to throw just to make the game respectable. Powell's stock is especially valuable in PPR leagues, as his 105 receptions over the past two years are a stark indicator of what we should expect heading into 2017. I'm not expecting Powell to set the fantasy world on fire, but I do envision him exceeding his early sixth round ADP.
Kareem Hunt RB, KC – The Kansas City running back situation is perhaps the one that warrants the most monitoring from fantasy owners heading into draft season. Incumbent Spencer Ware had an unspectacular 2016, prompting the team to select Kareem Hunt in the 2017 draft. Head coach Andy Reid is usually not what we would consider a RBBC proponent, so if Hunt can secure the starting gig, watch out.
Over the past 13 seasons, Andy Reid's RB1 has averaged 19.5 fantasy points per game in PPR leagues. Ware had his shot in 2016 and was underwhelming. Charcandrick West is simply a depth guy. The job is Hunt's to lose. If he wins it and earns Reid's trust, Hunt could be a big-time steal.
Michael Thomas WR, NO – Michael Thomas' debut season in the NFL was so promising that New Orleans felt it necessary to deal Brandin Cooks away to New England. The rookie Thomas surprisingly led the team in targets (121), receptions (92) and receiving TDs (9). The Saints had the second-most pass attempts for the third straight year last year, meaning the offense will continue to provide ample opportunities for its top receiving threat.
The Saints defense continues to be a work in progress, so the offense will maintain the burden of keeping this team competitive. Thomas finished with only three games with more than 100 yards receiving. I expect that number to double, while his TD totals once again flirt with double digits. He's the top receiving option in a pass-first, pass-often offense. You can't ask for much more than that.