The Fantasy Holiday Feast




12/17/09



Aggressiveness is a characteristic that tends to reward fantasy owners more times than not. In the NFL, an offensive line will sometimes hold up long enough to give the quarterback enough time to beat man coverage down the field and make the defense look foolish against a fierce pass rush. More often than not, though, when a defense brings the heat and forces the action, crisis management becomes the name of the game for the opposing team.

In that same vein, I hope to apply that same kind of pressure to the owners in all of my leagues by beating my opponents to the punch in regards to personnel moves. Sometimes, reaching a conclusion about a player too quickly is much like trying to blitz Peyton Manning – dangerous and painful. However, coming to a correct conclusion two weeks or two minutes quicker than your opponents is considered foresight. Fantasy owners can be a uneasy lot, knowing that one two-or-three-game losing streak can wreak irreparable damage to his/her team's chances to make a visit to the fantasy postseason. But just as it is in the NFL and in life, it's hard to land the big prize by playing scared. Thus, I will strive each week to help each of you become a smart blitzer, so to speak.
---
During the time of year when good eating is just as important as smart gift giving, the fantasy playoffs can be considered akin to a three-course meal spread out over three weeks. Week 14 is the appetizer stage - not everybody is required to attend or even wants to show up at this point, instead hoping to save themselves for later feasting. Other people see appetizers as a way to set the stage for a complete meal. However, as tasty and appealing as they can be, no one wants to fill up on appetizers because, in all likelihood, better things await.
Now, if owners want to get in on the fantasy feast during the holiday season, just about everyone has to join the table in time for the entree in Week 15. For those owners who survived-and-advanced past the first round of their league's playoffs, the challenge of overcoming the next stage is likely a bit more difficult as the portion on your plate likely just got a lot bigger. Unless your opponent managed to secure a first-round bye due to a great start to the season and limped into the postseason with a plethora of injuries or players performing poorly, the chances that an owner cruises through this part of the meal without a little discomfort at the end are small. But if the meal is good up to this point, there is no way you are selling yourself short - that last bite is going down, consequences be damned.
Week 16, as you may have guessed, is the dessert part of the fantasy meal. All your efforts leading up to the dinner table and during the meal have led you to this point, that is, where you get to reward yourself for your ability to conquer the impossible full plate by allowing yourself a sugar high. Some people are happy just to get to this point, but not you or me. After all, we've been focused on this day of the year for some time now, so we aren't going to let a little thing like a full stomach keep us from finding room for the final piece of pie.
Whether this lead-in has sent you scrambling to your fridge or leaves you hungry for more (pun intended, I guess), the point of it all is that while it is fun just to mix good eats with good company, it's hard to settle for just one or two parts of the meal when you can have all three courses with some planning and good fortune. With any luck, hopefully, some of the tidbits I have provided you over the course of this season have helped you set up your "plan" to this point. But very few plans come out just the way we envisioned them in the beginning, so it seems about right that I do my due diligence and help you out the best way I can with the "good fortune" part of the formula.
For every team whose roster has two healthy and productive no-brainer RB options, 2-3 stud WRs and elite QB/TE plays at this point, congrats. In all of my years of playing fantasy football, I have trouble recalling a single team in which I went wire-to-wire with essentially the same team. More often than not, fantasy teams that win the title in highly competitive leagues generally do so because they "survived" the playoffs, not because they dominated them. What do I mean? Quite likely, we have to count on "unlikely heroes" - players who may have actually started the season on the practice squad or been labeled as disappointments - to carry us through the final few weeks of the season.
Therefore, much as I did last week, I will spend my time this week identifying unsuspecting players/defenses who I believe could emerge as the "fantasy darling" for that week. Each player/defense will be owned in less than a third of all leagues. (I'm using the % owned from ESPN.com leagues as of December 15.) I settled on 33% primarily because I'm working under the assumption that most readers of this column don't have the luxury of plucking Jonathan Stewart off the waiver wire at this point of the season. It should also be noted that all recommendations are based on PPR scoring.
So, without further ado, the Unsuspecting Stars of Week 15...

Quarterbacks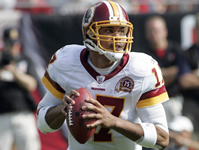 Good news for Campbell: The Giants have become a sieve against the pass.
Jason Campbell (vs. Giants) After talking about Campbell in this spot last week, I won't spend a great deal of time on him. His Week 15 opponent- the New York Giants - is much better than it appears and should be someone to consider for fantasy owners with non-elite QB options. After a great start to the season, the Giants have become a sieve against the pass - allowing the third-most fantasy points/game to QBs over the last three and five weeks. Over the last two weeks, Campbell has turned Devin Thomas into a late-season fantasy option and Fred Davis into a somewhat reliable TE play with scores in three straight games. Defenses still must respect Santana Moss and new starting RB Quinton Ganther showed last week he is a capable receiver as well. So while the black-and-blue reputation of the Giants (and the NFC East in general) may scare off some owners, it should be noted that only Washington has the defense that each of its division rivals envy. Thus, feel free to trust Campbell this week if you felt comfortable with him last week, as I did.
Chad Henne (@ Titans) I'd much rather recommend a Titans' QB here, but Vince Young's hamstring injury makes the thought of playing him or Kerry Collins dicey at best this week. Therefore, I am forced to turn to the other sideline and give a slight nod to the fast-improving second-year Dolphins signal-caller. While Tennessee ranks as the third-most favorable defense for opposing fantasy QBs this season, it has been the sixth-best unit over the last five weeks. While I admit it would take a pretty desperate owner to put Henne in your lineup this week, I certainly would play him over the likes of players such as Josh Freeman or Brady Quinn (perhaps in two-QB leagues) just because of the matchup. Here's why: what the Dolphins lack in terms of quality WRs, they make up for in quantity. Over the last month, Davone Bess has started to emerge as a quasi-WR1 for the team, but in recent weeks, Henne has come to trust Brian Hartline and Greg Camarillo as well. Because Ricky Williams should have a difficult time with Tennessee's eighth-ranked rush defense, Henne will probably be responsible for Miamiís ability touchdowns this week the few times the Dolphins get into scoring position. I don't anticipate much more than 210 yards and a score, but again, he should provide a usable fantasy point total if you find yourself in a truly desperate spot at the QB position.
Running Backs
Arian Foster (@ Rams) You have to hand it to HC Gary Kubiak. When he decides to make a change at RB, he seems to give that back a chance against a team in which he should be able to succeed. What do I mean? When Steve Slaton lost his fifth fumble of the season in Week 8, Kubiak turned to Ryan Moats against Buffalo's league-worst rushing defense (at the time) and he promptly went off for 151 total yards and three scores. With any luck, Part 2 of this drama may be coming just in time for desperate fantasy owners as the coach is "fixing to pick it up big-time for Foster" with a contest on deck against the 28th-ranked rush defense of the Rams in Week 15. With Slaton on IR, Chris Brown had been named the de facto starter, but that seemed like a place-filler move for Kubiak, and after three carries in Week 14, that appears to be the case. Of course, as luck would have it, Moats apparently picked up on a bit of his predecessorís ball-handling issues (fumbling for the second time in three games of which he has played and contributed to the box score). On a team that has shuffled through its backs like Houston has this season, nothing is set in stone and certainly Kubiak isn't the most committed coach when it comes to sticking with the run or a particular RB for that matter, so he's certainly a gamble at this point of the season. However, the matchup is so juicy and Foster's pedigree is good enough - especially for an undrafted free agent - that I would be willing to roll with him over several established starting NFL RBs this week.
Kevin Faulk (@ Bills) If there is a Rodney Dangerfield (someone who gets no respect, for the younger crowd) among likely free agent RBs available each year, it has be Faulk. PPR leaguers already know Faulk is a great end-of-the-roster filler, but he has always been a RB that has gotten the most out of his limited touches. We all know the drill with Patriots RBs (and last week's 38 carries by New England RBs was definitely a one-time deal), but if there has been one constant over the years with the Patsí runners, it has been Faulk. His chances of putting a huge number in your fantasy box score are extremely remote from week-to-week, but at this point of the season, fantasy owners are quite often searching for a RB who won't hang them with a bagel (right Chris Brown?) or near bagel (are you listening, Jerome Harrison?); this from supposed starters on players' real teams. (For what it's worth, I don't hold Brown or Harrison near as accountable for last week's sorry performances as I do their coaches, but I digress.) The Bills and their fifth-ranked pass defense are next on the schedule for the Patriots and given the state of New England passing game right now - more specifically, the fact that Bill Belichick revealed that Tom Brady was a true game-time decision last week - it may be wise for the AFC East leaders to take the same run-heavy approach they did last week vs. the Panthers' sixth-ranked pass defense. In that scenario, Faulk could push 12-15 touches, which is more than enough for him to put up 75-90 total yards.
Wide Receivers
Michael Jenkins (@ Jets) Don't let your WRs mess with Darrelle Revis. As the owners of Randy Moss, Andre Johnson, Marques Colston and Steve Smith could tell you, when the Jets are the next team on the schedule, you should actually consider benching your WR1. Unfortunately for Roddy White owners, Week 15 is that week for you. The Jets are one of the few teams in the NFL that actually have their best CB shadow the opponent's best WR and, needless to say, Revis has absolutely locked up the opposition in 2009 with some of the best CB play the league has seen since Deion Sanders and Aeneas Williams were in their primes. While he's not at that level yet, he is the league's best cover CB and has already proven time and again he will shut down even the best WRs in the game. Because Tony Gonzalez won't carry the passing game by himself, someone else will almost certainly produce to fill the void left by Whiteís likely poor numbers. Because the Falcons lack any kind of receiving options behind Jenkins right now, he almost will be forced to catch the ball by default. Considering how little attention receivers behind Jenkins on the depth chart get from Matt Ryan and (now) Chris Redman, there's about an 80% chance that Jenkins will be the most productive Falcons' WR this week. Bear in mind Ė like most of the names in this article - that Jenkins is only a play I would make this week in a deep three-WR PPR league, but White owners (or other owners desperate for WR help) could be excused for benching him for his teammate this week.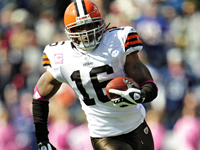 Get this man the ball!
Joshua Cribbs (@ Chiefs) (Seriously, how many more players this decade are we going to see from Kent St. emerge as explosive players after playing another position - or sport - during his college career? Cribbs and the Patriots' Julian Edelman both played QB for the Golden Flashes during their time in Ohio and we all know about Antonio Gates by now.) According to recent reports, there could be some doubt whether the Browns' most explosive player will actually qualify as a wide receiver much longer. At 6-1 and 215 pounds, Cribbs is a glorified return man with receiver speed and quickness in a running back's body. That sure sounds a lot like someone who should be seeing the ball more than anyone else on the Browns' offense to me. Apparently the Browns agree, suggesting they will contemplate moving Cribbs to running back full-time. Position switches rarely ever go smoothly, but Cribbs' ability to return punts at an elite level speak to his vision, explosiveness and ability to work in space while his time as a receiver suggests he can catch the ball and run routes. For now, we'll table the future and focus on the present, which for the Browns includes a game vs. Kansas City in Week 15. With the success Cleveland had out of the "Wildcat" vs. Pittsburgh last week, plan on another heavy dose of the running game (and Cribbs in the formation) against a Kansas City defense that has struggled to stop the run all season long. For those of you who receive bonus points for out-of-position stats, Cribbs should already be on a roster, but if he is still available, change that right now.
Tight Ends
Note: Jermichael Finley and Fred Davis are obvious pickups if available. Again, I'm assuming that TEs with two-TD capability donít stay around very long on the waiver wire, nor should they.

Evan Moore (@ Chiefs) I'm going to do something here most people wouldn't think of doing in 2009 (or just about any other year this decade) - give the Browns credit for quickly recognizing they have something in this former practice squader and ex-college WR who doubled as a basketball player at Stanford. Less than a month after Cleveland signed him to the practice squad, the Browns did not waste much time in bringing him onto the active roster as the team quickly realized that no defender seemed to be able to guard Moore with any kind of regularity in practice. So far, he has carried that ability to separate from his defender pretty well to gameday as Moore has eight catches for 114 yards in just two contests. No one is going to mistake Brady Quinn as a franchise QB or the Browns as an offensive juggernaut anytime soon, but Cleveland's current starting QB does like to find his TE (17 targets in two weeks) and he has matchups against Kansas City and Oakland over the final two weeks of the fantasy playoffs. Even though the Raiders (Week 16) had been stingy vs. opposing TEs, Fred Davis didnít have much trouble gouging Oakland for a pair of scores last week. This week's opponent - the Chiefs - have been very inconsistent at guarding the TE this season and allowed seven double-digit fantasy point performances to the position in 2009. Understand that Moore would be a desperate play - to say the least - considering his meteoric rise from practice squader to starter, but given the caliber of upcoming opponents and his two-game track record of targets, he's a decent bet to meet the expectations I had last month for James Casey.
Bo Scaife (vs. Dolphins) Scaife is one of several repeat visitors to this column, but he really shouldn't be. In traditional PPR leagues, Scaife is tied for seventh among TEs with Brent Celek, Antonio Gates and Finley with 21 targets over the last three games. Perhaps more surprisingly, Scaife is eighth among all TEs - ahead of Celek - with 12.2 fantasy points/game over that same amount of time. Those nuggets should be all the convincing you need to find some room in your starting lineup for Scaife, who has the pleasure of going up against Miami's middle-of-the-road defense vs. TEs this season. While Chris Johnson will continue to get his yards, the Dolphins are one of the better run defenses in the league, so Vince Young (if healthy) or Kerry Collins will probably need to look in the direction of Scaife and Alge Crumpler fairly often. Scaife is always a bad bet for a touchdown (making him a poor play in non-PPR), but he's become the master of the four-catch, 40-yard game, which qualifies him as a more-than-serviceable PPR play for any owner getting tired of the inconsistency of higher-profile options such as Greg Olsen or Visanthe Shiancoe.
Kickers
Olindo Mare (vs. Bucs) Any owner that took my recommendation on Jay Feely last week can already vouch for what a kicker can do against the Bucsí defense. Among other things, the best bet for a kicker's success in fantasy is playing for a respectable offense that struggles when it finds its way into the red zone, no matter who the opponent might be. Even better if that week's foe has a struggling defense - like the Bucs. Since HC Jim Mora blasted his kicker in the media following his two misses in Week 3, Mare has yet to miss a field goal attempt. Prior to Seattle's team-wide poor effort vs. Houston last week, Mare had scored eight or more fantasy points in four of the team's last five games. While he has yet to kick a 50-yarder this season, Mare is 5-for-6 from 40-49 yards and has the leg for more. Also note that he is hitting a career-high 91.3% of his attempts and, like his team, has been a beast at home. The fact Nate Burleson might miss this week (and probably more) only lessens the chances Seattle will find success inside the end zone, meaning more field goal opportunities could be in the offing for Mare.
Ryan Succop (vs. Browns) Understand that kicker recommendations at this point of the season are only for those owners who may still be inexplicably rolling with Nick Folk or those people who like to tempt fate. Either way, I like my kickers to convert when given a chance (19-23 FG, 19-19 XP) and have a big leg (seven kicks over 40 yards; two over 50). Even though he is only a rookie and probably best known for being this draft's "Mr. Irrelevant", Succop meets both of those qualifications and gets a matchup in Week 15 vs. Cleveland, which has allowed the fourth-most points to kickers this season. Just as any owner would before a game for any other player, make sure to check the wind and weather forecast for Arrowhead Stadium. Also keep in mind that with Dwayne Bowe returning from suspension and Jamaal Charles establishing himself as a threat on the ground defenses must respect, the Chiefs have an outside shot at become a decent resource for fantasy owners in the not-so-distant future. Certainly, thereís nothing to indicate there is going to be an offensive explosion in Kansas City this week, but I have a feeling the Chiefs will enjoy a bit more offensive success than did the Steelers did in Week 14.
Defenses
Seattle Seahawks (vs. Bucs) The 'Hawks return home this week, which means it is time for them to pull their Jekyll-and-Hyde home-road act. Qwest Field presents an incredible home field advantage in terms of crowd noise and location (many of Seattle's opponents must cross two time zones to play there), but when a team is plus-54 and winning by average of nine points at home as opposed to a minus-105 away from home and losing by an average of 15 points/game, it suggests they just really arenít all that tough-minded. This week, however, Seattle doesn't have to worry about boarding a plane and, instead, gets to welcome Tampa Bay. Sure, Josh Freeman has shown the ability to sink a defense like the Seahawks, but Bucs HC Raheem Morris is reportedly looking to scale back some things with his rookie QB after a rough couple weeks. Obviously, I would hope that owners thought about their fantasy defense for the playoffs long before now, but at this point, one could do worse than a unit that has held three of its six opponents to three points or less at home and only surrendering 15 points/game at Qwest Field. Want further proof as to why the Seahawks are a pretty good play this week? Seattle has recorded 15 of its 29 sacks, seven of its nine fumbles and seven of its 11 interceptions at home this season.
Houston Texans (@ Rams) It's rarely ever a good idea to double-dip, but the Texans should be good for another spin this week after blasting the Seahawks in Week 14. Why? The answer is simple: when a bad team loses an average QB, they must turn to a lesser QB (typically, this is how it works anyway). Suffice it to say that Kyle Boller and Keith Null qualify as "lesser QBs" at this point in time. Throw in the fact that Steven Jackson is not practicing anymore and is less than 100% now with his back acting up and it's not hard to see why the Rams are a poor offensive team. Rams rookie RT Jason Smith remains out with his concussion and RG Richie Incognito was released by the team on Tuesday after a pair of head butt on the field resulted in two personal fouls, which led to a short discussion and second-half benching by HC Steve Spagnuolo shortly thereafter. All this is to suggest that either LDE Antonio Smith should have a field day or Mario Williams will have a field day if the Texans choose to give the former No. 1 overall pick an opportunity to make his annual late-season run against a depleted right side of the Ramsí offensive line.

e-mail me with any questions/comments.