Early Observations - AFC




6/30/09



BAL | BUF | CIN | CLE | DEN | HOU | IND | JAX | KC | MIA | NE | NYJ | OAK | PIT | SD | TEN | NFC

Back in the good old days, the NFL didn't exactly run year-round (or the media didn't cover it that way, which is really more of the truth). Likewise, competitive fantasy owners were able to take a break after the Super Bowl from their hobby, waiting until sometime after the NFL Draft to dive into some publication or check out some website to start getting geared up for the upcoming season.

Those days are gone now, or at least should be, if fantasy football represents a small portion of income each year for the owners who play in money leagues or for those folks who invest a few hours each week during the season setting their lineups, making sure their free agent and waiver wire pickups are the pieces needed to make a run for a fantasy title.

Unlike the NFL, which gets to take a short break before training camp starts in late July, now is the time for fantasy owners to move from the stage of formulating opinions on players to the stage of strengthening those opinions. For example, does the mere return of Tom Brady mean that the New England Patriots step right back into their offensive production from 2007? Does the turnover in Denver mean the running game takes center stage or does it mean the same old production from the passing game but with a different trigger man?

Over the next two weeks, this column will provide one fantasy owner's opinions as to what took place in each team's offseason workouts (OTAs and mini-camps) and what it could mean for all fantasy owners come draft time. After this offseason workout two-parter, we'll delve into the players who are overvalued and undervalued before we really open up things with the heart of my offseason preparation: schedule analysis.

This week, though, we'll take a look at the AFC:

Baltimore
The arrival of HC John Harbaugh and OC Cam Cameron was good for the Ravens in a number of ways, including the team's bottom line last season, the running game and the successful rookie season of QB Joe Flacco. However, it has also effectively quashed any fantasy value TE Todd Heap had left. An injury-prone player almost from the start of his career who emerged as a top five fantasy option at his position when he could stay healthy, Heap was asked to stay in and block more than he ever has. This offseason, he is dealing with a lingering back issue and is expected to block more than he did last year. Whether that means offseason pickup L.J. Smith - also an injury-prone TE - picks up the slack is another question, but Heap's days as a useful fantasy option are probably over.

While Ray Rice is reportedly having a great offseason, it bears mentioning that Le'Ron McClain was far and away the most productive runner for the Ravens last season. Using My FF Today scoring, McClain finished with 169 fantasy points (good for 19th place in the league), 42.6 points ahead of Baltimore's second-best fantasy RB, Willis McGahee. There's a much better chance that Rice - who had 140 touches last year - will eat more into McGahee's 194 touches than he will McClain's 250. Still, given the uncertain nature of how carries will be divided week-to-week, all three probably qualify as nothing more than RB3 options in non-PPR leagues. In PPR leagues, Rice and McClain should both get enough work to be considered low-end RB2 candidates.

Buffalo
For the first time in years, the Bills should possess a wealth of offensive talent from which fantasy owners can draft from this season. Adding Terrell Owens helps in that respect, but he's not the only reason. With the talent to run the no-huddle and a QB in Trent Edwards who is sharp enough to handle the responsibilities associated with the attack, Buffalo sought Jim Kelly's input on the offense that made the team so explosive in the 90s. … As for T.O., it is interesting to note that when Owens moved from the Niners to the Eagles in 2004, Philly went from 18th in total offense to ninth. In 2006, Dallas went from 13th to 5th. Also of note are Owens' totals in '04 and '06 (77 catches-1,200 yards-14 TD in '04; 85-1,180-13 in '06). It is easy to forget that Tony Romo was an afterthought until midway through Owens' first season in Dallas, partly because he was more willing to use "the player" than Drew Bledsoe was. While Dallas possesses more overall offensive talent than Buffalo, Lee Evans and Marshawn Lynch are proven players in the league and stand to produce more with all the attention a motivated T.O. will draw.

There is a bit of chatter going on right now to suggest that reserve RB Fred Jackson may get some more play in the passing game. Even after Lynch returns from his three-game suspension. Buffalo believes Jackson is such an accomplished receiver that it is supposedly tossing around the idea of using Jackson in the slot when the Bills want to spread the field, further adding to his already increasing value as a Lynch handcuff.

Cincinnati
Many critics have been quick to write off Cedric Benson's late-season emergence, suggesting he will revert to the underachieving first-round pick he showed himself to be in Chicago. Fantasy owners would be wise to embrace the idea that Benson may have just needed a wake-up call. The Bengals' RBs coach, the heralded Jim Anderson, has routinely praised the former his pupil's attitude and work ethic since joined the team as a street free agent midway through last season, even showing off better hands than most observers thought he possessed. In regards to fantasy, few backs outside of the first round have a fairly clear path to 300+ carries, which Benson does. Combine that with Cincy's renewed emphasis in running the football and its much-improved defense, and there is reason to believe Benson could be vastly undervalued this summer.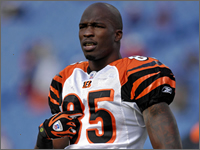 Can Chad Ochocinco be a Top-10 fantasy wide receiver again?
Another victim (mostly self-inflicted) of the Bengals' dreadful season last year was Chad Ochocinco, who injured his shoulder in the preseason after coming in unprepared to play following an offseason of trade demands. Perhaps humility was the best thing that could have happened to the five-time Pro Bowler because after working out on his own for most of the offseason, he arrived just before mini-camp as advertised. Although he figures to remain a rather inconsistent fantasy force (in terms of weekly consistency), expect Ochocinco to rejoin the top 10 fantasy WR group.

Staying with WRs, Laveranues Coles may be in line for one of his most productive seasons yet. Despite never having played with a QB the caliber of Carson Palmer for a full season (a 38-year-old Brett Favre with a bum right arm and shoulder doesn't count), Coles' career yards/catch is a more than full yard better than T.J. Houshmandzadeh's (12.8 to 11.4). He's reportedly already meshing in well with Palmer and figures to make a pretty fair transition into Housh's old spot. Coles is a strong bet to lead the team in catches and, with his trademark speed, may be able to make a few more big plays than his predecessor. The team seems pretty committed to using Andre Caldwell in the slot, but apparently joining Benson on the maturity bandwagon is Chris Henry, who appears to have Palmer's confidence back. While he doesn't necessarily have an actual assigned spot yet, he is clearly the Bengals' #3 WR and worth consideration as a low-end WR3 or high-end WR4 in 12-team leagues. So long as Palmer is right, the big play will be back in Cincinnati's offense in a very big way and Henry will be play a large role in that very thing happening in 2009.
Cleveland
Jamal Lewis is in the second year of the three-year deal he signed back in February 2008, but there is plenty of reason to believe he may not be around to see another year with the Browns or, at the very least, not make another start with the team after 2009. With 2,399 career carries, Lewis' body has more wear than the average 29-year-old RB (he turns 30 in August). With that in mind, the Browns have been pleasantly surprised by what they have seen from sixth-round selection James Davis from Clemson. Miscast as the "Thunder" in the Tigers' "Thunder and Lightning" attack with C.J. Spiller, Davis isn't necessarily a bowling ball-type inside runner, but he makes for an interesting mix of Lewis and Jerome Harrison, who figures to go well beyond the 100 career touches he has amassed in three seasons with the team. Davis will likely only see significant fantasy value if Lewis gets hurt, but Harrison is already drawing comparisons to Leon Washington from new HC Eric Mangini - a role that fits his talents to a tee - meaning he should be a nice bench or flex player in PPR leagues and a decent reserve in non-PPR. The coach has even hinted at some work on first and second down for Harrison.

There doesn't figure to be a ton of fantasy value coming out of the Cleveland offense this year, but if Brady Quinn wins the QB job as many expect, he should make rookie WR Brian Robiskie and TE Martin Rucker (assuming Steve Heiden can't fully recover from ACL and MCL surgery) usable in some leagues due to the team's wishes to implement a conservative offensive scheme because they both have dependable hands and will be able to move the sticks consistently. Braylon Edwards is locked in as the team's #1 WR and even given his penchant for drops, he will draw regular double teams, if not the ire of the coaching staff. Although he isn't losing his job anytime soon, Edwards falls from a WR that went off the board in the second round last summer to one who could (and maybe should) fall into the sixth round.
Denver
Don't be alarmed by the fact that RB Knowshon Moreno is running with the third team in OTAs. Why? Correll Buckhalter, one of Moreno's competitors for the starting job along with LaMont Jordan, has already stated that he feels the rookie will be "a heck of a player in this league". While praise is usually handed out pretty easily in the offseason, it rarely comes from someone competing for the same job. The release of injured J.J. Arrington earlier in the offseason clears the way for Moreno to receive the majority of work in the passing game that will throw at least as many short passes as any Mike Shanahan-coached team has, if for no other reason than to cater to the game of Kyle Orton. It should be noted that in HC Josh McDaniel's three years as the OC in New England, running backs recorded 232 catches - an average of 77 per season. Because Buckhalter and Jordan aren't exactly stiffs, they will grab the occasional touch, so don't expect Matt Forte-like production from the rookie. However, Moreno should be viewed as a low-end fantasy RB2, with a very real chance to ascend into low-end fantasy RB1 status by the end of the season.

McDaniels was effusive in his praise last month for Tony Scheffler, calling the fourth-year player the most skilled pass-receiving TE he has ever coached, quite a compliment from someone who just spent a few years with Ben Watson. While Daniel Graham figures to get the most playing time because of his run-blocking prowess, Scheffler needs only to stay healthy and play a complete 16-game schedule for only the second time as a pro to push his previous career high of 49 receptions when he last made it from beginning to end in 2007. But it is that same injury history – and a lack of trust in McDaniels' praise - that puts him right on the edge of TE1 territory. As a result, the safe play would probably be to draft him as a TE2 if possible.

Even if Brandon Marshall drops his contract demands soon and acclimates himself to McDaniels' offense, he doesn't figure to post his third straight 100-catch season. First, there are a lot of mouths for Orton to feed in the passing game. Secondly, things rarely end well with disgruntled WRs. And lastly, there is the question of how he is recovering from hip surgery. It would come as no surprise if that trifecta of trouble knocked Marshall from the for-sure fantasy WR1 ranks into the upper fantasy WR2 group. In other words, if things aren't resolved before camp, count on Marshall being one of the more overrated fantasy WRs this season.
Houston
For many observers, one of the bigger surprises during draft weekend was that the Texans opted not to select a big back to complement Steve Slaton. The team is said to be "counting on" ex-Titan Chris Brown to assume the heavy-lifting portion of the running game. But since Brown has never played a full 16-game schedule in his six years in the league (only topping 12 games twice) and missed the entire 2008 season, it would not come as a surprise if undrafted rookie free agent Arian Foster takes the role from him at some point. The team seems to love Ryan Moats as Slaton's backup, but since most of his strengths are also some of Slaton's best qualities, the ex-Eagle scatback only relevance to fantasy owners may be as Slaton's handcuff.

While Matt Schaub is undoubtedly entrenched as the starting QB, Houston has an interesting duo of QBs behind its injury-prone signal-caller. Sage Rosenfels, who was dealt to Minnesota this offseason, capably manned the backup job for each of his three seasons with the team, even if he did force the action a bit much when he filled in. To replace him, the Texans inked Dan Orlovsky on March 1 primarily based on HC Gary Kubiak's assertion that the former Detroit backup has "starter ability". Then, in mid-June, they curiously added Rex Grossman as well. Given that Orlovsky will average around $3 M/year and Grossman signed a one-year, $620 K deal, the ex-Bear is the clear No. 3 QB - a title that usually goes to a young player the coaching staff likes to develop. If this is what the Texans are also thinking (in regards to Orlovsky being the clear No. 2), fantasy owners who invest in Schaub should probably also carry the former UConn standout on their roster. In his first two seasons with Houston, Schaub has played in just 11 games each time - a significant fact for a team that finished 2008 as the No. 3 team in total offense. Fantasy owners tend to have long memories when a player like Orlovsky makes a stupid play like the one he made last season when he bootlegged himself right out of the end zone for a safety vs. Minnesota last season. However, for those owners who plan on counting on Schaub this season, it may in their best interest to forget that play and remember that Orlovsky was halfway productive on a dreadful Lions team in 2008 and will have a much better supporting cast in 2009.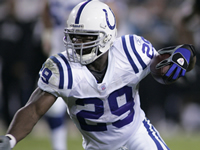 An improved offensive line could vault the Colts running game in '09.
Heading into camp, Pierre Garcon appears to have a moderate lead over Roy Hall and rookie Austin Collie for the right to assume the WR3 role for the Colts. Over the years, that position has attracted a lot of fantasy owners, with the idea being that whoever is in that role can step up to the degree that Brandon Stokley did in 2004. While the winner will certainly be worthy of a roster spot in typical 12-team leagues, he won't be usable as anything more than a low-end fantasy WR3, if not a bye-week fill-in. … While Joseph Addai deserves some of the blame for Indy's 31st place finish in rushing yards and last-place ranking in yards per rush last year, it is easy to forget the Colts' RBs were usually working behind an offensive line that looked nothing like the one the team envisioned entering the season. C Jeff Saturday missed four games in the middle, LT Tony Ugoh was absent from Peyton Manning's blind side four more times and G Ryan Lilja spent the entire season on the PUP list. No team is so deep that it can lose that much quality for that length of time and not feel the affects of it, and that usually manifests itself in the running game. As long as Manning is around, the team is never going to be a run-based team, but expect a much-improved effort from the run game in 2009. … Speaking of the ground game, rookie RB Donald Brown has not disappointed, showing all the acceleration and shiftiness the Colts saw in his workouts.

Until the "consultant" tag situation is cleared up for former assistants Tom Moore and Howard Mudd, don't expect another top-notch offensive effort from the Colts. This drama has already been covered in this area a few weeks back, so suffice it to say that until we see Manning, Addai or Reggie Wayne look into the camera and state that things are back to normal, there is little reason to think they are. The Colts will still be an above-average offense, but don't count on them being elite until we get some clarification on the new "consultants".
Jacksonville
David Garrard may never repeat his 18:3 TD/INT ratio from 2007, but the Jaguars finally gave him a chance to thrive with the signing of Torry Holt in the offseason. No one is going to confuse the ex-Ram standout for the same receiver who posted six straight seasons of 1,300+ yards receiving, but after years of not being able to count on such stalwarts such as Matt Jones and Reggie Williams, Holt is going to seem like a breath of fresh air. He may not improve much on last year's 64-catch, 796-yard campaign, but it would come as a mild surprise if he doesn't finish near the top of the league in third-down catches. If he is doing that, he is going to make it just that much easier for the Jags (and Maurice Jones-Drew in particular) to pound opponents into submission via the running game.

Speaking of MJD, it is really hard to find a reason not to like him in fantasy for 2009. Whether or not he should go #1 overall in fantasy drafts is debatable, but Jacksonville's drafting of OTs Eugene Monroe and Eben Britton along with the free agent addition of Tra Thomas should ensure that Jones-Drew will have holes to run through much more than last season. (It should also mean the Jags' season will not be wrecked after Week 1 like it was last season when they saw three linemen go down, including two for the season, in an Opening Week loss to the Titans.) We already know that he will get the bulk of the work in the passing game, so it really comes down to whether or not HC Jack Del Rio and OC Dirk Koetter decide to take some of MJD's short-yardage and goal-line work from him in an effort to preserve him for the season. Del Rio has already stated he envisions backup RB Greg Jones to get 5-10 carries/game, but he has yet to officially state where those rushes will take place. It's something to think about, but someone with Jones-Drew's track record will be very hard to remove in any situation, making him the closest thing to a feature back that we see in the league anymore. So with the improved blocking and about 100 more carries (he had 197 last season), a 2,000 total-yard season is not out of the question.
Kansas City
What kind of offseason is this when Larry Johnson is on his "best behavior" and players such as Mike Vrabel and Brian Waters are not bothering to show up for OTAs? Yes, this is the ominous start of the Todd Haley era for the Chiefs. LJ apparently didn't take well to the possibility of being let go, likely realizing that a lead-back role and nice contract probably weren't waiting for a player with a bad-boy reputation outside of Kansas City. Johnson should return to his workhorse days - to a degree - as the Chiefs' line is not good enough to hold up in pass protection 40 times per game. On the other hand, the defense is going to struggle to the point where Kansas City where the team may need to pass that much.

Vrabel, one of the players the Chiefs were counting on to lay the foundation of how to win for the new regime, isn't getting off to a good start with his new employer. The fact that someone like Vrabel would skip OTAs is surprising in its own right, but for him to continue his displeasure with being in Kansas City into June - about four months after the trade - saying things such as "I didn't sign on to play in KC" can't be good for a team that sorely needs a happy and committed Vrabel.

With Tony Gonzalez no longer around, Dwayne Bowe can't help but be one of the most active receivers in the league this season. Mark Bradley has long been a fine talent but has been unable to stay healthy for most of his career while the Chiefs have no idea if Bobby Engram can squeeze one more season out of his 36-year-old body like the one he produced in 2007 (94 catches with Seattle) and not the injury-plagued one he endured in 2008 (47 catches). Unfortunately, the good money is on the latter.
Miami
After four years of questioning his toughness and conditioning, undergoing rehab for torn knee ligaments and battling Ricky Williams for touches out of the Dolphins' backfield, Year Five is getting off to a nice start for Ronnie Brown. The coaching staff is thrilled with Brown's conditioning, Williams is apparently starting to show off his age of 32 and Brown is nearly two years removed from ACL surgery. For an all-around talent like Brown to have this much going for him on a team that plays ball-control football as much as Miami does, fantasy owners should really highlight him as a player who can finally ascend into RB1 consideration. After all this time, the 'Fins may actually allow him to be a feature back in 2009.

For all those owners who got comfortable with Chad Pennington as a nice steady option on their bench last season, it may be too much to ask for a repeat in 2009. Pennington, who may never get the credit for being the QB that he is simply because he isn't all that flashy, will likely be spending most of the season looking over his shoulder to see when he may be getting pulled for Chad Henne. Certainly, as long as Pennington has the Dolphins above .500, he is probably safe. But if Miami enters its Week 6 bye with anything less than a 3-2 record, Henne may take over. At the very least, the 'Fins seem intent on giving Henne the starting job no later than 2010.
New England
There will be plenty of fantasy points coming out of this backfield this year, there is little doubt about that. (In 2008 alone using FF Today scoring, the Pats scored 405.1 fantasy points from the RB position, good for sixth in the league. In 2007, when they posted the highest scoring total in league history, their 317.8 fantasy points was good for ninth in the league.) Once again, though, those points are likely to go in four different directions. Here's what we know: Kevin Faulk will see most of work on third down and Sammy Morris should get most of the looks at the goal line. That's all we really know. Laurence Maroney is probably the player that HC Bill Belichick would like to see take the highest number of carries, but he has yet to show any kind of durability and special teams coach Scott O'Brien has hinted he wouldn't mind seeing him returning kickoffs like he did during his rookie season. Fred Taylor is the latest of a long line of aging backs that New England hopes it can maximize his golden years by using him in spot duty. Expect Taylor to start in the kind of role the Pats put LaMont Jordan in last season, but if Faulk were to go down, his fantasy stock would go up. Likewise, Morris' stock would rise if Maroney succumbs to injury once again. Maroney stands to be a vastly underrated fantasy player this season if he does make it through unscathed, but the best bets for fantasy production entering the season would be Faulk and Morris, if only because we have some idea what their roles will be. With that said, no one from this team's RBBC is worth consideration as anything more than a RB3 in fantasy drafts this summer.

With Tom Brady back, the Pats figure to edge much closer to the 57-43 pass-run split of 2007 than the 51-49 split of 2008. But anyone expecting New England to transition right back into the 589-point juggernaut it was two seasons ago is kidding themselves. Undoubtedly, everyone in the passing game will benefit from Brady's presence, but his fantasy owners will need to prepare themselves for a slow start. But don't feel bad for this group, Randy Moss should return to his perch atop the WR fantasy ranks while Wes Welker may be a near lock for another 100-catch season. And after Brady regains the trust in his knee again - it won't happen by Week 1 - he will once again be the fantasy QB to own. But only time will answer the question as to when he will be comfortable, so fantasy owners will be gambling ever so slightly that he'll get "it" back in Week 4 and not Week 10.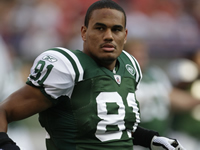 Dustiin Keller: One of the two sure things in the Jets passing game.
Jerricho Cotchery and Dustin Keller are the only two sure things coming out of the Jets' passing game as they enter training camp. It would make sense that David Clowney will be given every opportunity to win the job given his speed and explosion, but until he can remain healthy for any length of time, Chansi Stuckey figures to be the most likely candidate to start the most games. However, given the amount New York plans to run the ball, it may not be worth speculating on who will be the starter opposite Cotchery for fantasy purposes. For comparison's sake, Derrick Mason's 80 catches led the Ravens last season. Baltimore's other WRs combined for 55 receptions. Considering the similar philosophies and similar personnel, that is probably a reasonable expectation for Gang Green's wideouts in 2009.

It is becoming more and more apparent that whether the Jets want to say it or not, if the QB competition between Kellen Clemens and rookie Mark Sanchez is anywhere close to even, Sanchez will get the nod.

There were rumblings in early June the Jets may have told Thomas Jones they would try to trade him if he reported to camp, which he ultimately did. Considering that rookie Shonn Greene has already signed, there could be some truth to it. Unlike Jones, however, the Jets need Leon Washington around if Greene is the workhorse because the former Iowa standout is unlikely to every become a good enough receiver to be a three-down back. Given the fact that it may start a rookie QB, New York would find the going twice as difficult if it lined up a rookie RB that was essentially useless in the passing game. With that in mind, the Jets would be wise to keep Jones so the team isn't so young at some of the more important offensive positions and so their attack isn't any more predictable than it already figures to be.
Oakland
Just like fantasy owners, the Raiders will have to make a decision on Darren McFadden. For the most part, no one got a good look at the most divisive rookie in fantasy circles last season. McFadden, who languished after the first couple weeks of the season due to a toe injury suffered early in 2008, ended up watching Justin Fargas take many of the carries most Oakland fans hoped a healthy DMC would be running away with for double-digit touchdowns. Now with McFadden looking spry again - and if we know anything about the Raiders - it is that Al Davis wants to see his athletes run and most expect McFadden to turn the tables on Fargas in 2009. In short, McFadden should be in line for the 228 touches Fargas received last season. And while Fargas hasn't really done much to lose the starting job, expect Michael Bush to receive most of the 142 touches DMC had in 2008 while Fargas probably gets little more than the 114 touches Bush had a season ago. Got that?

Rookie Darius Heyward-Bey really needed to get off to a fast start; unfortunately, the only things he has picked up quickly are hamstring injuries. For a WR whose game is speed (and early reputation will be staked on how often he blows by the CB opposite him), this is not a good sign. DHB was already facing an uphill battle at picking up the pro game in his first season, so the chances that he will not start right away are growing. It is beginning to look more and more like Chaz Schilens, who continues to be a standout WR in Raiders' camp, and Johnnie Lee Higgins may be the only two WRs worth any kind of consideration in fantasy leagues this summer - and even that may be a stretch. On the plus side, the team has been very happy with fourth-round WR Louis Murphy, calling him the "surprise of their rookie class".
Pittsburgh
OC Bruce Arians stated in an interview last week that only 19 of the 46 sacks the team allowed were actually attributed to the offensive line. While it is a nice sentiment and may take some of the heat off the front five for now, even a QB the size of Ben Roethlisberger won't be able to last much longer if the Steelers refuse to address their offensive line problems. The 2008 edition of the Steelers finished 23rd in rushing yards and 22nd in total offense. The rushing performance is completely atypical of a Pittsburgh offense and was its worst finish by far since the days of the "Tommy Gun" offense in 2003. Sure, Willie Parker missed his fair share of time, but Mewelde Moore filled in nicely. So even if Arians wasn't trying to pump his offensive line's confidence, the fact of the matter is the Steelers were very lucky that Big Ben didn't miss any games and DC Dick LeBeau is the mastermind he is with their defense.

While it remains unclear how Pittsburgh intends to divide the work in the running game, expect Rashard Mendenhall to take a nice chunk of carries away from Willie Parker. Parker, who will turn 29 during the season as he enters the final year of his contract, hasn't broken a run longer than 34 yards since 2006 and will be hard-pressed to hold off last year's first-round pick - the one Arians compared to a young Edgerrin James - much longer. Granted, Parker is no slouch and reportedly feels he has recaptured the speed he felt he lost two seasons ago, but Pittsburgh will be tempted to see what it has in Mendenhall. A 60-40 split in Parker's favor sounds just about right as the Steelers - not a team that has traditionally given a third contract to many of their players - allow Mendenhall to showcase himself enough to get an idea of whether or not they can let Parker go elsewhere at the end of the season.
San Diego
LaDainian Tomlinson has become a popular target for a player on the decline, due in large part to his declining numbers the past two seasons and the fact that he turned 30 last Tuesday. Before fantasy owners throw one of fantasy's most dependable backs into a retirement home, however, consider that LT had next to nothing go right for him in 2008 and he still finished 7th among all RBs. If owners want to knock him off his elite-back perch because he has dealt with injuries the past couple of seasons, so be it. But Tomlinson suffered from multiple things last season no RB can overcome: a toe injury early in the season that anybody who ever played football would understand why he was unable to show off his trademark explosion through the hole and a groin injury later in the season that severely hampered his ability to push off his jump cut. The second reason was San Diego's complete inability to keep defenses from blowing holes through its interior offensive line. Well, LT is fully recovered from his injuries and the Chargers addressed their offensive interior by drafting Louis Vasquez and Tyronne Green, two players who were highly regarded for their toughness. Vasquez or veteran Kynan Forney will grab the RG job and the winner of that competition figures to give San Diego a powerful drive blocker with more youthful legs than the departed Mike Goff. C Nick Hardwick is also healthy, something that wasn't true at the start of last season. All this is to say that if this all-around newfound health remains throughout the preseason - and for LT it will because he doesn't play in preseason games - Tomlinson may be underrated for the first time in years. Curtis Martin, who like LT subscribed to a rigorous offseason conditioning ritual, also dealt with a down age-29 season before putting up two more productive fantasy seasons. While 30 is a nice number for fantasy owners to observe for declining RBs, conditioning can sometimes extend that number by a year or two, something that should happen here. Darren Sproles is a definitely a player that LT owners need to handcuff their star to in the middle rounds and will even have value for those owners who don't grab Tomlinson, but the point to be made here is that LT should not fall out of the top five picks quite yet.

Speaking of "injury risks", Antonio Gates is reportedly showing no ill effects from the toe injury that dogged him all of last season. With T.O. out of Dallas, Jason Witten probably figures to get the most play as the first TE off the board, but it hard to argue with Gates, who may come a bit cheaper than his early fourth-round grade of a season ago. Even with the emergence of players around him such as Vincent Jackson, Gates should not last past the first half of the fifth round in 12-team leagues.
Tennessee
Not usually a team that finds themselves in the news all that often, the Titans have unwillingly made some off-field noise this offseason. Granted, Albert Haynesworth's departure probably couldn't have been avoided, but Vince Young's handful of somewhat conflicting interviews served as a nice warm-up to the divorce of "Smash & Dash" tandem from last season. As usual, the media has and will continue to overplay both angles of said "divorce" serves as a nice transition to LenDale White, who has reportedly dropped about 30 pounds. Certainly, it seems oddly coincidental that he would make such an effort in his contract year, but is the weight loss a good thing for his role as a short-yardage back? White never has been nor will he ever be a burner, but his girth was one of the few things he had going in his favor (be it right or wrong) in his battle for playing time against "Every Coaches' Dream" Chris Johnson. It seems pretty clear Johnson will receive even more work this season, but expect White to tug just enough at Johnson's value where he draws the ire of the second-year back's fantasy owners. White will somehow find a way to get himself a nice little deal for 2010.

After struggling to get through last season with one WR who QB Kerry Collins could trust (Justin Gage, when he was healthy), Tennessee is touting three candidates heading into July. Gage is reportedly "wowing" everybody and appears locked in as Collins' go-to receiver for the time being. Rookie Kenny Britt and free agent signee Nate Washington figure to cut into each other's value until Britt's knowledge of the pro game catches up with his wonderful talent base. After averaging 19.1 yards per catch in 2008, expect Gage to assume more of a possession-WR-type role this upcoming season considering he has two big-play threats competing for time opposite him. Thus, Gage probably slots in as a mid-range fantasy WR3 while Britt and Washington will put up the unpredictable big game and serve as good bench players in 12-team leagues.

With the additions of Britt and Washington (plus the drafting of TE Jared Cook, who is equally impressing the team with his amazing catches and infuriating them with his mind-numbing drops), Collins could move into a very usable QB2 in most leagues in 2009. With so much attention to be paid on the running game, there's no reason that Collins can't hit one of his big-play WRs down the field on a regular basis. He probably won't ever be the player that an owner wants to start every week, but expect his TD totals to climb from 12 a season ago to between 16-18 with better receivers and a full training camp knowing he will be the starter.