Early Observations - NFC




7/7/09



ARI | ATL | CAR | CHI | DAL | DET | GB | MIN | NO | NYG | PHI | STL | SF | SEA | TB | WAS | AFC

All of us know there is a lot of "fluff" that gets thrown around during the NFL offseason so beat writers will have something to write and editors will have something with which to fill space. With the proliferation of studio shows like Total Access and NFL Live running year-round, it gets harder to separate what we know from what we don't know because there is a good chance we've heard the same fluff repeated multiple times by different "experts". And as we all learned early on in our lifetimes, the more we hear something, the better we will believe it (unless it ticks us off first).

However, if there is a small amount of truth to every lie - as the saying goes - there are some useful morsels of information that fantasy owners can take from the very people who "lie" to us in the media. Some of them get paid handsomely to analyze trends, stats, etc for us, but with many of these "experts", it is clear they are done for the day when their shift (or show) is over. And unfortunately, many of these folks take the easy way out and bow to the power of the popular opinion in the end anyway.

I want to let it be known my "Early Observations" contributions over the past two weeks are on the topics that I believe fantasy owners would want information on, in other words, actual news from the reporters covering the team since the offseason began. (The fact that it comes with my opinions attached is just a bonus.) Most fantasy football veterans are aware that about 75% of what comes out of a beat writer's mouth - or computer, as it were - is either hyperbole, opinion or both and it is usually questionable information at that. Thus, think of me - for this week anyway - as a filter, a conduit that can help each of you sort the fact from the fiction and allow you to get another fantasy owner's take on the information that has been presented to us over the last few months.

It takes everything I have not to give each of you a full team "scoop", but as we move closer to PSA season, we will get a chance to talk about defense soon enough. With this being a fantasy column and many of you either well into your draft preparation or about ready to start, it seemed like a good idea to stay on the offensive side of the ball for now. Without further delay, let's dive into the NFC.


Arizona
WR Anquan Boldin's seemingly endless contract extension renegotiation appeared to be a lead story candidate this offseason, but his decision to fire agent Drew Rosenhaus and hire Tom Condon has kept his name out of the media for a while now. One of the toughest players in the league, Boldin is one of the few players who fantasy owners should expect to produce if/when he is able to get paid. The nice thing about Boldin is his game is transferable, meaning he will produce whether a team decides to air it out all day long or decides to play ball control. In short, he is one of the few receivers that is: 1) a more-than-adequate deep threat, 2) able to cause mismatches given his ability to line up in the backfield on occasion and 3) an extension of the running game with his ability to take a pass in the flat and turn it into a big play; his ability to break a tackle has made the WR screen pass a Cardinal staple.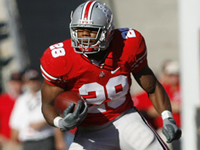 Chris "Beanie" Wells: Will likely enter the season as the starter.
RB Tim Hightower has been running with the first-team for the majority of camp due to the NFL rule that restricts players - like 2009 first-rounder Chris "Beanie" Wells - from taking part in team activities until their school holds its graduation. While it is extremely likely that Wells will enter the season as the starter, Ohio State's graduation date of June 13 caused the rookie to miss 14 days of voluntary workouts. Although running backs generally experience the smoothest and quickest transition of any offensive position to the NFL, a holdout of any kind by Wells could significantly reduce the amount of impact he could have for a team that could really use the power running he brings to the table. For what it is worth, HC Ken Whisenhunt has stated that he will give Wells an opportunity to return kickoffs, of course, Vikings HC Brad Childress did the same thing with Adrian Peterson his rookie season, so don't read or overreact too much to the probability of Wells being used a lot on special teams.
From the "we shall see" department, the Cardinals believe they may have found something in TE Dominique Byrd, who was out of football last season after flopping badly with the Rams, mostly because of a host of immaturity issues. Byrd apparently wised up in his time away from the game, acknowledging this may be his last chance in the NFL, and decided to spend his offseason working out alongside Larry Fitzgerald. The former USC TE certainly has the pass-catching talents to flourish in this offense - even if only as a third-down target - but it is hard to see him stealing enough catches away from Boldin, Fitzgerald and Steve Breaston to be of much use to fantasy owners this season. In other words, file Byrd's name under the "keep an eye on him" tab; there is obviously no need to draft him.
Atlanta
It would be natural to expect a drop-off from TE Tony Gonzalez at some point - considering his age (33) and the fact he is entering his 13th season, his first season outside of Kansas City. But here are some nuggets to consider before moving forward with him. The positive: Gonzo's lowest season totals since 1999 - even with all the changes the Chiefs have undergone over the years - are a 63-catch, 773-yard campaign in 2002. The negative: OC Mike Mularkey has rarely ever had a productive fantasy TE. The Steelers and Falcons (where he was the OC) and the Bills (where he was the HC for two seasons) never saw their TEs grab more than 19 passes in a season with Mularkey calling the plays. In his one season with Miami, he served as Randy McMichael's position coach and promptly guided his pupil to the lowest production he registered over his final three seasons with the Dolphins. The repeated lack of production from his TEs throughout his coaching career is rather shocking considering Mularkey himself is a former TE, but fantasy owners shouldn't be overly concerned about this trend (it is not as if Gonzo will fall out of the top 10 at his position). But for all those folks who expect another #1 finish at the TE position from the ex-Chief, they may be a bit disappointed at the end of the season.
It's another NFL offseason, which means it is time for the annual "Jerious Norwood will see more touches" campaign. Unlike past seasons, there may be some truth to it this time around. RB Michael Turner will remain the Falcons' bellcow, but it makes sense the team would want to back off Turner's workload this season after running him 376 times last season - an average of over 23/game. That is an incredibly high number for any back, particularly one who posted just 228 regular-season carries in his first four seasons combined with the Chargers. Norwood makes for a fine complement to the bruising Turner and has surprisingly recorded 131 touches in each of the past two seasons. With a much tougher schedule in 2009, Norwood could work his way past 150 touches for the first time in his career, so long as he can continue to hold off Jason Snelling, another back the Falcons want to get more touches for in 2009. As for Turner, Fantasy owners should a fair dropoff in carries and production as the history of 370+ carry backs is not all that inspiring. Expect Turner to average about 18 carries per game this season and, with his lack of involvement in the passing game, to be the best bet of the first-round RBs to disappoint this season.
Don't be surprised if WR Harry Douglas leaps into fantasy consideration of some kind in 2009. Michael Jenkins had a fair 50-catch campaign last season, and will continue to be a steady WR2 in the NFL but Douglas is more of a game-breaker. With the number of top defenses the Falcons will face this season, QB Matt Ryan may be hurried more than he was last year, meaning Douglas could get a fair amount of work in the slot, that is, when Gonzalez isn't picking up the first down as Ryan's hot read. A good preseason is vital for Douglas, who could easily double his totals from last season (23 catches, 320 yards) with a strong showing in training camp.
Carolina
Julius Peppers' absence commanded much of the attention in Panthers' camp until he agreed to come into camp a couple of weeks ago. With his solution looking better by the day, the focus should really flip over to the line on the other side of the ball because it could be the most pressing concern for the 2009 edition of the Panthers. Sure, every one of the five starters returns in the same spot as they played last season, but Carolina has a combined nine games played - no starts - from the players who will be in reserve for those players. In a league where one injury along the line can devastate the entire line, owners of DeAngelo Williams and Jonathan Stewart have a right to be a bit concerned. The Panthers desperately need at least two players out of the group of Mackenzy Bernadeau, Geoff Schwartz and rookie Duke Robinson to step up and show themselves well in the preseason to assure Williams and Stewart's owners that Carolina will produce on the ground at or near the level it was able to maintain last season.
The Saints have Reggie Bush, the Vikings have Percy Harvin and the Panthers are hoping to throw rookie Mike Goodson into that class in short order. A fourth-round selection from Texas A&M, Goodson received more reps at RB during OTAs because Stewart is dealing with a sore left Achilles. Assuming Stewart is ready to go for training camp as expected, Carolina is looking to give the college RB a long look at slot WR. Part of this "plan" was born out of necessity because it will be hard for the Panthers to give someone else other than Williams or Stewart carries. But the upside is that he possesses the hands necessary to be an asset as a third-down back and the team wouldn't mind seeing if they can get a RB with receiver skills to increase their production in the passing game, all the while saving a roster spot.
Jake Delhomme has been impressed with the improvement in Dwayne Jarrett's game this offseason. Since Steve Smith isn't going anywhere, is this the year that the USC alum overtakes Muhsin Muhammad? While it has been easy to call Jarrett a bust up to this point, there are a handful of coaches in the league that will almost always choose veterans over rookies and HC John Fox has a track record of doing just that. Perhaps if Jarrett can prove himself a "veteran" in this camp, fantasy owners can unearth themselves a WR3 possibility on the cheap.
Chicago
Jerry Angelo can be knocked for a lot of the decisions he has made in his time as the Bears GM, but his decision to outbid all of the Bears' competitors for QB Jay Cutler will likely erase many of those memories for the Windy City's faithful. While Cutler's passing game options are certainly less desirable than they were in Denver, the stock of players such as Devin Hester and Greg Olsen are undoubtedly on the rise. With any luck, football announcers won't have the luxury of mentioning how Sid Luckman's 14,686 passing yards still tops the team's record books much longer.
If OC Ron Turner gets his wish, Hester will see very little time on special teams because both Turner and Cutler believe the return ace is also an every-down receiver. While Chicago still lacks elite talent at WR, its current roster of wideouts is a bit more talented than what people think - something that should play out this year with Earl Bennett, Cutler's old college teammate. With that said, if Hester wasn't clearly establishing himself as the #1 WR on this team, there is no way the Bears would be cutting down his availability in the return game. As a result, Hester should be considered a solid WR3 candidate in 2009, with his upside to outperform that label a very strong possibility.
Bears QBs found their TEs 95 times last season, due in large part to a WR corps that was largely unsettled and a RB in Matt Forte, who was even more proficient in the passing game than the Bears could have imagined. While the initial thought may be that Chicago will see less production from its TEs in 2009 because Cutler has a bigger arm than either Kyle Orton or Rex Grossman, it should be noted that Denver found its TEs 83 times in 2008. Granted, the Broncos attempted nearly 100 more passes than did the Bears (620-528), but there is no player on the level of Brandon Marshall or even Eddie Royal in Chicago right now. So long as the Bears understand that Olsen is one of their best playmakers the team has in the passing game, the Miami (FL) alum should climb over the 60-catch mark for the first time in his career, likely giving him twice as many as fellow TE Desmond Clark. Olsen also figures to get more action down the field as well, so he easily fits in as an every-week starter for fantasy purposes and should be slotted right below the top tier of TEs like Tony Gonzalez and Jason Witten in drafts this summer. There is a very strong chance he cracks the top five at his position.
Dallas
Jason Witten will hold the starting TE spot for the Cowboys into the foreseeable future without question, but if the team has their way, he will only be a part of the long-term production Dallas gets from that position. Second-year TE Martellus Bennett showed only glimpses during 2008, but when he was given the chance, he was allowed to show off his vast talent, catching 20 of the 27 passes thrown his way and turning four of those into touchdowns. Bennett was blanked in the reception department in a Week 16 loss to Baltimore, but outside of that, he had at least one catch in every other game from Week 7 on and even managed a three-game scoring streak at one point. On an offense that featured Witten and Terrell Owens, that is a remarkable accomplishment. With Owens now in Buffalo, it is conceivable that Bennett may double his catches from his rookie season without stealing any of Witten's 81 receptions from a season ago. To that end, the Cowboys are planning on implementing more two-TE packages to take advantage of the wealth of talent they have at the position. Calling Bennett a potential fantasy starter in 12-team leagues may be asking a bit much, but he should make owners proud as a TE2 and bye-week fill-in.
There seems to be a buzz that Dallas didn't get much of an upgrade when it traded for Jon Kitna and let Brad Johnson go. The fact of the matter is that Johnson had been living on borrowed time for several years as a "positive veteran influence" whose deteriorating physical skill was evident when he needed to step in for Tony Romo last season. Kitna, on the other hand, should still be able to get another year or two out of his body and, while he is no Romo, he still has enough of the qualities a QB needs to lead his team to a win - something that can't be said about too many Cowboys' backup QBs recently.
One of the more interesting fantasy situations in 2009 will be the talented trio of runners in the Cowboys' backfield. There seems to be a lot of sentiment that Marion Barber will return to his "closer" role even though he was quite productive as a full-timer. Regardless of his title, he should lead the team in touches. Additionally, Dallas wants to nearly double the eight touches per game Felix Jones averaged in his rookie season, including kickoffs. Last but not least, Tashard Choice proved that he needs to be heavily involved as well. Since the Cowboys' will not run as much as the three-headed committees of the Ravens and Jets, let's throw out an early prediction on how the touches/game will be split: Barber - 16; Jones - 12; Choice - 7. Choice, however, could easily surpass Jones in fantasy value if Barber goes down for any length of time as he is more of a feature-back type while Jones would be best served to remain in a complementary role.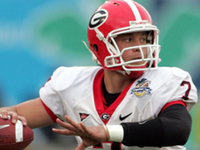 Matt Stafford: Starting after Detroit's Week 7 Bye?
New HC Jim Schwartz may not believe in using a depth chart before the start of camp, but there has no be shortage of talk of how much good work rookie QB Matthew Stafford is doing to ensure he is deadlocked with QB Daunte Culpepper when the first positional ranking does come out in late July. As stated in my Offensive Coordinator Changes article a few weeks back, the Lions would be doing themselves a big favor to let Culpepper start through the bye week. While the rookie may prosper immediately vs. a Saints defense getting used to new DC Gregg Williams and a Vikings team without the "Williams wall" in Week 2, Detroit will put Stafford in harm's way if it throws him out against the Redskins, Bears, Steelers and Packers in succession prior to the Week 7 bye. Among other things, one of the biggest keys to immediate success for a young QB is to have a complete team around him. Yes, the team has Calvin Johnson and has added some nice pieces in recent drafts, but the defense is still very much a work in progress which, in turn, will force the Lions to throw more often with an offensive line that still needs a lot of help. Even if the Lions make a Dolphins-like resurgence and win eight games in 2009, they still aren't making the playoffs, so it would be in their to use this season to get everything they can in order for success in 2010. That plan should include making sure Stafford is as ready as possible and making sure his line will be able to hold up.
Even if Detroit has done nothing else, it has given itself some options at both tackle spots with the signings of veterans Ephraim Salaam and Jon Jansen. Last year's first rounder, RT Gosder Cherilus, was inconsistent at best in 2008 and has a long way to go. On the other side, it was reported by Michigan Live in late June that LT Jeff Backus has surrendered an average of 10 sacks over the past three seasons (five is about average), so while there have been some pretty valid reasons for this, that kind of blind-side pass blocking is going to lead to a lot of injuries and turnovers. Even if Salaam and Jansen are merely average, they give the Lions some options if the regular starters continue to struggle - a notion the previous administration either did not care to or failed to address. With Scott Linehan and Schwartz both promising to be stubborn with their power running game approach, the line figures to look a lot better than it has in recent seasons. The one negative to the new power-running scheme, though, will be the fact that RB Kevin Smith will need to adjust after a college career and rookie season in which he ran in a zone-blocking offense.
Green Bay
The Packers understand they will need to get the ground game going if they hope to improve on last season's disappointing 6-10 finish. While a healthy Ryan Grant will help, it will be the contributions of several other players that may play just as big of role. Green Bay will open training camp on August 1 with two and possibly three starting spots on the offensive line up for grabs. Allen Barbre and former starting guard Jason Spitz are the front-runners at right tackle and center, respectively. Tony Moll may also be needed to step up at left tackle because nine-year starter Chad Clifton has been unable to practice the entire offseason because of chronically bad knees. Assuming all goes well up front, Grant should see a few more holes in 2009 because of fifth-round FB Quinn Johnson, who was brought in solely for his ability to blow holes open on the second level of the defense. Of the aforementioned group, it will be important for Barbre to man the right side the way his predecessor, Mark Tauscher, did for most of this decade, up until he tore the ACL in his left knee last December. Why? In 2007, Grant averaged 5.5 yards/carry running right but, last season, he dipped to a dreadful 3.4. The Packers swear they will not run Grant into the ground and, with the emergence of Brandon Jackson - especially in the passing game - the former Golden Domer will need to do more with fewer touches than last year. Better blocking on the right side would be a good start, so Barbre and Johnson will both be on the spot.
QB Aaron Rodgers will be given the freedom to audible and call plays at the line in 2009 after last year's breakout season. The Packers' schedule doesn't exactly shape up nicely for Rodgers, but with all the weapons he has at WR, he should only improve in his second full season - even if final numbers don't reflect it - as long as the new line comes together quickly. It's difficult to imagine him repeating his 28:13 TD/INT ratio again this time around when one considers they face three of the league's top five pass defenses from a season ago in the second half of the season. But it is apparent Rodgers has the poise necessary to succeed, so while the added responsibilities may weigh on some QBs, Rodgers' considerable experience in the system should ease his transition in that regard.
Minnesota
Don't be the last person to jump on the Percy Harvin bandwagon. Fantasy owners will cite the rule (usually a good one) not to draft a rookie WR, but the truth is the league hasn't seen a passing-game talent like Harvin since maybe Reggie Bush. Granted, his potential for an off-the-field screw-up is fairly high - (he was the only rookie not to attend the mandatory Rookie Symposium, the second offseason function he has missed with an illness) so don't go too overboard on drafting him - but for those owners who want to swing for the fences, Harvin makes sense as a fantasy WR3 already this season (maybe even a low-end WR2 in leagues that include kick and punt return yardage and scores). Unlike any other player whose main position on offense figures to be slot WR, Harvin will be featured as a QB in "Wildcat" packages along with Adrian Peterson, line up as a RB a time or two, catch a screen pass and run a reverse or two per game. Unlike most rookie WRs, Harvin should touch the ball on offense at least 10 times per game. With that much opportunity and his big-play ability, fantasy points will be scored. Need further proof of what Minnesota thinks? HC Brad Childress told the Minneapolis Star-Tribune in mid-June "the first thing I thought about was really the same feelings (I had) the first time we handed Adrian Peterson the ball...When you see it with your own eyes...the thing that came to mind right away was, 'Wow.'" Regardless of whether or not Brett Favre joins the team, the ex-Gator will be in line for Rookie of the Year honors.
Harvin's emergence will take some of the value Chester Taylor has possessed in recent years away, but that doesn't mean Taylor shouldn't still be treated as one of the more important handcuffs in fantasy - a ninth-round selection sounds about right. And while a healthy Favre would be an obvious boon to Bernard Berrian, Sidney Rice - if he is able to keep Harvin in the slot for 2009 - stands to gain the most, comparatively speaking. Now in his third season, Rice would be working with an accurate passer for the first time in his career. With good health (which is always a concern with Rice), he could easily push 50 receptions.
New Orleans
It looks as though fantasy owners are wisely realizing the changing of the guard in the Saints' backfield. Unlike most players who seemingly appear out of nowhere, the ascension of Pierre Thomas has been building for a while; a large number of fantasy owners have actually had a chance to watch Thomas excel at the end of each of the last two seasons. Moreover, Drew Brees told a New Orleans radio station in early June that he believed Thomas was the lead back and that he thought Rashard Mendenhall's college teammate was up to the challenge. One may believe this is the typical offseason game of a player bragging on his teammate, but Brees also told us all back in the summer of 2006 that Marques Colston was going to "surprise some people", so Brees has some credibility in that regard. The conventional wisdom suggests Thomas, who bulked up to 220 pounds this offseason and increased his squat nearly 200 pounds to 675, struggled in short yardage last season, but according to STATS, Inc, the 2006 undrafted free agent led the league in fewest negative rushing attempts. Thomas may go in the mid-to-late third round of fantasy drafts, but only injury should keep him from finishing around the top 10 at his position. And unlike an older Deuce McAllister, Thomas is a fine receiver and will get his share of catches as well. So while Reggie Bush will continue his own special role in this offense, Thomas is the back to own in non-PPR leagues. From where we stand in early July, their fantasy value in PPR leagues is almost identical, with Bush getting a slight nod.
An injury that didn't receive near as much press as it should have was Lance Moore's torn left labrum and dislocation this winter, reportedly suffered while working out. Since his surgery took place a couple of weeks before the draft, Moore's hope to be ready by training camp sounds about right, but it is worth keeping an eye on. Any bad news regarding his shoulder (or apprehension going up for a high throw in the preseason) should be taken seriously. If he does happen to struggle with it into the season, Robert Meachem and Adrian Arrington stand to benefit the most from a fantasy perspective. While Meachem has once again had a wonderful offseason, take note of what HC Sean Payton told the New Orleans Times-Picayune this spring about Arrington: "Be mindful of this player. I like this guy a lot. He's smart and he's big." The key here is the "smart" comment, as coaches tend to use that on WRs that understand the passing game and run the routes as they are drawn up, something that Meachem has struggled with his entire pro career. The conventional wisdom has Arrington filling the role of the departed David Patten, but he could be in line for a decent season in 2009 if he is able to overcome his own offseason injury (hamstring).
NY Giants
On just about any other team, a third-string RB is just a third-string RB. For the Giants, however, the winner of the battle for RB3 between Danny Ware and rookie Andre Brown should warrant some fantasy consideration in deeper leagues, as Ahmad Bradshaw showed us in 2008. The early indications suggest that Brown is in the lead, but let's not forget that the team has been fairly high on Ware for some time. Brown's outstanding showing at the NFL Combine in February helped overshadow an injury-plagued career at North Carolina State, but New York has to like the fact he has a bit of Bradshaw's straight-line speed and a bit of Brandon Jacobs' power and bulk. Jacobs clearly is the back to own and Bradshaw certainly needs to be considered as one of the better RB3 options out there, but expect the G-men to fall in love with Brown, give him a Bradshaw-like role (circa 2008) and see if he can play his way ahead of Bradshaw by 2010, which just happens to be the last year of Bradshaw's rookie deal.
Unlike the RBs, nothing seems all that clear at WR for the Giants, who look to enter the season with Domenik Hixon and Steve Smith as their starters and Sinorice Moss in the slot. Even if that trio starts out in that order, it is highly unlikely they end the season the same way. While the team has stated repeatedly this offseason they want to revisit the deep passing game - something that should be music to the ears of Moss, Mario Manningham and Hixon (and their potential owners) - Moss' penchant for injury will almost inevitably will open up the door for Manningham while rookie Hakeem Nicks will push Hixon all season long. If everyone progresses as well as they hope, the Giants would probably like to end the season with Smith, Nicks and Manningham as their top three pass catchers, in that order. But as stated in my Rookies to Consider: 11-20 piece a few weeks back, expect someone like rookie Travis Beckum to emerge as one of Eli Manning's few go-to guys, along with Smith. With that in mind, however, it is hard to recommend anyone from New York's passing game (outside of maybe Smith as a low-end WR3) as starting material in 12-team, three-WR leagues.
Philadelphia
A lot has been made of the new and improved offensive line in Philly. Potentially, it could and should meet expectations, but here are a few things for fantasy owners to consider before jumping on the Eagles' bandwagon. No one offensive lineman who started a significant number of his team's games gave up more sacks than new LT Jason Peters' 11.5 last season. Meanwhile, new RG Stacy Andrews is coming off surgery in January to repair a torn ACL while RT Shawn Andrews is coming off back surgery that ended his 2008 season prematurely and has battled depression. Many have suggested that Peters let his contract status affect his play last season while Shawn Andrews will be finally return to the position he was drafted to play five years ago. Sure, Philly's short passing game should help Peters cut his sacks allowed dramatically and a healthy combo of the brothers Andrews would be a formidable run-blocking tandem, but the Eagles will be a pass-first team for as long as HC Andy Reid has anything to say about it.
Rookie Jeremy Maclin continues to be a hot candidate for Rookie of the Year honors among some media types. For the most part, production usually comes when talent, scheme, supporting cast (or lack thereof) and opportunity all converge. For Maclin, the first three are there, but opportunity is in question with DeSean Jackson and Kevin Curtis the clear starters and Jason Avant in the slot. A fifth factor, experience (transition to a West Coast attack from a spread offense in this case), also figures to stunt his fantasy growth for at least one season. (This differs from someone comparable like Percy Harvin, who anyone could argue that on a bad day for him in the Vikings' offense, he is the second-best option in the passing game. Also, it is hard to imagine Reid breaking too far away from his West Coast roots to feature Jackson and Maclin in the "Wildcat", although the team is said to be working on the package, but with fellow rookie LeSean McCoy instead.) Maclin is certainly talented enough to take advantage of an opportunity when he gets it, but his best hope from playing time - outside of injury - is beating out Avant in the slot. In that scenario, he probably finishes behind Jackson, Curtis and Brian Westbrook for targets in the passing game, leaving his potential for impact in 2009 in question.
San Francisco
From a fantasy owner's prospective, Frank Gore is easy to like almost regardless of who is calling plays for him. Enter new OC Jimmy Raye, whose old-school approach to offense was detailed last month in Offensive Coordinator Changes - Pt 2. Raye is not a fantasy owner's dream as a play caller, but he is the best thing for Gore fantasy's prospects since Norv Turner left for San Diego after the 2006 season, forcing a somewhat overmatched Jim Hostler into the job. Last year brought in Mike Martz, who does wonders for a RB's all-around numbers but typically falls short in establishing him (and then sticking with him throughout the course of a game). That should not be a problem with Raye - who may be almost too conservative in his play-calling - as he will try to get the ball in Gore's hands almost as many times as Turner did in 2006 (374 touches). Gore, who possesses an impressive career YPC of 4.7, will also have the benefit of working behind an offensive line that added ex-Steeler LT Marvel Smith in the offseason and is about as good as any line he has played behind as a pro. Combine that with the return of his fullback from 2006 - Moran Norris - and one of the league's best blocking TEs in Vernon Davis and there is reason to believe Gore may post a pretty hefty rushing total, something in the neighborhood of 1,200-1,300 yards. Add in another 40-50 catches for 300 or so yards and there is no reason - barring injury - why Gore cannot reclaim his place as one of the best all-purpose backs in the NFL.
By all accounts, Shaun Hill - never known for setting the world on fire in practice but showing that he's a gamer on Sunday - will need to be terribly outplayed by Alex Smith in training camp to give up the Niners' starting QB job. And there is little doubt San Francisco wants Hill's first passes to end up in the hands of Josh Morgan and rookie Michael Crabtree, who was cleared to finally run on his surgerically-repaired foot in June. Raye's play-calling doesn't figure to open things up much for Hill, Morgan or Crabtree, but the young wideouts certainly have the ability to make some plays on their own after the catch. It's hard to imagine that any player having much fantasy value at the beginning of the season, but it would come as little surprise if the rookie emerged as a startable fantasy option come fantasy playoff time.
Seattle
Though his arrival doesn't figure to have any measurable impact (by fantasy standards), the Seahawks landed a very good player in C Max Unger, who reminds me of a young Alan Faneca. (Whether he can have that kind of impact will be up to him, but the fact that he can play every position on the line makes him invaluable.) The problem initially, however, may be the linemen - or lack thereof - around him. LT Walter Jones, at last check, was not ready for football activity as of early June. Without a healthy Jones, the team could very well be doomed to the same fate they suffered last season as the team will need as many of their offensive "staples" ready to go with all the change taking place in Seattle. The Seahawks could stand to upgrade both guards, especially in light of the zone-blocking scheme being implemented, so Jones' absence would have a severe trickle-down affect on the rest of the offense as either a RB will be asked to chip or TE John Carlson will need to stay in more than he should, taking another option away from QB Matt Hasselbeck. A limited passing game would lead to one more defender in the box, which would hamper the Seahawks' wishes to run the ball more than they ever did under former HC Mike Holmgren.
Matt Hasselbeck is reportedly looking as good as he ever has, but as stated earlier, much hinges on the offensive line. If they can get right, Seattle should challenge for division supremacy once again. Hasselbeck-to-T.J. Houshmandzadeh should be a top 10 pass combo, helping Carlson finish among the top 10 at his position, especially with most of the rest of the WR corps in questions due to either injury or inexperience. But the line's biggest footprint will be left on the running game, which new OC Greg Knapp has a history of catering to as his eight top-10 finishes in as many years as an offensive coordinator will attest. Knapp has already gone on record verifying that his RB attack will be by committee, but it would be a minor shock if T.J. Duckett received more than a third of the carries, including short-yardage and goal-line work. Justin Forsett will also be worked in - likely between the 20s - but Julius Jones stands to benefit the most from the increased focus on the running game and should end up with about 250 rushes and maybe another 25 receptions, numbers that should allow him to post low-end fantasy RB2 numbers.
St. Louis
New HC Steve Spagnuolo wasted little time upon his arrival proclaiming that RB Steven Jackson would be the centerpiece of his offense. While that notion isn't all that earthshattering, how the Rams are actually following through and making it happen has been fairly impressive so far. New OC Pat Shurmur is installing his version of the West Coast offense - similar to the one he left in Philadelphia that has made Brian Westbrook a fantasy staple, especially in the passing game. Adding C Jason Brown from the Ravens in the offseason should halt the revolving door of mediocre options at the pivot and open up the inside running game. The final touch was also signing FB Mike Karney, who should go a long way in helping the Rams forget the mistake they made when they let Madison Hedgecock go early in the 2007 season. Jackson has responded with arguably his best offseason to date in terms of his efforts in the weight room as well as his work in the passing game; he's even been asked to run routes with the receivers, something that has not been as much of a focus since his 90-catch season of 2006. There is no way St. Louis should ask him to repeat his 436 touches from that season, but his offseason work suggests he has a good chance to stay healthy most of the season and the increase of attention he figures to get from Shurmur in the passing game should make a rock-solid bet in terms of week-to-week fantasy consistency. The one drawback will be that Jackson's supporting cast probably won't allow him to visit the end zone as consistently as his fantasy owners would like.
Because Donnie Avery and Keenan Burton might comprise the youngest starting receiving duo in the league and strike the least amount of fear in defensive game-planning sessions, Marc Bulger's success in transitioning to Shurmur's offense may live and die in the hands of Jackson and his group of TEs, led by Randy McMichael. Injuries wrecked what was shaping up to be a bit of a bounceback year for McMichael last season, but without Torry Holt around, he will be expected to show up on a weekly basis in 2009. The good news, though, is the depth the Rams feel like they have behind him as Daniel Fells showed some flashes in 2008 after being signed off the Buccaneers' practice squad. He has since carried that momentum into OTAs, where observers felt he stood out and grabbed the backup job. It would come as little surprise if the Rams utilized two-TE sets more often to make sure both players get on the field because St. Louis quite simply lacks a player who can consistently carry the passing game. In regular 12-team leagues, McMichael may not even get drafted, so owners looking for a cheap backup TE with fantasy upside may want to spend a very late pick on him; he could easily end up in the top 15 at his position, especially in PPR leagues. Fells, obviously, does not warrant a draft pick but his could be a name to keep in mind should McMichael once again succumb to injury.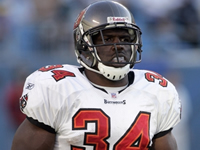 Earnest Graham: Will likely play second-fiddle to Derrick Ward.
New HC Raheem Morris has promised a more physical team in 2009. Given their personnel, the Bucs may not really have a choice. Bucs OC Jeff Jagodzinski, joining the team after a successful two-year stint as the head coach at Boston College, will make a dramatic departure from the short passing game favored by ex-HC Jon Gruden, instead opting for a zone-blocking running game and a deep passing game. Luke McCown is probably the best choice to lead such an offense - this season anyway - given his athleticism and the fact he has a quicker release than Byron Leftwich. But how far Tampa Bay goes this season will ultimately lie in the running game, which would appear to be a committee in its purest form with Derrick Ward and Earnest Graham on the roster. While both backs will see a lot of work, three very big factors favor Ward for the foreseeable future: 1) contract - Ward will be making nearly double of what Graham will; 2) experience - Ward has run in a zone-blocking system before; 3) better fit - while the two complement each other well, Ward will be able to get to the edge better than Graham, who is more of a straight-ahead, power runner. Both backs can catch the ball well, but expect Ward to top Graham there as well. Graham's power should win the day at the goal line, making him a slightly better choice over Ward in non-PPR leagues while the former Giants is probably the way to go in PPR leagues. All this, of course, only holds up unless we get some clear clarification on their roles before the start of the season. However, it is highly doubtful the Bucs will clear this up for fantasy owners anytime before Week 1.
Although the Bucs will be more of a running team this season, it isn't as if they will be completely useless to fantasy owners looking for some help in the passing game. Antonio Bryant may not approach 83 catches again in his career, yet he should remain an acceptable WR3 for owners in 12-team leagues. But the player that could benefit the most from Jagodzinski's presence should be TE Kellen Winslow. The new OC has repeatedly sounded off that he believes in widespread use of his tight ends and the numbers of some of his protégés - Bubba Franks as a rookie in Green Bay and Alge Crumpler for some of his best years in Atlanta - attest to his love for the position. No offense to Franks and Crumpler, but Winslow is quite simply the most talented pass catcher Jagodzinski has worked with, so expect that to translate into solid production. Health is always a concern for him, but if owners can snatch him in the mid-to-late sixth round area, they should be quite pleased with the return on their investment. Winslow's 82-catch, 1,106-yard effort in 2007 may be a bit much to ask, but he's a very strong rebound candidate and should be in the discussion as a player who could legitimately finish as the best at his position (fantasy-wise) in 2009.
Washington
Near the top of this article, Jerious Norwood was identified as one of running backs who always seems to be hearing his name in conjunction with the phrase "we have to get him the ball more" only to be left on the sideline. Although his game isn't anything like Norwood's, Ladell Betts has once again surfaced as a player the team wants to get more involved. While Betts is a proven handcuff to starter Clinton Portis, his yards per carry have dropped in each of the last two seasons after his lone 1,000-yard season in 2006. It's hard to imagine Washington running much more than it did in 2008, when its RBs combined for 425 carries and 64 catches. Every year Portis has been in the nation's capital and able to play in the majority of the team's games, he has recorded at least 325 carries and 28 receptions. So, even if Betts were to get all of the touches Portis does not - which he won't as the club likes to get Mike Sellers involved as well - he would end 2009 with 136 touches, just enough for outside consideration at a flex spot. The fact of the matter is that he will be much more valuable to a Portis owner than he will be to anyone else.
Before dismissing Jason Campbell this summer, fantasy owners should consider just how many offensive systems the QB has been required to digest over the years. Including his days at Auburn, this season will mark just the second time he will enter Year Two in the same offensive system. As some may recall, his first spin at staying in the same offense in back-to-back seasons turned out pretty well - his final year as a Tiger, a season which propelled him into the first round of the draft after the Redskins gave up a good part of their draft to acquire him. A much bigger issue for Washington should be just how soon it can move Antwaan Randle El into the slot, where he belongs. At this point of the offseason, Devin Thomas appears to have a slight edge over fellow 2008 second-rounder Malcolm Kelly, who hasn't been able to stay healthy for any length of time since joining the team. If neither Thomas nor Kelly can prove themselves worthy of a starting position, look for the Redskins to incorporate more two-TE packages in their regular offense by including another 2008 second-rounder - TE Fred Davis. Just like the rest of its second-round picks a season ago, Washington got next to nothing from Davis late season. But unlike Thomas and Kelly, we have seen Davis produce on the big stage in college. The simple fact of the matter is that one of the three second-year players will need to produce, or else the Redskins will finish last in the NFC East, Campbell will be looking for work as a backup in another city in 2010 and HC Jim Zorn will be gone as well.