Top 20 Offensive Rookies To Consider (1-10)
6/23/09
Part 1: 11-20
The cave you fear to enter holds the treasure you seek.
- Joseph Campbell
While Mr. Campbell was busy being an American scholar during the 20th century, he could have very easily been referring to most of the owners in the room on fantasy draft day regarding their stance on rookie running backs. Incoming college players have pedigree and potential, but no pro track record. Is it the absence of NFL stats, the fear of the unknown or a lack of information that leads fantasy owners to pass on most rookie rushers until the middle rounds so we can draft them as a RB3 and not risk too much? Is it really worth it to take a veteran rusher with a track record over a young buck who could take the league by storm?
Without a doubt, I don't have enough time or space to answer these questions because, most often, they can only be answered on a case-by-case basis. For example, in 2007, I had the good fortune of landing Adrian Peterson in the fifth round in one of my money leagues. However, in another re-draft league, one owner had the guts to roll the dice on him at the end of the second round after selecting LaDainian Tomlinson in the first. Believe it or not, that owner did not win the league, but his strategy caused me to re-consider my stance on how I evaluated "fantasy talent" and my stance on rookie rushers. Like many others, I didn't need much convincing to draft Peterson after about one quarter of his first preseason game, but rather than using a higher draft choice to get him on the majority of my teams, I essentially played not to lose rather than play to win.
I'm not going to tell you it is always advantageous to be a risk-taker as a fantasy owner – one of the great thrills of fantasy drafting is being in the position to select a player who is falling in your draft for one reason or another (some of last year's best examples were the suspensions that helped Brandon Marshall and Steve Smith come a bit cheaper) and nabbing him a full round or more after when they really should be off the board. But in the absence of that "obvious" pick, if you feel really good about Matt Forte (like I did last year), I have learned that it doesn't matter if I draft Forte in round four or round five, so long as I end up with him. And that is really what fantasy football is all about; taking what you see with your own eyes and applying it to your fantasy draft. Whatever you do, don't begin and end your fantasy draft preparation with a magazine!
After supplying a couple handfuls of fringe fantasy players for the upcoming season last week, I will be providing some players this week who figure to play a prominent role in deciding which fantasy teams take home the championship in 2009. It should come as little surprise that six of the 10 players are - you guessed it - running backs. For as much as the draft analysts whined about the overall talent in April's draft, this year's class could easily match last year's class in sporting three 1,000-yard rushers (Steve Slaton, Matt Forte, Chris Johnson).
For as bad of a rap as they get sometimes, rookie RBs have put together a rather impressive streak over the years - at least one rookie rusher since 1993 has rushed for over 1,000 yards each season. (You can blame "Touchdown" Tommy Vardell, Vaughn Dunbar and Amp Lee among others for the streak not being a few years longer...) Certainly, when 15-20 rushers are being chosen each April, it is not the easiest thing to discern which one will be the player to extend the streak, however, there are only about 4-5 likely candidates in a given class, so sometimes it is all about identifying which player walked into the best situation and taking an educated leap of faith. Although last year was something of an exception with Slaton, Forte and Johnson all excelling, this draft figures to boast at least one thousand-yard rusher and add another year onto the streak.
Note: The rankings below are for the 2009 season only and are ranked in order of likelihood of fantasy impact. (For example, QBs like Matthew Stafford and Mark Sanchez may accrue more fantasy points given their position, but the chances of them impacting a fantasy team are slimmer than say, a potential fantasy WR3 in a three-WR league, because the WR could be an every-week starter.)
Since getting bashed by many media outlets for being just another "crook" that the Bengals decided to bring aboard, Scott has done nothing but impress Cincinnati's players and coaches. Last year's first-round draft pick, WLB Keith Rivers, even went so far to compare him favorably to 2008 rookie sensation Chris Johnson of the Titans. Before I get that giddy about his prospects, however, I will be taking a long look at him during the preseason and on HBO (hey, the Bengals are on Hard Knocks). But I think at the very least, he should serve as an excellent complement to Cedric Benson's more physical style, much as Cincinnati hoped Chris Perry would on a more regular basis. All things being equal, I am generally the first to shoot down college numbers, especially those posted at Abilene Christian. But Scott's were otherworldly - 2,165 yards and 39 touchdowns in 2008, including 292 yards rushing (353 total yards) and seven touchdowns in his team's Division II playoff win over West Texas A&M. And while he isn't in the class of a Knowshon Moreno, Scott was a second-or-third-round talent who fell in the sixth round of the draft based on five arrests, all of which have been dismissed or are about to be expunged. Of the 2009 draft's post-first-round RBs - and this is key when considering his spot on this list - Scott probably faces the least amount of competition for a starting job. Benson, who signed a two-year deal in March, finished last season out strong and will enter the season as the starter. Reports out of Bengals' camp have Benson showing a level of determination and maturity he never displayed with the Bears while Kenny Watson and Brian Leonard should provide quality depth. But even the Bengals can't believe the group of Benson, Watson or Leonard are long-term options and the contract that Benson agreed to hardly locks him into the lead back role should a better option emerge. Cincinnati boasts one of the league's most accomplished RB coaches in Jim Anderson, who did as much research on Scott as any player the Bengals considered in the draft. For those that believe in karma, Anderson also put himself on the line about 12 years ago for an even more troubled RB named Corey Dillon, the man whose uniform No. 28 Scott will be wearing. I want to see how this talent handles a few preseason assignments before I give him too high of a grade but I will suggest that Scott should assume Perry's role in this offense. He should also be the back to own if Benson were to go down for any length of time.

Fearless Mid-June Prediction: 95 carries, 410 yards, 2 TDs; 25 catches, 175 yards, 1 TD
Just like his draft buddy, Mark Sanchez, the odds are fairly high that Stafford will be running the offense in Week 1. But if the Lions truly want to do what is best for their young QB's future, they will sit him in favor of Daunte Culpepper at least through the bye week - allowing him to avoid Detroit's tough early schedule - and let him start after giving him two full weeks to prepare for a home game against the Rams on November 1. Unlike Sanchez, Stafford will not have the support of a top-notch defense and a proven running game, but his options in the passing game figure to be better at this point than his classmate's. The good news for Stafford and Lions fans is that the building blocks for a good, complete offense are starting to come together in the Motor City. Calvin Johnson is already a top-five WR in the league, a notion that can only speed up Stafford's development while giving him the surefire playmaker he can count on when things are breaking down around him. While rookie TE Brandon Pettigrew doesn't project as a gamebreaker, he will be another solid pair of hands in the short-to-intermediate passing game, something of a luxury in today's game. Bryant Johnson was miscast as a WR1 in San Francisco last season, but should benefit from playing over half of his games on turf as well as all the attention Johnson figures to draw from the secondary on a weekly basis. Finally, with the Lions' hiring of OC Scott Linehan, Detroit will make opponents account for the running game, so Stafford is set up for future success as long as the line play improves.
Fearless Mid-June Prediction: 175-300, 2125 yards, 10 TDs, 8 INTs (10 games)
Shortly after Sanchez announced his intentions to declare for the draft, a few draft "experts" had the USC quarterback going in the late first round or even early-to-mid second with many - including NFL personnel people - citing his lack of starting experience and a college coach who didn't believe his QB was ready for the next level quite yet. Just over two months later, Sanchez was the must-have prospect, with many of those same people citing his leadership ability and intangibles. (Once, just once, I would like to go into the interview for my dream job being considered a product of the system with a perceived lack of experience and come out of said interview with each interviewer raving about my knowledge of the industry, the idea that I was a building block of the company for the next 10-15 years and an eight-digit signing bonus.) And the Pete Carroll incident at Sanchez's presser? Apparently, the coach was just showing his competitive side...as if he didn't have a few days to prepare his response??
Be that as it may, Sanchez enters the lion's den that is New York and, thankfully, he actually appears to have the mental makeup to be up to the challenge. It will help his cause that he will have two solid pass catchers in Jerricho Cotchery and Dustin Keller to throw to, just as long as he beats out Kellen Clemens for the right to start the season. Considering that HC Rex Ryan made his "I think I know how this (the QB competition) will play out..." comment right after the draft, it makes me think he probably will. Along with his poise, Sanchez has enough arm and accuracy to succeed at some point, however, the track record for underclassmen QBs to thrive in the NFL is not great - as many more complete talents than Sanchez have failed – and especially in the player's rookie year. And to be painfully honest, even if he does buck the odds and succeeds immediately, Sanchez is unlikely to be a good fantasy option in 2009 as Ryan has already gone on record stating he wants to bring the Ravens' 2008 offensive model over to the Jets and run the ball around 37 times a game. Since the average team figures to run 60-65 plays on a good day, it doesn't give Sanchez much of an opportunity to accrue the numbers necessary to be a fantasy starter. Unlike the Ravens' Joe Flacco, who added to his value by getting some yards and scores on the ground, Sanchez will not be able to make up those fantasy points with his scrambling ability. Long story short, let Sanchez take up a roster spot on somebody else's team in 2009.
Fearless Mid-June Prediction: 250-420, 2900 yards, 14 TDs, 14 INTs
Whether he will be anywhere near as successful as Marion Barber or not is up for debate, but new HC Rex Ryan envisions the Iowa alum to be a "fourth-quarter weapon". Another claim that Ryan has made is that he will target 37 carries/game from his rushers, a blueprint that he saw executed quite nicely last season by Baltimore's offense while he was running the Ravens' defense. That average works itself out to just under 600 rushing attempts (Baltimore had 592 carries last season, 531 spread amongst non-QBs.) While I think Ryan will do his best to use his three backs like Baltimore did, I have a hard time seeing the new coach choosing to take the ball out of the hands of the AFC's top TD scorer from last season (Thomas Jones) or one of the league's most exciting playmakers in the open field (Leon Washington). Therefore, barring injury to Jones or Washington, it is hard to imagine much more than 100 touches for the rookie. The good news, though, is that if his role is fourth-quarter and some short-yardage situations, he may not need to see the ball all that much to be a fantasy asset. Still, while Greene will drop Jones and Washington's overall production, the veterans warrant the most consideration from the Jets backfield, and rightfully so. For now, Greene should be considered insurance for Jones and little more, keeping in mind that Doug turns 31 in August. Granted, Jones keeps himself in excellent shape, but he is only 51 carries shy of the 2,000-carry mark for his career, about the time when most runners hit the wall. Combine that with the rumors that Jones' contract demands may lead him to get traded at some point in the offseason and there may be enough reason to target Greene as a breakout candidate. If Doug does in fact get moved, Greene should be expected to assume at least 80% of Jones' carries last season and challenge for Rookie of the Year honors. Unfortunately, Greene is such a poor receiver that he will he have next-to-no involvement in the passing game, so most of Jones' 36 catches from last season would fall onto Washington's shoulders.
Fearless Mid-June Prediction: 120 carries, 500 yards, 4 TDs
Fearless Mid-June Prediction (if Jones is traded): 275 carries, 1150 yards, 9 TDs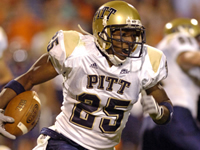 McCoy: Necessary mid-round handcuff.
With Brian Westbrook now questionable to go during training camp, McCoy goes from potential late-round handcuff to necessary mid-round handcuff and maybe more. Past and present Westbrook owners already know the drill: get 10-12 high-quality, No. 1 overall-fantasy-pick-production-type games, 2-4 games missed and about 14 weeks worth of headaches caused by his questionable status on the injury report. But give Westbrook credit for this: he is incredibly resilient, generally willing his surgically-repaired body through each game while performing at a very high level. While McCoy is unlikely to ever reach Westbrook's lofty standards, "Shady" has a couple of things going in his favor that no RB drafted by the Eagles since Westbrook have enjoyed: experience in a West Coast offense (under Matt Cavanaugh at Pitt) and an all-around game. Even though his blitz pickup could use a bit of work, McCoy - like Westbrook - plays bigger than his frame and is a fine runner in between the tackles although he isn't quite the breakaway threat the two-time Pro Bowler is. In the event Westbrook was shelved for any significant length of time, McCoy would have the benefit of operating behind what will be a rebuilt, but improved, offensive line in a fantasy-friendly system. Lorenzo Booker would likely steal some third-down touches and Leonard Weaver could work his way into the short-yardage mix, but the rookie would be on the hook for the majority of the running game's success in such a scenario. More likely, however, Westbrook starts about 14 games, leaves early in two and allows McCoy to showcase himself in 2-3 full games in 2009, giving Philly a brief look at the rookie in real-game action. How impressive he is in that limited action may give the Eagles' brass a chance to contemplate if they should transition to a time-share situation in 2010 before handing McCoy the starting job outright in 2011. For now, I'll project McCoy to get a bit more of the workload than ex-Eagle Correll Buckhalter as Philly attempts to back off ever so slightly on Westbrook's touches.
Fearless Mid-June Prediction: 125 carries, 590 yards, 3 TDs; 30 catches, 175 yards, 1 TD
Announcers grow quite fond of saying something along the lines of "he has a high football IQ, just the thing you expect from a son of a coach." While there is certainly some merit with that line of thinking, the son still needs to possess a fair amount of talent. Brian, whose dad Terry is a longtime NFL offensive assistant coach, is different from many other football coaches' sons in the sense that he grew up to be a WR instead of a quarterback. The more and more the ex-Buckeye played, the more apparent it became that he is more than just a product of some good coaching at home - Brian Robiskie is a cerebral but talented receiver with great hands, just the thing the Browns need opposite Braylon Edwards. All these characteristics figure to make him a steady NFL player from the get-go and a much-needed dependable complement to the erratic playmaking abilities of Edwards. His ceiling is more limited than most of the other receivers on this list, but he is one player who I believe could hit the ground running from the first snap in training camp. I believe Robiskie will be a solid real-life #2 WR from the get-go who should also excel on third down. Even better, he will come without the drama that so many receivers seem to bring to the table nowadays. For fantasy purposes, he warrants late-round consideration in 12-team leagues as a WR who will be startable - depending on the matchup - in PPR lineups that require three starting receivers.
Fearless Mid-June Prediction: 50 catches, 630 yards, 5 TDs
One thing is clear: Harvin is going to test the offensive creativity that Minnesota (and HC Brad Childress) is sometimes accused of lacking. While I believe injuries - if not immaturity - will always limit Harvin from maximizing his vast talent, it's hard not to be just a bit giddy over the excitement he will create (not including the buzz he has already generated amongst players and coaches in Vikings' OTAs) when everything is right with him. Expect Minnesota to find a way to get the ball in his hands at least 12 times a game (including returns) and line up all over the field, including with Adrian Peterson at QB in the Wildcat. With that many possible touches and his game-breaking ability, he is definitely worth targeting in the later rounds, maybe even higher if a healthy Brett Favre makes his way onto the team. I doubt the Vikings will put him in the starting lineup opposite Bernard Berrian if only in an effort to keep him healthy, but he should bump Bobby Wade from the slot and steal most of his work in the passing game (something that shouldn't be overlooked because Wade has topped 50 catches and 600 yards in his two seasons as a Viking). Where things could get really interesting is if Sidney Rice suffers through another injury-plagued season. In that case, Minnesota would probably push the return duties back into the lap of Wade and make Harvin arguably the most valuable rookie fantasy WR in this class. Ideally, Minnesota will let Rice start opposite Berrian and move Harvin all over the field to create mismatches but keep him in the 12-14 touches/game range. This kind of use would probably cap the rookie's fantasy value as a mid-level WR3 in 2009.
Fearless Mid-June Prediction: 45 catches, 650 yards, 4 TDs; 30 rushes, 200 yards, 2 TDs; 1 Kickoff Return TD, 2 Punt Return TD
If Joseph Addai found it difficult to out-produce Dominic Rhodes, he is really going to have his hands full now. Except in the areas where one would expect a rookie to be behind a veteran (blitz pickup and knowledge of the playbook), Brown is quite possibly superior to Rhodes in every other area already. What's more, Colts GM Bill Polian - not one to praise a player just to hear the sound of his own voice - favorable compared the rookie to another back he drafted while he ran the Buffalo Bills' personnel department, Thurman Thomas. While I feel Addai is the more talented back, I get the strong sense that Brown will prove to be the most durable and most dependable. As a result, expect something close to a 60/40 split (and that is assuming that Addai has no lingering problems from his recent arthroscopic knee surgery) in Addai's favor when both players are healthy. As stated in Part 2 of my Offensive Coordinator Changes piece last week, Polian may have inclined to draft another RB anyway (beside just to replace Rhodes), wanting to rely just a bit more on the ground game and knowing that his team was headed toward one of its biggest transitions in franchise history. Brown should make for a solid RB3 selection in fantasy drafts this summer as one of the first "handcuff RBs" off the board and probably a player who should be the first or second pick in keeper and dynasty league rookie drafts.
Fearless Mid-June Prediction: 160 carries, 740 yards, 6 TDs; 20 catches, 170 yards
2. Chris "Beanie" Wells, RB Cardinals
Even though he is not #1 on this list, Wells is quite possibly the most intriguing fantasy possibility in this class. Will the Cardinals use him strictly as a between-the-tackles banger as they slowly transition to a play-action offense or will they continue to spread opponents out and run the rookie relentlessly against six in the box? Will they allow the 240-pounder an opportunity to flash his receiving skills in the flat? There's little doubt that Arizona would like to be able to lean a bit more on the running game than it has in recent years while also doing its best to continue featuring the talents of Kurt Warner, Larry Fitzgerald, Anquan Boldin and Steve Breaston. And that is exactly what I expect to happen, that is, for the Cardinals to remain a passing team first, but find a way to cut into the 65-35 pass/run split from last season. Even if Arizona only runs the ball 5% more than last year, it would allow Wells to comfortably hit the 300-carry mark while getting another back like Tim Hightower almost 100 carries. The thing that troubles me about Wells' fantasy prospects for 2009, though, is his offensive line, which is not one of the better run-blocking units in the league. Fifth-round selection Herman Johnson was the closest thing to an upgrade the Cardinals added in the offseason but his final position will likely remain in limbo through training camp. FB Dan Kreider should help a bit, but it should be noted that Arizona's failures in the running game for most of 2008 had less to do with the lack of explosion from Hightower and Edgerrin James and more to do with the Cardinals' inability to open up holes on a regular basis. However, Wells should be able to do with more with those few holes he does find than his predecessors, so expect his yards/carry to be a bit higher than the team average of 3.5 of last season. Want another reason to consider Wells? Although both defenses figure to be improved from last season, Arizona plays Detroit and St. Louis in Weeks 15 and 16.
Fearless Mid-June Prediction: 305 carries, 1155 yards, 8 TDs; 18 catches, 115 yards
1. Knowshon Moreno, RB Broncos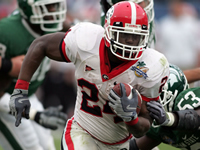 Moreno: Rookie of the year?
Readers of this column already know my stance on Moreno's talent; however, my question about his ability to ascend into NFL stardom quickly lies in just how much emphasis HC Josh McDaniels will put into the running game. With the highly regarded Rick Dennison entering his ninth season handling the instruction of the club's offensive line, expect the Broncos' front five to remain one of the best in the business. It's too easy to say Denver will become more of a running team this season based solely on Jay Cutler's departure (as many in the media would have you believe) as the 2008 edition of the Broncos was ravaged by injuries to the RB position - the team was also done in by a pathetic defense - leading to a 61-39 pass-run split, well above the norm for a Mike Shanahan-coached team. (Just as a comparison, McDaniels' supposed pass-heavy offense in New England last season had a pass-run split of 51-49.) Moreno also should benefit from the experience of RBs coach Bobby Turner, who like Dennison is in his 15th season with Denver and has a long track record of success. Even without Shanahan, the Broncos know what they are doing when it comes to running the ball and when one factors in that Moreno is already well ahead of the game in receiving the ball and blitz-pickup, the only thing that can keep the rookie off the field full-time is if veteran free agents LaMont Jordan or Correll Buckhalter show themselves to be better short-yardage backs. Considering I feel he could one day be in the same class at LaDainian Tomlinson and Steven Jackson, I'm betting he picks up those goal-line duties as well. As the rating suggests, Moreno is my pick for Rookie of the Year honors and the best keeper of the bunch, at least until Donald Brown has the Colts' backfield gig all to himself.
Fearless Mid-June Prediction: 280 carries, 1225 yards, 8 TDs; 46 catches, 340 yards, 1 TD