Top 20 Offensive Rookies To Consider (11-20)
6/16/09
Part 2: 1-10
It's not the will to win, but the will to prepare to win that makes the difference.
- Bear Bryant
It's little wonder why Bryant was such a legendary coach. Everyone wants to win, but relatively speaking, very few people are willing or able to sacrifice the time and resources to make sure winning "happens". Far too many pro sports owners believe money or simply wanting to win a championship should be enough to get their teams into the Super Bowl. Being willing to spend and knowing where to spend money are two completely different things in sports, for it takes a great scouting and personnel department to recognize the talent, the right coaches to mold it and enough of the right leaders in the locker room to make sure each player is on the same page with them.
Fortunately in fantasy football, we are only required to speculate on the results of the aforementioned ingredients of football success. But just because we are mere spectators doesn't give us the right not to prepare ourselves for the upcoming season as well. It has been said that if you don't vote, you have no right to complain. Fantasy football isn't much different in the sense that if you don't prepare over the summer and have a pretty good stance on each "candidate" that you may draft, you have no right to complain when your teams hang around mediocrity all season long.
A good part of the preparation process every summer is trying to figure out just how much impact rookies can have in fantasy for the upcoming season. In most cases, running backs steal the show when it comes to immediate contributions, although that notion has been challenged in recent years by the rookie campaigns of players such as Matt Ryan or Eddie Royal. However, any fantasy owner need ask themselves only a few questions to get started when it comes to rookie evaluation for fantasy purposes:
Is He In A Position To Succeed?

For a RB, does he have a good line to run behind and an OC that likes to run the ball? For a QB, does he have a good pass-blocking line and 2-3 decent options in the passing game? For a WR or TE, does he have a good QB throwing him the ball? Does he operate opposite a star WR or is he being counted on to carry the passing game?



Is He A Starter Or Will He See The Field At Least Half Of The Game?





Does His "Style" Fit In The Team's Offense?

(Unfortunately, we can't take for granted that teams do this.) For example, does Chris Wells' power game fit into Arizona's scheme? Does Knowshon Moreno have the vision and quickness to thrive behind a zone-blocking line? Does Darius Heyward-Bey's speed make him more of an impact player in Oakland's run-heavy offense than Michael Crabtree's hands and size do in another run-based offense in San Francisco?
Certainly, there are more questions that can be asked, but to establish a baseline on a rookie, I think this gives us a pretty good start. To that end, over the next two weeks, I hope to provide each of you my initial thoughts on the incoming class before I really buckle down on player evaluations next month with the release of the first round of PSAs. To whet your appetite, I will focus on the bottom half of the top 20 rookies this week before wrapping it up with the players I feel are the best bets for fantasy success in 2009, just over two months before the start of the season.
Note: The rankings below are for the 2009 season only and are ranked in order of likelihood of fantasy impact. (For example, QBs like Matthew Stafford and Mark Sanchez may accrue more fantasy points given their position, but the chances of them impacting a fantasy team are slimmer than say, a potential fantasy WR3 in a three-WR league, because the WR could be an every-week starter.)
Rookies Who Just Missed The Cut: Sammie Stroughter, WR Bucs; Mohamed Massaquoi, WR Browns; Chase Coffman, TE Bengals (could easily skyrocket if he is fully healed and in shape in time for training camp).
If the path was completely clear for Collie, it would be very easy to place him among the top 5-10 fantasy rookies and attach a line fairly similar to Anthony Gonzalez's rookie year. Colts GM Bill Polian paid his the BYU product a nice compliment last month by saying he reminded the boss of former Colt Brandon Stokley, who seemingly began fantasy owners' fascination with Colts' slot receivers with his precise route running, good hands and above-average quickness. However, the path to a regular appearance in the slot is not as clear as it may appear at first glance. The oft-injured Roy Hall - all 6-5 of him - gives the WR corps the kind of size that the Colts just don't have otherwise. But the most likely WR3 in Indy this season appears to be second-year WR Pierre Garcon, who Polian has referred to as his choice for the player most likely to "break out" on more than one occasion this offseason. As if that were not enough, the Colts regularly line TE Dallas Clark in the slot when they want to go three-wide. Indianapolis also has no problem sticking Reggie Wayne there as well when they want to ensure a free release off the line of scrimmage for their top receiver. Furthermore, Gonzalez is quite adept moving inside as well having spent each of his first two years working mostly out of the slot. While an injury to any of the aforementioned veterans could give Collie a fair boost in playing time, there are enough reasons to let Collie just sit on the waiver wire initially except in the deepest of leagues.
Fearless Mid-June Prediction: 30 catches, 340 yards, 2 TDs
19. Darius Heyward-Bey, WR Raiders
Most of us can agree that Michael Crabtree is a better WR prospect than DHB, but what we need to know as fantasy owners is whether the ex-Terp is a better fit in Oakland than one of the most prolific receivers in college history. After all, would we prefer to see Crabtree chasing down the overthrows of JaMarcus Russell or DHB? Let's just suffice it to say that team owner Al Davis has always been a proponent of the vertical game (why try to string together a long drive when a team can score in 1-2 plays?), completion percentage and offensive consistency be damned. Another factor Heyward-Bey has going for him is an immediate opening in the starting lineup (unless he totally falls on his face); Crabtree will have to quickly get in shape after he fully recovers from his pre-draft foot surgery and fight off both Isaac Bruce and Josh Morgan. The most interesting areas to keep an eye on before and during the preseason regarding DHB will be whether he: 1) disproves his doubters by showing off better hands than his critics gave him credit for during the draft process and 2) will not disappear for long stretches - another point of contention that may be an unfair label given the unorthodox offensive attack he played in at Maryland. As for his immediate pro prospects, bear in mind that he will need to learn the nuances of the position - including learning how to get off press coverage - and that the leading WR from the Raiders a season ago had 22 catches! For a team that will probably try to run the ball at least 55% of the time, it doesn't look all that exciting from a fantasy owner's prospective. This, of course, will cue all the DHB doubters to slam the Raiders for another first-round reach, but that doesn't mean he won't eventually come close to living up to his draft position. Unlike the Anquan Boldins and Eddie Royals of the league, Heyward-Bey has a sharp learning curve ahead of him and will likely need a full 3-4 years before we can rightfully judge his place among this year's crop of receivers.
Fearless Mid-June Prediction: 27 catches, 400 yards, 3 TDs
Perhaps the most surprising rookie to be included on this list. But if Beckum can avoid further injury (and fully recover from the broken leg he suffered last season), he could possibly be the Giants' answer to the Colts' - and his brother's TE - Dallas Clark. Much like Beckum, Clark wasn't much of a blocker out of Iowa in 2003 but both were quite proficient at catching the ball in the college game. For anyone who hasn't seen Beckum when he is healthy, he is a super-athletic "rocked-up" WR who can't block a lick but is amazing in the passing game. As a result, the Giants are wisely planning at using Beckum only as an H-back, at least until they figure out just how much of a liability he is as a blocker. Where I really like his fantasy value is in the red zone, where I believe either he or fellow rookie Ramses Barten will be on the receiving end on a handful of scores as both will have a significant size (Barten) or athletic advantage (Beckum) over most of the defenders that will be covering them. I like the former Wisconsin Badger just a bit more as he figures to see the field on a more regular basis and will not struggle initially to create the separation from linebackers and safeties that I fear Barten will from cornerbacks. Figure that Beckum will steal roughly two-thirds of starting TE Kevin Boss' 33 receptions from last season while adding a few of his own and allow Boss to do what he does best, which is sealing the edge with his blocking prowess in the run and pass game.
Fearless Mid-June Prediction: 32 catches, 300 yards, 3 TDs
In my humble opinion, I see White as a more accurate passer than Michael Vick who is a bit lighter and about a tenth of a second slower than the QB I would compare him with. I find it amazing that in eight years, a player of comparable talent to Vick would go from no-brainer No. 1 overall pick to mid-second round, especially in the now-Wildcat-obsessed world of the NFL. Don't get me wrong, I never had Vick pegged as the best fit in pro football (much less a West Coast offense), but few could argue he was as exciting of a player as there has been in the NFL in some time. And that is exactly what I expect White to be. With that said, I also believe that unless Miami is somehow able to operate out of the Wildcat successfully at least 40% of its snaps - a highly unlikely proposition - White will be someone who defensive coordinators will have to worry about much more than fantasy owners. While he is far from a polished passer, the former West Virginia standout has a higher ceiling in that area than Vick ever did, so there is potential for him to be on the fantasy radar down the road although he will be hard-pressed to ever match fellow backup Chad Henne as a traditional pro-style QB. Interestingly enough, White could still be useful as a desperation bye-week play this season against some of the weaker run defenses on the Dolphins' schedule, against whom he may be able to break off a 20-yard scoring run after a play breaks down. With that said, he will only qualify as a QB in fantasy leagues, so his fantasy value will be limited because of his position he plays even though he stands a good chance to register a higher fantasy point total than a few of the players who are ranked higher than him.
Fearless Mid-June Prediction: 20-35, 300 yards, 3 TDs; 60 rushes, 325 yards, 2 TDs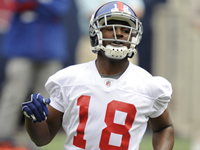 Hakeem Nicks: Will see the field in three-and-four WR sets.
Based solely on his Meineke Car Care Bowl-game performance, I can at least entertain all the praise that was heaped upon Nicks for his stellar 2008 campaign, including his college coach's (Butch Davis) comparison to Michael Irvin. That game highlighted all of his best qualities, including a highlight catch or two and the ability to carry a passing game by himself on occasion with his run-after-catch abilities. But even though Nicks doesn't enter camp against "name" competition, the Giants don't lack for options at WR. Expect second-year veteran Mario Manningham to take the next step as a regular contributor, but Nicks' biggest hurdle to instant fantasy stardom figures to be Domenik Hixon, who figures to start the season out as the Giants' split end. Given Hixon's rapport with Eli Manning, New York will not need to rush the rookie into the lineup until he clearly emerges as the better option – something that may not happen until 2010. Nicks' ceiling is pretty high, though, so he will see the field a lot in three-and-four-wide sets. I could easily see Nicks stringing together one or two strong performances together this season that will drive fantasy owners crazy for his services on the waiver wire, but until he is named the starter, I don't think the Giants' run-based offense can support the fantasy values of three receivers. As much as I like him, I will probably opt to let him find a home on someone else's roster or on the waiver wire.
Fearless Mid-June Prediction: 33 catches, 410 yards, 3 TDs
Last week, I made a brief mention of Butler being one of the few members of the Seahawks' offense this season that won't be recovering from some kind of major injury. This week, I am going to suggest he may be able to crack the starting lineup if his competition is not at the top of their game. T.J. Houshmandzadeh appears locked in at flanker and is the only guaranteed starter at WR. But at split end, Nate Burleson, Deion Branch and Butler appear to be engaged in a competition to start opposite their prized free agent signing. The most likely scenario has Branch securing the job with Butler appearing in three-wide packages and Burleson focusing mainly on returns so long as he can regain his explosion following reconstructive knee surgery. But Branch isn't likely to be the same receiver we have come to know him as after two surgeries on his left knee over a 13-month period and Burleson can't be counted upon either given the severity of his injury. Thus, Butler could win by default because he has the speed and explosion that none of the 'Hawks other wideouts have. Furthermore, his coaches have raved about his hands, route running and intelligence to the point where some are suggesting Branch may be on the block. We'll see if this praise carries over into training camp, but Butler will see the field regardless because he does possess big-play ability. For the time being, though, there is little reason to draft him until he officially claims the starting job, and even then, he will be the No. 3 option in the passing game behind Houshmandzadeh and TE John Carlson on a team that will try to focus on the running game.
Fearless Mid-June Prediction: 32 catches, 465 yards, 2 TDs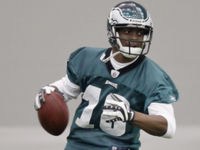 Jeremy Maclin: A volatile stock on the fantasy market.
Depending on your stance of Andy Reid and Marty Mornhinweg's play-calling, the Eagles are either diversifying the way they are attacking offenses or just looking for another reason to air it out even more by bringing Maclin aboard. The easy assumption is that Philly will stick him in the slot and use him on a few reverses, maybe even lining him up in the backfield on occasion. But with DeSean Jackson entrenched as the flanker and the team very high on Jason Avant in the slot, I'm not sure the Eagles themselves know what they want to do with him at this point. At their first organized team activity, they lined him up at split end, where Kevin Curtis usually resides. At the next OTA, they rotated him at all three spots. Since it wouldn't make much sense to showcase his running and receiving versatility in the preseason, we really may not know what Maclin will mean to the Eagles' offense until after the start of the season. As such, his stock on the fantasy market will be highly volatile. I suspect when Maclin's fantasy owners look back at the 2009 season, they will come away slightly disappointed if each of the aforementioned WRs stay healthy. But it also would not be all that surprising to see the rookie make himself irreplaceable if any one of the three veterans were to get hurt because, like Jackson, he already has the quickness and ability to separate in his repertoire. And there within lies the rub: Maclin is quite possibly the biggest wildcard in this draft class for fantasy owners. Is he going to step in for an injured Jackson in Week 2 and replicate his production or will all the WRs stay healthy, leading to a Hank Baskett-like role? With all that in mind, I see Maclin as a gadget-play type of wideout in 2009 who will return kicks until one of the vets goes down.
Fearless Mid-June Prediction: 36 catches, 440 yards, 3 TDs; 2 Return TDs
As with any rookie, training camp is going to have a large say in how productive Britt will be immediately. However, it really is only a matter of time before Britt turns free agent acquisition Nate Washington back into a part-time deep threat and Justin Gage into a complementary receiver, thus becoming QB Kerry Collins' go-to guy. The unfortunate thing for Britt fans is that I would count on that passing of the torch coming in 2010, not 2009. The ex-Scarlet Knight is unlike anyone the Titans have drafted in some time (maybe a pre-injury Tyrone Calico is the closest Titans comparison?), so it would come as little surprise if Britt started out in Washington's role with the Steelers before overtaking him in the lineup sometime around midseason. Although Gage has shown flashes when given the chance, he is prone to injury. And I get the feeling the Titans are just itching to get Britt going because the last time the Titans had a consistent, go-to WR threat was Derrick Mason, who left for the Ravens following the 2004 season. But just like with Crabtree, keep expectations for the Titans' rookie fairly low even though Kerry Collins will be quarterbacking this club for the foreseeable future. Why? Tennessee will be a power running team for as long as HC Jeff Fisher is in charge and OC Mike Heimerdinger is calling the shots. The Titans are not concerned with lighting up the scoreboard and trust their defense implicitly, so asking this offense to provide more than one usable fantasy WR - which figures to be Gage once again - is probably asking too much. Keeper and dynasty league owners will want to keep tabs on Britt, who certainly should settle into fantasy lineups regularly starting sometime in 2010. But for the upcoming season, expect the typical inconsistency one typically expects with a rookie WR in a run-based offense.
Fearless Mid-June Prediction: 42 catches, 660 yards, 3 TDs
12a. Michael Crabtree, WR 49ers
There doesn't seem to be much argument that Crabtree will be a standout WR at some point in his career. After all, with his Andre Johnson-like build and incredible college production, it appears a foregone conclusion their bay-area rivals missed a chance to end their struggles at the position by opting for a size-speed specimen with limited polish like Darius Heyward-Bey. What is up for some debate is whether Crabtree's numbers are going to look all that much different than Heyward-Bey's at the end of this season despite the former Red Raider's polish. The reasons for this startling revelation are several: while Shaun Hill is probably a better QB at this point than JaMarcus Russell, both offenses are going to lean heavily on the run and feature TEs who could easily lead their team in receptions. In San Francisco's case, Crabtree will also have to fight Isaac Bruce and Josh Morgan for Hill's attention (and that's assuming another WR, the talented Jason Hill, doesn't have a breakout camp). Certainly, Crabtree figures to eventually emerge from the pack, but will it be in time for fantasy owners in 2009? I tend to believe the Niners' top pick should be a late-round selection at best in fantasy drafts this summer and will be frustrating to own for most of his rookie season (although he is a no-brainer pick in keeper and dynasty leagues). But by the end of the season, he should start showing why he will be a highly coveted fantasy property for 2010.
Fearless Mid-June Prediction: 45 catches, 600 yards, 4 TDs
11. Brandon Pettigrew, TE Lions
Unlike most rookie TEs that have come out in recent years, Pettigrew is not a specialist, which will not only endear him to his coaches, but keep him on the field all game long. While that fact alone won't necessarily make him a starting TE in fantasy leagues, he will certainly be worth drafting in the later rounds. New OC Scott Linehan has shown he is willing to include the TE in the offense as has QB Daunte Culpepper (remember Jermaine Wiggins?) and 2009 overall No. 1 pick Matthew Stafford (Martrez Milner, the one decent TE he had in his Bulldog career, tied for the team lead with 30 catches in Stafford's freshman season at Georgia). For every bit of credit Pettigrew gets for being an above-average blocker, he is at least that good in the short-to-intermediate passing game. As such, Pettigrew should enter the season as the third-best option in the Lions' passing game behind WRs Calvin and Bryant Johnson, with the possibility of moving in front of the latter before the season is over. Detroit will be better on offense this season than most people think, which leads me to project fairly healthy numbers for Pettigrew.
Fearless Mid-June Prediction: 44 catches, 475 yards, 4 TDs